The ongoing Autumn 2021 split of the Korean Open saw four of Korea's top names; DWG KIA, T1, Talon Esports, and the ex-Cloud9 roster mantisFPS continue competing with four of Korea's top upcoming teams for the ₩60,000,000 (~US$51,000) prize pool.
Here's a rundown of the opening play days and a look forward at the games to come:
Jump to:
Day 10
T1 7-5 GroovJam
DWG 7-4 mantis
Talon 7-3 D4RK
Viper 8-7 RECON
This weekend saw a titanic matchup between the best Stage 2 APAC team, DWG KIA, and the seemingly rejuvenated mantisFPS roster that currently sits undefeated in the APAC North League.
These two teams met on Oregon and initially were very close to each other. The first half saw both teams win three rounds with no clutches and with no one but Sewoong "CATsang" Heo securing any significant multi-kills.
As DWG went onto the defense, however, each of the five players had a standout round -- almost as if they were taking turns -- as their team took the lead and the eventual win.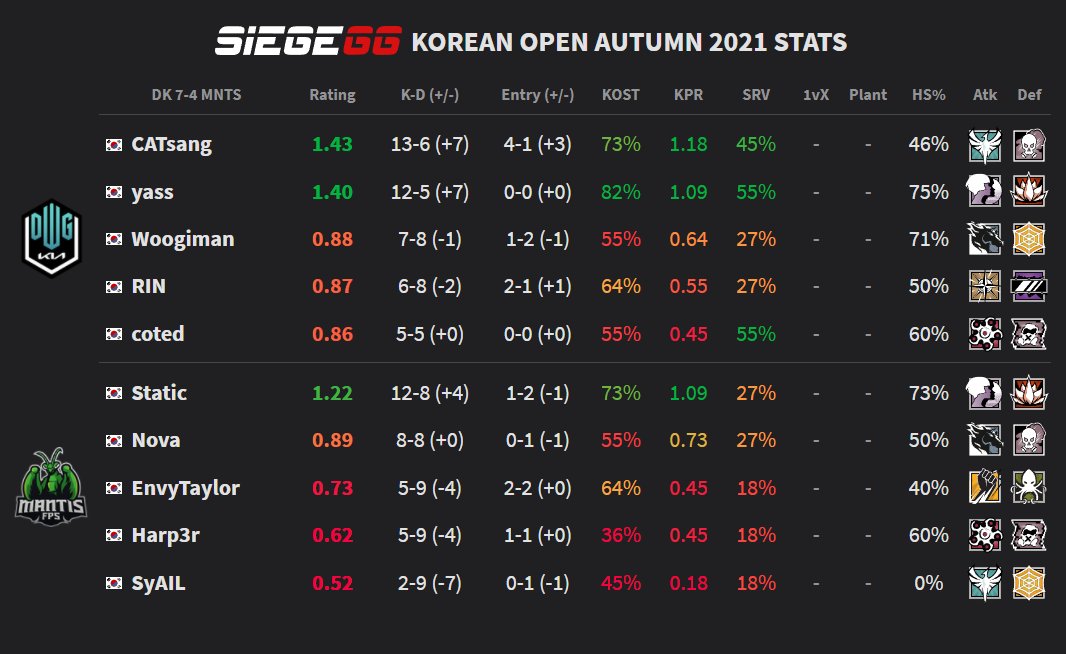 Day 11
Talon 7-5 mantis
DWG 7-5 T1
Viper 7-5 D4RK
RECON 7-3 GvJ
The next day, mantisFPS went to Oregon again against another APAC North roster; Talon Esports. On its attacking half, mantis managed to win on both the Meeting Hall/Dorms objectives, but lost in a 2v1 against Masaki "AzzyyyS" Someya on the Laundry site.
Despite that, the APAC North squad manged a 4-2 attacking half and was in a favourable position going into its defensive half.
This is the first time mantis FPS have lost back-to-back games in a Korean Open season to date. The games mean they drop a place down to second, however, they have already locked in a playoff spot meaning they have until the end of the month to reset themselves for the Korean Open Finals.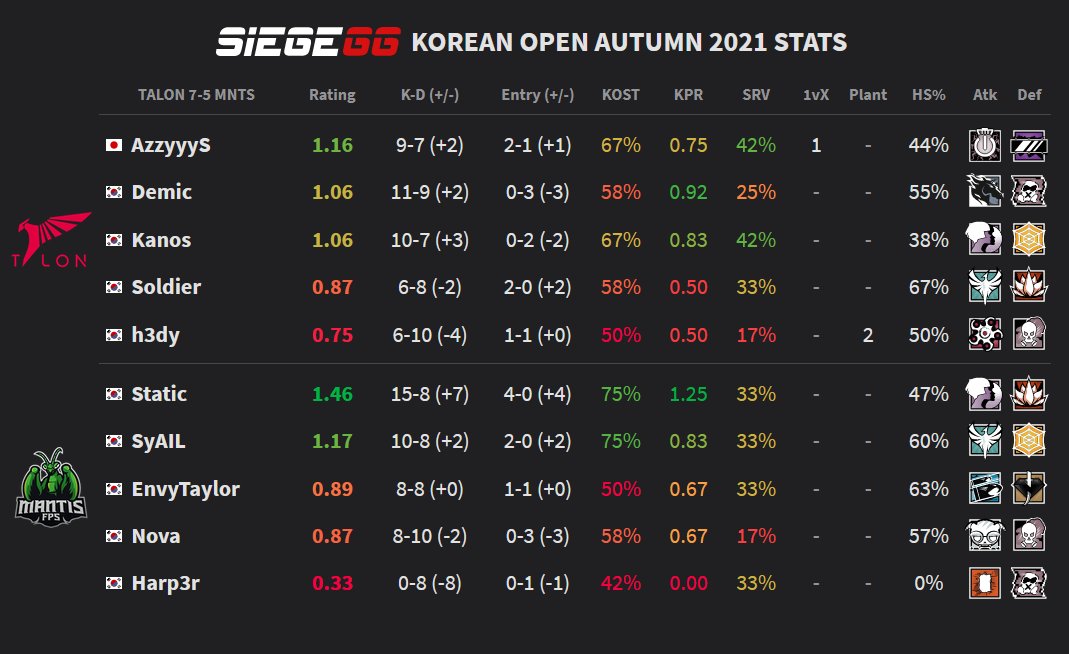 What's Next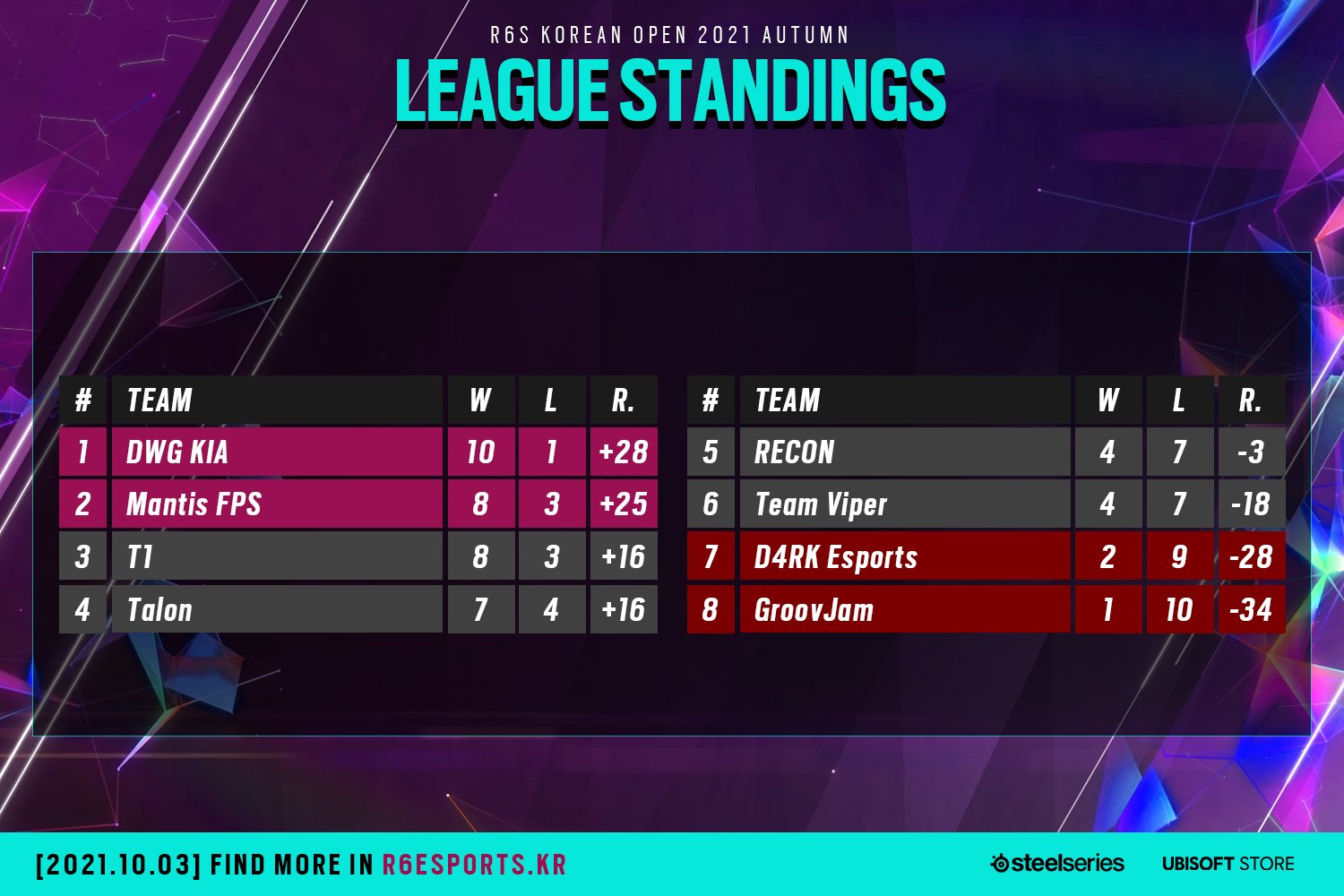 Next weekend will see the final three playdays in the group stage portion of the season take place on Friday to Sunday. These 12 games see a mere two all-pro meetings as T1 faces both Talon on Friday and mantis on Saturday.
Elsewhere, while the four APAC North teams have locked in playoff spots there are still two spots remaining in the Finals which all four tier-two teams could still win.
While currently RECON and Viper sit in these positions with four points, they face a number of very hard games this week as RECON faces DWG, Talon, and mantis in that order while Viper faces DWG on Saturday and Talon on Sunday. This gives D4RK and GroovJam a last-second opportunity to overtake them to keep their hopes for a spot in the APAC North relegations alive.
All in all, this creates a thrilling few days in Korea. Catch all the action this Friday at 6 PM KST (UTC+9).