Play days three to five in the sixth PG National season took place from Tuesday to Thursday, as all eight teams competed across 12 BO1 matches. Check out our pre-season guide on the teams, schedule, and format for a full roundup on what's going on in the league this season.
Jump to:
Day 3
IGP 7-4 Axolotl
MACKO 7-5 Hmble
Mkers 8-6 Totem
Nubbles 7-5 OP
After playing with a substitute last week, the third day saw Mkers play against Totem with its full lineup in a repeat of the '20-21 yearly grand-final. In a somewhat surprising pick, the game took place on Villa, which Totem had won in their last meeting by a 7-1 margin.
Mkers began on the attacking half. Two 1v1 wins from Sasha "Sasha" Michelizzi and Lorenzo "Lollo" Masuccio gave it a workable 2-4 half, which it managed to turn into overtime on the defensive half.
Mkers won its opening overtime defensive round, before a triple kill from Luigi "Gemini" Ferrigno ended the game a round early at 8-6 to take the two points.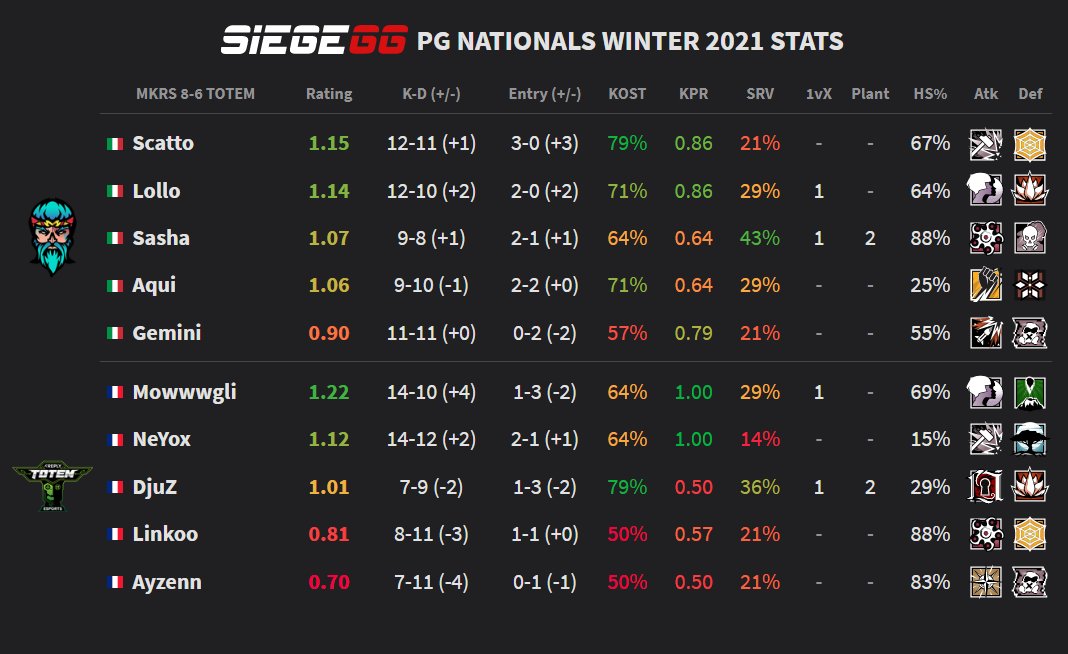 Also of note was the game between last season's runners-up Outplayed and the Swedish Challenger League roster Nubble.
On Clubhouse, the two teams kept neck-and-neck all the way to 5-5. Adam "Hxsti" Hostisoczki secured a quadruple kill to take round 11, followed by a 1v1 win by Aleks "VITO" Lyapun over Oscar "Oscr" Deacon to take the game 7-5 for Nubbles.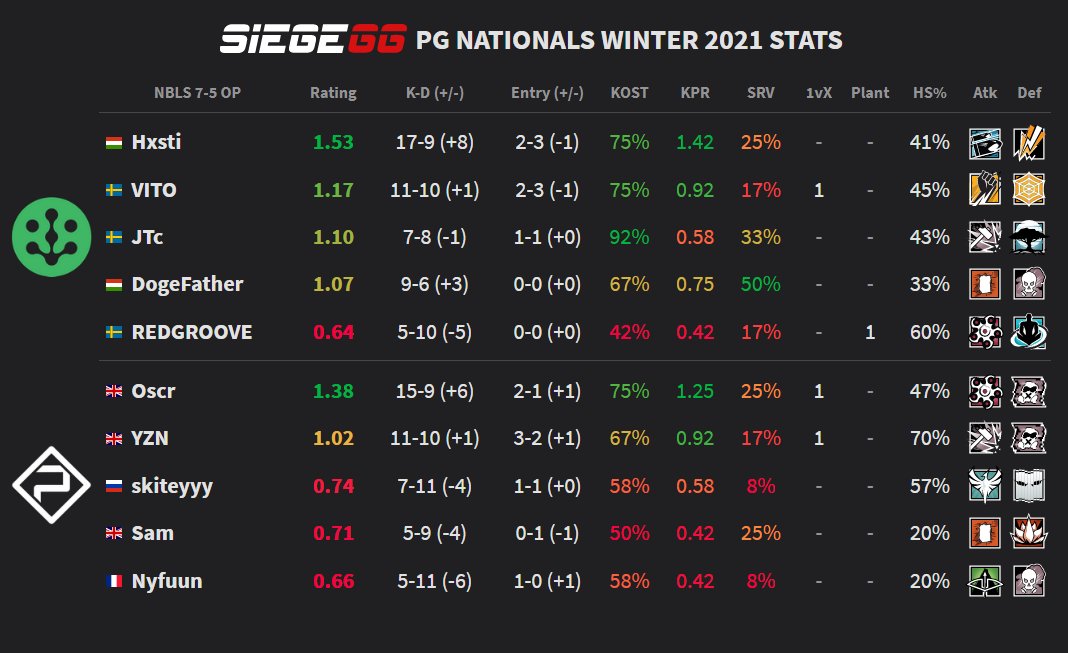 Day 4
Outplayed 7-5 IGP
Hmble 7-3 Axolotl
Mkers 7-5 Nubbles
Totem 8-6 MACKO
The next day saw Hmble's first win so far, after it had replaced the majority of its team between seasons. This win came against Axolotl Esports, which had fared well the week prior with a win over Nubbles, but was completely unable to attack on Oregon.
The map saw Axolotl lose all four attacks, which included two 1v1 losses after going 3-3 on its defensive half. Hmble's "wuK" excelled with the highest SiegeGG Rating and kill differential, as well as the most plants on the hard breach support role.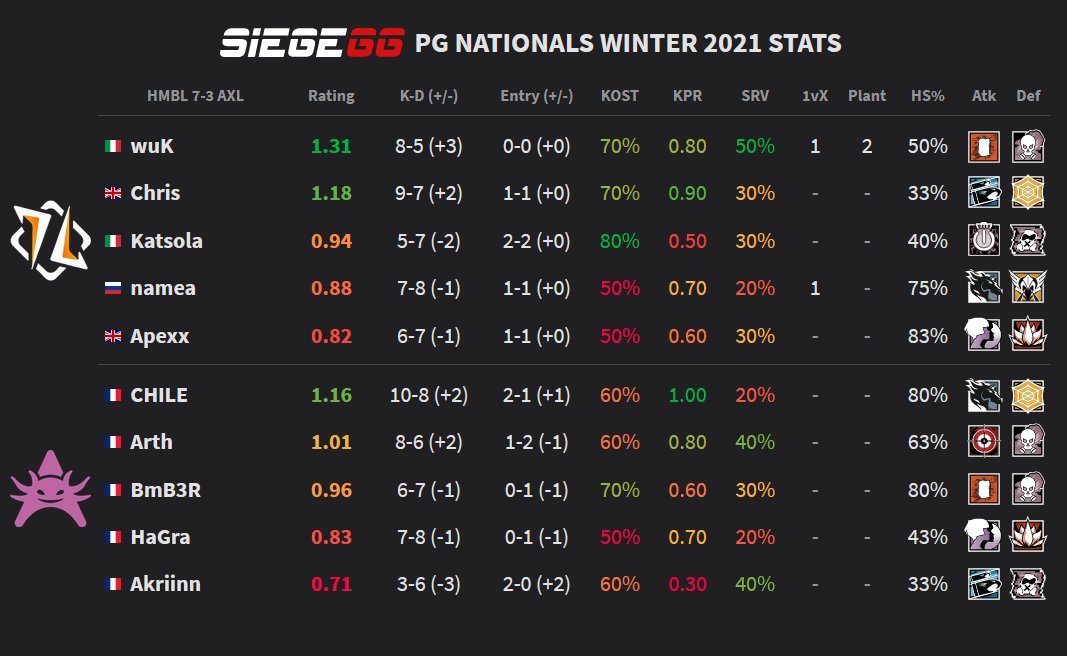 Elsewhere, the two Challenger League-qualified teams Mkers and Nubbles met on Clubhouse, which also saw the support players excel.
After initially falling behind, a 1v2 triple kill and a quadruple kill from Rasmus "REDGROOVE" Larsson tied the teams up... only for Mkers to wake up and win three rounds in a row. This included a kill from Gemini in a 1v1 against REDGROOVE, as Mkers only just managed to clinch all three points.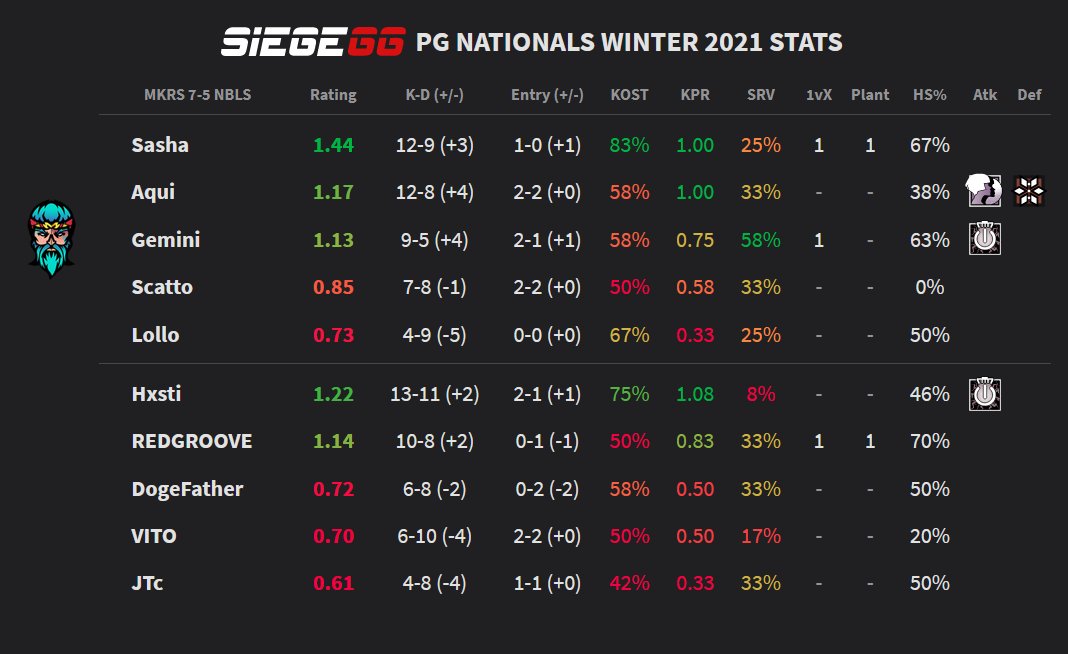 Day 5
Outplayed 7-3 Hmble
MACKO 7-4 Mkers
Nubbles 8-7 IGP
Axolotl 7-4 Totem
Finally, Thursday saw another tough game for Mkers as it faced its old rival, MACKO. MACKO previously won two PGN titles and represented Italy in the Challenger League last year.
Alessio "Aqui" Aquilano opened the game with a quadruple kill on Jager, but the teams eventually ended the half tied.
As they went to the attack, Mkers had a very hard time cracking MACKO's shell with a 1v2 quad-kill from Aqui being its lone round win on the half, and MACKO ran through Mkers to eventually take the map 7-4.
With the exception of a 0-7 loss against Oxygen at the 2021 Six Invitational, this is Mkers' joint-worst best-of-one result in almost two years.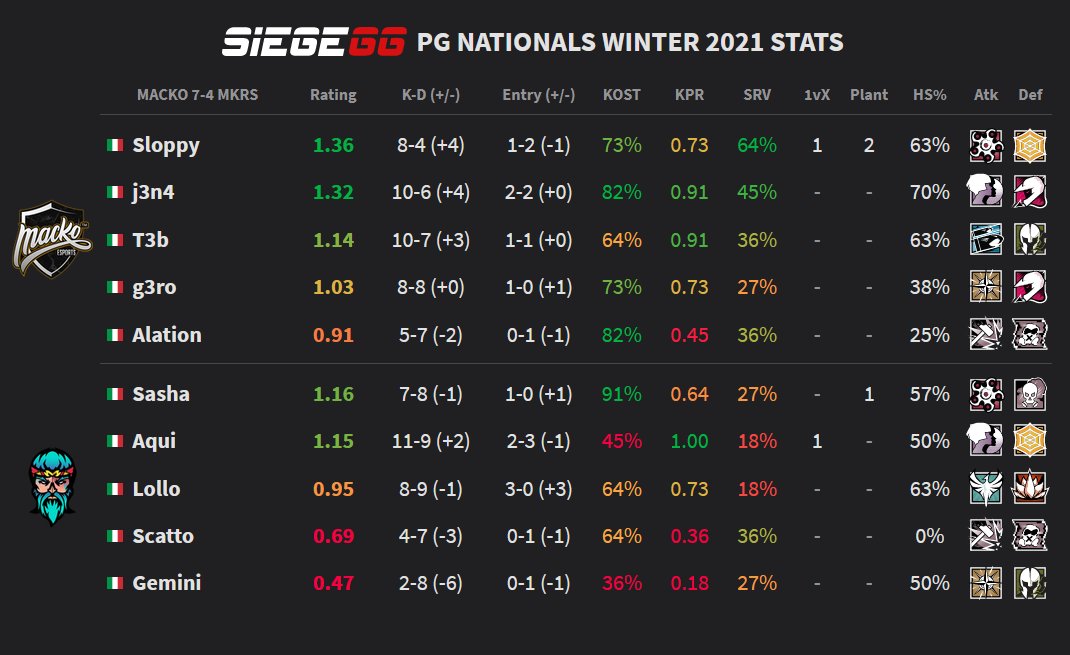 Finally, an incredibly close game occurred between second-placed IGP and third-placed Nubbles on Clubhouse.
The game became somewhat of a frag-fest between the two team's Jager mains VITO and "alpha". Alpha ended with one more kill, but VITO got the final kill on round 15 to win the game, 8-7.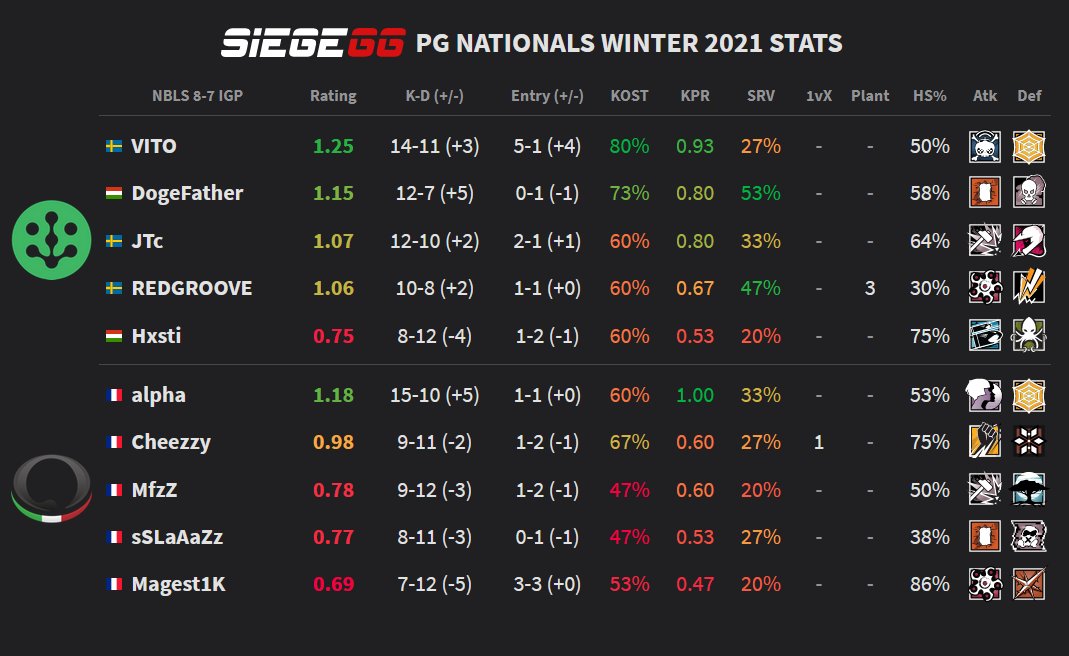 Top Players
This week's star players include Nubble's Hxsti, who secured a 1.53 Rating against Outplayed, followed by IGP's "Cheezzy" right behind with a 1.52 Rating against Axolotl.
Mkers' Sasha, meanwhile, topped the team against MACKO and Nubbles and currently has the top overall SiegeGG Rating across the five games played at 1.20.
Finally, the best individual play of the week was awarded to Sasha, with the following quadruple kill clutch against Nubbles:
Next Week's Games
Next week will see two play days on Tuesday and Wednesday as the first half of the double round-robin league comes to a close:
Tuesday, October 5th:
18:00 CEST -- IGP vs Mkers
19:15 CEST -- Nubbles vs Hmble
20:30 CEST -- OP vs Totem
21:45 CEST -- Axolotl vs MACKO
Wednesday, October 6th:
18:00 CEST -- OP vs MACKO
19:15 CEST -- Humble vs IGP
20:30 CEST -- Axolotl vs Mkers
21:45 CEST -- Nubbles vs Totem
Be sure to watch these games on the Rainbow6IT Twitch channel and check back here at SiegeGG for full coverage of the games when the tournament returns.