The first two play days in the sixth PG National season took place on Tuesday and Wednesday, as all eight teams competed across eight BO1 matches. Check out our pre-season guide on the teams, schedule, and format for a full roundup on what's going on in the league this season.
Jump to:
Quick wins for Mkers
While Mkers began last season with three 7-0 hits, Italy's homegrown stars this time began the tournament with two much more modest wins. These came as they earned three points each against two returning organisations, Outplayed and Hmble, with both having replaced half of their lineups since last we saw them.
Starting with the game against Hmble, this game saw "cmarc0r" stand-in for Luigi "Gemini" Ferrigno, who was taking some time off ahead of the team's EUCL season. On Clubhouse, a 1v3 from Lorenzo "Lollo" Masuccio on Goyo -- a clutch that ended up registering zero kills -- gave Mkers the lead at the half-way point.
From here Mkers successfully attacked onto the Master, Cash, and Church objectives, with triple kills coming out from Lollo, Sasha "Sasha" Michelizzi, and Pietro "Scatto" Scattolin to end the map 7-4.
For Hmble, this result is already better than its meetings against Mkers last season, with its new Russian signing, Anton "namea" Bukin, performing well in his debut.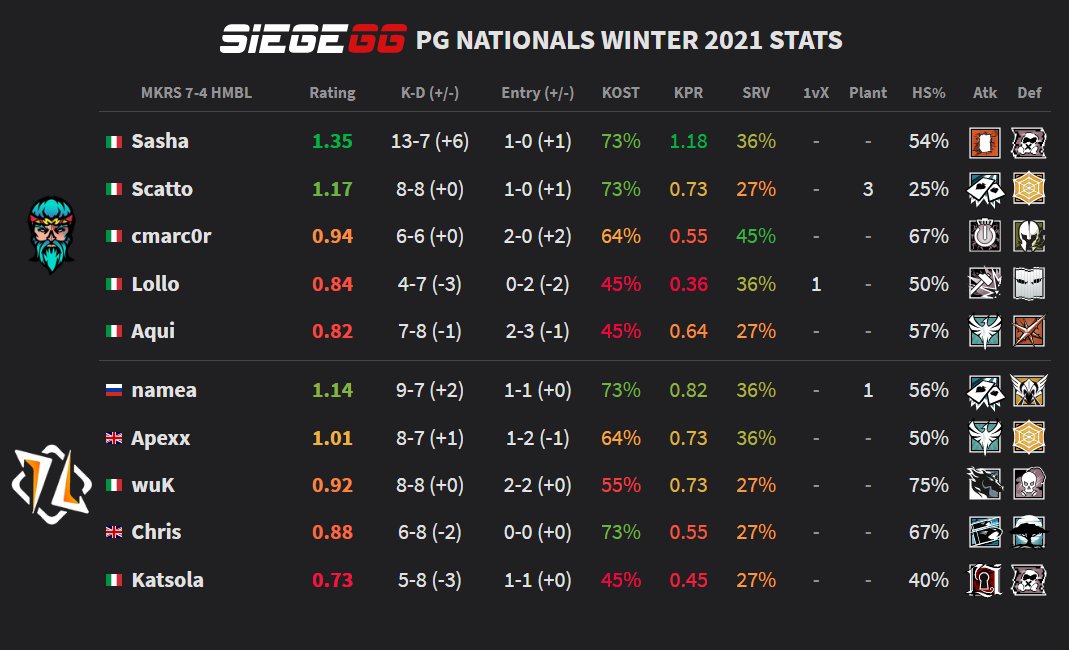 The next day Mkers had a much less flashy matchup against the new British Outplayed roster. Here,OP initially took a 3-1 lead, before Sergey "skiteyyy" Bolotskov secured the play of the game with a quadruple kill to close out the half 4-2.
As Mkers went onto the defense on Kafe, OP won a fifth round, putting it on the cusp of at least one point, before cmarc0r's triple kill started a flurry of wins. Five rounds later, Mkers had come back from 2-5 to 7-5 to win all three points.
With a 7-5 win the day prior against Axolotl and a standout debut from skiteyyy -- namea's ex-teammate from the Russian Major League -- it does look like Outplayed will be a serious contender once again after a runner-up finish during the Spring 2021 season.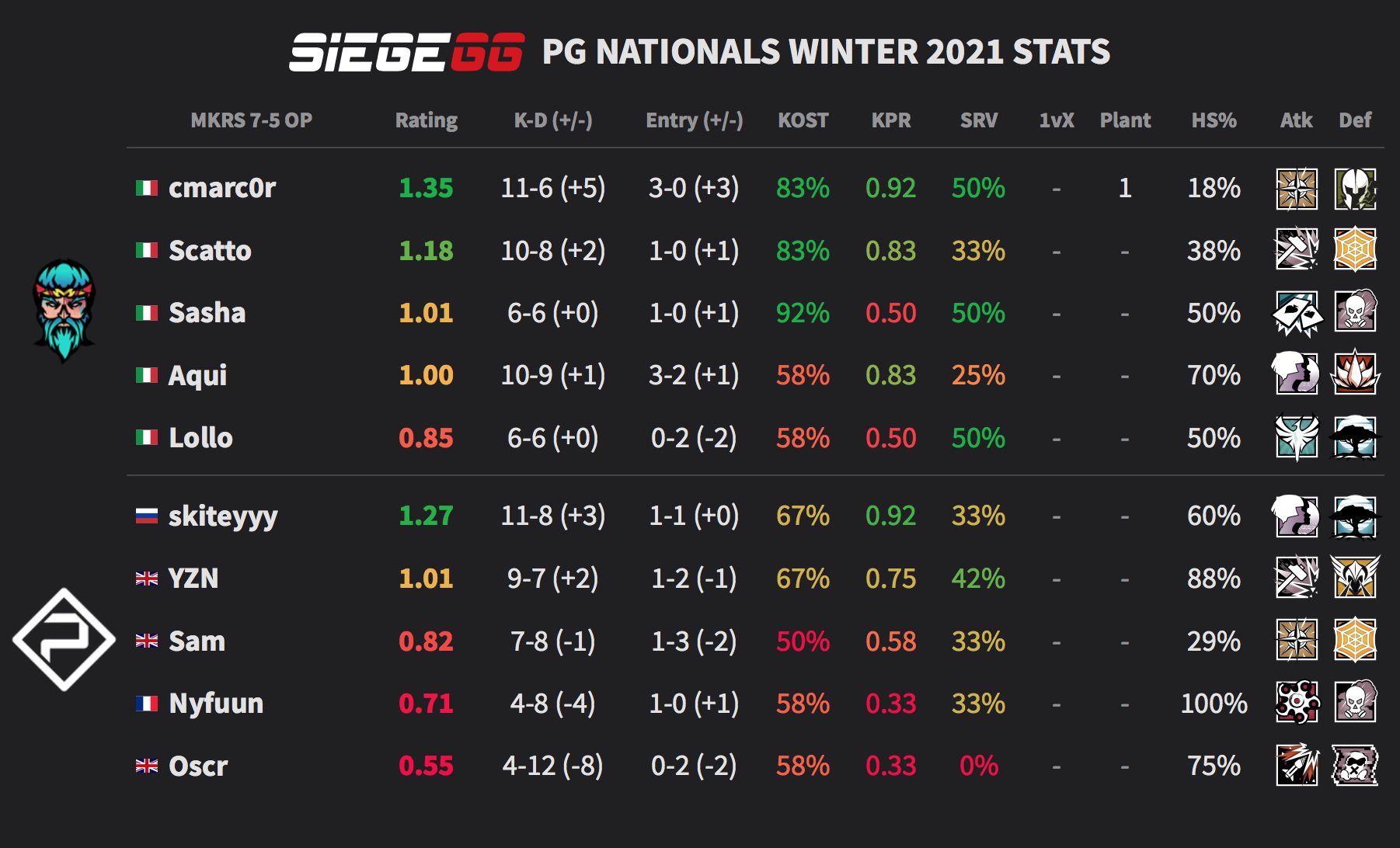 Nubbles falters in debut week
Nubbles, the mixed Swedish-Hungarian roster that had previously played under Chaos, began its PG Nationals campaign with a very strong win over MACKO on Chalet.
After winning four opening rounds on its attack -- of which Gábor "DogeFather" Juhász got the plant down in three -- MACKO Esports finally got on the board as Marcello "g3r0" Omobono got a triple kill onto the three Swedes.
Another triple on round seven and a quadruple kill on round nine, both also from g3ro, added to this count, but the one-man army couldn't hold and his death on round 10 led to a flawless round win from Nubbles, ending the game 7-3.
After winning two PGN seasons over the last year, this is certainly a disappointing start to the season for MACKO, who then followed up the result with another 3-7 loss against IGP on Wednesday.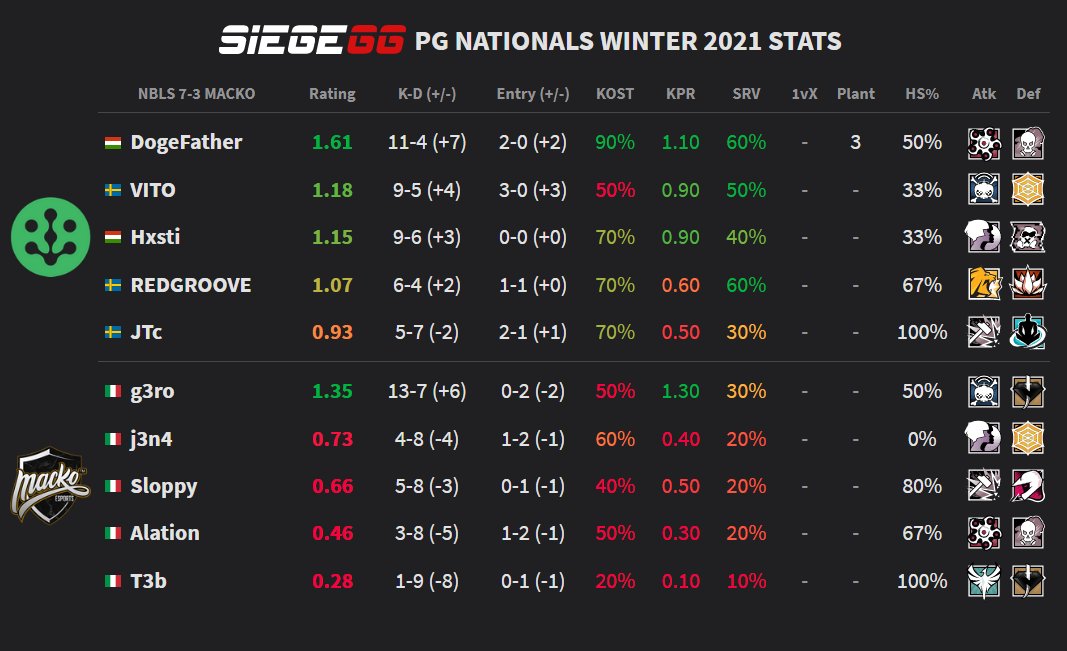 Nubbles, meanwhile, was riding high off of this result into their game against Axolotl the following day. Now on Coastline, performances from DogeFather and Adam "Hxsti" Hostisoczki each netted Nubbles a round to tie the game at 2-2 on the team's defense, only for "Arth" to win a 1v2 on round five and get a double-kill to start the execute on round six.
At this point, Axolotl was up 4-2 and ran away with it on its own defense, winning three rounds in a row. Nubbles, meanwhile, kept on hitting the brick wall that was "Akriinn" on Mozzie on each of its attacks.
This loss is somewhat worrying for Nubbles, with the Challenger League starting in a matter of weeks, while Axolotl will be happy to make up for its loss against Outplayed on Tuesday.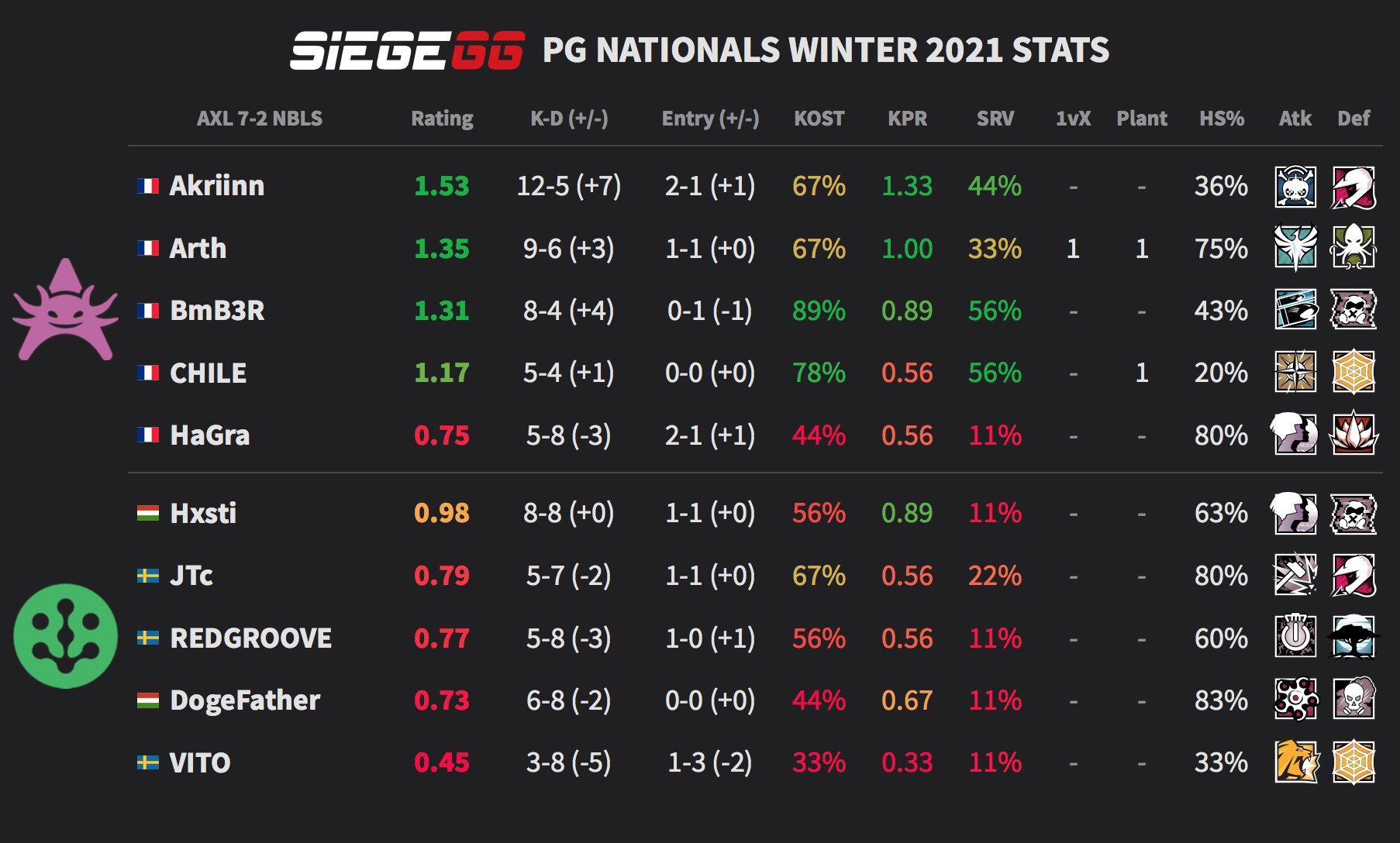 IGP leads the way
While Mkers managed to win all six points, it wasn't the only team to do so, with Italian Gaming Project's new French roster also finding two wins against an arguably harder opponent.
IGP's opening game was against the PG Nationals '20-'21 season runner-up, Totem Esports, who had made no changes since the last season. Nevertheless, on Oregon, the two teams kept neck-and-neck throughout the first half, with Totem's Yanis "Mowwwgli" Dahmani ending his team's attacks with a triple kill and beginning its defenses with a quadruple kill.
The back and forth continued all the way to 5-5, when a double-kill from "alpha" broke the pattern in IGP's favour, giving it a 7-5 victory.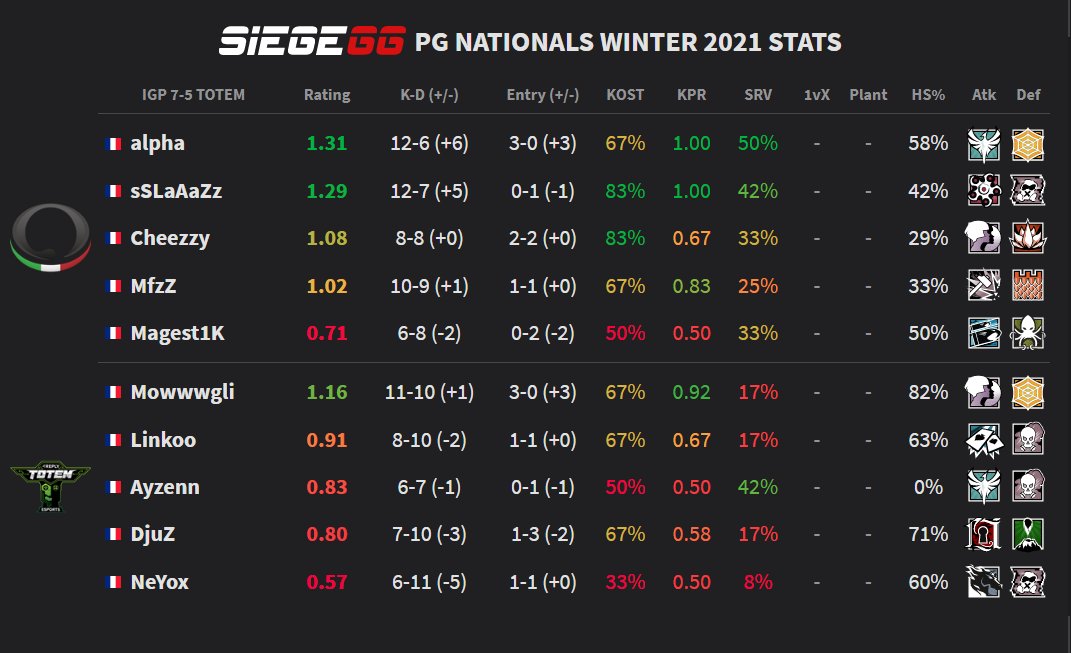 Following this, IGP's second game was against MACKO, a roster that had finished the yearly finals in third (just behind Totem), and had recently added the ex-NA League player of Manuel "Sloppy" Malfer.
Despite this experience, MACKO couldn't keep up with IGP on Villa, as alpha once again excelled, helping his team to win five out of six of its defensive rounds -- including a 1v1 by "Cheezzy" on time.
As sides switched, a quad-kill from Michele "j3n4" Strambi on Jager won one of two defenses, but IGP was undeterred, with a Cheezzy triple eventually ending the map 7-3.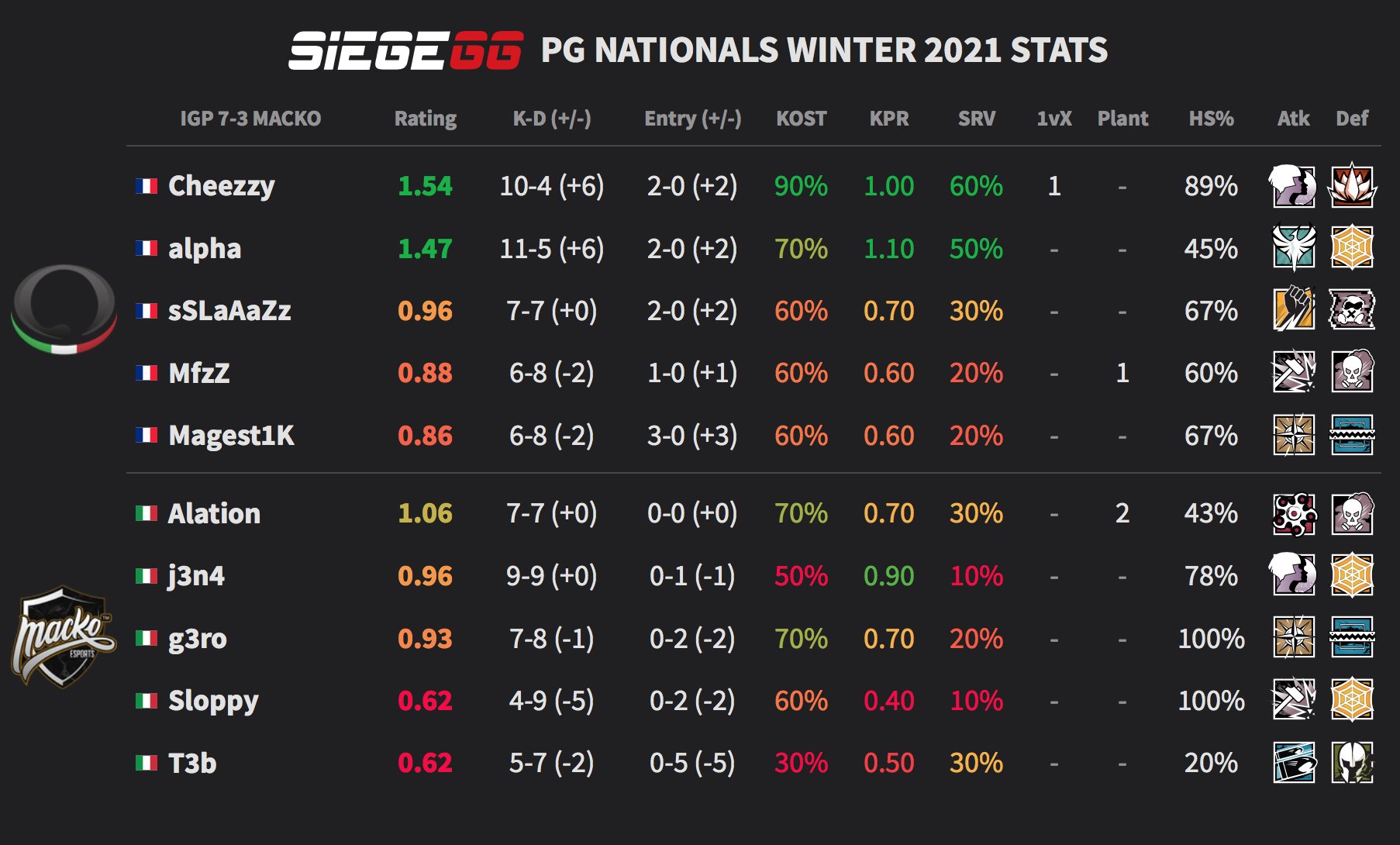 These results put both IGP and Mkers on six points. As IGP only conceded eight rounds rather than nine, it means that it ends week one as the leader of the PG Nationals.
Top Players
This week's star players include Axolotl's Akriinn, who earned SiegeGG Ratings of 1.36 and 1.53 across his two games, and IGP's alpha, who hit Ratings of 1.47 and 1.31. The best result in a single game, meanwhile came from Nubble's newest pickup, DogeFather, in thewin against MACKO. There, he secured 11 kills to just four deaths while playing as a primary planter and on support roles.
Finally, the best individual play of the week was awarded to Totem's Jason "DjuZ" Dray with the following post-plant 1v2 triple kill:
Next Week's Games
Next week will see three play days on Tuesday to Thursday as we near the mid-season already:
Tuesday, September 28th:
18:00 CEST -- IGP vs Axolotl
19:15 CEST -- MACKO vs Hmble
20:30 CEST -- Totem vs Mkers
21:45 CEST -- Nubbles vs OP
Wednesday, September 29th:
18:00 CEST -- OP vs IGP
19:15 CEST -- Axolotl vs Hmble
20:30 CEST -- Mkers vs Nubbles
21:45 CEST -- MACKO vs Totem
Thursday, September 30th:
18:00 CEST -- Humble vs OP
19:15 CEST -- Mkers vs MACKO
20:30 CEST -- IGP vs Nubbles
21:45 CEST -- Axolotl vs Totem
While Mkers vs Nubbles was initially the most anticipated match, due to both being Challenger League-qualified rosters, the standout performances from Axolotl and IGP have made the whole week a lot more interesting with their opener on Tuesday.
Be sure to watch these games on the Rainbow6IT Twitch channel and check back here at SiegeGG for full coverage of the games when the tournament returns.