Secret scores big win over struggling G2
G2 hasn't won an attacking round in a week. For nine straight rounds, they haven't been able to convert a single attack. While G2 is safe from relegations, this isn't a good omen with how much of the regular season is left.
Before today, G2 was still right in the thick of the Major qualification race points-wise. Unless the players can right their ship essentially immediately and peel off some regulation wins, they might be watching the November Major from home.
Secret, on the other hand, looks like it has improved by leaps and bounds from previous week's performance. Its victory over G2 is their first regulation victory of the stage. The key to their victory? Winning the opening kill battle by +5, as well as every single member of its roster surviving at least 44 percent of rounds played.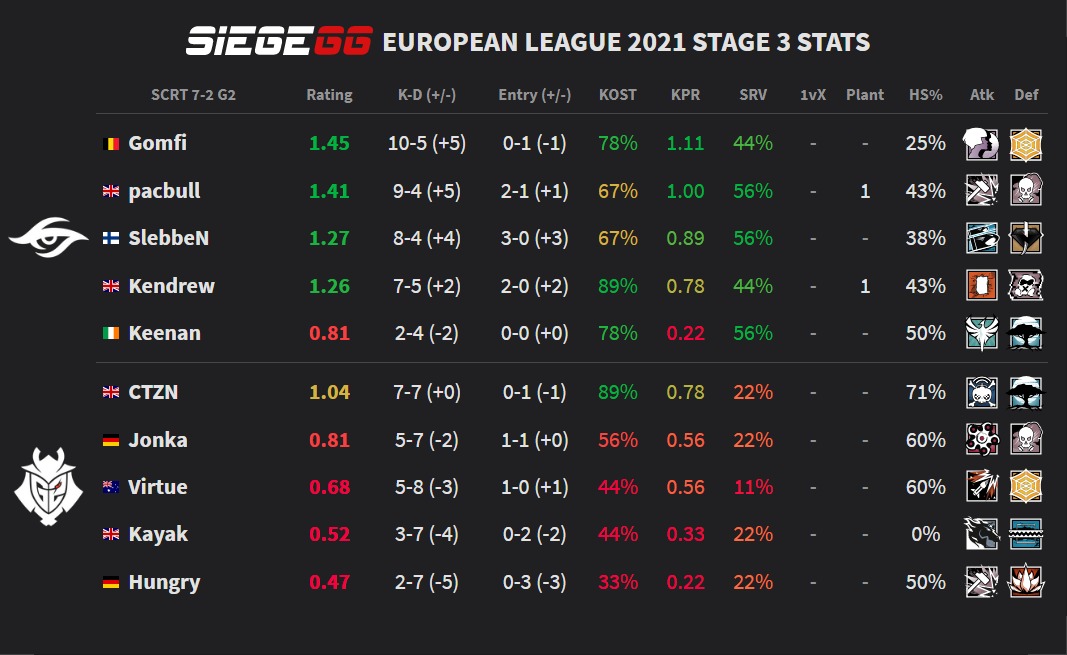 BDS throttle Natus Vincere in EUL Match of the Day
The French side started off strong and never looked back. Their much-hyped match with NAVI started off with a 4-0 BDS lead, and the Frenchmen never surrendered that initial numerical advantage en route to a 7-3 victory.
The victory also moved Stéphane "Shaiiko" Lebleu into first place in the league in terms of SiegeGG Rating, a spot the Frenchman is no stranger to. Shaiiko led EUL in Rating in Stage 2, and finished third in Stage 1, behind only Ben "CTZN" McMillan and Byron "Blurr" Murray.
Despite the loss, the play of the match came by way of Jack "Doki" Robertson, who notched an ace on NAVI's only attacking round win. NAVI has now suffered two regulation losses on the season, they've only suffered four in the other two stages combined.
The loss drops NAVI to fifth, and it has only one team in the top four remaining on its schedule: Team Vitality. NAVI will have to win out and hope some teams above it stumble. Its players' destinies on the final play day might be still in their hands, but to get there they'll need some breaks.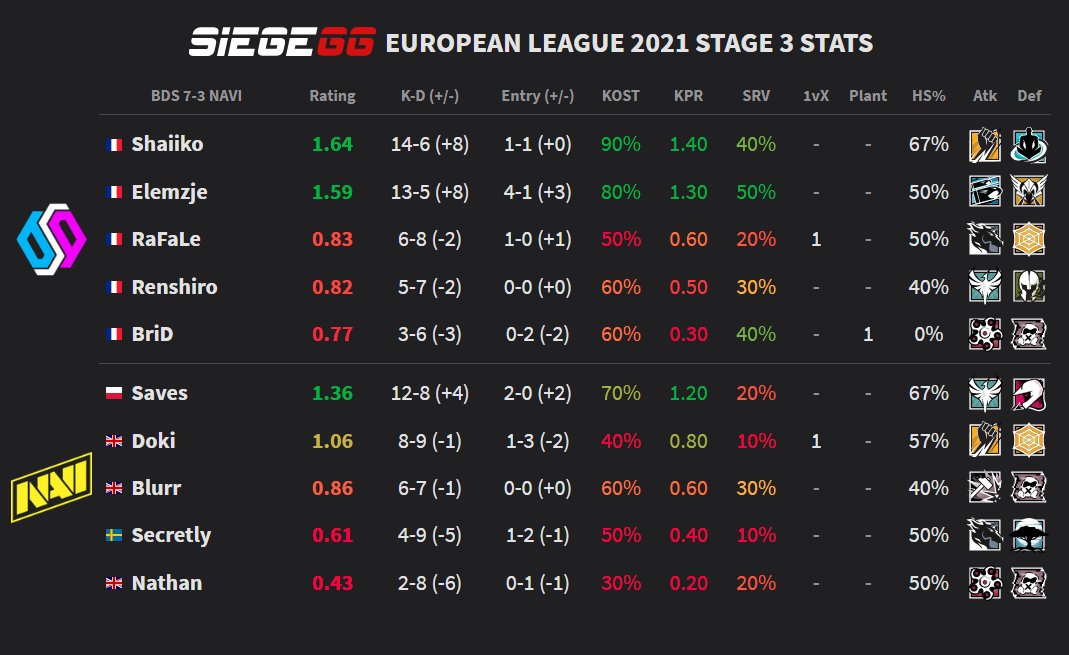 Rogue continue massive upswing in comeback against cowana
Cowana raced out to a 3-0 lead on Kafe Dostoyevsky, but Rogue was ultimately undeterred. It rattled off seven round wins over the next eight and took home a win that placed it in second place.
One of the unsung heroes of the Rogue resurgence has been Kevin "Prano" Pranowitz. He's tied for the league lead in KOST percentage and leads the league in plants. While stats are typically poor indicators of support play, Prano's plant stats are nothing to be sneezed at. Plants are an indicator of a job well done during the round, and Prano has the most in the league. That counts for something, even if it's not something holistic.
Cowana isn't out of the Major running, even with NAVI nipping at its heels. It is in fourth, and holds the tiebreaker over the fifth and sixth placed teams. All cowana needs to do is keep winning, whether it's in overtime or regulation matches. The squad can afford the odd tie here or there, but they need multiple full three points guaranteed from regulation victories to keep a gap between them and the rest of the league.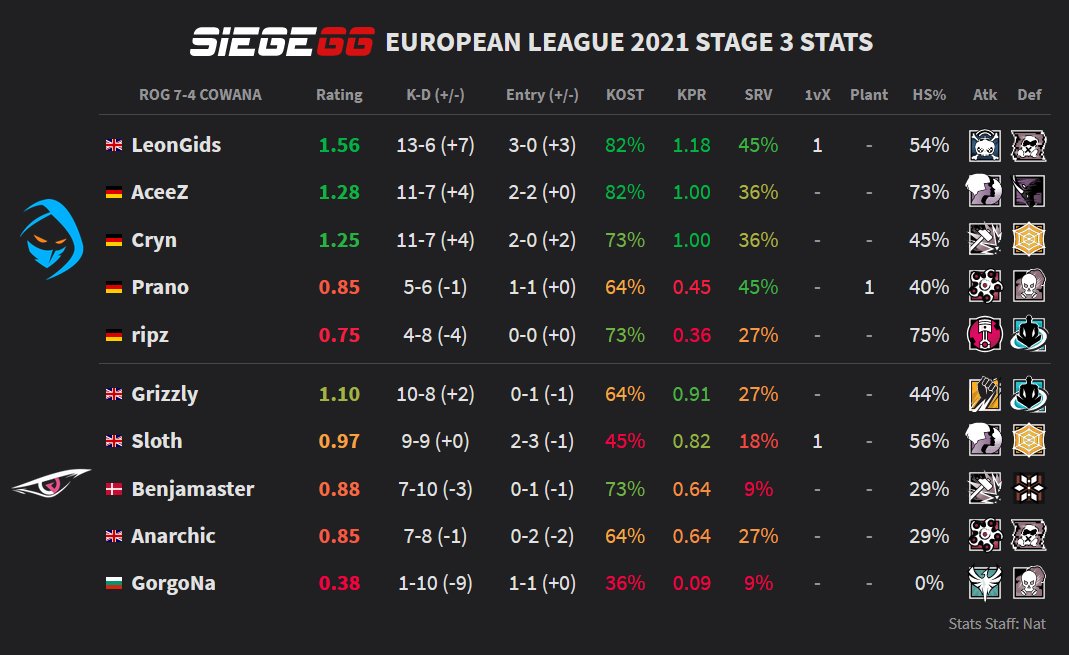 A logjam from third to sixth
The play day's results have given us four teams within two points of each other, all vying for only two Major qualification spots.
Due to how the head-to-head priority and round differential secondary tiebreaker rules, there are many scenarios that could occur.
Cowana holds a tiebreaker via head-to-head over NAVI and Team Empire, but large matches with Vitality and BDS loom.
Empire could technically fight its way back in, but it has a match with NAVI on the final day of the stage that could become a "win and you're in" situation.
NAVI has a tough road; it plays Vitality and Empire, but gaining those head-to-head tiebreaker wins could be the difference between Major qualification and watching it on Twitch.
Vitality, meanwhile, arguably has the hardest road to qualification; cowana, NAVI, and Rogue are still on the schedule.