Banner image: Ubisoft/Kirill Bashkirov
After what could eventually be a decisive weekend in LATAM, it's now time to break down the games and the standings.
Brasileirão - MIBR's back in sixth place, FaZe Clan looking unstoppable
Curiously, the most exciting game of the weekend was the first one between MIBR and Team oNe.
The game had been delayed for over an hour, with another entire game played in the interim, but that did not stop what would become a very intense match between both sides.
Kaique "Faallz" Moreira and Felipe "FelipoX" De Lucia were pivotal with one clutch each. Those plays put Team oNe under intense pressure, as MIBR had the lead on round twelve. But after forcing overtime, Juliano "Levy" Andrade led the Mexico Major winners to victory as the he got four kills in round 15.
Team oNe's second match of the week was the opposite of a close game. The golden squad demolished INTZ by a 7-1 scoreline. An outstanding performance from Karl "Alem4o" Zarth was pivotal in its win, which helped oNe clinch a Copa Elite Six spot.
Team Liquid was no exception, as the Brazilian roster confirmed its appearance at the next Copa Elite Six after defeating W7M Gaming 7-2.
Meanwhile, Ninjas in Pyjamas and FURIA Esports are on the verge of confirming their Copa Elite Six spots as both rosters currently sit in fourth and fifth place with 40 points each.
On the other hand, despite a loss to oNe, MIBR has retaken sixth place. Its win on Sunday against W7M Gaming, and Black Dragons' losses against Ninjas in Pyjamas and FURIA Esports currently see MIBR in sixth place, four points ahead of BD.
At the bottom of the standings, INTZ's victory against Santos on Saturday puts the former team eight points outside relegation danger. That fight now seems to be between Santos and W7M Gaming, with the latter needing a miracle to turn the tide.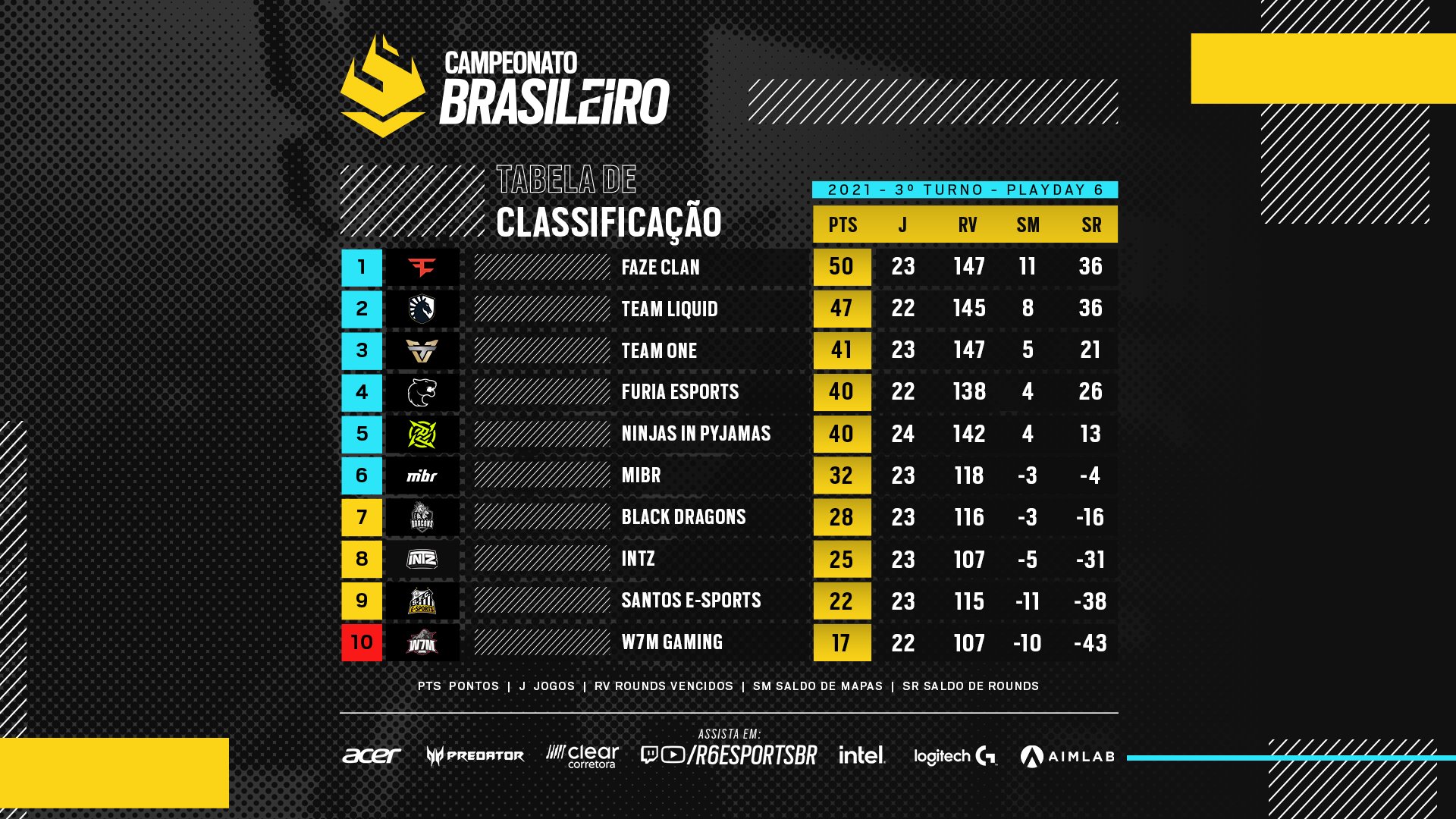 Mexicano - MeT beats Atheris Esports, three OverKnight players hit with COVID-19
This weekend, Mexico went through an atypical situation as the region had to go back to an online format on the second play day due to three positive COVID-19 cases on OverKnight.
The weekend began with an unexpected MeT victory over the leaders' Atheris. The Brazilians in the game had a match to forget, as the Mexican Christopher "SkMzY" Espinosa was the only player to match the efforts of MeT.
Meanwhile, Fenix Esports won its two matches in overtime, defeating Six Karma and Kingdom Gaming. The latter had won against Chivas on the first day in a result that could eventually seal their 2022 spot in Mexican Championship.
With Atheris and Fenix already qualified for the Copa Elite Six, the Mexican scene is focused on the three-horse race between Six Karma, Overknight, and MeT, as the three teams head into the last week of the regular phase with the same amount of points.
Sudamericano - Malvinas chips away at 9z's lead, Nocturns defeats Leviatán in crucial relegation battle
While Furious Gaming had still been in the race to overtake Malvinas in the standings, it was all over after the end of this weekend's matches.
Saturday went as expected as all 9z, Malvinas, and Furious defeated Coscu Army, Newstar and Infamous Gaming, respectively.
However, the next day saw Furious' hopes fade away. A 15-round victory by Malvinas over 9z Team, featuring seven clutches, was followed by a Furious Gaming 7-1 loss against the sixth-placed team, Coscu Army.
These results confirmed Malvinas' Copa Elite Six spot, something that would not have been possible if LATAM competitions reset their standings after the ending of every stage.
If that had been the case, Furious would currently be in second place with 12 points, while Malvinas would be in third with eight.