Banner image: Kirill Bashkirov
This week saw the third day of action in both the APAC North and APAC South leagues, as big upsets happened in both sub-regions. Let's take a look at some of the key highlights and storylines as we near the middle of Stage 3.
APAC North
The biggest result of the week was the complete collapse of Stage 2 APAC North victor, CYCLOPS as the Japanese fell in a 0-7 result against their countrymen on GUTS. This is GUTS' third-ever win against CYCLOPS across their 18 total matchups, as the trio of Hikaru "Li9ht" Osawa, Kazuki "Lily" Yamane, and Tsukasa "Merieux" Asano were standout performers for it.
On the other side, Taiyo "Ayagator" Hirayama ended the game with a 0.07 SiegeGG Rating. He died six times with no kills or plants to his name. This performance is something we aren't used to from CAG, and with a loss against mantis and a closer than usual 7-4 over T1 this season already, it seems like CAG is struggling this stage.
Mantis is now tied with GUTS at the top of the standings. The Koreans have won six points across their opening two games, but were taken to an 8-6 overtime win against Talon. This match saw two clutches and three quadruple kills come out during the action-packed regulation rounds, only for Seongsoo "EnvyTaylor" Kim to close the game in two fairly standard overtime rounds.
Elsewhere, another tight game between FAV and T1 was a highlight, as the latter team won its fourth point of the year in a 7-8 loss.
DWG KIA also beat a rather promising Fnatic roster 7-2, due largely to a 5.0 kill-death ratio (15 kills to three deaths) from Sanghoon "yass" Yoo.

APAC South
Over in APAC South, the Stage 1 and 2 victors Elevate and Knights, respectively, both lost this week in 4-7 scorelines. That puts the pair down in seventh and eighth position after three games.
Elevate faced Wildcard this week on Clubhouse. After an initial flawless round on the back of a Jonathan "Giovanni" Lanciana quadruple-kill, Elevate found its collective footing with three round wins. However, Wildcard won its final two defending rounds as well as four attacks to reach map point.
WC won the final round with a successful attack onto the Master/Gym site to put it back up to second place in the standings, the highest the Australians have been since this Day 3 of Stage 2.
The Knights' loss, meanwhile, came at the hands of QConfirm on Chalet. Here, Mark "Dino" Abboud was an unfortunate rival to Ayagator's stats with a 0.09 SiegeGG Rating.
Pasatron "Darkk" Boonrubasb, meanwhile, hit a 1.86 Rating for QConfirm, which included an incredibly rare 1v4 ace clutch. It was the start of a five-round winning spree that ended with the QConfirm win.
Even from a league that was completely unpredictable in Stage 2, this is still a remarkable start to Stage 3 with significant struggles for the former stage champions.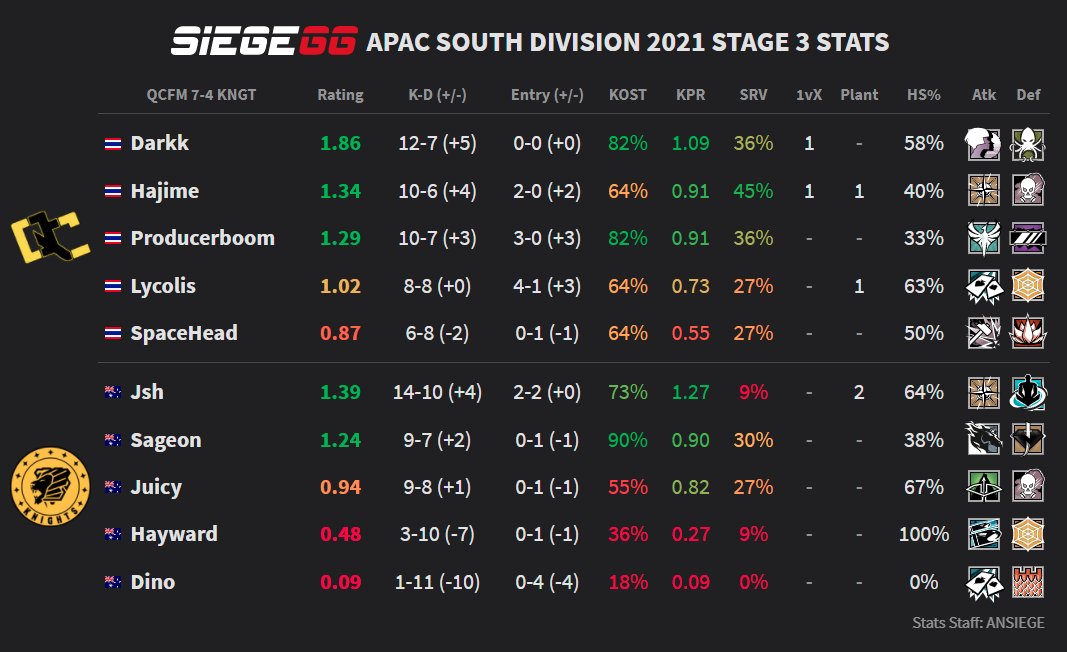 Elsewhere, Invictus was taken to overtime against ORDER before winning 8-6. Considering ORDER currently sits in the league's relegation zone, it was a valuable point for them.
Finally, the Chiefs smashed Dire Wolves in a 7-1 scoreline thanks to a 12-2 kill-death performance from Ethan "Ethan" Picard and a 10-2 from Trent "Worthy" Mitchell-Rose.
Next week, the games will return with a super-week as South plays on Tuesday and Thursday, while the North plays on Wednesday and Friday.
This means a massive 16 games will take place in top-flight APAC competition, including several must-watch matches; Fnatic vs mantis, DWG vs CAG, and iG vs Wildcard.