The start of the Autumn 2021 season of the Korean Open last week saw four of Korea's top names, DWG KIA, T1, Talon Esports, and the ex-Cloud9 roster mantisFPS continue competing with four of Korea's top upcoming teams for the ₩60,000,000 (~US$51,000) prize pool.
Here's a rundown of the opening play days and a look forward at the games to come:
Jump to:
Day 4
Mantis 7-3 Talon
RECON 7-3 GroovJam
DWG 7-4 T1
D4RK 8-6 Viper
After a number of one-sided stomps, the final game of Friday saw a really exciting match between two up-and-coming rosters; D4RK Esports (previously known as 5PM supremacy) and Team Viper.
This game kicked off with a bang, with an opening-round quadruple kill from Marb1e on Iana giving D4RK the lead. However, without some hero plays, D4RK was struggling to gain ground. A 1v1 meant it managed to earn a second round before switching sides onto its defense.
The new half initially saw much of the same, with Viper pushing onto match point before D4RK -- seemingly out of nowhere -- found its groove and managed to piece together not just the four rounds required to take the game to overtime, but also another two to take the map, 8-6.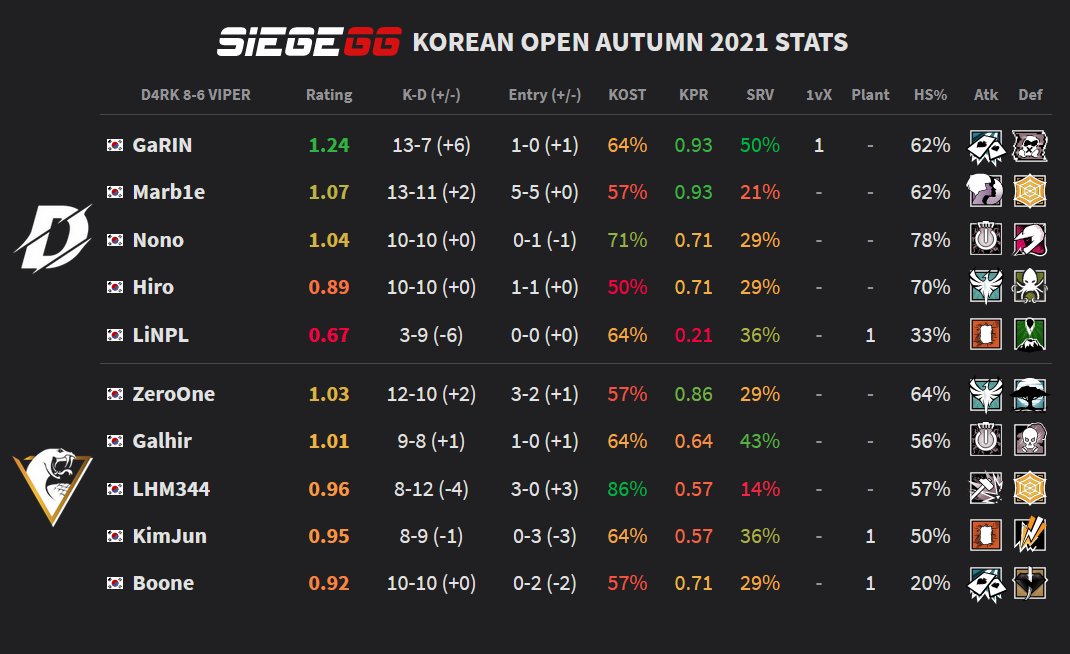 Day 5
Mantis 7-3 D4RK
Talon 7-2 T1
DWG 8-7 RECON
Viper 8-7 GroovJam
The following day, another challenger, RECON Esports, also made a splash in its game against last season's Korean champions, DWG KIA.
RECON initially went up 4-0, which included a 1v2 from Templat, an ex-member of the DWG roster, before CATsang helped his team get back in the game at 4-3 with two standout rounds.
In an almost identical fashion to the D4RK vs Viper game, RECON reached map point, before DWG won four rounds running to take it to 7-6 in overtime. A 1v2 retake clutch by Vamos meant the game went all the way to round 15, where yass aced in another retake to win the map for DWG KIA, 8-7.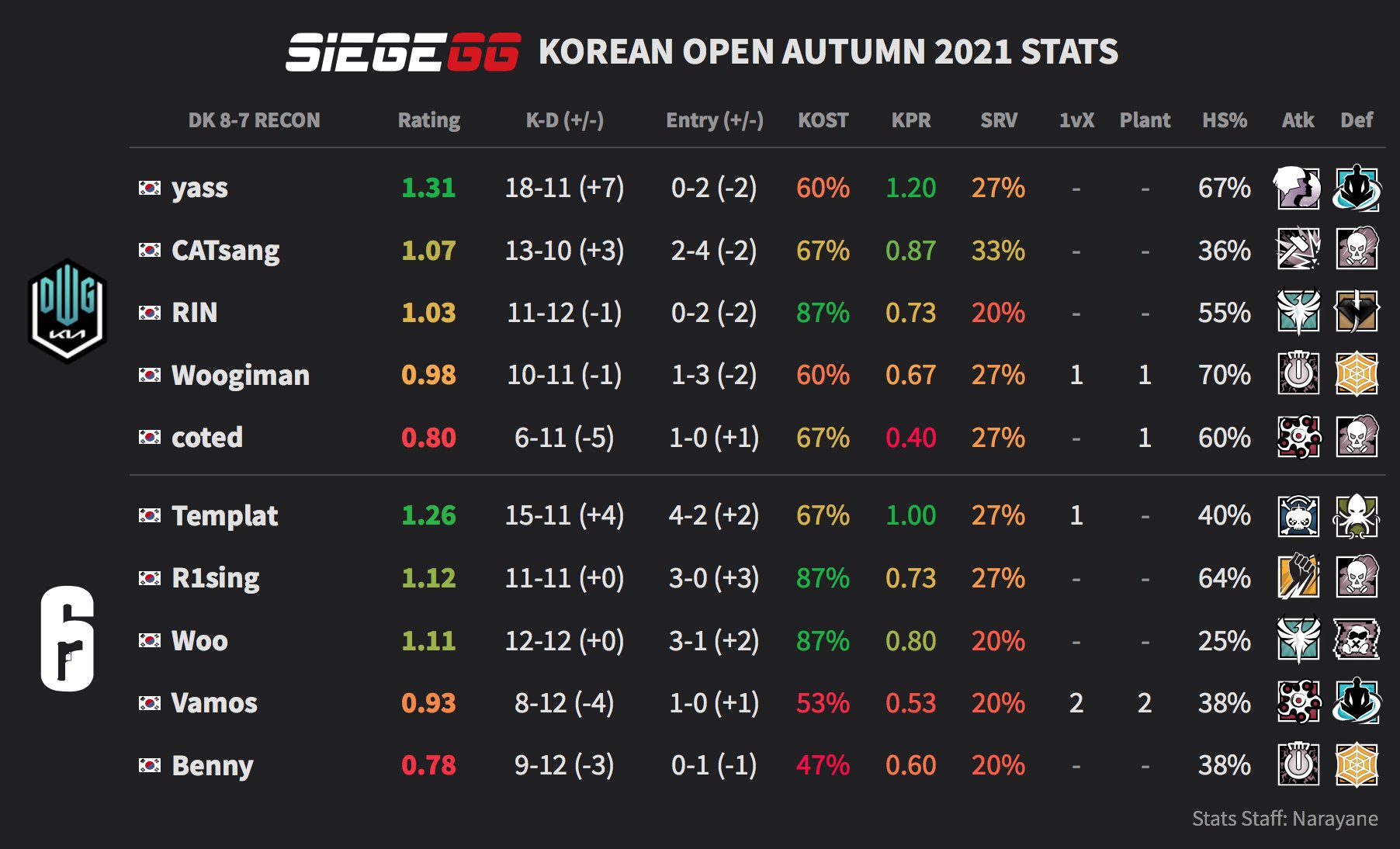 Day 6
DWG 7-2 Viper
Talon 7-2 RECON
GroovJam 7-5 D4RK
T1 7-5 mantis
The final game of the week saw the biggest upset of the whole season. Here, T1 beat mantis, who lead the league, in a straight 7-5 scoreline.
This result came despite EnvyTaylor securing a 2.0 kill-death ratio and SyAIL opening the game with a 1v1 clutch as mantis was completely unable to break down T1's defenses on Bank, likely due to a lack of practice on the recently reintroduced map.
While mantis was up 5-1 on its own defenses, T1 won all six of its own to win the game, as the lone attack win came from a quick execution onto the CEO objective during round three.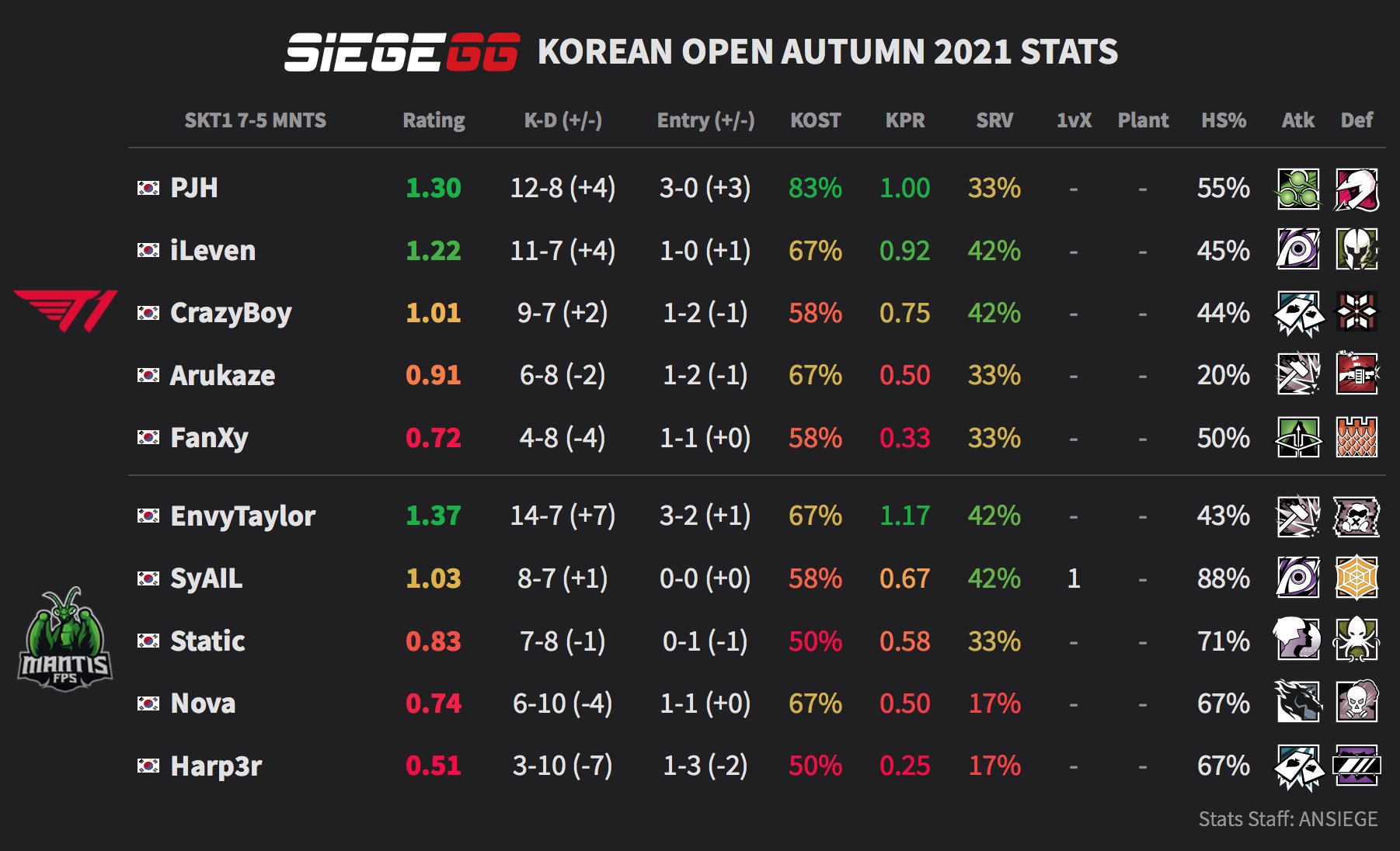 What's Next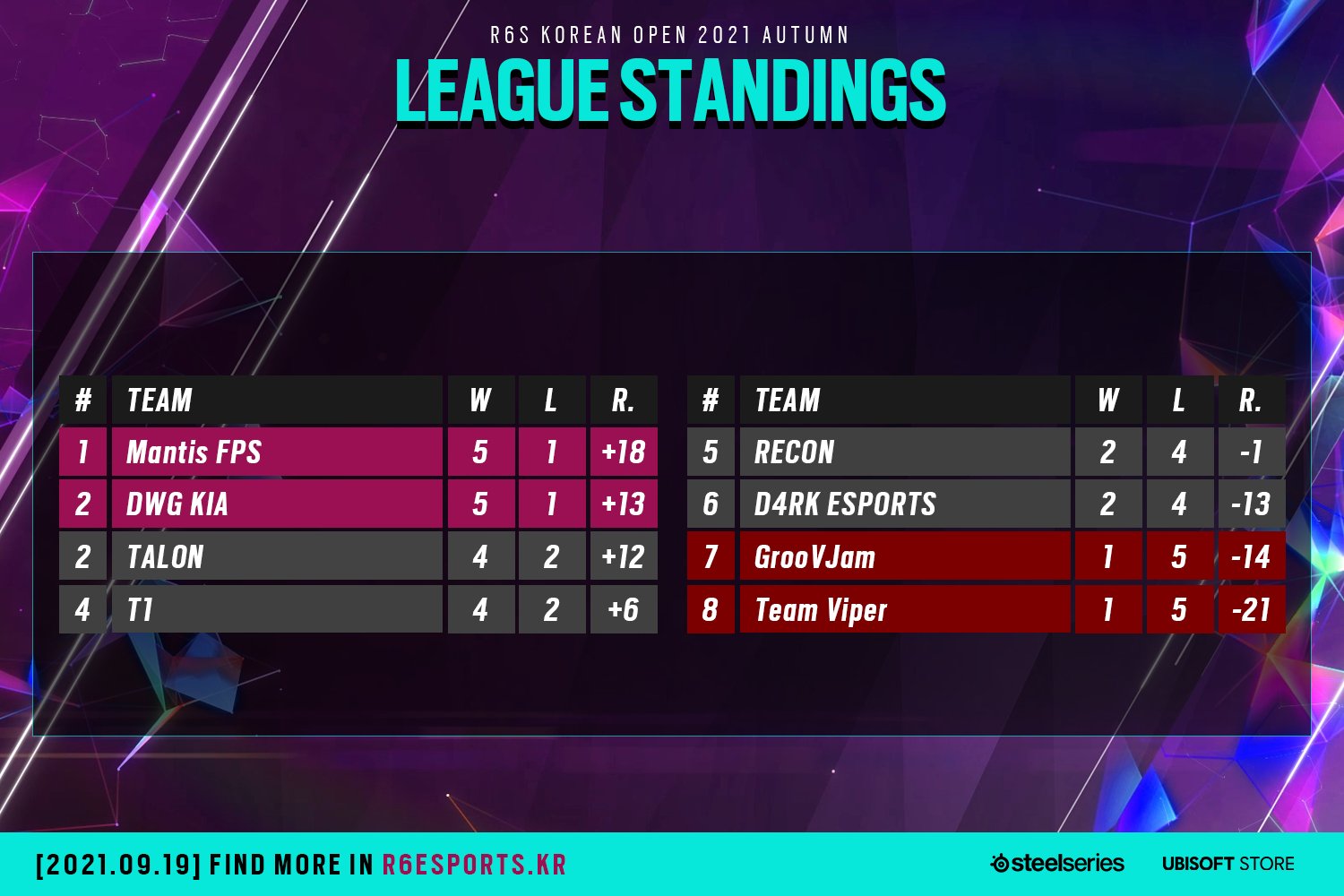 This weekend's three play days will see just one all-pro meetup between Talon and DWG, which will likely lead to the gap between the top and bottom four teams increasing to around eight points.
Meanwhile, the only matchup between two non-pro teams will see D4RK face RECON, with these two being the current leaders in the race to win the two APAC North relegation spots. As such, this will be a key first look at how the teams match up to each other.
All in all, this creates a thrilling few days in Korea. Catch all the action next week from September 24th, at 6 PM KST (UTC+9).