Banner image: Ubisoft/Kirill Bashkirov
EUL saw quite a few close results pn the Sept. 20 play day. Quite a few teams gave traditional powers a scare, and the race for November Major qualification has begun to heat up.
Stay tuned to SiegeGG for coverage of Europe's top-flight league throughout the duration of Stage 3.
Team BDS 8-7 Heroic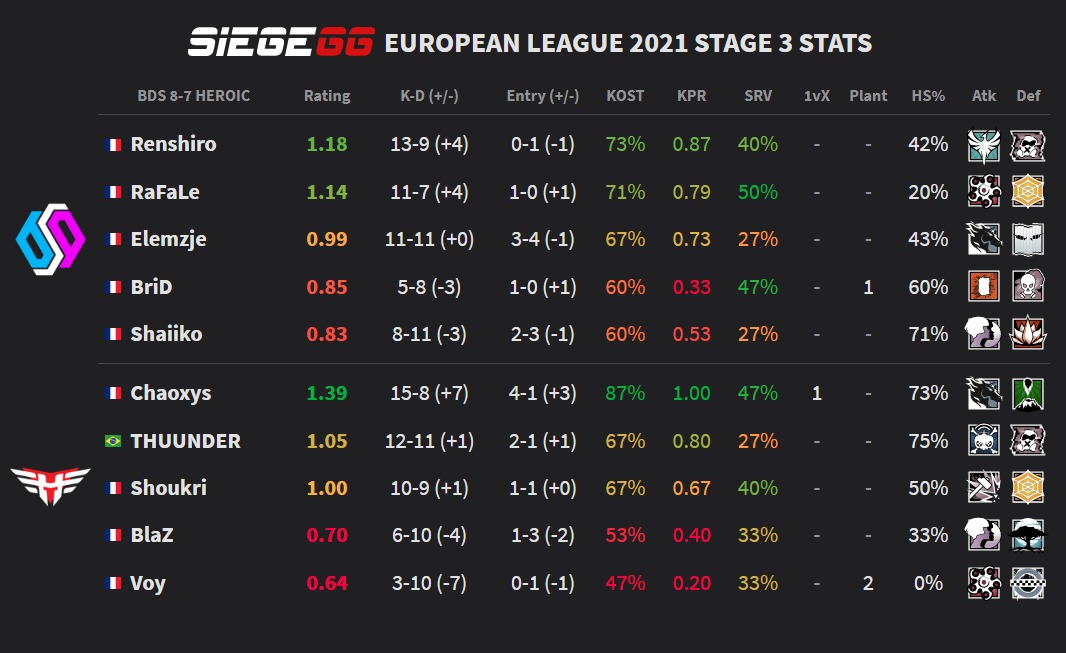 BDS pulled out the win, but it definitely didn't come easily. Heroic made its fellow French team scrap for every inch of Oregon, and nearly pulled out the victory.
Christophe "Chaoxys" Soares had one of the best games of his career. The Frenchman dropped 15 kills, exactly one per round, and notched a game-leading 87 percent KOST. It also marked Pedro "THUUNDER" Muniz's return to the server after some struggles, and he put on a show. The Brazilian dropped 12 kills during the match, and overall performed significantly better than his first outing against Team Secret.
The talk is about Heroic's improvements, but BDS won, and marches on to seemingly another top placement in an EUL Stage. The Mexico Major semifinalists are once again leading the league, and despite struggling against a typically poor Heroic roster, are perfectly poised to make yet another Major.
Regionally, BDS has been a sure bet for around two years -- it's time for that regional success to translate internationally.
Team Empire 7-2 Rogue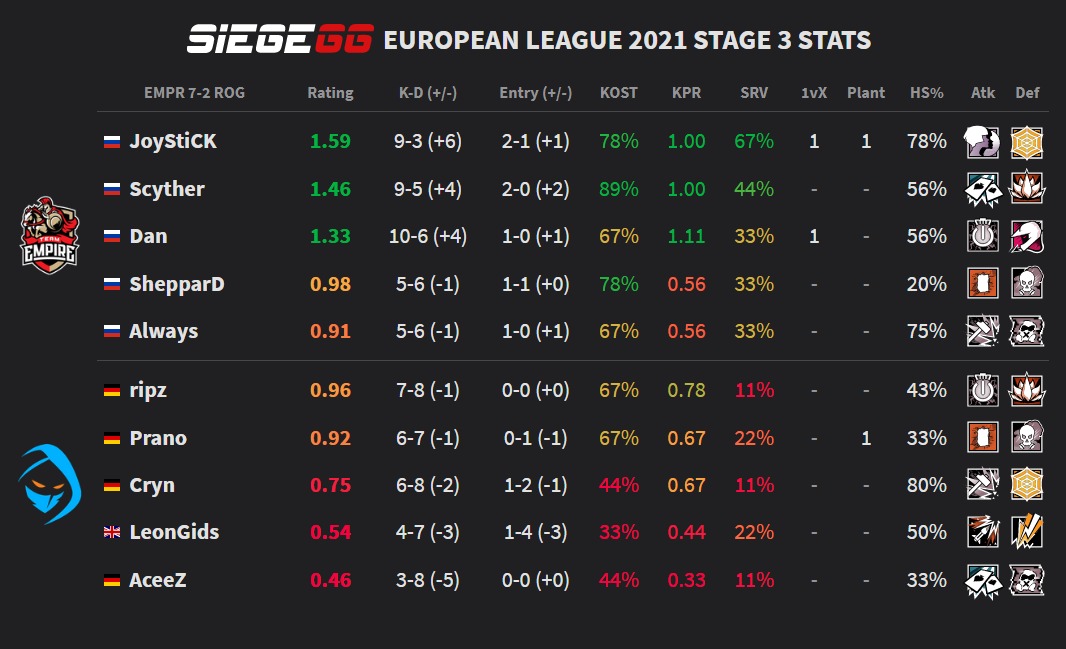 Empire bulldozed Rogue en-route to a 7-2 victory in a game that looked close around four rounds in. It was tied 2-2 thanks to two successful Rogue attacks, which is normally a good omen on Clubhouse. Empire won the next five rounds in quick succession, though, including three attacking rounds.
Mostly, Rogue was unable to trade its opening picks on its unsuccessful defenses. In all three rounds, the same Empire player that tallied the opening kill also got the second one, resulting in three separate, unique 5v3 man-count advantages.
Danil "JoYStiCK" Gabov and Danila "Dan" Dontsov, specifically, notched the first two kills of two of Empire's attacking rounds within seven and five seconds of each other.
Now, these raw stats don't tell the whole story (how could they?), but they illustrate something that's been plaguing Rogue for quite some time: inconsistency. Rogue has the talent, but hasn't been able to put it all together just yet. It's nowhere near out of the Stage 3 running, but will need a far better performance in the last half of its upcoming games to get where it wants to be: Majors.
G2 Esports 8-7 cowana Gaming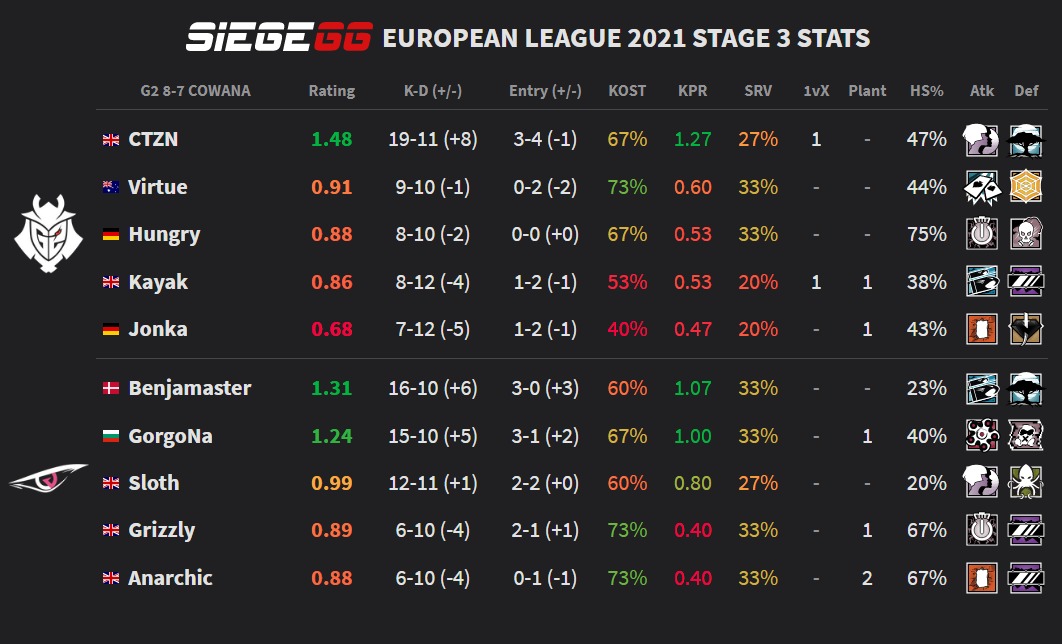 The EUL broadcast's "Match of the Day" lived up to the hype and then some. It featured stellar performances from Ben "CTZN" McMillan and Benjamin "Benjamaster" Dereli.
So far, cowana has not played a map in Stage 3 that has ended in regulation time. It's played three matches, and all of them have gone into overtime.
This was the first one it lost, though, and its Round +/- hangs at a paltry +1. This is definitely an upgraded team with Benjamaster as the spearhead, but it will need to begin closing out some of these games earlier as overtime victories just aren't consistent.
As for G2, this win has to feel good. They started off the season getting rinsed by an excellent Natus Vincere squad and bounced back by defeating Team Vitality in a 7-5 affair. An overtime win is still a win, and this is a team that G2 just needs to beat in any fashion if they're going to make another Major and rebound from an underwhelming Mexico Major performance.
There are regulation-winnable matches in the remainder of G2's schedule, and the tough NAVI game is already out of the way. G2 is in an extremely good spot heading down the stretch after this win.
Team Vitality 7-4 Virtus.pro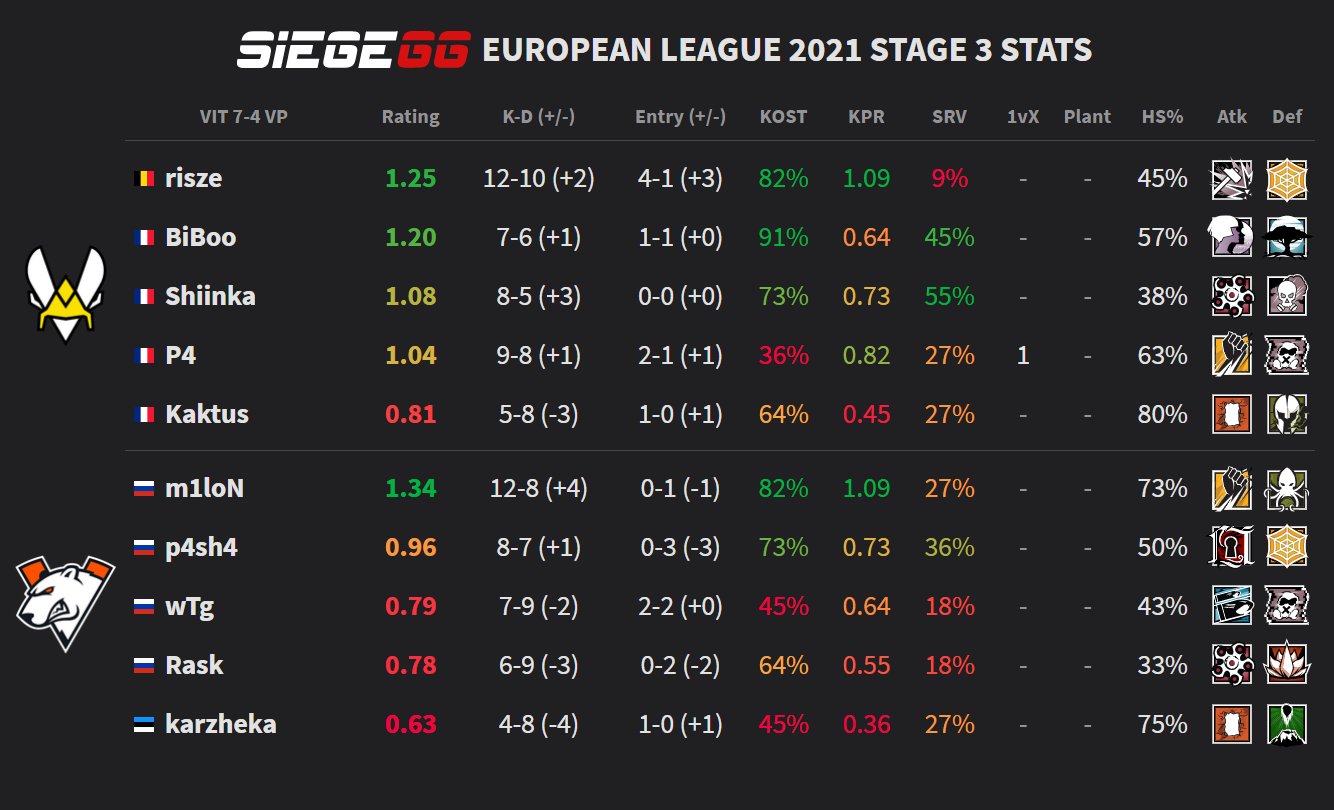 Vitality finally got on the board this stage after starting off with two losses; one to Natus Vincere, one to G2. Its match against Virtus.pro looked dicey at first, the Russian side took three attacking rounds on Oregon, but the French side eventually pulled out the victory in an emphatic fashion.
While Vitality excelled, Virtus.Pro has struggled so far during this stage. It has lost all three matches it has played, and only one of those has been in overtime. The Russian side is certainly better than the performance it's been putting on lately, but it'll need to rediscover that form in the face of a rapidly improving Heroic squad.
Bastien "BiBoo" Dulac is one of the EUL's top performers in the KOST percentage stat, coming in at fourth overall with 72 percent despite struggling heavily in the first match of the season. He tallied a 91 percent KOST against VP.
Natus Vincere 7-5 Team Secret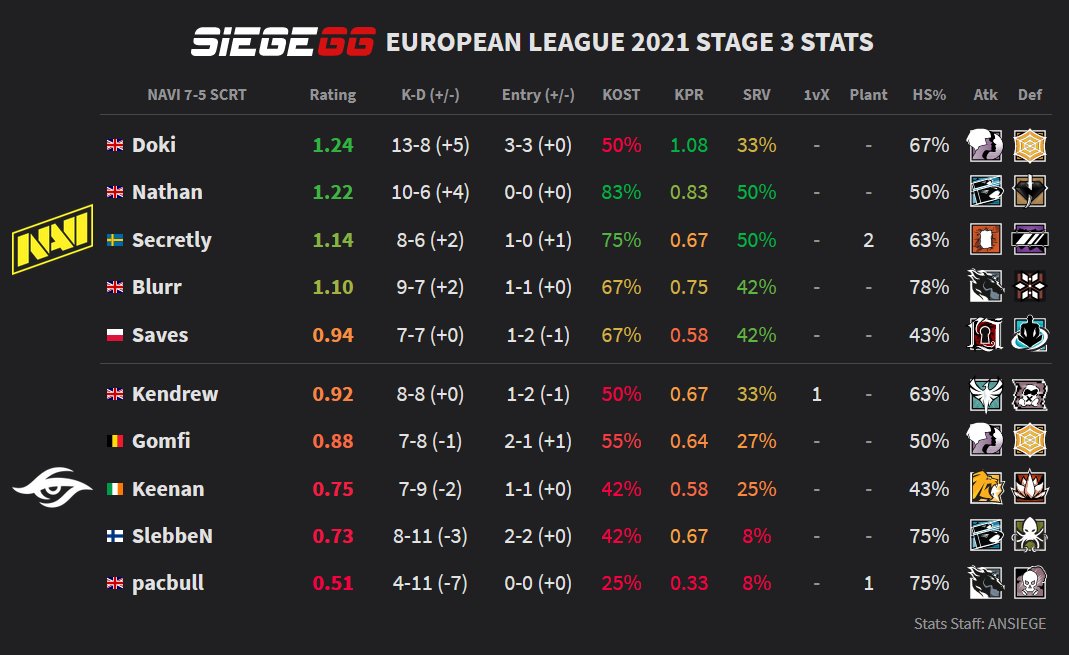 NAVI spotted Team Secret a few rounds en-route to a somewhat uncomfortable 7-5 finish after a 6-1 start. For a few seconds, it appeared that Team Secret had found the secret formula (or was perhaps just on its attacking half on Chalet, which had a 40 percent defensive win rate at the Mexico Major), but NAVI stepped on the gas and sped ahead before Secret could force overtime.
It's extremely early in the stage, but Jack "Doki" Robertson thus far is having one of his best regional performances ever. If you've been following NAVI's statistics for some time, you know how well Doki's been performing this year.
If he keeps the pace he's kept through these three games, it will end up being his best stage yet. He leads the EUL in SiegeGG Rating and K-D. While K-D is a controversial statistic, Doki is currently +23 in the statistic, while the next highest player (French superstar Stéphane "Shaiiko" Lebleu) only sits at a +15.
Secret's overtime victory over Heroic is keeping it safe in the standings... for now. However, its record is extremely deceptive. The now-UK majority squad lost two games to NAVI and Team Empire by 7-5 scorelines after its opening victory over Heroic, and has looked excellent for significant stretches of those games against top EUL teams.
With Virtus.pro down, G2, Rogue, and cowana within striking distance, and a victory over a surging Heroic team under its belt, the time is now for Secret if it wants to surge up the rankings.