Week 1 of Stage 3 took place last week, as all four regions kicked off Stage 3.
Following most of these games were interviews with the victorious teams, so for those that missed them, we've summarised the best quotes and responses from the players below.
Jump to:
EU League
Starting in Europe, this stage saw three new players enter the EUL on Rogue, Cowana, and Heroic.
Starting with Rogue, joining the team was Kevin "Prano" Pranowitz, who had recently played on the GAMMA GAMING roster. In his debut match for Rogue, the team pulled off a crucial 8-6 win over Virtus.pro, which may be key in escaping the auto-relegation spot and overtaking Heroic in ninth.
After introducing fans to Bruce, the Rogue kitten, Leon "LeonGids" Giddens explained the choice to sign prano as follows:
Coming in from Stage 2, we had a very bad split, and we kinda realised after korey told us he wanted to leave that we needed someone to be a consistent and prominent caller and can lead us in the right direction all the time [...] that was our goal during the off-season, to get a dedicated IGL.
After VP's loss, the second Russian squad of Empire also suffered a defeat. Despite recently finishing in the runners-up spot at the Mexico Major, Empire was seemingly overwhelmed by Cowana Gaming rookie Benjamin "Benjamaster" Dereli, who had 19 kills across the 8-7 win.
Murat "Mrofficer88" Motevalli explained exactly why they chose to take this risky pickup who just turned 18 three weeks ago:
Benja has been a prodigy since he touched this game. I'm pretty sure for (those of) us that started this game back in 2015, (they will recognise that) Benja's been around. He was this young reckless kid, sassy, all over the place. The man could shoot and I think everyone who has faced him knows that. Well, sassy boys grow up and they slowly become more of a man.

[...]

Then, we did something with the communication in the team by having a shot-calling triangle between Grizzly, GorgoNa, and Anarchic. So far it looks good, I think.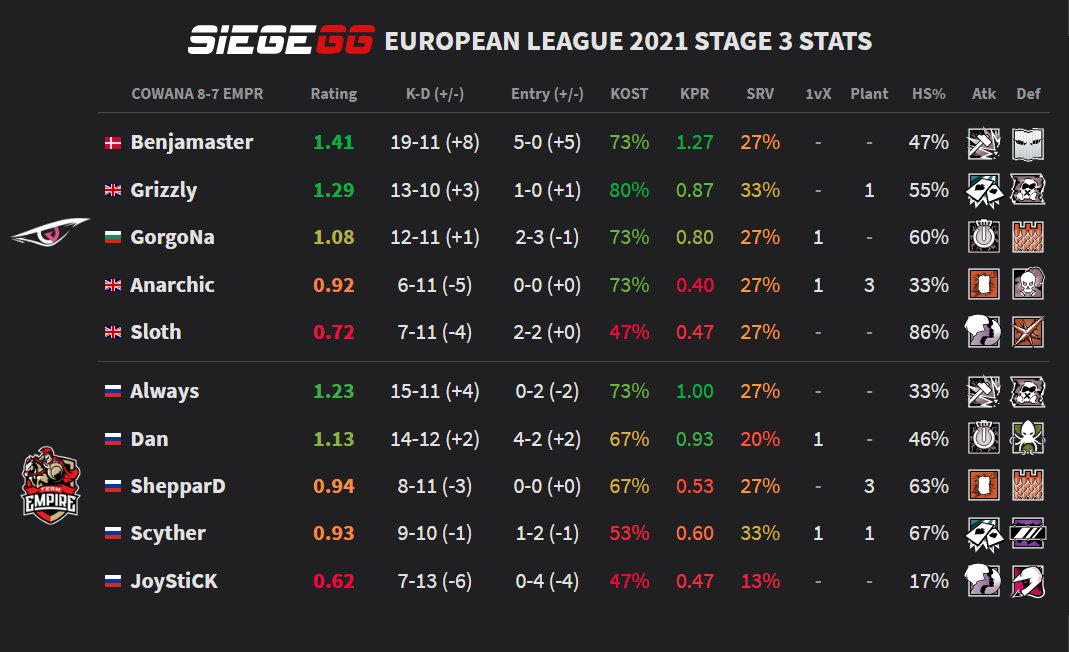 The following play day, Cowana repeated this performance with an 8-7 win over the EUL 2021 leaders, Na'Vi, despite Benjamaster dropping down to fourth on his team by SiegeGG Rating.
Sloth responded to a question about Empire's bans, stating:
Let's be quite honest, they banned Sledge to counter Benja, there's no other reason why. Benja is absolutely mental. Since we've had him all he's done is drop absolute digits every game. I don't blame them for that.

[...]

The thing with Benja is obviously at the time we got rid of Kendrew, we tried out players and we sort of just clicked, we matched really well. [...] He's a very good player and I wouldn't be surprised if he gets rookie of the year, to be honest. This week was a bit of a dip, however I know he'll be back up to that 19-20 kill standard continuing.
Finally, the newly picked up Heroic roster (previously known as TrainHard) also debuted a new player in Pedro "Thuunder" Muniz, but this didn't go as well as it would have hope.
Heroic lost 6-8 against Team Secret in the final game of the day, featuring a 0.64 Rating from Thuunder himself on the operators Hibana and Smoke. As a result, the Brazilian had been benched for play day two.
This meant that Heroic's crucial game against Rogue included another new player: Brice "Shoukri" Mahmoud. Despite Shoukri's team-topping statistics, Rogue still managed to get a win, 7-4.
As such, barring some major upsets, it seems that Heroic will almost certainly end the stage auto-relegated down to the Challenger League.
NA League
In North America, week one saw seven games over two play days. One of the most important games of the whole stage started on day one, as the two altered lineups of XSET and beastcoast faced each other in what many expected to be the battle to escape relegations.
Beastcoast managed to win this game, 7-4, with its newest member "YungAlec" excelling with a 1.60 SiegeGG Rating in his professional debut.
Velly then spoke to YungAlec, who said the following about his performance:
Well, I knew that I was gonna do well since I got to Vegas so it was premeditated, I already had it all mapped out in my head so I already knew what was gonna happen. I knew we were gonna do well even though we've had just a week... week and a half practice with each other due to travel.

We knew we were gonna pull it out and that we were gonna get three points today.

[...]

Yeah, I feel very confident that we have a very good chance at winning next week (against TSM) and the game after the next day (against Oxygen).
Elsewhere, while Soniqs beat Astralis and SSG beat Mirage as expected, a surprise result featured OxG beating TSM 7-3 on Clubhouse. This continues a winning streak for OxG against TSM, with 7-3 and 7-5 scorelines in Stages 1 and 2.
The following day saw three more games, with Soniqs' 7-5 victory over Spacestation Gaming on Coastline being the standout result after SSG's almost flawless Stage 2.
During the post-game interview, Alexander "Yeti" Lawson stated that the Soniqs had not changed too much from Mexico for the NAL:
We learned a lot of lessons from Mexico, I definitely think we came out a better team coming out than we were going in.

We got a lot of good first hand experience on the international competition, an idea on how to maybe approach our own game planning and preparation, things we can work on internally inside the team like communication and adaptation and, of course, what we are gonna do next time we're at a Major.
This result puts Soniqs tied in first with Oxygen, a situation that had also manifsted in Stage 1, while TSM, XSET, and Mirage are yet to get on the board.
Brasileirão
Over in Brazil, the very first game was a must-watch, as Liquid showed off its two newest members Gabriel "AsK" Santos and Pablo "resetz" Oliveira in place of João "HSnamuringa" Deam and Thiago "xS3xyCake" Reis.
While it took till round 15, Liquid defeated NiP to start its campaign well, and resetz topped the scoreboard with a 1.23 SiegeGG Rating.
Following this, Liquid then lost on Chalet 7-8 in its second game against FaZe, who had needed this win after a weak Stage 2 and an opening loss against Santos the day prior.
In the interview, Gabriel "cameram4n" Hespanhol spoke about playing Chalet despite it being one of Liquid's preferred maps:
I think that Chalet is not an easy map like Clubhouse or Oregon, where it's easier to teach newer players to understand the maps.

I think Chalet and Kafe are, in my opinion, the hardest maps in the game. So we tried to play both of these maps, but they banned Kafe and we knew we were gonna play Chalet today, I was expecting that.
Additionally, cameram4n said the following about how his team prepared for the game when Liquid had two new players:
Liquid are not bad at all -- finalists at the Six Invitational and semi-finalists at the Six Mexico Major -- but we knew that they wouldn't change anything, they would just get resetz to do muringa's stuff and AsK do sexy stuff and that's what happened mostly. I didn't notice too many changes.
One of the surprise performers during week one was Santos who, after adding in Filipe "mgN" Dutra for Nicolas "destiny" Alves, managed to beat both FaZe (8-6) and NiP (7-5).
When asked about the player change, Renato "rhZ" Costa stated the following:
I think mgN fit really well because he wasn't an entry fragger. He was a Buck/Sledge player, but we needed an entry, and he was the only person we tried to have good calls so we fit him into our play style.

[...]

... the Elite Six is out of our hands so we just want to be a strong team and maybe next year be at every Elite Six.
Finally, the two biggest breakout teams in the world this year, FURIA and oNe, met last week. FURIA shocked viewers as it stomped the Mexico Major winner 7-3 on Coastline, with Marlon "Twister" Mello stating the following at the end:
This time we focused on a more 'alive' type of game. We were improving and trying to adapt mid-round.

We had so much participation from every player today and everyone at some point got some call or some play or did something in the round to help us win it. So that's why we won this game, because we played as a team.
APAC Leagues
Finally, we have APAC. Starting with APAC North, there was somewhat of an upset, as the ex-Cloud9 roster, mantisFPS, beat the leading APAC team, CYCLOPS, by a 7-5 margin on Oregon.
Via a translator, Dongseon "SyAIL" Song said this about the game:
There have not been many changes in the team, but we have been doing a lot of practice. As we haven't played for so long and were playing the top team, we were all very nervous, but it felt like the old mantis vs Cyclops matchups again.

[...]

We're not really sure why we won, but our communication was on point and they did as practiced, so I think that's what led to the success of this team.
Straight after this result, Fnatic pulled off the first 7-0 of the stage over T1, as Léo "Alphama" Robine returned to the roster in place of now-sixth man Jason "Lusty" Chen.
Etienne "Mag" Rousseau came into the post-game interview very confidently, stating:
It was a fun game. Honestly, we didn't feel pressured at all by what they were doing so we just played how we did in scrims, didn't have to problem solve much and swept them 7-0.

[...]

Going to Majors will be the first step for us towards our "final form". All these roster changes at every stage really hurt our long-term progression, as even if it's not as we planned, it just ends up happening that way....
Over in APAC South, the two Thai rosters that had been a hair away from qualifying for the Mexico Major both struggled at the first hurdle, as Elevate lost to Chiefs (7-3) and QConfirm fell to iG (7-5).
Chiefs' Raine "Dgtl" Wright spoke about the team's newest player, former Wildcard Gaming captain Ethan Picard:
That game felt really easy. We just felt composed and our comms were super consistent. I felt like the rounds we lost we should have won.

[...]

Ethan for Vast is a really nice fit because Vast was vocal and he was the captain. Him stepping down left a big whole and I think Ethan replaces that really well. We all know he's a star player and he was the captain of his previous team, so he brings on that leadership type role and just experience.
While Invictus' Glen "Lunarmetal" Suryasaputra spoke about how his team's international experience is helping it:
Something that can help is map understanding. Just playing Consulate against NA and LATAM you face two completely different strategies and just understanding that both of them work... it's just a matter of you choosing which one you want to play and which is better for your roster.
SiegeGG will be covering all these tournaments as usual so check back for stats, news, and highlights for your favorite teams!