After being unceremoniously dropped by TrainHard eSport halfway through Stage 2, the French roster (which has since gone by unKnights) has been signed by the well-known Danish "Counter-Strike" organization Heroic.
Additionally, the team has picked up the Brazilian player of Pedro "THUUNDER" Muniz. THUUNDER recently qualified for the EU Challenger League tournament after winning the Spain Nationals Season 3 on Wizards Esports Club. He joins as an apparent replacement for Noé "NoerA" Hassen, who was not included in the official announcement.
Heroic had initially been founded as a "Counter-Strike" organisation back in 2016 and currently holds the seventh-best CS roster in the world according to HLTV. To add to this, following the buyout of Heroic earlier this year, a Finnish-majority PUBG roster also joined the brand as its first step outside of CS:GO.
Now as Heroic picks up a French Rainbow Six roster, it will take its first step outside of the Nordic region to compete in both the EU League and 6 French League over the next few months.
After winning Season 11 of the ESL Challenger League to qualify for the EU League last year, the Tempra Esports roster had impressed many by managing to qualify for the November Regional Major and just missing out on the Six Invitational.
Despite this, the team began the 2021 season with Tempra dropping the roster and TrainHard stepping in to sign it instead.
On TrainHard, the team managed to win the 6 Open Cup French title and finished Stage 1 in eighth place before it was dropped once again halfway through Stage 2. Nevertheless, Ubisoft allowed the team to keep its spot in the EUL for the remainder of the stage.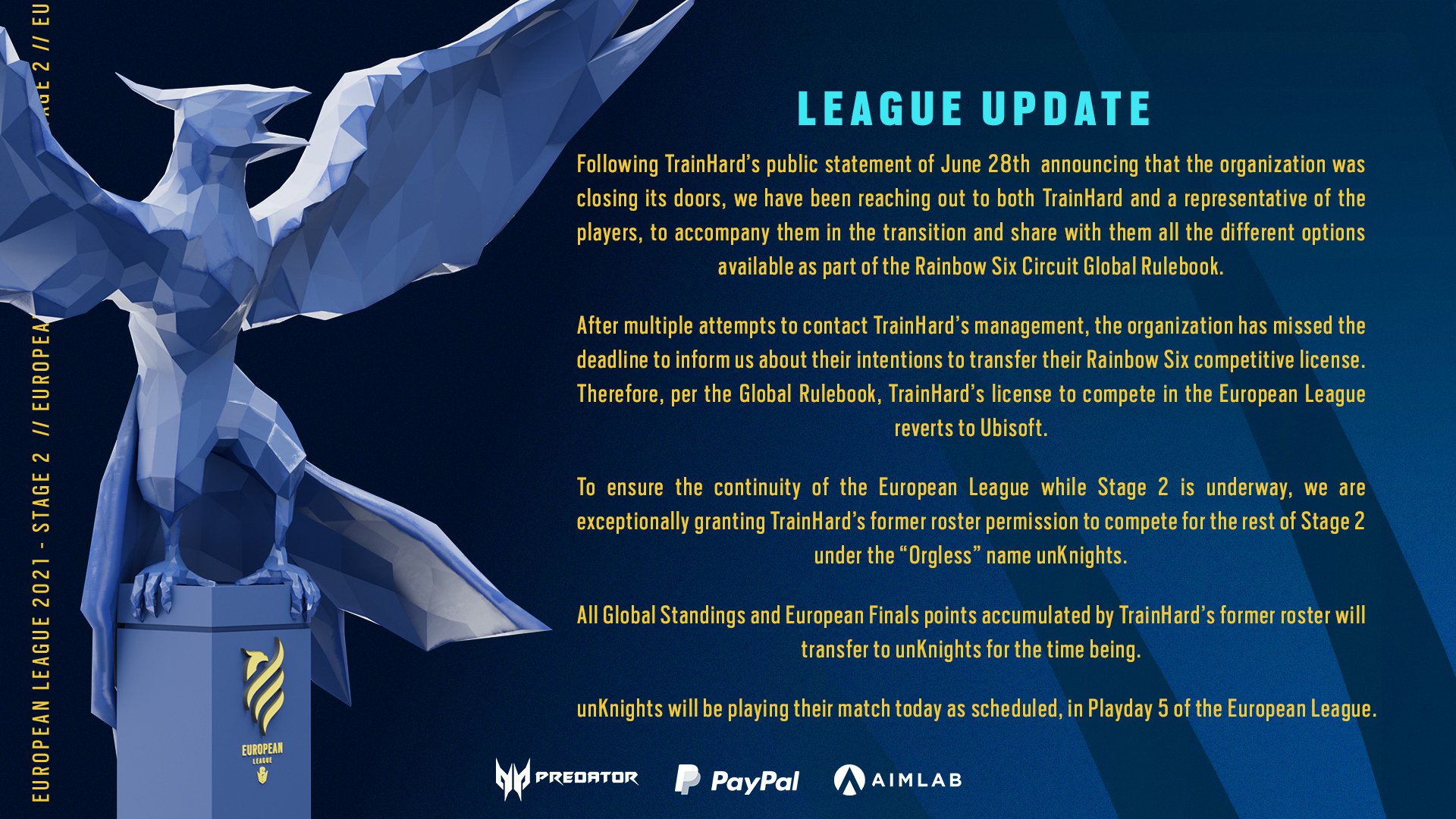 Now, just ahead of Stage 3, the roster has found what it will hope to be a more permanent home in the Danish organisation of Heroic.
While the Heroic roster is the third seeded team in the October 6FL Finals, it sits in dead last in the EU League and will need an impressive Stage 3 to avoid an automatic relegation to the Challenger League.