Banner image: (Photo: Ubisoft/Kirill B.)
The first day of the Mexico Major was one to forget for any European supporter. With G2 Esports and Natus Vincere losing all of their games and Team Empire only able to win against Invictus Gaming in overtime, BDS Esport emerged as the only European representative capable of living up to its region's reputation.
Without hesitation , the French squad took over Group A. Led by Olivier "Renshiro" Vandroux and Stéphane "Shaiiko" Lebleu, the fourth seed from the European League smashed the APAC North champions CYCLOPS athlete gaming and LATAM's second seed Team oNe.
These strong performances were followed by a brutal 7-1 victory over the Susquehanna Soniqs, but the French side had its group A dominance cut short by a 7-5 Team oNe victory in the rematch.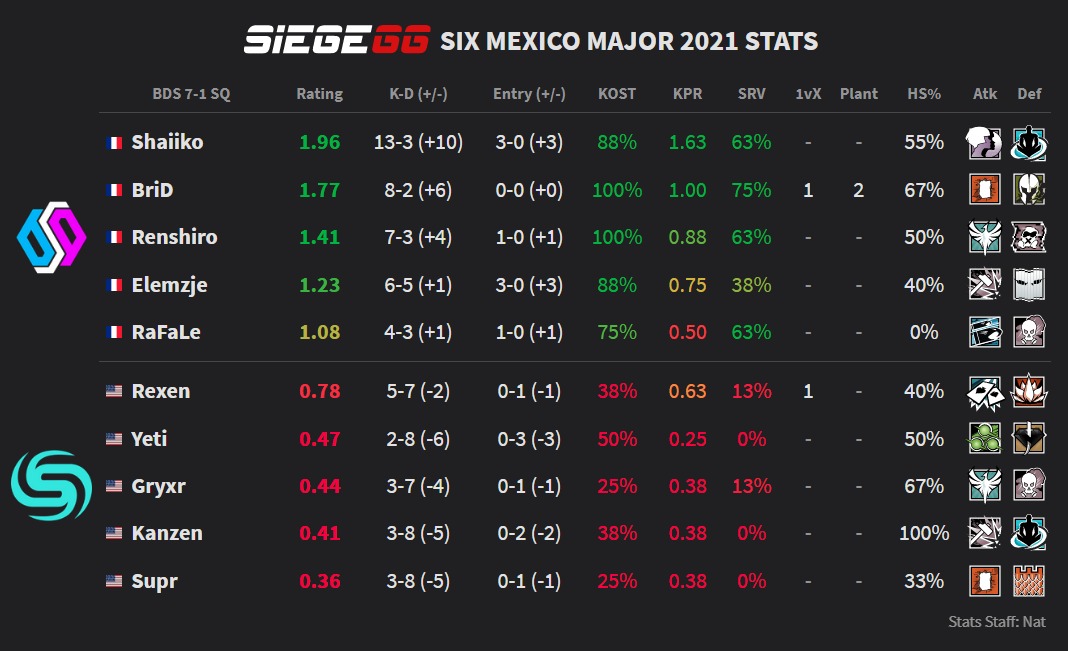 The team's mentality while preparing for the event and playing at the Major has been pivotal to its initial success.
"We are better when we play with the hype", explained Bryan "Elemzje" Tebessi. "On the last tournament we forgot about it. We forgot that you are supposed to have fun on the video game."
Furthermore, key to the BDS results is the French phenomenon of Shaiiko, who had dominated Stage 2 of the European League with a rating of 1.45. The BDS superstar has hardly slowed in Mexico and is currently one of the best players at the event with 50 kills and a rating of 1.46 after just four maps.
"It's always something when you play with him, everyday is something crazy", mentioned the team's support Loïc "BriD" Chongthep.
Shaiiko's mechanical qualities are really important for the team, as the Frenchman averages a +27 K-D and an entry K-D of +6. Although his raw numbers are a great thing to consider, his utility stretches beyond just securing kills.
"Now Shaiiko can play everything", said Elemzje. And that, in fact, is true.
On attack, he has only used Iana with the ARX200 in his last three appearances despite playing the first game with Ash with the G36C (also found on Iana). But that quickly changes on defence, where he has been using a large pool of operators including Melusi, Aruni, Mozzie, and Wamai. His flexibility and adaptation, combined with his gun-skill, are elements that make him one of the best players in the world right now.
Obviously, to keep and improve these qualities, a player must practice. That is where the real magic happens.
When asked about a Shaiiko moment that had floored him, Elemzje did not hesitate in his reply: "We practiced a lot so it was late, people in the team were eating and stuff. Shaiiko didn't have time to eat so he was eating pizza during a map, and someone came to challenge him, (when he had) a pizza in his hand and his mouse in the other."
Shaiiko, of course, still got the kill.
It loss to Team oNe today does not change the fact that the French squad comfortably leads Group A with 9 points. Considering that, the team should be safe and progress to the playoffs, where the real challenge will begin for the Frenchmen.