Banner image: Ubisoft/Kirill B.
Coming into the Mexico Major as the fourth seed from the weakest region, no one had any expectations of Invictus Gaming in the group of death. Even when TSM lost Bryan "Merc" Wrzek to COVID-19 and had to scramble to practice with its coach, Owen "Pojoman" Mitura, in an unfamiliar role, many still believed the Singaporeans would be dead last in the group.
But after a day where TSM was taken down 7-5 and Team Empire had to come back from 4-6 to win 8-6 in overtime, Invictus could be on the way to realizing its dark horse potential. The key for that, as team captain Glen "Lunarmetal" Suryasaputra had stated before the event, is targeted structure.
"It was a lot to deal with, everyone played a different style, so I guess when we play 'structured', we play our own thing and adapt to what they are doing," explained Lunarmetal. "The structure has let [our gameplay] become a lot simpler."
Taking the top European seed to overtime was no fluke for Invictus, with Lunarmetal keen to attribute his team's ability to fight off a more free-flowing and "loose" Empire to an even higher level of structure in its gameplay.
Also important to Invictus' victory and very impressive in his performances was the rookie Jose "Jo" Iman, who had both played his first top-flight split and had also debuted internationally in Mexico.
Despite having been described as a player that traditionally plays more passively due to his roles, he managed to equal the fearsome fragging duo of Jeremy "HysteRiX" Tan and Matin "SpeakEasy" Yunos, going 19-19 in K-D to their 20-20 and 19-19 in their day one matches, respectively. As a result, all three players were rated 1.00 at the end of the day.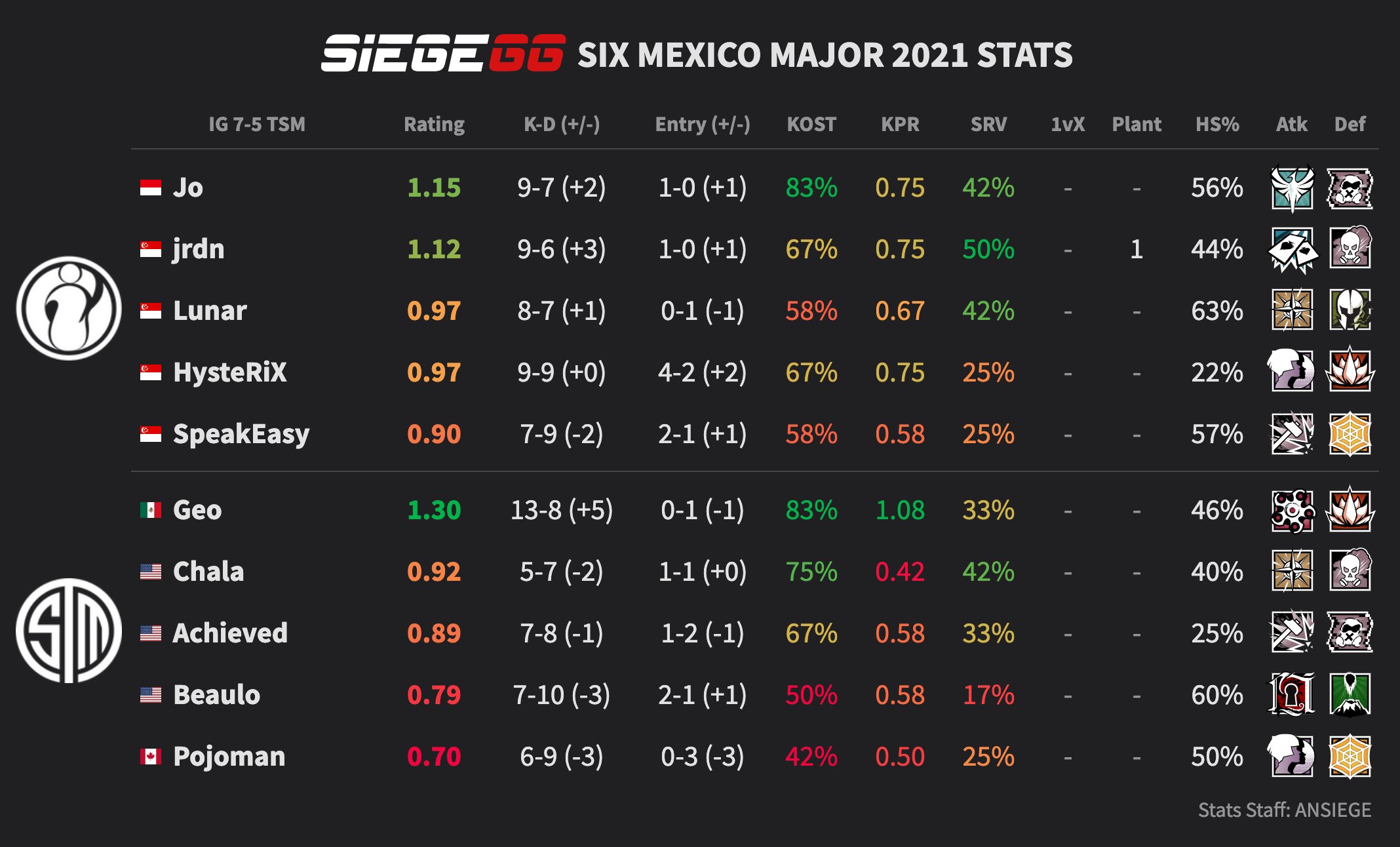 The opening day saw Invictus take a strong four points from a potential six, with Lunarmetal stating he was "pretty happy" with the results. Still, wanting more, SpeakEasy revealed that the team was "gutted to throw away the 6-4 lead", and Lunarmetal echoed his thoughts, making sure to say that it was "obviously not the best", even with the strong position it leaves his team in.
While Lunarmetal did not believe that either TSM or Empire had underestimated his team, its strong results today will certainly have caught the radar of Team Liquid. The Brazilians, who play Invictus tomorrow, would have certainly received the message that the Singaporeans are not at all a weak team and very much a threat to all in this 'group of death'.
All in all, the day's games had left Invictus hungry -- both literally and figuratively. "The game plan (now) is to go back to our room and get food because we're starved," said Lunarmetal.
With the discussion of what went right and wrong already complete, the Singaporeans will now rest with full bellies and a full night of sleep before taking on the Six Invitational grand finalists, Team Liquid, tomorrow.