The online Season 6 Benelux League Finals took place last weekend, following four months of weekly games. Here's how things went down, with the reigning champions of GAMMA taking the title yet again.
(Read in detail about the teams, prize pool, and previous victors here.)
Jump to:
Quarter-Finals
The playoffs kicked off on Friday, with Activit-E vs Game Fist and 4Elements vs Clutch Rayn. The victors of each game were set to face GAMMA and KVM the following day, with those two having had secured preferential seeding in the regular season.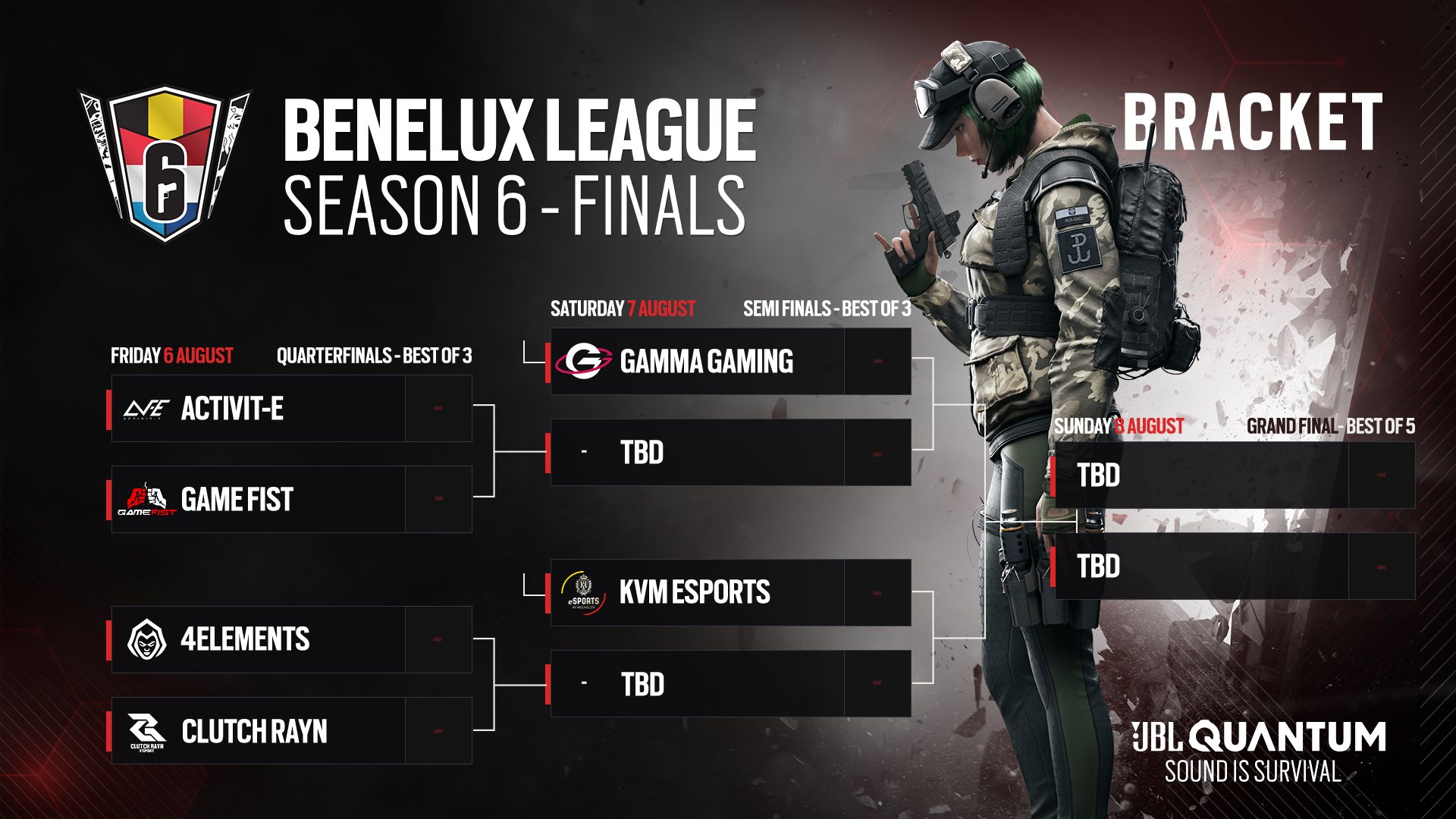 While Game Fist's opponents were the clear favourites in this game, it certainly didn't show, as Activit-E began struggling on its Villa defences.
Here, a 1v3 from HughesDS on Hibana and an ace from Blompie on Zofia meant that the attackers ended up with a 4-2 lead. Game Fist then had a clear run to end the map on its defence and it won three rounds in a row, including another 1vX from Cybrr, to end the map in a decisive 7-2 scoreline.
Onto map two of Coastline next in which clutches from both RaiDeN and Konkih put Activit-E up 3-0 only for them to squander the lead to a 3-3 tied half. From here it was kept even all the way to 5-5 at which point Game Fist broke the pattern thanks to a quadruple kill from Smurfje on Tachanka to take the map 7-5, and series 2-0.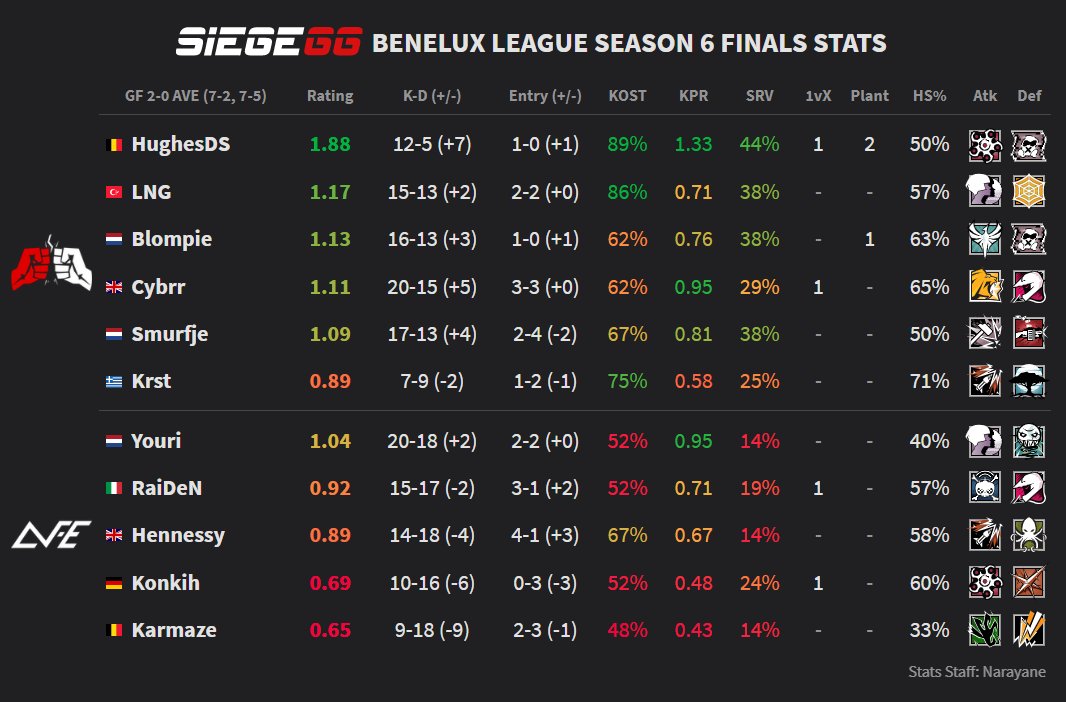 The second quarter-final was a much closer game despite 4Elements getting a massive 91% of the SiegeGG Predictions.
To prove their doubters wrong, Clutch Rayn began their own map pick of Kafe by going up due to a 1v2 and a 1v1, both from Voxsey, before Dxtch bested both of them with a 1v4 of his own as 4E came back to 3-3.
The game continued in this fashion with more clutches from both teams right into overtime which CR took on round 15 due in a large part to a 1v2 win on round 13 by YvANoE following a minute long 1v1 between him and Lucania.
The final two maps were much less interesting than this 15-rounder as the scoreline on Chalet was kept even all the way up to 5-5 at which point 4Elements won a flawless defence of the Bar/Gaming site on round 12 to break the back and forth.
This sent the game to map three -- the only BO3 in the entire season to do so -- of Villa which, after a rather standard first half from 4E they narrowly won their defences due to a 1v5 victory by round timer from the Smoke of Lucania:
Lucania then followed up this play with a technical 1v1 clutch on the final round to end the map 7-4 and series 2-1.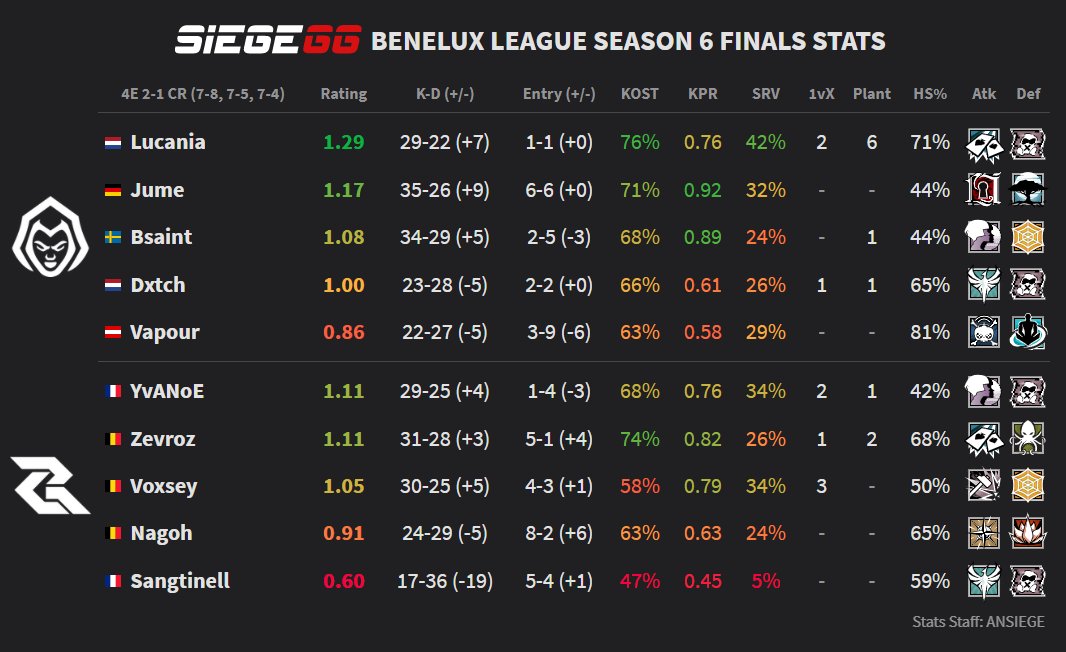 Semi-Finals
Onto Saturday where the big names of GAMMA and KVM both came out, starting with GAMMA GAMING vs Game Fist.
While the series started on Kafe, it wasn't here for long as it ended in a complete stomp by GAMMA as they won all six of their defensive rounds -- including a 1v2 from Leonski -- before the map ended 7-1 despite it being Game Fist's map pick.
This kind of performance is one we've come to expect from GAMMA domestically as they prove themselves to be head and shoulders above the rest of the competition at even the semi-final stage.
Nevertheless, GF's luck did somewhat turn on Oregon as by round three they had already won more rounds than on their own map pick.
A 1v2 from Avaiche meant the half was tied at 3-3 only for Game Fist to once again take the lead in their opening attack round. GAMMA then won four in a row to end the attempted underdog story.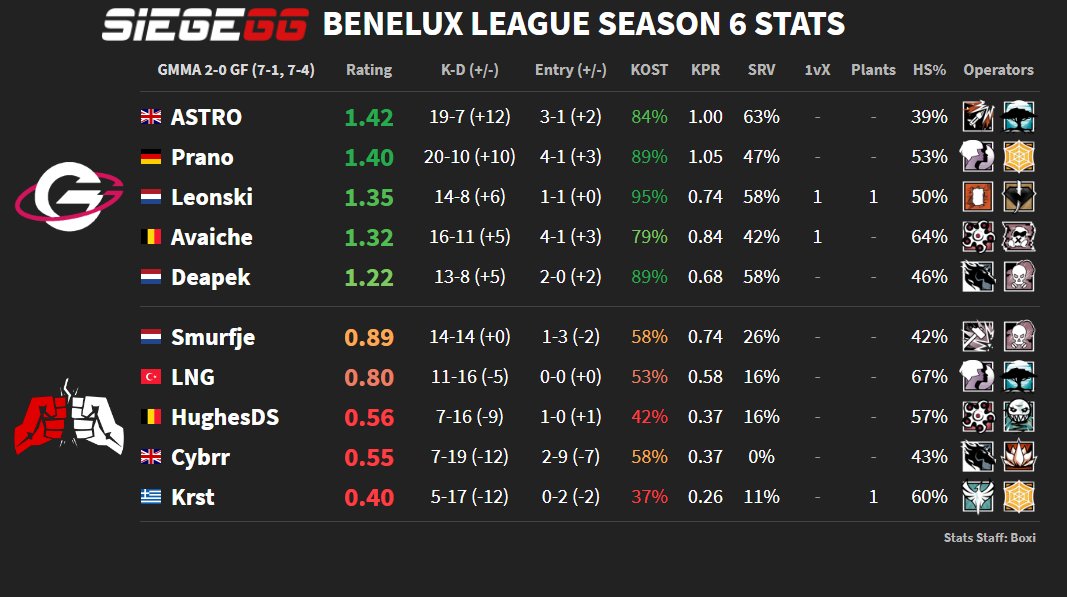 Next up, KV Mechelen Esports -- the only team to beat GAMMA this season which they did twice, 8-7, 8-7 -- came into action eager to upset the titans of GAMMA once again on Sunday. First, they had to get through 4Elements, however, which was a much harder task than they likely predicted.
This is shown as after only narrowly beating Clutch Rayn 7-5 on Chalet, 4E picked the same map as their opener against KVM and won it in an explicable 7-0 scoreline.
This win required no clutches and only one large multi-kill (a 4k from Vapour) as 4Elements had KVM's number completely throughout this game and just steamrolled them.
4E then added to these seven round wins in a row all the way up to 10 as they started with a 3-0 lead on Consulate before, finally, KVM got on the board with a successful attack onto the CEO objective helped by a triple kill from Flixow.
After a 4-2 half the sides switched and Flixow began his defences with a quadruple kill as it looked like KVM had finally awoken. This was not the case as four rounds later 4E had won their three attacks required to take the series 2-0.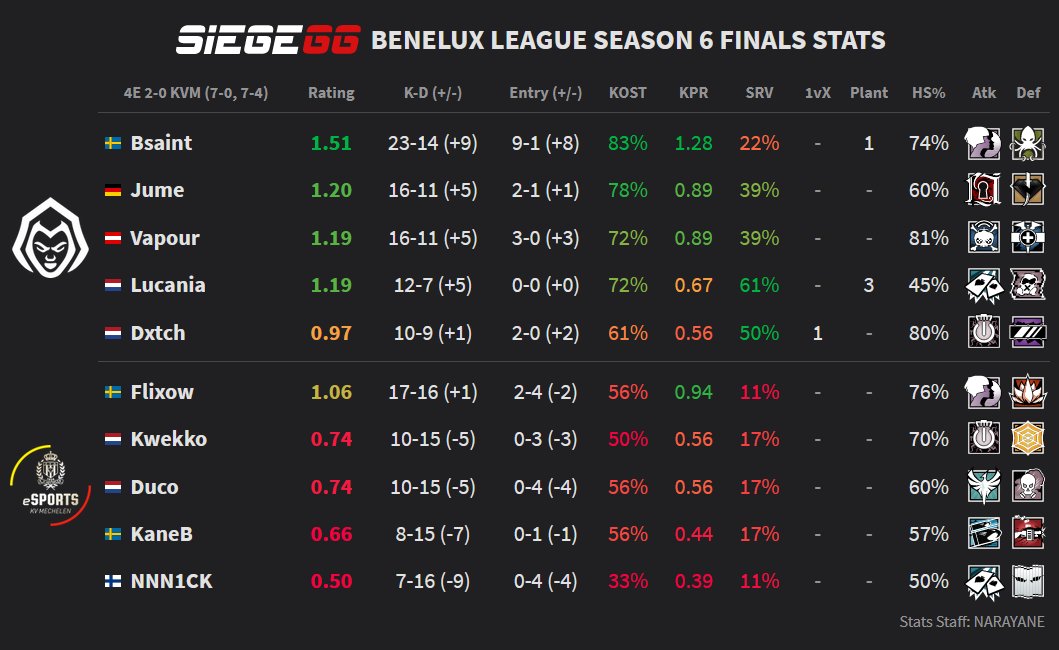 Grand-Final
And so that set up a GAMMA vs 4Elements final for the title and CL spot.
With such a strong win over KVM the day prior and with the 4E player of Jume being arguably the best fragger in the entire league, 4E was definitely looking to upset GAMMA after losing to them 7-0, 7-3 during the league stage.
The best of five map game saw Consulate and Coastline be banned leaving the other five to be played starting with 4Elements' pick of Villa in which GAMMA began on defence. This map was fairly embarrassing for 4Elements as while on paper it was their top pick out of the five, in practice it went horribly.
Starting with a flawless loss on round one, it took till round four before they were able to actually get their foot in and take advantage of an early double-kill from Bsaint to get the plant down. Despite this, they couldn't hold it as Avaiche won the 1v2 on Mute and disabled the defuser.
By the end of the first half it was a clean 6-0 sweep leaving GAMMA the task of winning just a single attack which, while it took a triple kill from ASTRO on Ash, they achieved straight away ending the map, 7-0.
With this win under their belt and with their own map pick of Kafe up next, GAMMA would have been very confident which was shown pretty early to be misplaced.
This was as 4Elements came right out of the gate with three back-to-back defensive round wins which included six kills from Dxtch on Aruni, Jager, and Kaid.
ASTRO quickly ended this run as on round four he got a double kill within the opening 13 seconds on Ash which turned into two triple kills in a row before Leonski on Ace helped to end the half tied at 3-3 in a post-plant scenario.
From here on their own defences, GAMMA managed to rack up the rounds in a number of fairly close wins. This included a 1v1 by Leonski over Bsaint on round eight and a double-kill and post-plant disable on Tachanka on round nine before GAMMA finally closed it out at 7-4 to go up 2-0.
And so finally onto map three of Chalet, 4Elements' second map pick of the game. While Kafe was close, being down on series point already and having lost map one 7-0 meant pretty much everyone had written 4E out already meaning they'd need another strong start here to kick the team back into gear.
They got this thanks to three massive individual plays as Bsaint secured an ace on Alibi on round two as well as a 1v1 clutch on round five while Jume won a 1v4 on round four with a sneak-disable. This led the team to a 4-2 lead at the half, the most promising they looked all day.
Dxtch managed to get a fifth-round on round eight with another 1v1 win, however, that was it for 4E's season as GAMMA as 1v2s from Prano and Leonski on rounds seven and nine were followed by three more wins in a row, ending the game in a 7-5 as without the last second clutches 4E couldn't keep up.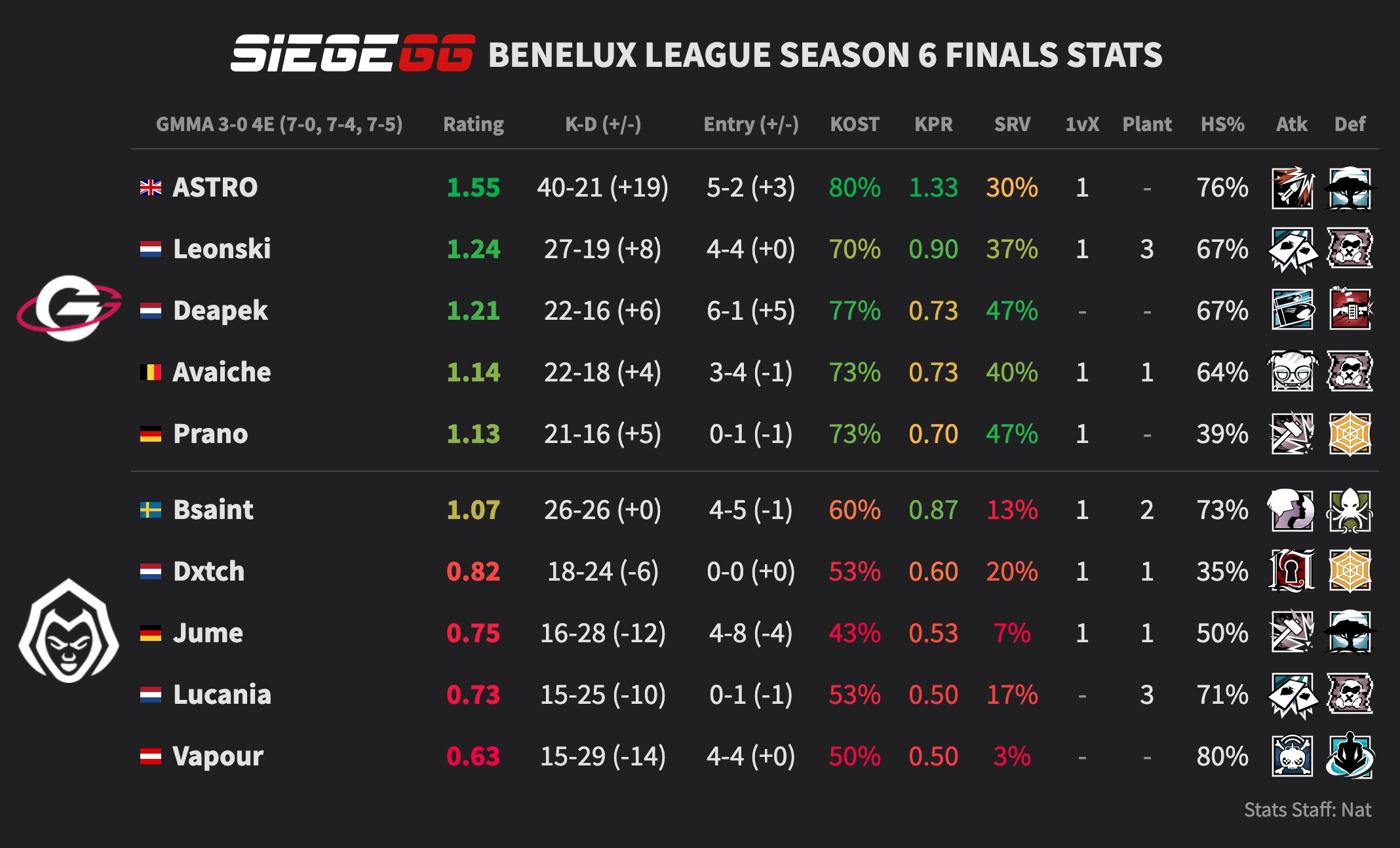 This meant that GAMMA lifted the trophy with the straight 3-0 win.
As well as this, the GAMMA player of Leon "Leonski" Snikkers was crowned the league MVP as while he lagged behind ASTRO in Rating during both the league and playoffs, this was while being GAMMA's main planter, while playing more support-centric operators and while achieving the most 1vX wins in the entire league.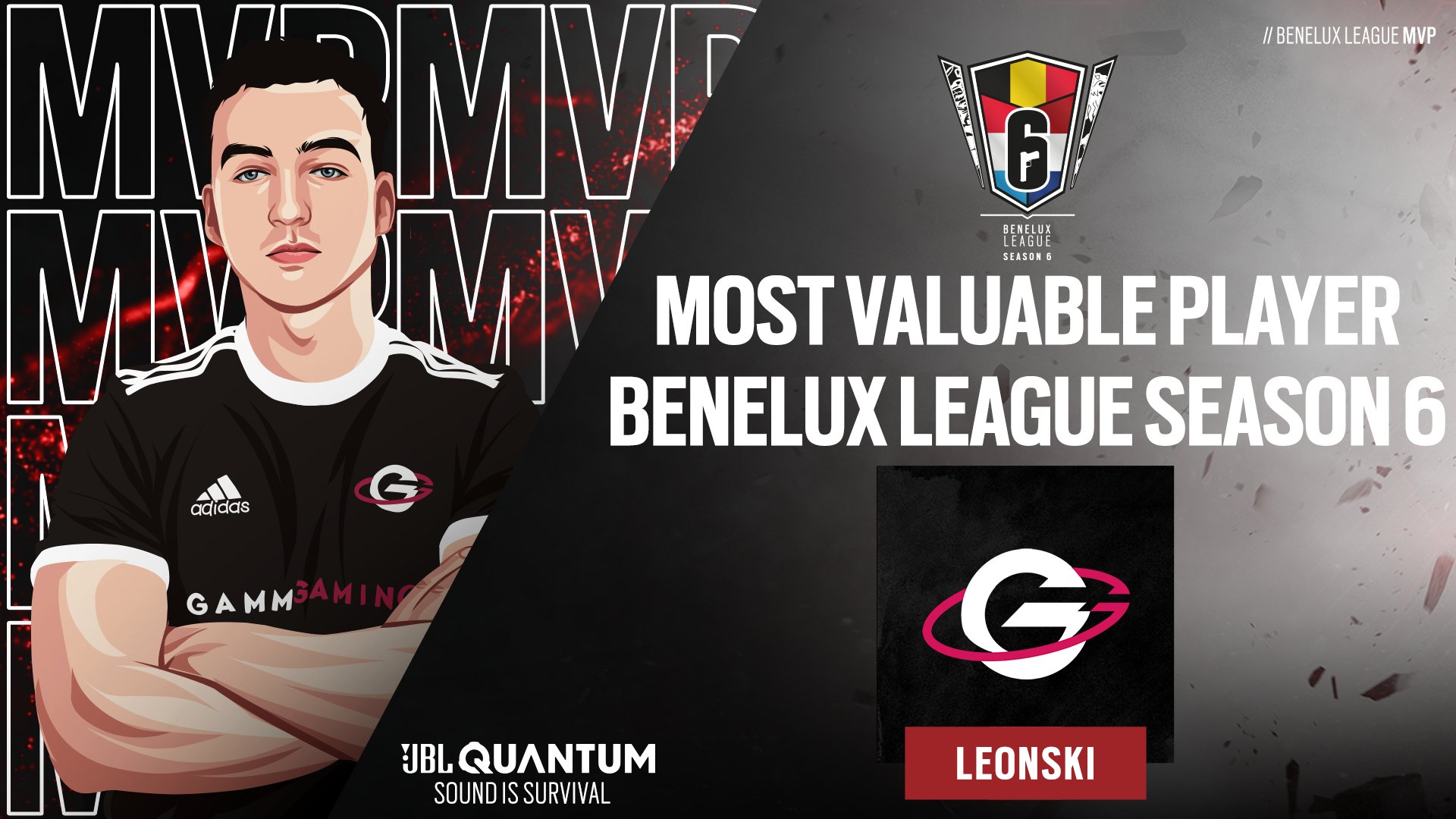 Challenger League
And so with this result, GAMMA once again qualifies for the EU Challenger League tournament for the fifth season running.
This, therefore, creates the following lineup of teams that will compete in an initial group stage followed by a double-elimination bracket during Stage 3 for a spot in the EU League tournament:
Mkers -- Aqui, Gemini, Scatto, Sasha, and Lollo
MnM Gaming -- Fonkers, Yuzus, neLo, Tyrant, dats, Sparxo (coach), and Eden (analyst)
Viperio 86 -- Neo, Monkey, Draw, and Curly
Acend -- ENEMY, RevaN, Meloo, EiZ, Jeya, and BiOs (coach)
DeathroW -- KuQuS, JaKs, Ra1kos, FuZiion, and Shoukri
GAMMA GAMING -- Leonski, Deapek, Avaiche, ASTRO, Prano, Sternab (Coach), and Phenomene (Analyst)
43rti -- SmashByAsh, flaers0, eXoduSS, rush, Amision, and ViKiNG (coach)
Chaos Esports Club -- VITO, REDGROOVE, Hxsti, JTc, Hyperino (coach), and Liinux (analyst)
ex-Wizards Esports Club -- HuliK, NaoResh, Nubaii, THUUNDER, Deivid, and al0kaka (coach)
For a further look at where the remaining seven EUCL teams will come from and when they will qualify, check out our dedicated article on the league, right here.
And so that's it for the Benelux League in 2021! Be sure to keep an eye out for further updates and announcements in the Benelux scene as well as full coverage on GAMMA's Challenger League run when the league starts in September.