Following the completion of the APAC North and South Leagues, as well as the South Asian Playoffs last week, the next three days will see a region-wide playoff take place in which the top two teams will qualify for the upcoming Six Major tournament in Mexico City.
Catch up with everything you need to know for this event, including who's playing, when the games take place, and what to expect in the competition below.
Jump to:
Season So Far
Starting with APAC North, Stage 2 saw CYCLOPS athlete gaming (CAG) sweep into the lead of the league, as the Japanese secured their tickets to the Mexico Major in style after securing seven wins in seven games.
Cloud9 experienced a huge drop in form compared to Stage 1 and 2020, as the previously undefeated Korean squad was second-last. It was just ahead of T1 who, to some credit, at least managed three points this stage -- up from zero in the previous.
But DWG KIA was the biggest postitive surprise, shooting up to second place and four points clear of Fnatic and FAV gaming in third and fourth.
The standings meant that GUTS Gaming missed out on the playoffs by one point, while Talon Esports made it three Korean teams at the bottom.
But while APAC North was straightforward, if somewhat surprising, nothing could have prepared audiences and broadcast staff alike for the chaos in APAC South.
Such was the craziness that coming into the last play day, only two teams had even confirmed at least an APAC Playoffs spot. The automatic Mexico Major ticket, the league standings, and the other two APAC Playoffs teams had yet to be confirmed.
Eventually, the Knights managed to steal away the Mexico Major slot from both the Thai teams of Elevate and Qconfirm after Qconfirm lost to Wildcard Gaming, Knights beat ORDER, and Invictus Gaming secured an APAC Playoffs spot themselves (instead of a dead-last finish) by beating Elevate.
As the dust settled, APAC South had certainly cemented itself as the most competitive league within itself, as first to eighth place was separated by a mere five points.
The Teams
And so with CYCLOPS and Knights progressing straight to the Mexico Major here are the eight teams we will see in action this week:
APAC North
While CYCLOPS did somewhat run away with the APAC North title, the fight for a playoff spot was fairly close with just three points separating third from sixth. In the end, DWG came out as this Stage's real surprise while FAV and FNC beat GUTS to the spot by one point:
DWG KIA -- CATsang, yass, Woogiman, coted, RIN, Gotti (Substitute), RoyBoy (substitute), HoundBird (Coach)
Fnatic -- Mag, Lusty, Tex, Stigs, MentalistC, Alphama (Unavailable), Dizzle (Head Coach), and Crapelle (Strategic Coach)
FAV gaming -- Taipon, Afro, ShiN, No2, K-RAISER, OdeNMiso (Coach), Tatsukin (Analyst), and Nata (Analyst)
Despite not making any actual player changes, DWG KIA managed to jump from seventh to second place this Stage with losses to just first-placed CAG and last placed T1. This event will therefore be the first time the organisation has played in a region-wide tournament, making this a fresh experience for most of the roster.
Fnatic, meanwhile, is the only team from North to play in both the Stage 1 and Stage 2 Playoffs, as CAG jumped to first and GUTS fell to fifth.
Additionally, the Australians managed to improve upon their Stage 1 performance, jumping from fourth to third place in APAC North, with the same 3-0-2-2 record despite having to play with MentalistC instead of Alphama.
Finally, FAV jumped over both Cloud9 and GUTS to go from sixth to fourth place thanks to wins over both those teams.
This is, therefore, the organisation's very first regional tournament since its entry into Siege over two and a half years ago after a series of fifth-place finishes in both the Pro League and APAC North Division.
APAC South
While the last few play days looked as if it was between Elevate and Qconfirm for the Major spot, defeats from both teams on the final day allowed the Knights to pinch it in one of the closest professional seasons ever seen.
First to sixth place saw just three points separate them, meaning that the entire league was pretty much anyone's game.
Elevate -- Sapper, DCH, Nay..Pew, sprOnigiri, BGMan, AngryX, Kanomtuay (two substitutes), Dr.Bestsiaer (Coach), and nanoKidz (analyst)
Qconfirm -- Lycolis, Producerboom, Hajime, HealthcareOG, Darkk, Roldinii, and DomeDominic (Coach)
Invictus Gaming -- Lunarmetal, HysteRiX, SpeakEasy, jrdn, Jo, Ultima (Substitute), and GiG (Coach)
Firstly, we have the Stage 1 champions of Elevate, who fell two points shy of winning the league once again.
While the Elevate organisation has plenty of experience around the world, the Thai roster has never played in any non-domestic LAN, with a 2-0 loss to Fnatic in the SI20 Qualifier grand-finals being its closest opportunity beforehand.
Now, it has a perfect chance to remedy this with an opening game vs MercenarieZ -- a roster that has never beaten a team from outside of South Asia -- followed by a possible rematch against Fnatic in the semi-finals.
Qconfirm is in a very similar position as, after narrowly missing out on a number of APAC Finals and then falling to the mid-table during last year's APAC North League, the team has suddenly found its footing.
Just like for Elevate, this will be a perfect chance for Qconfirm to finally play at an international event.
Lastly, finishing in fourth-place is Invictus Gaming. While the Singaporeans are the lowest of the three seeds, they have a very good chance of upsetting them all.
As well as being just two points shy of first place, the Singaporean team also beat Elevate 7-5, Qconfirm 7-1, and took the Knights to overtime at 6-8. The newly-signed team also has the most recent experience out of all the playoffs teams with its SI21 appearance.
This puts the Singaporeans in a prime position to make their new organisation proud by immediately qualifying to the Mexico Major.
South Asia
Finally, we have the two grand-finalists of the South Asia National Playoffs, which took place last week.
While KIRA initially beat MercenarieZ to take a map advantage in the grand-final, MRCZ then won the final in a 3-2 scoreline (def, 7-5, 8-7, 4-7, 8-6), which included multiple comebacks:
MercenarieZ -- FATAR, Hasib, M4KER, Mii7, and SnoowW
KIRA E-Sports -- Invi, RhymesWithBuck, BL4NK, Slayer, Death_Amar, Atharv, and leoxard (analyst)
These two teams are the same names we saw in Stage 1's Playoffs, but feature some small differences as KIRA added the Sri Lankan pro of BL4NK and the Pakistani of Buck.
Considering that KIRA managed to beat CYCLOPS last stage, while MRCZ took a map from Seventh Heaven, the local hopes will be high.
A major obstacle for them, however, is that the two teams are listed as the bottom seeds, meaning their opening games will be against the North and South runners-up of DWG and Elevate.
This game is, however, a Best-of-One, so they still have a shot to upset, just as KIRA did last stage.
Schedule and Format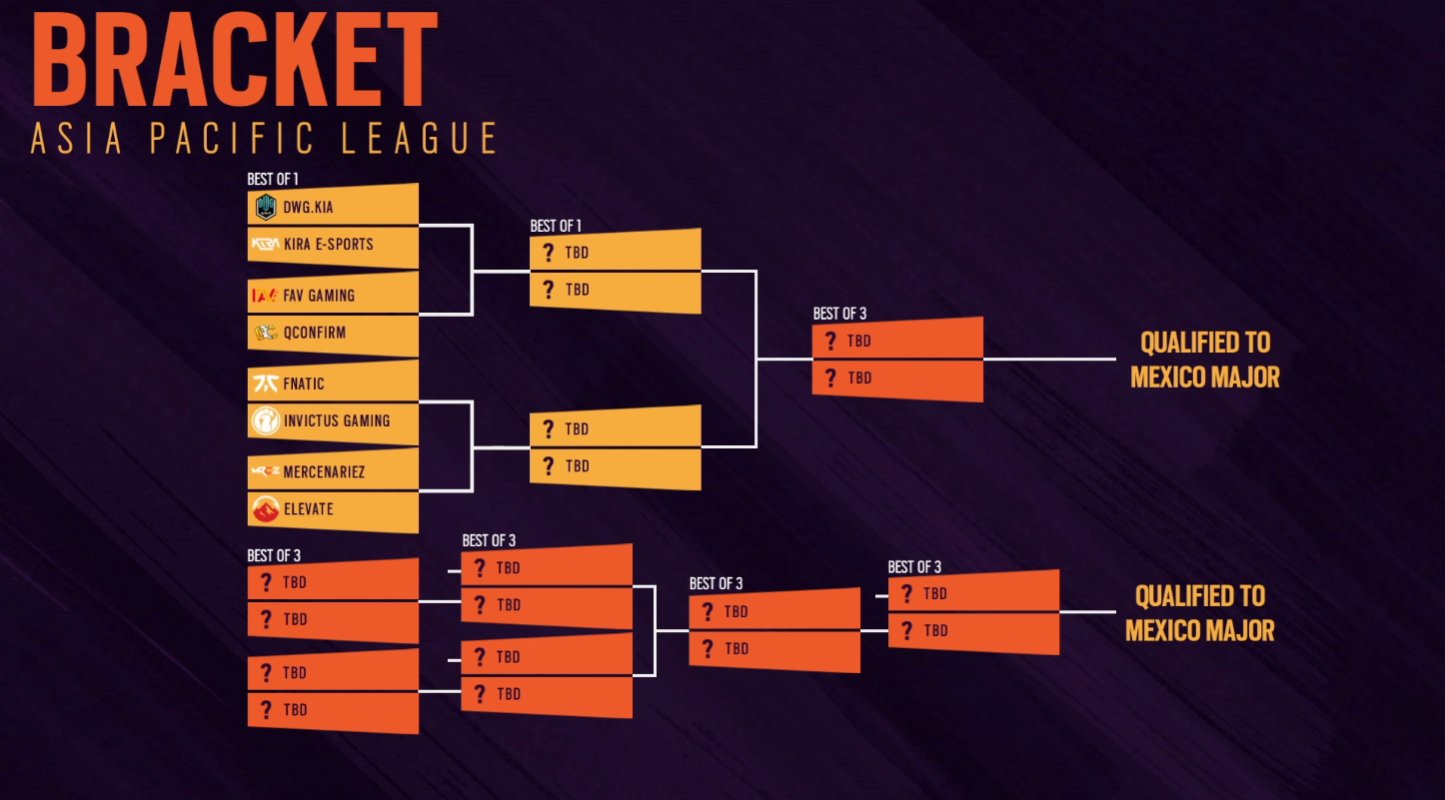 The Playoffs will be a double-elimination bracket, with the first two rounds of the upper-bracket being in a Best-of-One map format, followed by Best-of-Three maps for the rest of the games.
Here's the current schedule for the next three days in SGT (UTC+8):
Monday, 2 PM -- DWG vs KIRA and FAV vs Qconfirm
Monday, 3:15 PM -- Fnatic vs Invictus and Elevate vs MercenarieZ
Monday, 4:30 PM -- UB SF #1 and UB SF #2
Monday, 5:45 PM -- LBR1 #1 and LBR1 #2
Tuesday, 2 PM -- LBR2 #1 and LBR2 #2
Tuesday, 6 PM -- LBR3
Wednesday, 2 PM -- UB Final
Wednesday, 6 PM -- LB Final
---
Be sure to check back here at SiegeGG for full coverage of these games including stats, news, and highlights over the next three days.