Following two seasons of the PG Italian National league, the last few weeks have seen a double-elimination, best-of-five map bracket playoff to determine which team will be representing the nation at the upcoming 2021 Challenger League tournament.
Now, ahead of the grand-final tomorrow, here's a rundown on how this tournament is progressing and what to expect for tomorrow's games.
Jump to:
The Teams
The top six teams over the last two PG National Seasons were invited to compete in these Finals:
Mkers
Aqui, Gemini, Scatto, Sasha, and Lollo
As a Six Invitational attendee which has beaten the pro teams of Rogue, Chaos, Na'Vi, Tempra, TSM, SSG, and Cloud9, Mkers is essentially a sleeping giant in Europe despite not even playing in the EUL.
This year they hope to change that and, after already guaranteeing themselves a Challenger League spot, they have come in hoping to win yet another title here.
MACKO Esports
g3r0, T3b, Alation, J3n4, Krizz, and Jakesouthster (coach)
MACKO came in as the previous back-to-back PGN champions -- a title they lost a few weeks ago -- and last year's Italian representatives in the Challenger League.
Here, they beat the German representatives and tied both the Spanish and Nordic teams, before being knocked out in the quarter-finals by MnM Gaming.
Outplayed
csonki, YZN, Demoniak, quick, Oscr, JPM (coach), and kilheeney (analyst)
This British roster has less of a record, but a significant amount of promise. As well as being one of only two non-pro teams to have beaten Mkers in the last five months (alongside Acend), they also finished the recent Challenger League qualifiers in joint-fifth.'
That came after a nailbiting 2-1 loss to Acend and after last season's runners-up finish in the PG Nationals.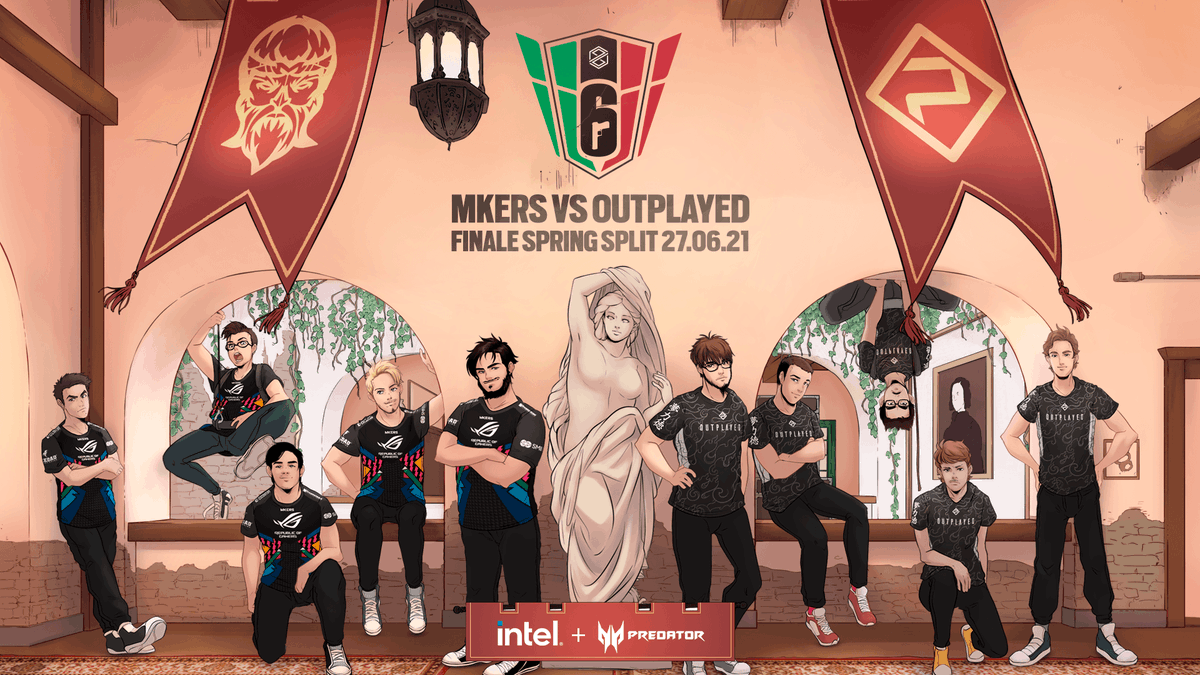 Notorious Legion
Pat, Kxhz, Sloppy, Treiko, Darkwin, ProphetKing (coach)
After almost being relegated a year ago, Legion opted to switch to an all-French roster for the Winter season, which allowed the new team to push right up to the third place.
Following this, the most recent season saw it transition to mixed-European roster during the mid-season break, meaning that eight players have played for Legion during the season, on course to joint-fifth finish.
Totem Esports
DjuZ, Mowwwgli, Linkoo, Ayzenn, Neyox, Bolt (coach), and Shocks (analyst)
Totem qualified for the most recent season after beating a number of Italian teams, as well as Liven, Alive, and Aherys' Mad Wizards lineup, to be promoted to the PGN alongside Outplayed.
As well as this, they also knocked Acend out of the 6 Open Cup and took a map off of TrainHard before storming right up to an impressive third-place finish during the Spring 2021 season.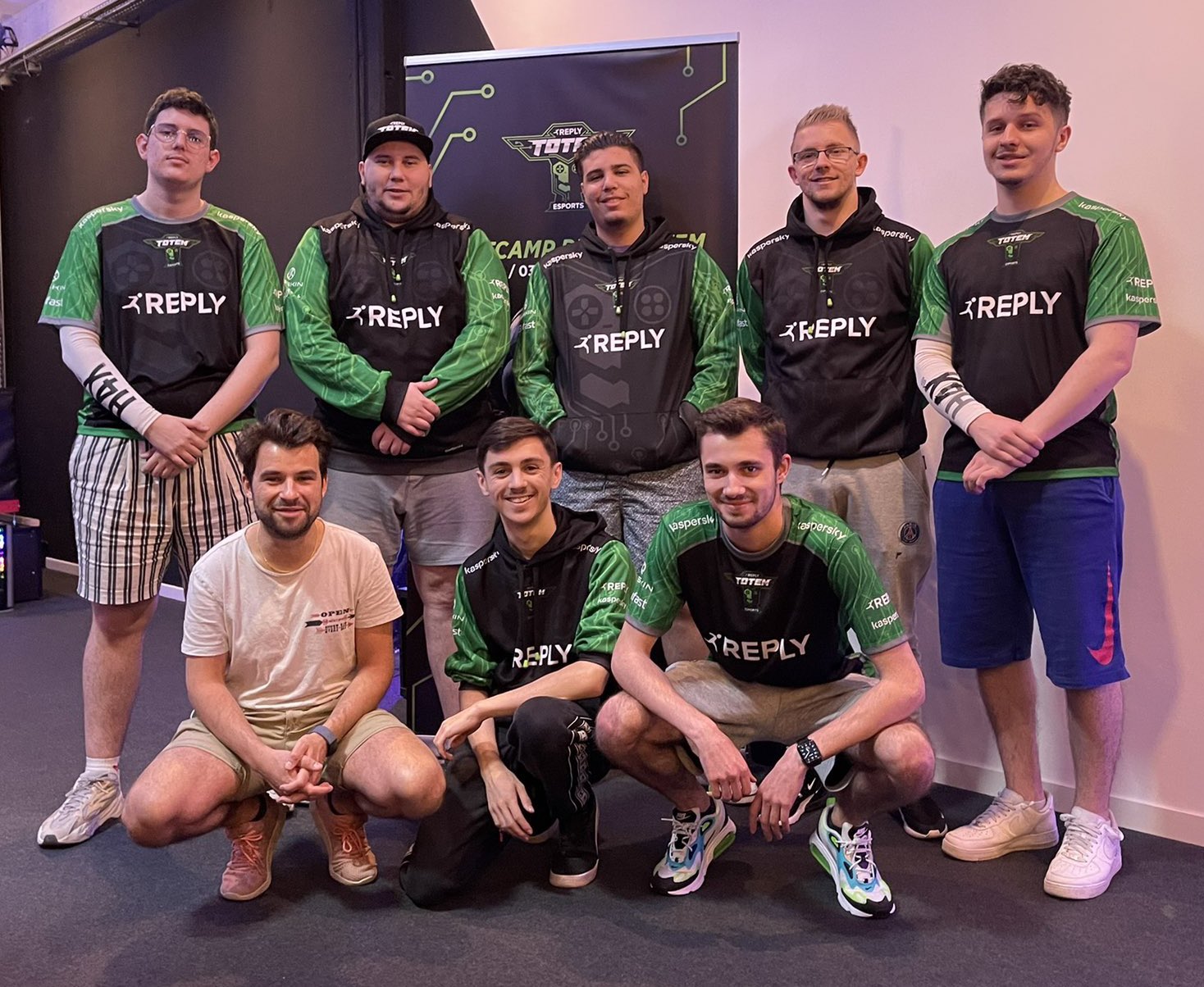 Hmble
cmarcor, Lolloboii, wuK, Apexx, and Kerv
Finally, with two joint-fifth place finishes, Hmble was the lowest seed to enter the Finals as they just beat out IGP.
This team also saw eight players in total compete for the roster during just the Spring 2021 season, which included the addition of Lolloboii -- the second-highest rated Italian outside of Mkers.
The Action So Far
The double-elimination, Best-of-Five map bracket means we have already seen a massive seven games and 28 maps take place already over the last three weeks.
While we can't go through all of them, here were some of the highlights of the games so far.
Firstly, looking at Mkers' path to the final, they won in two straight games in the upper-bracket, both in 3-1 scorelines.
Starting with their opening game vs Legion, the big standout story here was Lollo and his four clutches -- three 1v1s and a 1v2 -- which includes the deciding kill against Darkwin on round 15 of Chalet.
These four clutches were the only four of the entire game, as Lollo went onto secure a 1.18 Rating, the highest in the series.
Furthermore, with Map 5 lined up to be Kafe, this was perhaps even more crucial than it looked, as their next game in the semi-final saw Mkers lose to MACKO on Kafe of all maps, 7-5.
This game saw Lollo fall right off, but be replaced by Aqui, who achieved almost a 2.0 K/D ratio over the four maps (60 kills to 34 deaths).
While Mkers won the three other maps in regulation time, their one loss on Kafe was due to a particularly bad defensive half as, after going up 5-2 (which included a 1v3 by Scatto), MACKO won five rounds in a row to win the map.
This required a 1v1 by Alation and a triple kill from g3ro, but a lack of time management showed that Kafe was not a Mkers map.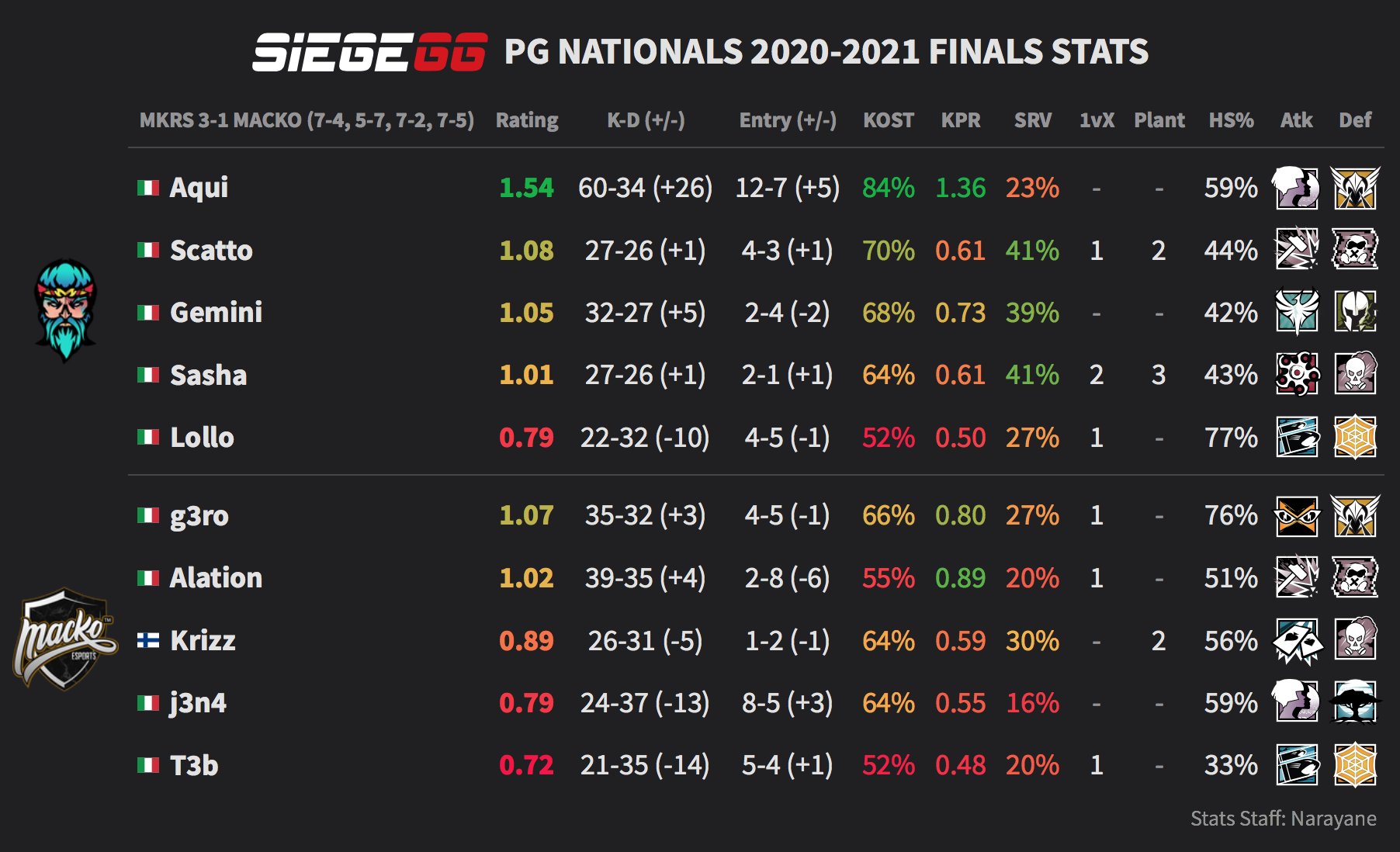 On the other half of the bracket, Totem began the game on the losers' side simply because they didn't compete in the Winter Season so couldn't get enough points to reach the top four. This meant they needed five straight wins in a true marathon of a run.
First up was their game against Hmble in which the Italian roster really did struggle with three players hitting Ratings of 0.81, 0.76, and 0.70. On the other hand, Totem's Mowwwgli achieved 12 opening kills to six opening deaths as the team's resident Jager/Iana main while Ayzenn also won a massive four clutches including both a 1v3 and a 1v4.
Next up, right off the back of a loss to Mkers, Legion was defeated 3-0 by Totem in three increasingly one-sided scorelines -- 7-5 on Kafe, 7-4 on Consulate, and 7-2 on Oregon.
Here Mowwwgli excelled once again, finishing just shy of the 2.0 K/D barrier with 47 kills to 24 deaths.
On the other side, one of Legion's newest players of Treiko only managed to secure 10 kills in three maps, although this did include a 1v1 victory on Map 1.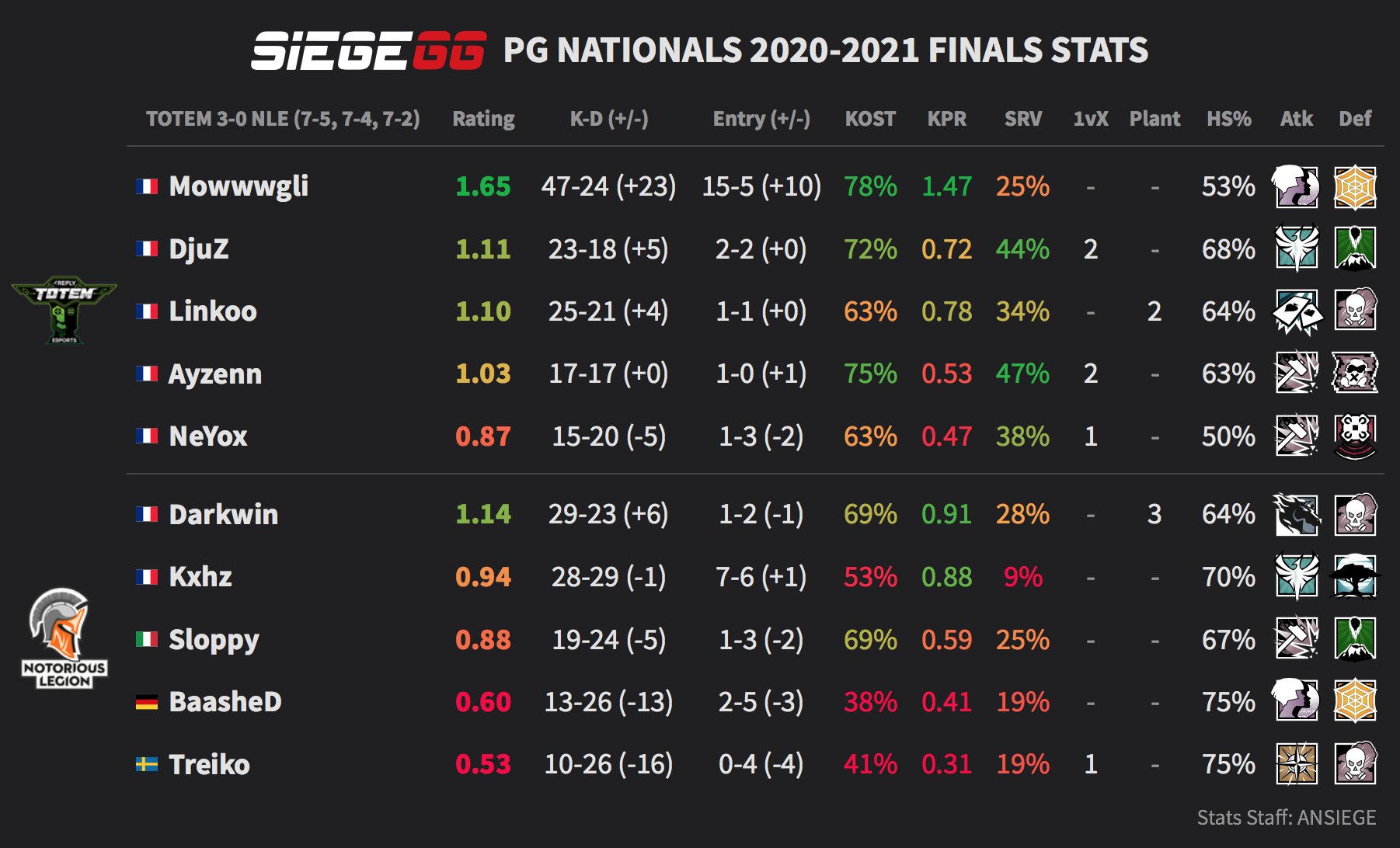 Game 3 was Totem vs the British core roster of Outplayed who beat Totem to second during the Spring 2021 Season with a 2-0 semi-final scoreline. Now as they met once again, it was a thrilling matchup.
While the game went to all five maps, only one of these, Villa, went to overtime, with it ending in Totem's favour, 8-7.
With Totem eventually winning the whole series 3-2, this overtime went on to decide the whole game. There, after an otherwise lukewarm game, Mowwwgli once again stood up to secure five kills in just the final three rounds.
Lukewarm in Mowwwgli's case, however, still meant he had racked up two quad-kills earlier that map, as well as a third on Chale. However, he ended the game just 0.01 Rating points ahead of his teammate of DjuZ.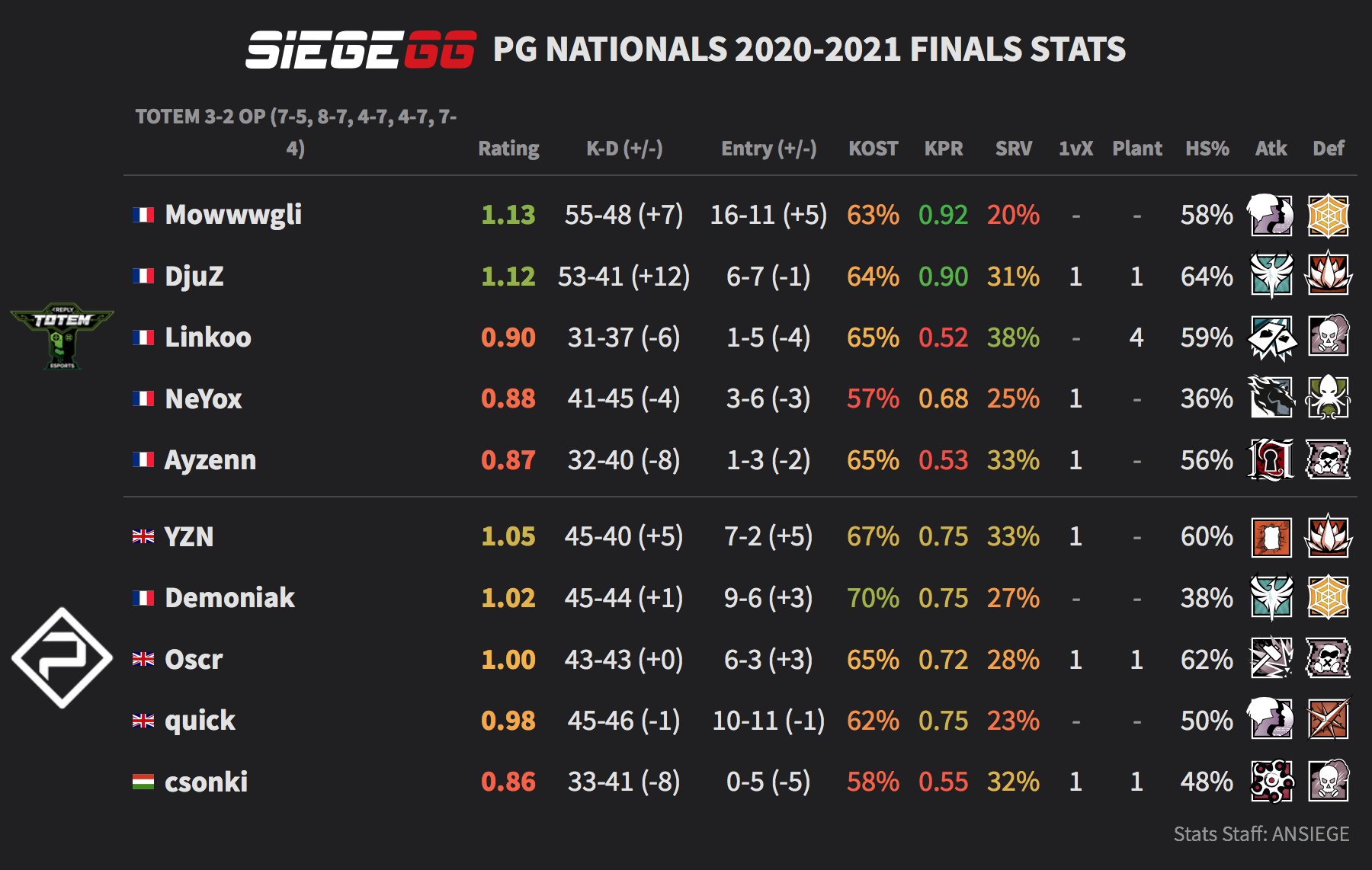 Finally, this left their fourth game against MACKO Esports, following their upper-bracket loss to Mkers.
This game ended in their second 3-0 win -- compared to Mkers only beating both by 3-1 margins -- in an almost identical scoreline to last time, 7-5 on Villa, 7-3 on Oregon, and 7-2 on Kafe.
Here, despite the whole of Totem being smacked around on entry by T3b, Mowwwgli was back on top with a 1.28 Rating.
As well as being key to Totem's success, this puts Mowwwgli as the top performer by far, as he's really stepped into the Jager-main role after effectively going evens during the Spring Season.
The Grand-Final
And so that leaves the grand-final of Mkers vs Totem Esports.
This Bo5 game with no map advantage will take place tomorrow from 6 PM CEST onwards and offers the victor a Challenger League spot.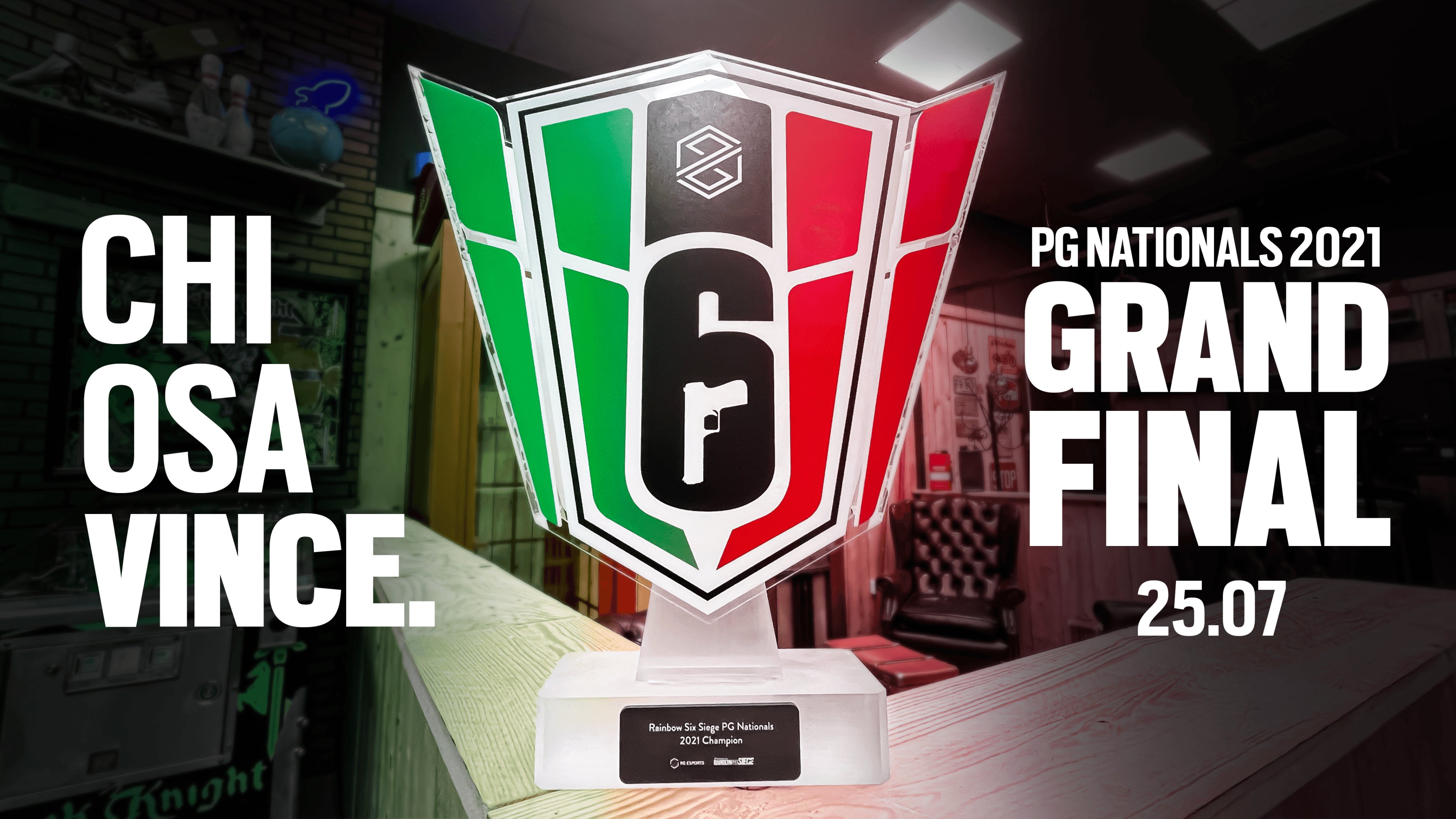 While Mkers are the favorites in virtually every metric, Totem has been on a complete tear through the lower bracket and will be hoping that Mkers get somewhat complacent considering they already have a CL Open Qualifier spot confirmed.
The games will be cast by the usual names of Valentino "LordChanka" Allegri and "Rakki" while Filippo "Etrurian" Burresi and Jody "ChiNook" sit on the analyst's desk and Pietro "RedLike" Girardo observes.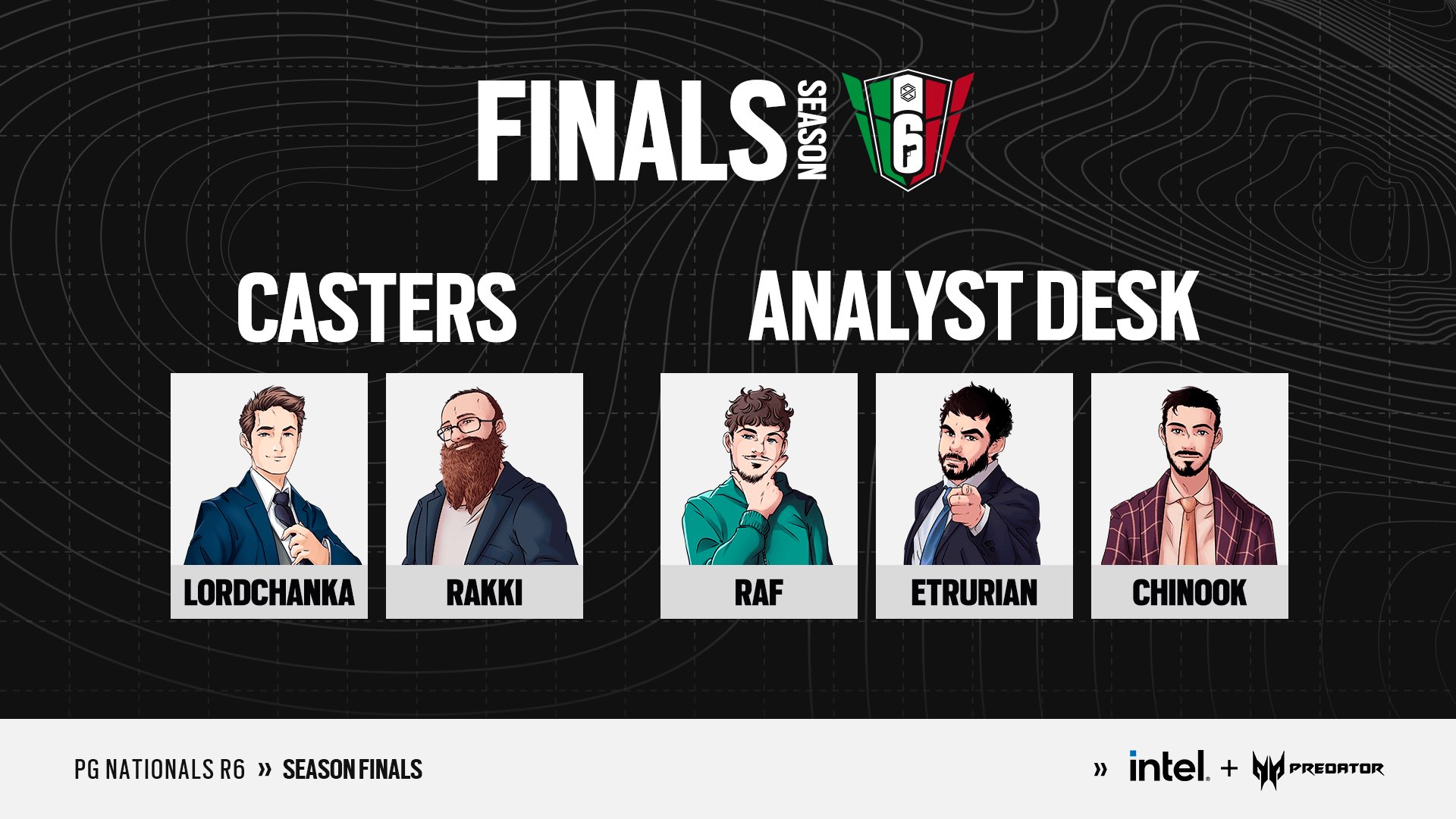 ---
Be sure to check out our news and stats coverage of this match tomorrow and check back in the coming months for further updates on both the PGN and CL tournaments.