In a continuation of the 2021 Korean Open season, the Summer version of the ₩60,000,000 (US$53,000) Korean national tournament got underway about two weeks ago, featuring four APAC North teams in attendance, with the monumental organisations of T1, Cloud9, and DWG KIA.
Here's a rundown of the games from the week prior and here's what to expect from the conclusion of the playoffs.
Jump To:
Playoffs Day 2
DWG 2-0 T1
Talon 2-1 Cloud9
The second day of playoffs kicked off on Saturday, with League of Legends rival organisations DWG KIA and T1 continuing on their fight here in the Korean Open, but there was hardly a fight.
Starting off on Chalet, believed to be attacker-sided by many, it was the defense of DWG KIA that came up top trumps with a 4-2 half. Then switching to the attack, T1 was shown just how to attack on the map as DWG KIA took an easy 7-2 first map win.
Moving to Clubhouse, T1 started off more positively, taking the first round on attack. However, DWG KIA answered back with five defenses in a row, soaring to a 5-1 lead. In the second half, like on the first map, T1 could hardly match up and only managed one round before falling 2-7 once more.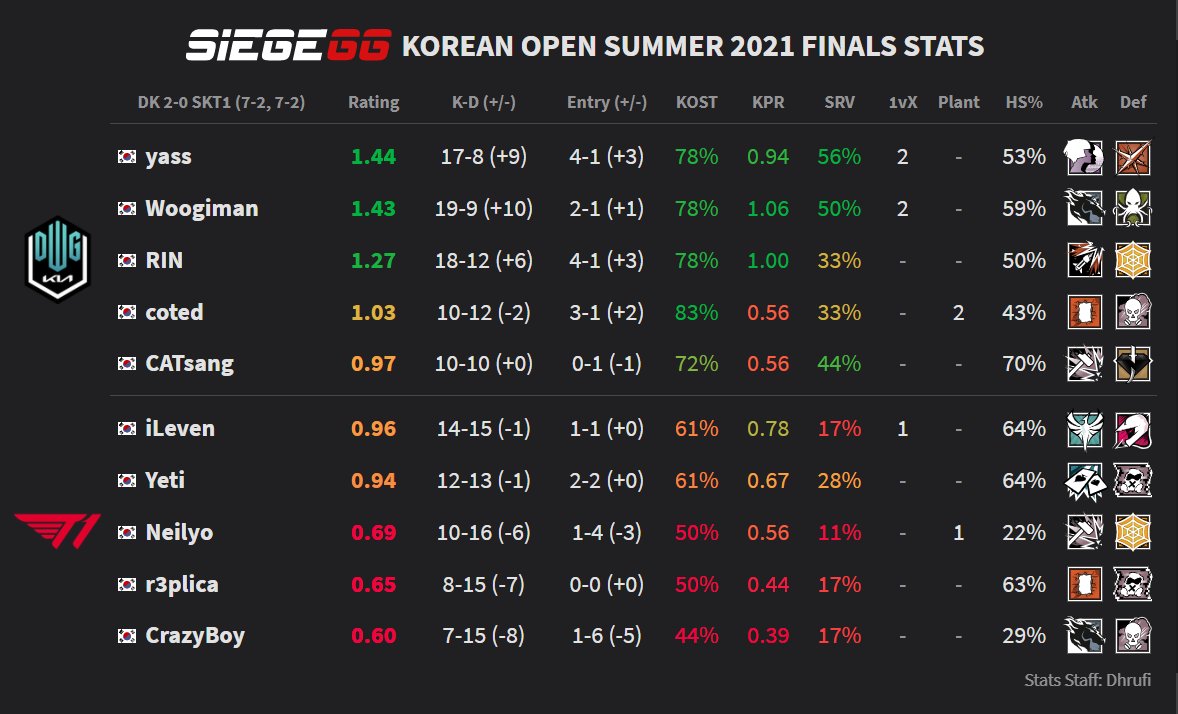 Next up was an all-APAC North battle between Talon Esports and Cloud9, with neither team seen as having particularly strong form -- having been seventh and sixth in APAC North then. What's more, Assistant Coach OCN had been standing in for Nova.
The game started off significantly one-sided on Kafe, as Talon took a strong 5-1 lead on the defense. But on its own defense, Cloud9 could do little but watch as Talon took the two required rounds to take a 7-1 win.
Despite that loss, Cloud9 was not out of the game, but started off shakily on Clubhouse with only a 3-3 defensive half. But the experience advantage Cloud9 had over Talon rang true, as it took four rounds in a row to win the map 7-3 and push proceedings to the final, decider map.
On Coastline, despite an opening-round Caveira double-kill from EnvyTaylor, Talon drew first blood. Similar to Clubhouse, though, the favoured side -- this time the attack -- could only manage a 3-3 first half.
But, similarly to Clubhouse, the second half went firmly in favour of the usually-disadvantaged side, with Talon this time taking a 4-1 defense to win the map 2-1 and brush past Cloud9 into the Grand Final.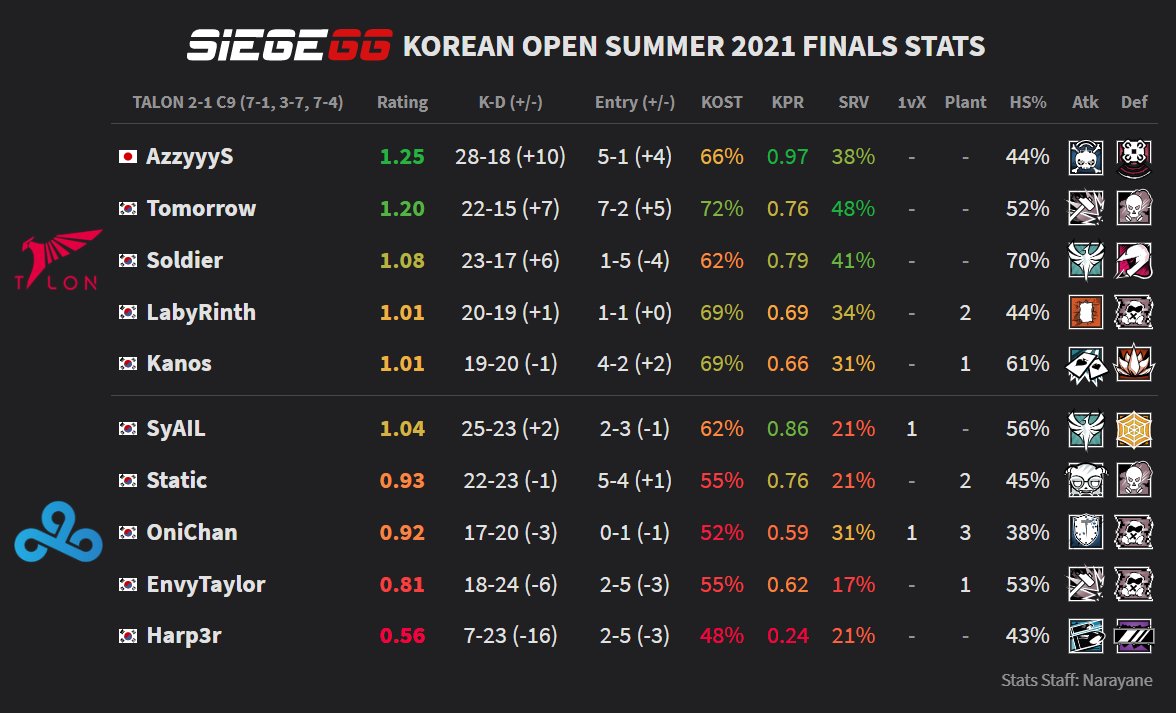 Playoffs Day 3
There was only one match scheduled on the final day of playoffs; a Best-of-FiveGrand Final, between DWG KIA and Talon Esports. And, with no map advantage, the series was hardly short of heart-stopping action.
The game started off as an utterly one-sided bloodbath on Chalet, as there was no stopping DWG KIA. Five defuser plants across the six attacking rounds and a 1v2 and 1v1 clutch meant that the seventh-round for the 7-0 win was almost a formality.
DWG KIA then kept on the pressure, though was run close on Kafe. Starting off with a 4-2 defensive half in favour of DWG, each round saw at least one multi-kill. The multi-kill fiesta continued on the second half, as DWG KIA put itself one map away from the win after a 7-5 Kafe score.
But on Clubhouse, despite a 3-3 attacking half, DWG KIA could not stop Talon from pulling things back and forcing overtime. The multi-kill trend kept going, but despite the defensive nature of the map, overtime on Clubhouse saw three attacking victories that led to an 8-7 Talon win.
Unfortunately for DWG KIA and importantly for Talon, the pressure kept mounting. Full of confidence, Talon went to Consulate with a positive plan. Starting off strongly with a 4-2 attacking half, Talon kept the train going with a 3-0 defense to push things to the fifth and final map in a now-grueling Bo5.
There was finally some light for DWG KIA on Villa, though, as the defensive start helped them to a 4-2 first-half lead. Then on the attack, Talon was a tough nut to crack -- necessitating a RIN clutch in one round -- but was broken eventually, as DWG KIA managed a 7-4 win and took home its first-ever domestic title.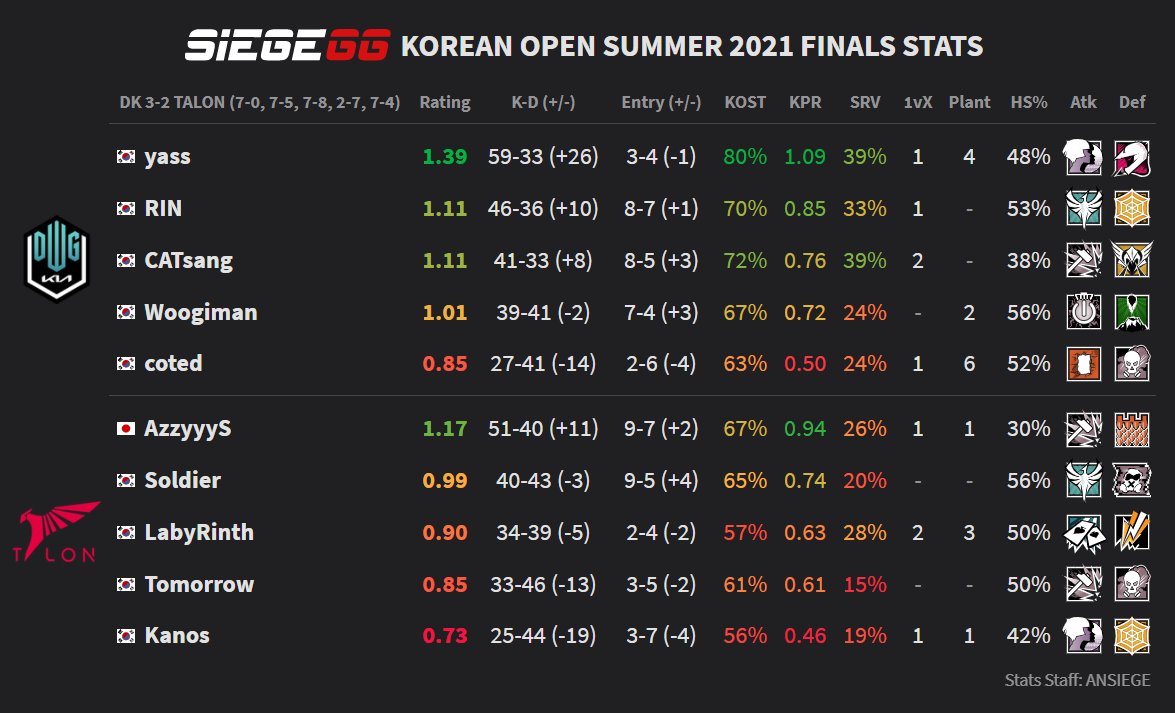 What's Next?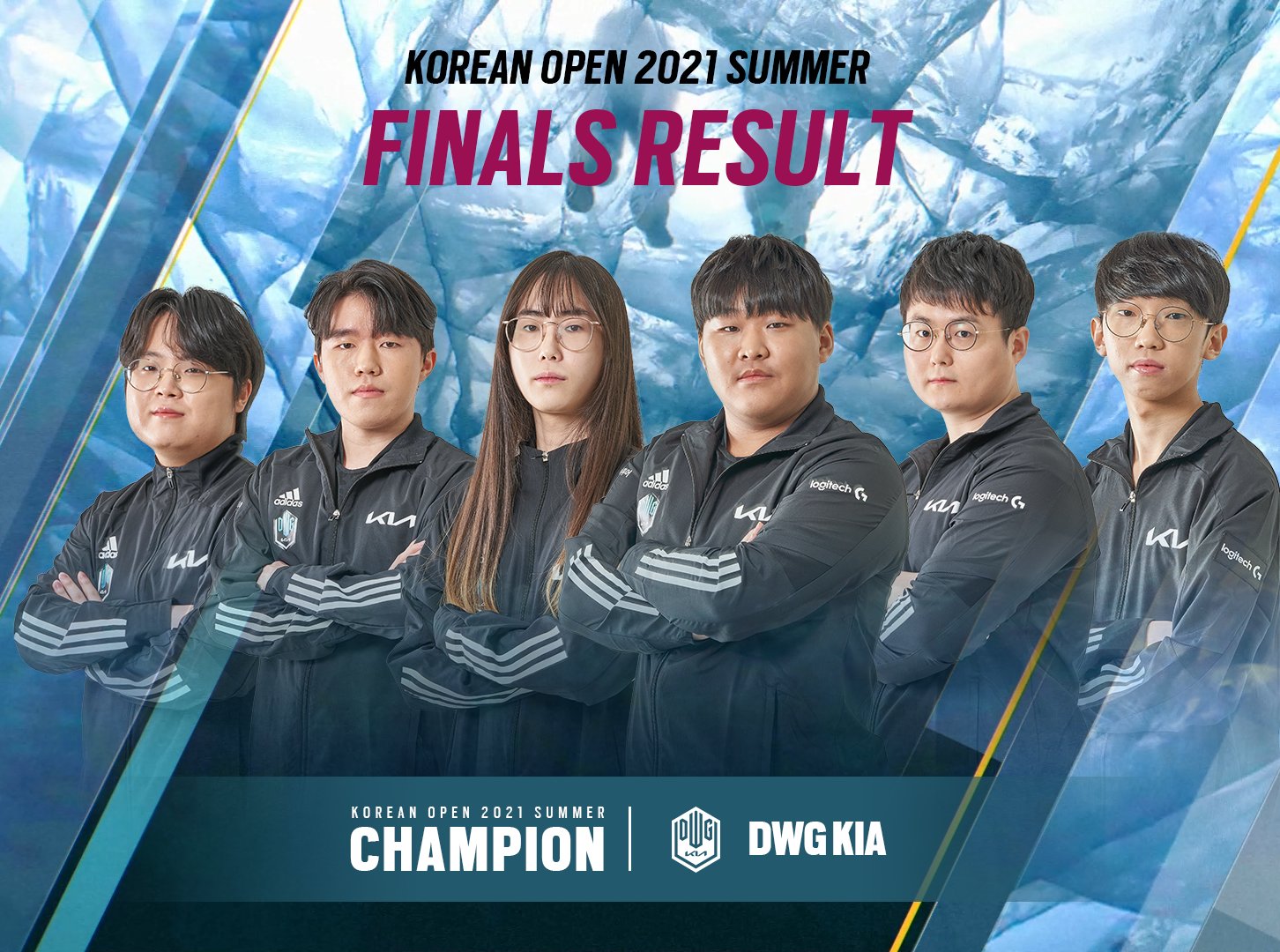 As such, the Korean Open 2021 Summer has now concluded. Each team received a slice of the US$53,000 prize pool, with the player with the most "Player of the Game" awards also securing an additional US$870.
Not only that, the top four teams also secured Korean Open points that will determine the top non-APAC North team headed to the APAC North relegations later in the year.
Final Standings:
Position
Team
Prize Money
KR Open Points
1st

DWG KIA

US$17,505
80
2nd
Talon Esports
US$8,752
60
3rd-4th
Cloud9
US$6,126
40
T1

5th-6th
Faust
US$4,376
30
SGA eSPORTS
7th
StarRise
US$$2,625
-
8th
5PM Supremacy
-
Furthermore, despite having secured joint-fifth, Faust has disbanded. However, it still means that both StarRise and 5PM Supremacy will be headed to the Korean Open 2021 Summer Relegations.
The Korean Open will be back later in the year, with the Autumn season scheduled next before the Winter split.