With the introduction of professional competitions for Mexican and South American teams, the creation of the Copa Elite Six, and the Brazilians' success in Paris at the 2021 Six Invitational, we could say that LATAM has entered a golden age.
However, in terms of format, LATAM leaves a lot more to be desired. There exists a lack of chances for rosters to recover from a poor Stage 1 or 2; it does not award improvement, but it awards momentum.
In contrast to any other region in the world, LATAM takes into account results from previous stages. This means that standings are not reset at the beginning of the stage and the teams begin the tournament with the same amount of points they had at the end of the previous stage.
While it may seem an issue that could blow itself over, or may not affect others, it has already proven unfair to teams even outside of LATAM in terms of the Global Standings. Additionally, it could well stunt the future growth of the lower and mid-table teams in LATAM itself.
Has This System Already Helped Brazil?
Although the Global Standings is a very young system, used just once in Rainbow Six: Siege, Brazil's unique format has already adulterated the race to the Six Invitational.
In the 2020 season, FaZe Clan had finished in fourth place in Stage 1, scoring 225 points from the regular phase and 165 from finishing in third place of the Brazilian Six Major.
FaZe Clan lost its form shortly after, winning only three maps out of a possible 18 in Stage 2 of that season. However, thanks to their strong results in Stage 1, FaZe secured the fifth place to secure 180 points.
If not for the Brasileirão's unique system, FaZe Clan would have ended Stage 2 in seventh place, which would have seen them drop from the 2020 Global Standings' Top 16 and, in their place, Natus Vincere would have travelled to Paris for the eventual Six Invitational in 2021.
How Would This Affect Current Standings in Other Regions?
If the format used in Brazil was also used in other regions, we would have seen many differences so far in 2021, especially in Europe and APAC.
In Europe, Team Vitality would be in fourth place, which is an improvement compared to their current situation. Natus Vincere would also benefit from this system, as they would already be qualified for the Mexico Major. Team Empire would be in fifth place, while Cowana Gaming would still be a contender to get that Six Major spot.
Also, with eight to 10 point leads over the fifth placed teams, Team BDS and Natus Vincere would be in a really good spot to secure Top 4 finishes in Stage 3 as well.
In North America, Mirage would be in fourth place instead of DarkZero Esports, while Oxygen Esports would be tied with Mirage in fifth place. And with one game in hand, Oxygen would would have a solid chance to retake fourth place from Mirage.
In APAC North, Cloud9 would comfortably be in the Top 4, which would give them a chance to fight for a spot to compete at the next Six Major. Not only that, but the team would be able to fight for more SI Points.
APAC South would also look rather different, with Elevate's first stage giving them a comfortable seven-point cushion over the Knights. Invictus Gaming's second stage resurgence would also go under the radar, as the Singaporean roster would still be outside the Top 4 due to their bad results in Stage 1.
Despite its issues, Black Dragons still managed to overcome a seven-point gap to sneak into the Copa Elite Six. However, that was in significant part due to a FelipoX injury that forced him to play with a controller and saw MIBR drop point after point.
If every region used that exact same system, we could have teams travelling to the Six Major thanks to the results obtained during Stage 1, but had fallen off sharply in Stage 2. Additionally, teams that performed well in Stage 2 but poorly in Stage 1 would miss out and the quality of teams at the event would decline.
LATAM's Format Doesn't Reward Improvement But Momentum
LATAM's system goes against the idea of why the Global Standings were created, as it had been said on the Esports Panel at the Six Invitational 2020:
We made this system so winning the Six Major isn't enough to qualify for the Six Invitational the following year. [In the example provided in the screen] we have a team that has won it all in Stage 1, but they do not show up for the rest of the year. They lost their footing, maybe because of roster changes or some drama, but because they only had that big first win, they did not win enough points to make it to SI.
The Global Points system is about rewarding consistency, but the LATAM format has seemingly missed the memo and teams that have not performed in Stage 2 still have the chance to score SI Points.
LATAM's use of this format is seemingly due to its prioritisation of the national scene over the international.
As previously mentioned, it gives teams the chance to score SI Points that would eventually give them a clear advantage over those foreign rosters that underperformed in one of the three stages played.
However, it is not just unfair for international teams competing in the Global Standings. It is also unfair for those trying to have an impact inside the three LATAM regions.
In México, Atheris is just two Stage 3 wins away from securing its spot at the third edition of Copa Elite Six, while Fenix, too, just has to win three games. With MeT, OverKnight, and Six Karma being 10 points away from the Top 2, the regional scene is pretty much decided.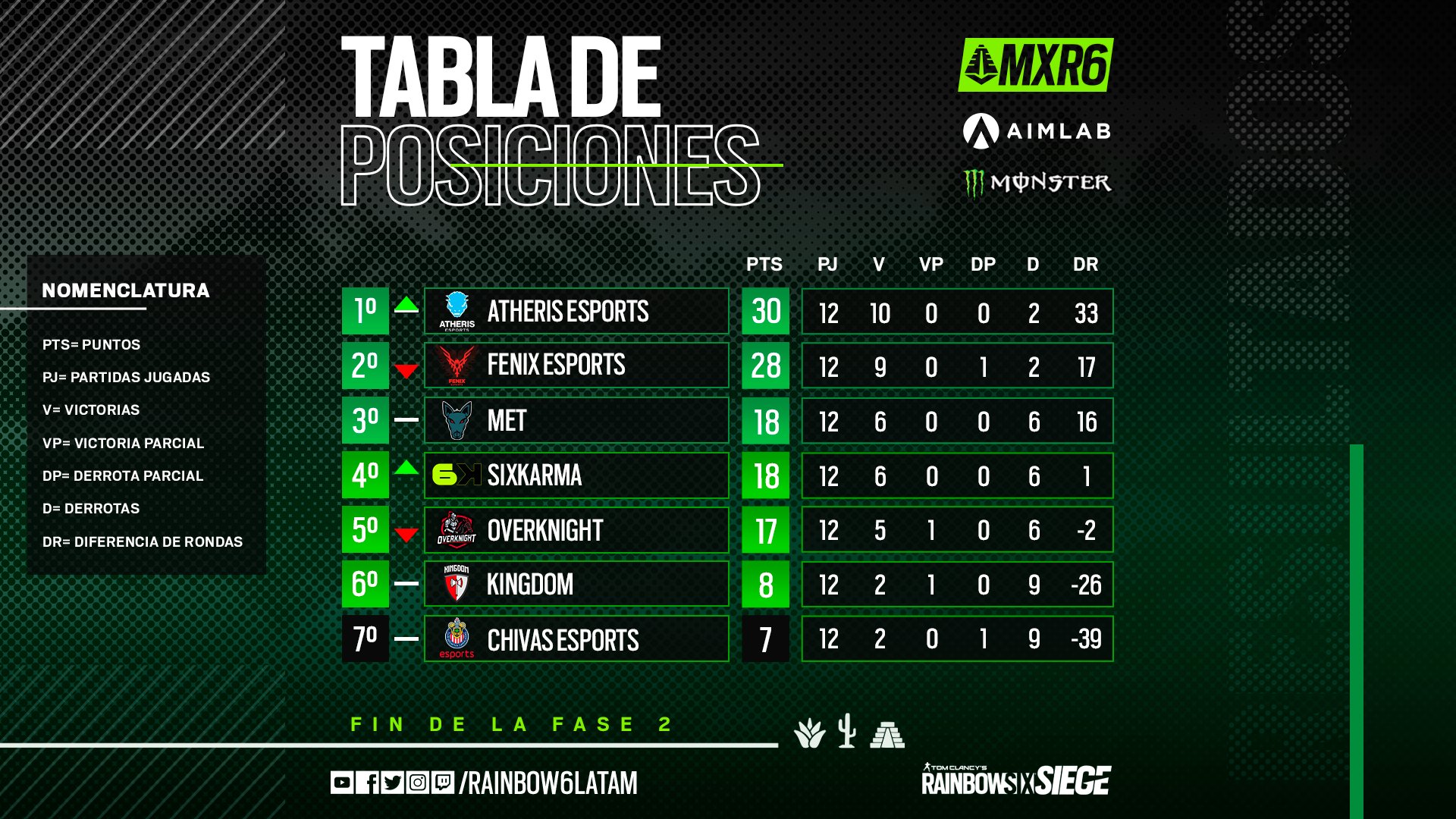 This is much worse in South America, where Furious Gaming are seven points off the Top 2, while the fourth placed team is 14 points off.
In Brazil, the previously mentioned MIBR has just won one game in Stage 2. This has given Black Dragons the chance to leapfrog them in the standings, but only by a mere three points due to MIBR's dominant Stage 1 position.
This clearly can limit the strength of a region by demotivating its players.
The chances given to the teams are not equal, as the first stage will be decisive in the results obtained during the second split, with the difference getting bigger in the third.
Even if there is an improvement by mid-table teams, which there has been in México — MeT, 6K, Chivas, or OverKnight — and in Brazil — Black Dragons and Santos e-Sports — these teams' chances to be in the next Elite Six Cup are very reduced.
Obviously, the fairest format is the one used in EU, NA, and APAC, where all the teams have the same chance to succeed once the standings are reset. The league is more entertaining, teams are always looking to improve and produce results to join that Top 4, to push in order to compete at the next Six Major and obtain even more SI Points.
However, in LATAM, everything can end up decided just one or two play days into a stage unless a leading team experiences a massive setback, such as MIBR did.
While this system is still accepted and used, LATAM teams will have an unfair advantage in the Global Standings and this system could cause great harm in those three competitive environments.
Furthermore, the interest in these leagues could go down, as the standings are very predictable, and the work put in by mid-table and bottom teams may drop after the point in the league where they cannot fight along the top-teams.
With this, the quality in these regions can eventually plateau, the effects of which might be seen at international events in the near future. After their success in Paris, I am sure that Brazilians want the hammer to come home for a second time and this outdated system should not be holding them back.