Week 5 of Stage 2 took place last week, as all four regions neared their respective ends of Stage 2.
Following most of these games were interviews with the victorious teams, so for those that missed them, we've summarised the best quotes and responses from the players below.
Jump to:
EU League
Starting in Europe, G2 Esports came within two rounds of qualifying for Mexico. However, despite celebrations from Lucas "Hungry" Reich, the loss of one point thanks to overtime meant that the team's Mexico tickets are not punched yet.
Here's what Ben "CTZN" McMillan had to say about the game:
Milosh: What do you think about the map of Chalet?

CTZN: I think the map is good but it's linear. There are only two ways on each bomb site that you can actually hold it. You either hold Library or you don't for Dining or Master and Basement you either roam or you don't, that's the only problem with that map.

It's actually a good map to just run about on and roam around and it's good to just hold areas with shields cause they're not too hard to clear as you can just peak doorways easily and nade them, none of the OP stuff. Yeah, it's a good map.

Milosh: You were playing on Smoke with an FMG-9 (the primary submachine gun) and were off-site the whole time. What's the deal there?

CTZN: I just picked Smoke 'cause I was playing an operator before and was thinking "this is pointless, I need a deployable shield. What operator has a shield? Warden. He's useless unless they bring a Ying". So then I just decided to pick Smoke and obviously I'm not gonna pick Shotgun/SMG when I could just run the FMG and roam about with him. He's a good roaming operator, to be fair.
Earlier in the week, Vitality themselves were involved in a very important game against the then-league leaders of Na'Vi.
In a big surprise, Vitality took the win in a 7-1 fashion to both revive their Mexico hopes and pull Na'Vi down to fourth-place.
Here's what Doki had to say about this loss on Thursday:
Doki: The last play day was really weird. I don't feel like we actually played badly, we just couldn't hit any shots. I was like potato-ing everywhere, just couldn't kill anybody. Really it just was a bad day for us, it's... it happens I guess.

I'm kinda happy it did happen as it allowed us to put a little more work in, humble ourselves a little bit, get ourselves back in for this game (against Rogue) which was a really important win. Making sure we get those three points to solidify ourselves in the top four for another week is really important. We wanna go to Mexico.
By the end of these two play days, G2, BDS, and Empire were all tied for first place with 16 points, while Na'Vi sits in fourth with 15.
After just a head-to-head difference separated the top-two last stage, Stage 2 is somehow looking to be even tighter as all four of these teams could lock in a spot at the Mexico Major with a single win across the final two play days.
NA League
Over in America, while no teams joined SSG in guaranteeing a ticket to Mexico this week, TSM and the Soniqs are both extremely close to doing so.
This is as the two teams beat Mirage and XSET respectively in two very one-sided results increasing their lead in the top-four and almost ending Mirage's Mexico hopes.
This 7-3 TSM win, meanwhile, means TSM needs just two points against the Soniqs and Oxygen over the next two weeks to lock-in a top-four finish. The game itself was the first one back with Geo playing which, after a fairly close start. Achieved in particular ran away with it with an 11-3 performance.
Here's what the team's coach of Owen "Pojoman" Mitura said during the post-game interview:
Velly: Did playing with the team help you with coaching them?

Pojoman: I always kinda knew how everyone played together, I've always kinda been knowledgeable about that, but I'd say it definitely helped. Just knowing how Geo's role fits into everything and knowing what he needs to deal with, it helps quite a bit.

Velly: What's the biggest difference between the two of you in that role?

Pojoman: I think Geo does everything I do, just a bit better. Like in every single way. If anything, my communication is usually pretty good, that's where I fill in from the non-gunning perspective, but I think Geo's been doing a really good job at getting better at that over the past year and a half. He's definitely on par with me on that and then he just shoots everybody as well, way better than I do. I'm just an old man.
Velly: What's your opinion on XSET and how they've progressed this stage?

Pojoman: I think they've gotten exponentially better since Jarvis started playing. I think just having a positive person as opposed to a negative person on the roster that can elevate your players, rather than bring them down, can make all the difference in the world, and I think we've seen them play a lot better in the last two matches. Even in our match, they played a lot better than they would have before.

Velly: In the last two games which TSM lost (2-7 vs SSG and 6-8 vs Mirage) what happened?

Pojoman: I think in the Mirage game, we just didn't play too well and I think Mirage played really well that day. They did a really good job at shutting us down and our communication wasn't as good.

Against SSG, Hotancold's just nasty, he's the best player on their team by far. Exponentially better than everybody else. He just carried them through that. They did a really good job at abusing Hotancold to carry them through that game.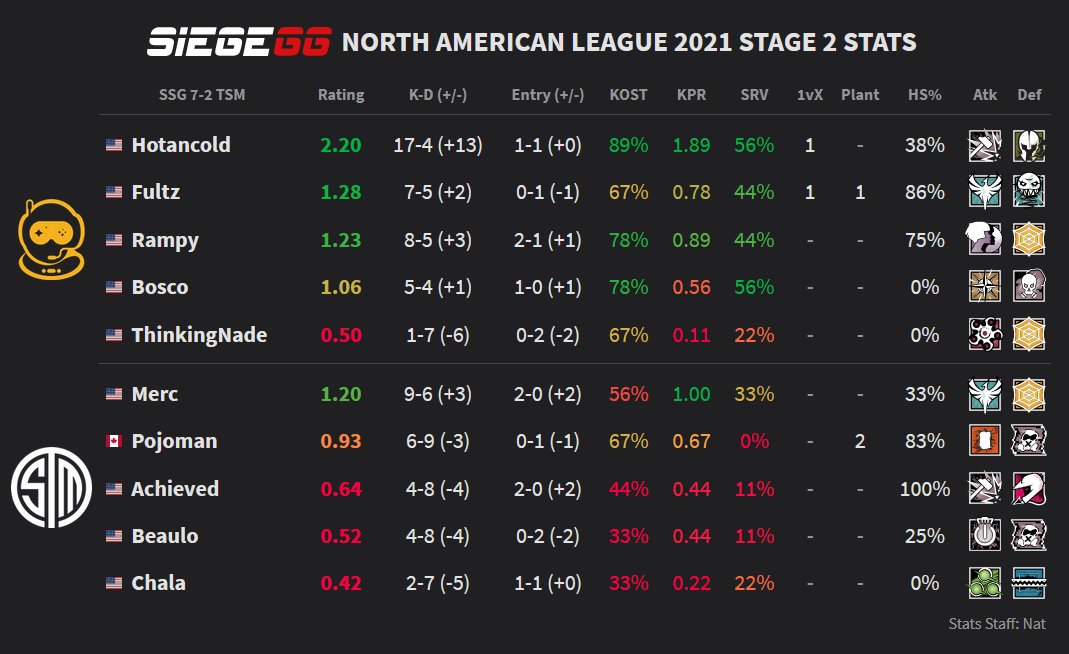 Elsewhere, there were also two other key results as bc lost their third overtime game and DarkZero won their fifth such game, pushing the latter team in the top-four, while Disrupt beat Oxygen in an incredibly close 8-7 result.
Brasileirão
This weekend was the finale of Stage 2's BR6 League as three play days -- 13 Bo1s -- took place from Friday to Sunday.
While pretty much the entire stage had seen constant upsets, this weekend was somewhat tame with the favourites of FURIA, Liquid, FaZe, and MIBR winning on Friday, while NiP suffered the first shock defeat on Saturday against INTZ, 7-2.
Their coach of João "JP" Pedro Teixeira stated the following about the win:
JP: The mood is better [with this win], it was a good game, but we can't relax right now, we're not in a good situation but better now of course.

Geo: Why did you choose to go to Villa when it's a very strong map for NiP?

JP: It's a strong map for them but it's a strong map for us as well. They didn't change much from their last game so we knew everything they were going to do. We also scrim a lot against them on Villa, so we knew a lot about their game and we changed a little bit what we did last game so they could not predict our sites but they are very predictable, actually.
Unfortunately for INTZ, this win was for nought, as they were too far away to qualify for the Copa Elite Six at this point. Liquid, FaZe, NiP, FURIA, and oNe had already been locked in and Sunday saw MIBR and Black Dragons fight for the sixth spot.
These two teams had already met on Saturday, which led to a massive 7-1 win for Black Dragons (BD), but unfortunately did not have a follow-up interview.
This meant that BD needed just two points against oNe to guarantee a top-six finish, while MIBR needed a win against Liquid and a loss for BD to go through.
In the end, an 8-6 win over Team oNe meant Black Dragons earned their two required points meaning they qualified for the Copa Elite Six event.
Team Liquid, meanwhile, had a fairly mixed weekend. While they won all three of their games, they were in closer results than they had liked, as BD took them to 7-5 and oNe took them to 8-6, while MIBR only managed two rounds against them.
These results still meant they ended the stage in first place and are thus the first seed into tomorrow's Copa Elite Six ahead of NiP, despite their Six Invitational title and solid start to the stage.
Thiago "xS3xyCake" Reis stated the following about the 7-2 MIBR win:
xS3xyCake: All of us just wanted to end the game as it's already late and we knew that MIBR is on a losing streak, cause FelipoX is on a controller, but he played really well on a controller today.

We were waiting for that because he has a controller, he's not gonna kill everyone, but against us, he's gonna destroy us and that is what happened today, we expected that.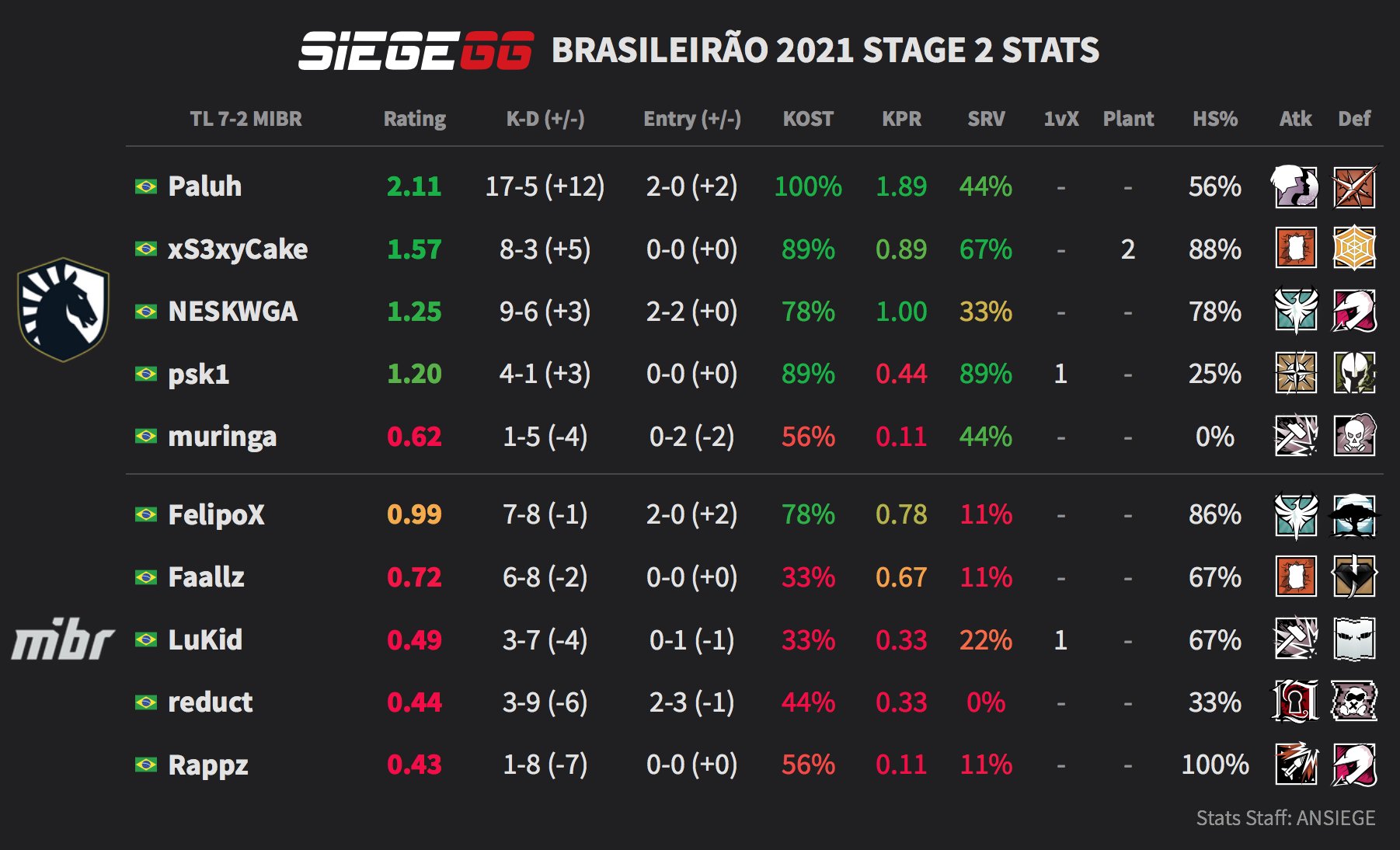 This weekend was also big for Team Liquid fans as the Team Liquid BR YouTube channel launched, set to feature a number of behind the scenes videos in the coming months (though mainly in Portuguese).
Finally, Sunday also saw a tight result between Ninjas in Pyjamas and Santos, which NiP managed to edge out 8-6 on Coastline.
Here's what Julio "Julio" Giacomelli said about the win:
Julio: Yeah, it was a pretty hard match. We knew they have a pretty good Coastline, we did our analysis, but we thought that we have a good Coastline too, so let's not show too much as we have the Elite Six next week so we knew it would be a pretty hard match but, yeah, we got the victory.

[...]

Yeah, we tried to play really aggressively on defence as we know they try to get the first floor but it didn't work out, we lost on clutches on defence too so then we tried to play more passive which didn't work out as well but yeah, it's just about gunfights and the minor things that wins the rounds.
With the BR6 now over for Stage 2, the six-best Brazilian teams will be facing the two best teams from Mexico and South America this coming week in the Copa Elite Six.
Here, the top four teams progress onwards to the Mexico Major, a tournament that Fenix and Atheris (in particular) will be eager to reach.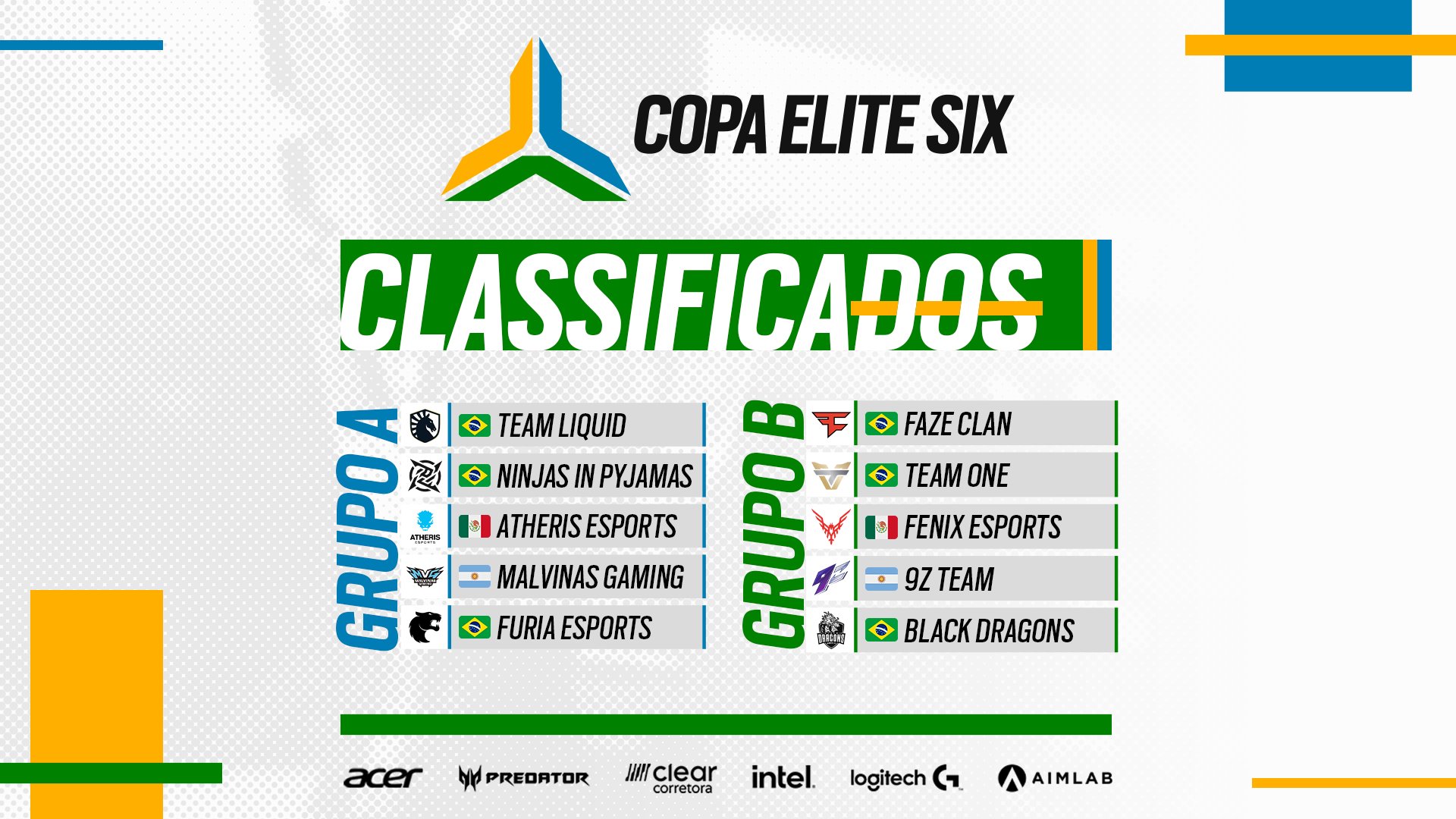 APAC Leagues
The big news in the Asia Pacific region this week came from CYCLOPS as their victory over TALON (7-4) meant that they guaranteed themselves a first-place finish in the APAC North Division, locking in tickets to the Mexico Major.
Here's what the team's Italian coach of Riccardo "Hybrid" Massimino Font said about the result:
Hybrid: [Qualifying for the Major] is amazing. Last stage, we were very close to winning and go to the match against Elevate, but Cloud9 just beat us. Now going to the Major, being first in APAC North, it's amazing and we're not going there just to participate, let's just say that.

Milosh: What was the mindset behind running the Oryx?

Hybrid: (Laughs) Well, obviously it was to mess with their strategies and their mind most of all but it was just at the end that the boys were having fun. In the last round in the last minute, I didn't hear a lot of callouts, I just heard laughing. ...with CYCLOPS it's like this, you can't expect everything.
We almost saw a similar outcome in APAC South also, as the two top teams of QConfirm and Elevate met in a match where a win for the former would've also locked in first place in the league and a Mexico Major spot.
This game instead ended 7-4 to Elevate, meaning the two teams are now tied on 12 points with just one game remaining.
After the match, Paramin "sprOnigiri" Suwanwattana came on the post-match interview and said the following:
Manic: A lot of the rounds came down to the late rush, was this planned or in the moment?

sprOnigiri: We analyse our enemy and we know that somehow someone is gonna be flanking us at the 20-second mark. So I have to watch flank as they're pushing site and yeah, as I expect someone flanked.

Raven: Next week you face iG, where a win gets you to the Major. How does this feel and are you confident in this game?

sprOnigiri: If we prepare ourselves enough I think we can beat iG. I'm really excited if we win, 'cause it would be my first LAN; the last two Majors were all online, so I'll do my best to get there.
---
Week 6 will kick off its games tonight with BR6 games being replaced by the Elite Six tournament from Tuesday to Sunday.
SiegeGG will be covering all these tournaments as usual so check back for stats, news, and highlights for your favourite teams!