With the Copa Elite Six around the corner, we now know who will be representing México and South America.
Although Stage 2 has featured some interesting and upsetting results, the top-two teams in both regions have not changed. This means that Atheris and Fenix Esports will be representing México, while Malvinas Gaming and 9z Team will be representing South América.
However, the seeding has changed, as Fenix's poor performances throughout Stage 2 gave Atheris the chance to take over the lead of the Campeonato Mexicano.
Meanwhile, a similar situation occurred in the Sudamericano. A flawless stage for Malvinas Gaming was enough to retake the lead from 9z Team, who had a very poor stage.
With this being said, let's have a proper look at how things went in both regions!
Please note, LATAM is the only region to take in count Stage 1 results combined with the Stage 2 results. This means that teams began Stage 2 with the points they collected in the prior stage.
Campeonato Mexicano
Stage 1 saw how Fenix and Atheris blitzed all of their opponents, as Fenix won every game possible, while Atheris' only loss was against the leaders.
However, Atheris was the only of the two that continued the dominance. Despite losing to Chivas on the second play-day of the stage, the snakes successfully won the rest of their matches.
However, the same cannot be said about Fenix. Their loss against Atheris was followed by an overtime loss against Overnight, but their worst performance came a few weeks later when Kingdom Gaming beat them by a score of 7-1.
As a result, fans and analysts doubt that Fenix are likely to improve upon their last show at Copa Elite Six. On the other hand, although fans know that the gap in skill to their Brazilian neighbours is still big, Atheris is the best hope to see a Mexican team playing at the August Six Major Mexico.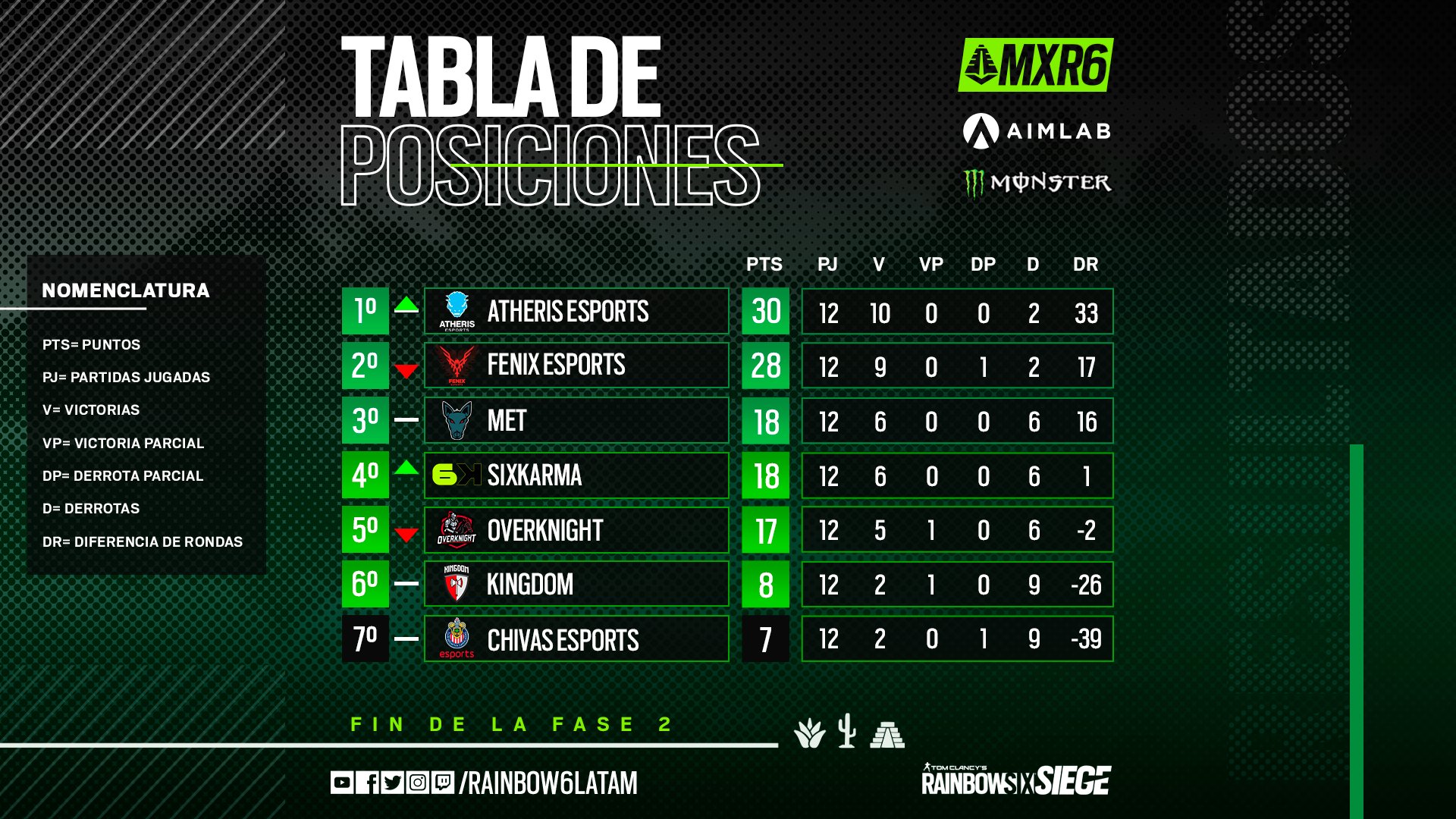 Meanwhile, the mid-table has been almost identical to Stage 1. The Mexican organisation of MeT once again ended up in third place after a brilliant start, where the roster scored six points. However, their loss against Fenix was immediately followed by a loss versus Atheris and showed that the team is still not quite in the Top 2.
The Mexicans were followed by Six Karma and OverKnight, with the only difference being one point less for the latter.
However, after finishing Stage 1 with zero points, Chivas started its long climb up from the bottom, securing its first win in the competition against Atheris, followed by another win and one additional point elsewhere.
Due to the LATAM rules, Atheris and Fenix had no problems securing their tickets to compete at the Copa Elite Six.
The current combined score system, which takes into account results scored during Stage 1, gives an enormous privilege to the Top 2 teams in the league.
In Stage 3, the third-placed MeT is already 10 points adrift of the best two teams in the league. This means that Atheris just needs two wins in Stage 3 to secure its participation at the third edition of Copa Elite Six, while Fenix just needs three.
Not only that, there are already two teams with no chances to make it to even the next Copa Elite Six; Chivas and Kingdom. As a result, they will need to wait all the way until the 2022 season begins to see any results.
Campeonato Sudamericano
Over in South America, Malvinas Gaming's flawless second stage saw them leapfrog 9z Team, who had a very poor split. This stage, 9z lost two games and won one in overtime, which caused them to fall four points behind the first placed Malvinas.
Meanwhile, the mid-table teams have shown great improvements. Furious player shoxo finished with the highest rating (1.29), while Infamous Gaming's Cocomila led in terms of plants (14) and Ferchie finished with the third highest rating (1.23).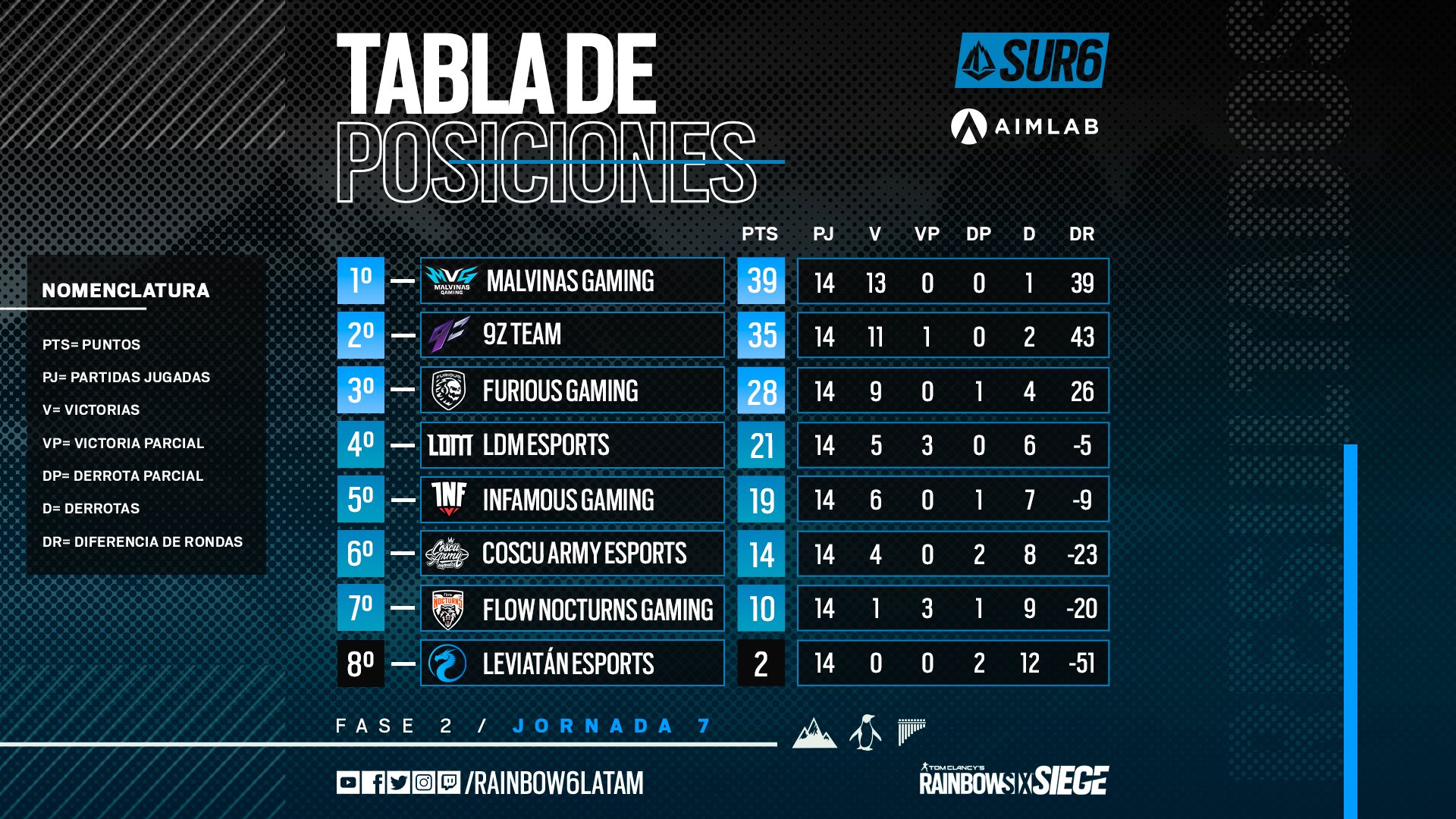 However, just like in México, the current format caused these improvements to go unnoticed in the final standings.
If it was not for the carry-over points from Stage 1, Furious Gaming would have been just one point away from qualifying to Copa Elite Six.
But in reality, the difference between these two teams was seven points due to 9z Team's flawless first stage.
Now, Furious Gaming finds themselves seven points off second place and seven points ahead of fourth, likely keeping them safe from LDM Esports' challenge, but unable to challenge 9z.
Ahead of Stage 3, much already seems decided. It is very unlikely that Malvinas and 9z Team will fall from the Top 2, while Furious will most likely keep third place.
---
Catch the Copa Elite Six starting on the 20th of July, with SiegeGG continuing to cover the competition.