Banner via Ubisoft
Week 4 of Stage 2 took place last week, as all four regions neared their respective ends of Stage 2.
Following most of these games were interviews with the victorious teams, so for those that missed them, we've summarised the best quotes and responses from the players below.
Jump to:
EU League
Firstly, after a rough start, Empire won their third game running against Team Secret to create a three-point gap between them in fourth and their fellow Russians of V.p in fifth.
Here's what Danil "JoyStiCK" Gabov had to say about their 7-5 win over Secret on Consulate:
Milosh: What was the toughest thing to overcome to defeat Secret?

JoyStiCK: Honestly, it was Clash. When we see Clash playing on 'sandwich' I'm playing on 16:9 and when I try to spray him and he puts his shield behind his back I can't even aim at his little head so it was really hard. It was so close of a round. It was a good strat to put Clash in 'sandwich' and try to deny the plant.
Following this, Jack "Doki" Robertson said this about why he continues to play Ash despite her dramatic drop off in pick rate in every other region:
Doki: It's the three-speed. Three-speed and destructibility, it's just that it's too fast. You can get into positions really quickly
Additionally, he corrected Dezachu on potential Na'Vi changes:
Doki: ...actually I have a bone to pick with Dez. I was watching your little stream earlier -- I say little stream cause you don't get many viewers -- and I saw you were doing an analysis of the Na'Vi/Cowana game and you said in it "if Na'Vi were to replace someone it should be Saves" because he's a bit up and down, right?

Which he is, I agree with you, but Saves brings a lot of other elements to the team such as IGL-ing the executes and Saves it that guy that can just randomly get a kill. It may not happen all the time but it's really valuable to have someone like that on your team so I'm just sticking out for my teammates there.
Finally, of note was the massive matchup between Team BDS and G2 Esports as the teams sat in first and third in the league. An impressive 7-4 win on Clubhouse from G2 meant they overtook BDS and leapt into second, also allowing Na'Vi to take first place.
Jake "Virtue" Grannan then came on for the interview with Milosh:
Milosh: You seem to be one of the rare teams that are bringing Capitão, why?

Virtue: Obviously he's on Hungry. Great player, so versatile. He's comfortable no matter what, the guy just has super powers. But where he comes in our lineup, it's not about getting kills with Capitão but making the other team feel uncomfortable. Pushing them out of spots where they are setting up in and then just taking advantage of that.

Milosh: And the Iana ban, is it map specific or to deal with your opponents here?

Virtue: It was purely counter to Shaiiko, make him feel uncomfortable and put him on an operator he does not want to play and I guess he did, he went onto Zofia. We just noticed he loved playing Iana so just counter ban it. We also counter-banned Smoke for BriD cause he's a clutch player that comes up late in the round. So yeah, wanted to make them feel as uncomfortable as possible.
NA League
Over in North America, the pick of the matches was clearly SSG's 7-2 victory over TSM, who were still playing with Pojoman subbed-in for Geo.
Considering TSM's dominance earlier in the stage -- including a 7-0 win over DarkZero -- this second loss in a row in such a dominant fashion was certainly a statement from SSG, who booked a flight to Mexico with this win.
In the lone interview of the night, here's what SSG's newest player and current NAL Stage 2 stats leader Matthew "Hotancold" Stevens had to say about the result:
Velly: At what point did you feel unstoppable here on Chalet?

Hotancold: I feel like in matches is where we really shine on Chalet, scrims we've always been really good at Chalet but in matches, we just change what we do more often and it's just been working, you know? If I call the weirdest thing known to mankind the whole team listens to it and usually it works. It's a great feeling.

Velly: What worked so well for you guys strategically?

Hotancold: TSM has always been a team that doesn't change too much of their strategies so it's always been pretty easy to know what you're playing against. They'll usually have Merc or Geo call a lot of the adaptations so I don't think they can really do that without Geo as much. The game was very plain and simple, we stuck to our game plan and we got it done.

Velly: You guys are looking dominant. What did it take to get the team to this point?

Hotancold: Well, the first couple of weeks of the team were a little rough -- not too bad but a little rough. We had to dry run all seven maps within like three days just to even start scrims so that was a lot, that was a struggle.

Right as all the players got back after their vacation after Invite ThinkingNade was like "I don't want to play flank-watch anymore" so we had to get over that hurdle but I think that the team is obviously looking very good and I'm loving it.

Velly: You went from a planter to a fragger, what brought out the beast?

Hotancold: I really don't know if anything ever flipped. I used to be an entry fragger and roamer for basically the first three years of my career and I slowly went to hard breach because I was a little older than the rookies coming in and I don't personally think I have the best aim so why not put the best aimers on the entries. I don't know. I just found my groove.
As well as this, The Soniqs beat Oxygen Esports 7-3 in a meeting between the two Stage 1 leaders, while XSET and DG beat Mirage and bc respectively.
Brasileirão
Latiin America, meanwhile, had a truly wild Saturday as the underdogs took point after point from the league leaders. Santos Esports beat Team Liquid 8-7, Team oNe took down FaZe Clan 7-3, and W7M Gaming beat Black Dragons 8-6.
Starting with these first two games, Santos marked their second win of the stage, which puts them within a chance of an Elite Six Cup spot. That win came primarily thanks to Rhyze, who went 17-9 on Ash and Jager.
The team's manager and analyst of Mario "Furi" Sobreira said this about the win:
Furi: ... It was unexpected but it was an amazing game. Very difficult for us to take it to overtime, but we tried our best to bring a victory today.

... We're taking it step-by-step. I think we needed to practice all day and we needed to focus on our game. Day-by-day we are working very hard. We are a new team with new players who are new to the BR6 and we work very hard to make the little steps to get better through this Championship.
For Team oNe, this win (along with a Sunday victory over MIBR) meant that the team booked a spot in the Elite Six Cup, as they currently sit in fourth place.
Here's what Lorenzo "Lagonis" Volpi said in the interview about their map pick:
XRTROIKA: Why Coastline, everyone keeps picking this map today?

Lagonis: Coastline is a map where you have many options to do many plays so different playstyles you can do on the same map so I think that's why this map is so fun to play. We do have all these strats behind why we played Coastline today but it's also a map where you have so many opportunities to do things differently.

Coastline is just a cool map, to watch too I think. The spectators always like when we play Coastline I think cause it's always a tense map, a lot of kills, and close rounds.
The following day was less of a whirlwind, as NiP, FaZe, oNe, and Liquid all won their games. That has created a three-way tie for first place on 32 points, though Team Liquid has played one less game than the other two.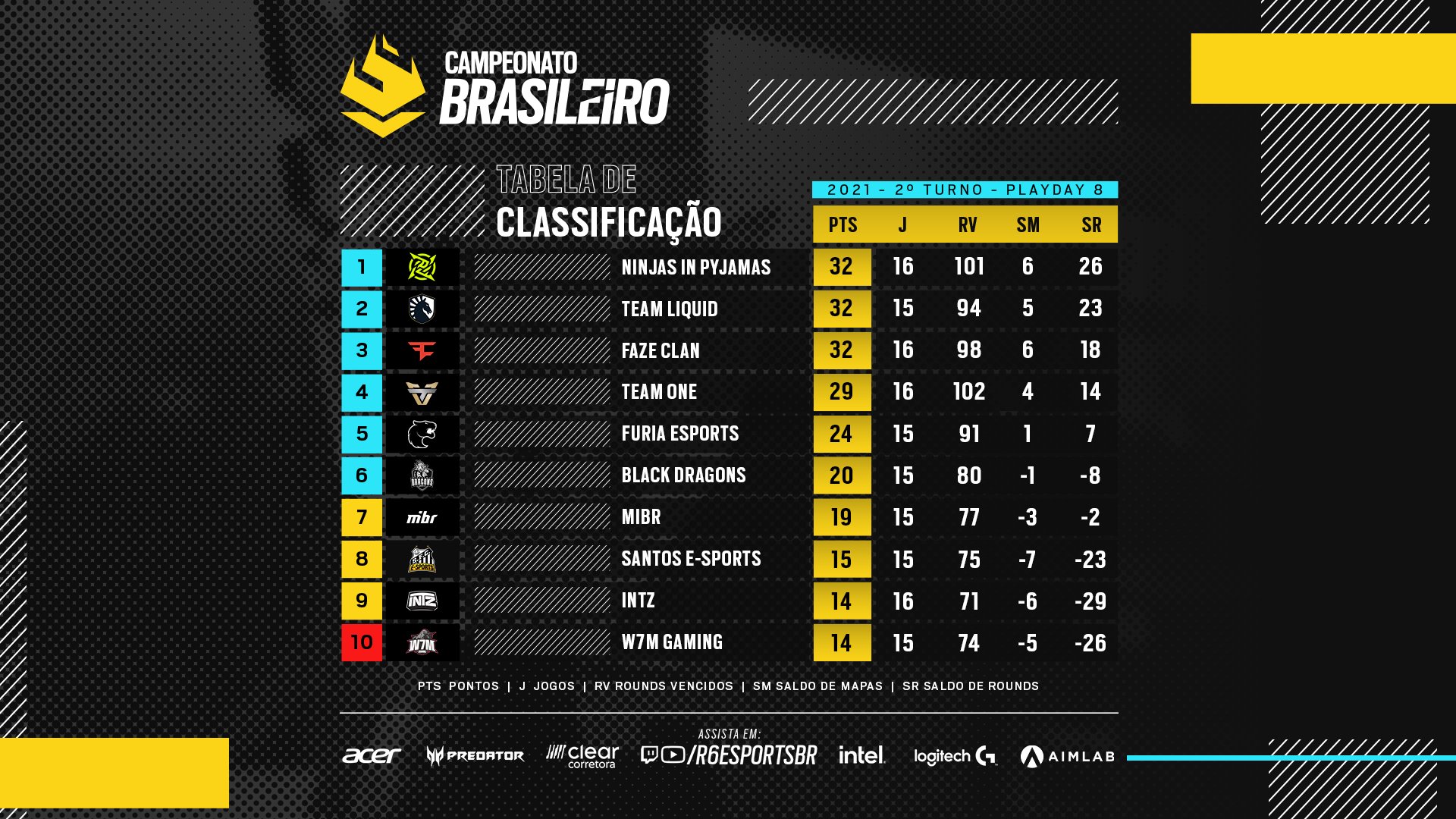 Just looking at this stage alone, however, indicates Team oNe as the standout team in second, while FURIA drops to sixth.
APAC Leagues
Closing things out, we had the APAC Leagues, though APAC South kicked off the action in this super-week.
Elevate secured two important victories this week to climb to second place, while Invictus Gaming first stunned league leaders Qconfirm 7-1 before then crumbling 2-7 against 7th Heaven.
Meanwhile, ORDER and the Chiefs both got their first regular-time wins of the season, while their fellow Australians on Wildcard Gaming would have been disappointed with just one point from both their games.
Following his team's dominating win over the league leaders, Invictus Gaming captain Lunarmetal shared about his team's struggles in translating scrim performance into actual games and the insights learned from playing at the first Six Invitational in Europe.
Raven: Do you feel like this is now 'you guys'? Like, is this a sustainable standard that you have set to be able to continue in Stage 2?
Lunarmetal: I hope it's sustainable... ... this is us at 90%, maybe. In scrims we are generally always around 90 (percent), but when it comes to game day -- I don't know why, maybe it's mental barriers or whatnot -- it tends to become 40, 50%. So, hopefully we have figured it out.

[...]

Manic: Without giving too much away, what has been the determining factor (in your improved form) since you've come into Stage 2?

Lunarmetal: Honestly, that one month we had at SI... actually, it wasn't even a month. Those three weeks of scrims really opened our eyes to a whole new world of Siege and the guys at Fnatic have always been telling me how much EU bootcamps have done for them. It wasn't until now that we've actually realised that there's really a big play style difference that you can bring in from overseas into APAC.

And if you can assimilate that well into APAC, your skill ceiling suddenly goes a lot higher. Obviously with the roster change and the change in play style, it's going to take a while to get our gears running, but in the long term it's gonna be worth it, right?
Meanwhile, APAC North had some heart-pumping action, starting its super-week with 8-6 victories for Talon Esports and DWG KIA over T1 and GUTS Gaming, respectively.
While Cyclops Athlete Gaming (CAG) shook off the FAV Gaming pursuit with a dominating 7-3, Cloud9 then incredibly denied Fnatic a comeback victory from 6-3, as Harp3r slammed the door shut on the Australians with a 1v4 clutch in Round 15.
The next play day, CAG continued their flawless run with a 7-5 over T1, while DWG KIA, GUTS Gaming, and Fnatic beat Talon, Cloud9, and FAV by identical 7-4 margins.
In the post-match interview after the 8-7 win over Fnatic, Harp3r shed light on why his team has been struggling since its return from the Six Invitational 2021, having been flying high before it.
Harp3r: So, we kinda overdid our practice. We practiced too much, so we reduced our practice time, rather we now have more time to relax and rest for our own sake. We were trying (too hard) to put everything that we learnt at the Invitational, specifically, and trying hard to play a better game.

Milosh: And then, you talk about these changes... is bringing OCN onto the roster a change that you are looking for, to replace Nova, or what's the deal there?

Harp3r: I'm not sure what I can tell you, but all I can say is that Nova is on a rest and he might come back later.
Harp3r then went onto speak about his incredible 1v4 clutch.
Harp3r: It wasn't actually a really good situation back then, but I recently felt that we have good aim, so I tried to peek a few times and I guess that made us win in the end!
---
Week 4 will kick off its games tonight with an added EUL and BR6 playday on top of the usual NA and APAC League games.
SiegeGG will be covering all these tournaments as usual so check back for stats, news, and highlights for your favorite teams!