Banner via Ubisoft
Week 3 of Stage 2 took place last week, as all four regions kicked into gear.
Following most of these games were interviews with the victorious teams, so for those that missed them, we've summarised the best quotes and responses from the players below.
Jump to:
All the quotes below are extracts of the interview, not the full conversation. A timestamp to the full interview can be found linked with the quote.
EU League
This week was a super-week in Europe, meaning that there were a total of 10 games and 10 team interviews, giving us a lot of valuable insight.
The games themselves saw the same teams -- BDS, Na'Vi, G2, Empire, and V.p -- gain six points with fairly clear wins as they dominated the top half of the standings in that order.
Firstly, Mees "eaglemees" van der Arend came on behalf of the new league leaders BDS Esport and clarified his role in the team as an analyst rather than coach:
eaglemees: ... I am not the coach of BDS, I am the analyst. I do not train the players, I prepare them for the matches but I do not tell them "oh you need to play this situation that kind of way" or with their mentality, that kind of stuff. The players themselves do that. They all know how to play the game, they're all very experienced. All of them have played seasons and seasons of Pro League...

...Mentality, [Catwo] handles somewhat; she obviously knows French, which makes her able to deal with the mentality. She knows what the players are saying, she knows how to properly communicate with the players when it's a situation where's there are only 30 seconds in a timeout especially.
As well as this, he also talked about the week prior's loss against Team Vitality:
eaglemees: The loss wasn't due to us not being able to do stuff as we had an injury on our side. Renshiro, who is not active on Twitter, injured his neck -- a nerve injury -- the day before and he was still injured on the day itself, which affected his performance which was also clearly shown in the kills and deaths that he got in the match itself.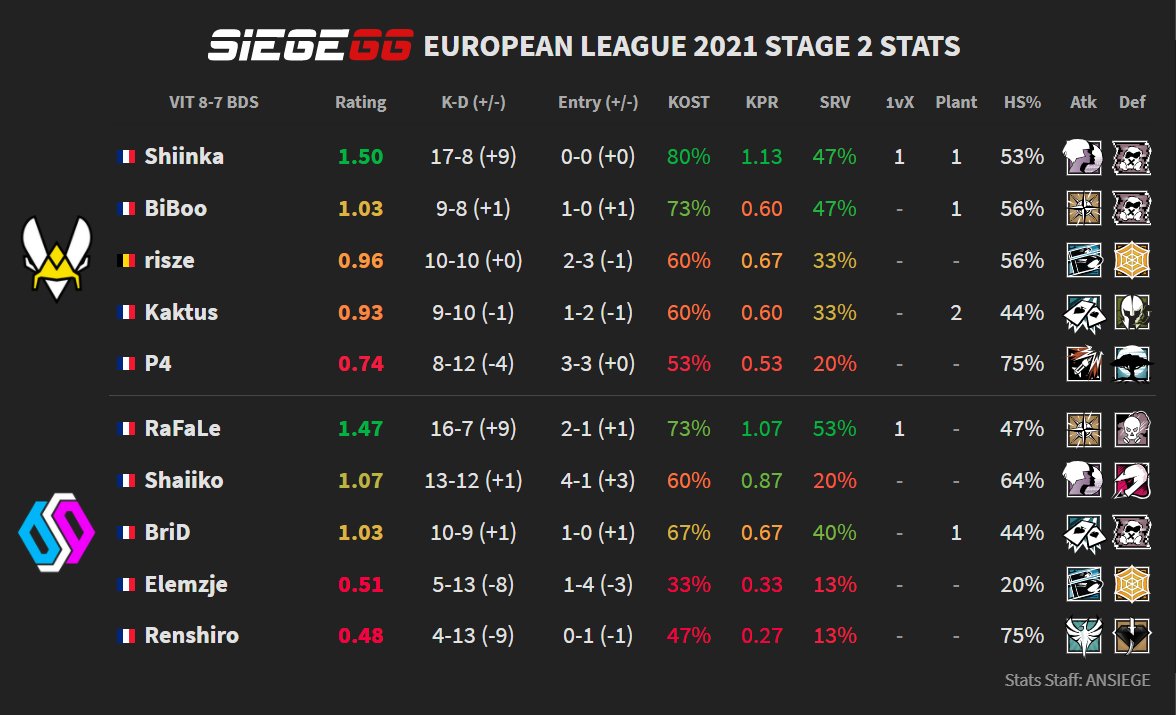 Next up was Empire. Following a 7-5 victory over Vitality, Danil "JoyStiCK" Gabov had this to say when asked about his team's apparent fall in performance when playing online:
JoyStiCK: ...I think for us and V.p, it's so hard to play online because we have between 40-60ms extra ping, so it's so hard to win gunfights in important positions, so I think that's one of the main reasons.

... You need to outsmart players when you play. Not just peeking them, try to prone hide, peaking interesting angles, doing stuff like that.
After Na'Vi's win, meanwhile, Jack "Doki" Robertson stated the following about how the team spent their long break during the Six Invitational:
Milosh: What did you prepare and work through in preparation for Stage 2?

Doki: We came first [in Stage 1] which was incredible, especially last season as it was a good season to come first due to the extra SI Points. So we had a serious talk to say "ok, guys we made it first but it's gonna be hard to stay here", because it's always harder to keep being the best team, so we just took a week's break and came back at it.

We did some new stuff, we didn't swap roles but we just dashed things about to see what worked better with especially Flores coming into the meta. That kinda jumbled things up a tiny bit. So I guess you could say we're playing more reservedly than last season, we're not so hyper-aggressive but we seem to be doing good minus the Secret loss but yeah, I think the Mexico Major has really put an oomph behind us as we really want to get there.
As well as this, Doki explained Rickard "Secretly" Olofsson's newly increased impact on the team:
Doki: ... I think what we have done recently was, last season we Nathan and Secretly and Saves all kinda IGL-ing at the same time, breaking down parts of the round. Secretly would say what push we were gonna do, while Nathan and Saves would break down the execute.

Now what we're doing is Secretly is being the actual lead, who has the final call on everything and he kinda says "alright guys, we're gonna do this push and it's final" and we stick to it rather than having conflicting calls...
On the flip side, here's what Secretly said about Doki after Na'Vi's 7-3 win over Cowana Gaming on playday four:
Milosh: Doki activated! How do you tell if it's gonna be a good or bad day for Doki?

Secretly: It's really hard to tell actually, because it's basically just round-by-round and his mood swings very fast so he's either the best player in the world or the worst player in the world, just how it is.

It's not really something you can control, you just have to... when he's playing well like on those Master attacks where he just walks up and gets a 3k in five seconds then oh, well, great. We'll take it, you know. It's not much about activating him, we just let him do his thing really.
NA League
Next up, North America which this week had four really interesting games.
Firstly we had an 8-7 from XSET over beastcoast, in what was widely titled "the worst match in NAL history".
Following this were the two "big-four" teams of SSG and OxG facing-off, which ended up being a 7-1 trouncing in Spacestation's favour. DarkZero then took down the Soniqs in their fourth overtime win in five games.
The final game was also the only game that had an interview. Following a shock 8-6 win for Mirage over TSM FTX, Chase "NotLoading" Neely had this to say about the game:
Jesse: You had a tough last game against Spacestation, but this match you did fantastically. For you, personally, what was the difference between that last matchup and this one?

NotLoading: Ash is just super easy... nah, I'm just kidding. I said it in the Northern Lights (the Mirage documentary series) episode, I think SSG has always gotten into my head personally. They're just such a juggernaut, a tough task to handle and I don't feel that way about TSM. Even on their best days, they seem beatable. I've choked on those words across the last few play days but, yeah.

Jesse: What would it mean for you guys to go to Mexico and play on such a huge stage?

NotLoading: For me, personally, it would mean a lot. Majors have always been a goal of mine. I think right now as a team getting to a Major is definitely a short-term goal and that would help us a lot in getting to our main goal which is Invite, which we've put ourselves in a pretty good spot here for with the points we're gaining.
Earlier in the day before this game, Mirage also released another behind the scenes documentary video in the Northern Lights series, which gave us a further look at the team. The episode also gained a lot of attention as it showed some of the lows on the team following their 1-7 loss to SSG.
Brasileirão
In Latin America, the BR6 League this week saw the notable upset of MIBR getting stomped 7-2 against INTZ due, in part, to Budega still standing in for FelipoX on the roster.
Elsewhere, almost all the results went in favour of the favourites, with the lone exception of the Black Dragons who managed to beat NiP 8-6 and FURIA 7-4. Unfortunately, neither of these games were followed by an English-language interview.
gg guys 6x8 vs @blackdragonsBR They knew how to read our defences well and we lacked a little adaptation on our part, thanks to all who cheered us on.
NiP's following game after this loss was against FaZe Clan on Sunday in what is always one of the most anticipated games of the season. While their prior loss gave FaZe fans confidence, the match ended with a clear 7-3 scoreline on Clubhouse, where Psycho excelled.
Julio "Julio" Giacomelli said this about their play style against FaZe in particular:
Chunks: When you went a few rounds ahead, you started playing a lot more aggressively. Was this a conscious decision or not?

Julio: I think that's something that just happens. They're pretty unpredictable, so we need to be unpredictable too. Enter the building in different places and things like that to not be predictable and they peek a lot on defense, so we know how to play against them. It's really hard, always, but, yeah.

Geo: You took three defensive rounds in a row but then lost three in a row as well. What changed for you guys?

Julio: I think we played passive after three rounds. It was our choice but it didn't work out. The other rounds we played more aggressively and it worked out, but FaZe weren't playing really great strategies, they were just rushing so we tried playing passively and it didn't work out.
The day prior, Team Liquid had also won against W7M by a 7-3 scoreline. The W7M roster also includes its ex-coach of mav, who was kicked following an abuse investigation.
Team Liquid's coach of Adenauer "Silence" Alvarenga had this to say about the team:
Chunks: How do you keep your team focused but confident when your team starts tearing away?

Silence: I think the confidence is about his job [pointing at Claudio Godoi, Liquid's psychologist], he's the guy, he's responsible for the long-term confidence of the team, so he's the key for that. That's why every round the guys are cheering, it's a very important thing for us. He's the secret.
APAC Leagues
Finally, we had APAC, starting with the North sub-region.
This week saw Cloud9 pick up their first point of the season after going up 6-0, only to lose 6-8 to FAV gaming.
As well as this, CAG continued their winning streak against DWG 7-4, FNC smashed T1 7-2, and TALON upset GUTS with a 7-4 win.
Looking at the Fnatic game, this now puts them in third place, with more than twice the points of fifth place. As such, the Australians are likely well on their way to another APAC Playoff appearance.
Here's what Etienne "Mag" Rousseau had to say about the game:
Milosh: The attacking side from Fnatic was a bit slow. From your POV why was this?

Mag: The plan on the attack after we saw their heavy utility defense operator picks was we'll let Tex, the Flores, get all the shields we need, while the rest of the team gather intel. But, while it was slow, pretty much everything was done that we needed to win the attacking round.

We didn't miss anything, we didn't miss a shield that wasn't supposed to be gone, so the checklist was completed and the only downside was that it was a bit slow, but at the end of the day as long as everything is done and we still have 20 seconds, then we're gonna win the round.
He went on to say:
Mag: ... Really we just focused on our own strengths. We know we are a better team than T1, we're more experienced players, so as long as we played as if it were a scrim then we would be pretty comfortable in winning the match.
Over in APAC South, meanwhile, Play Day 3 saw a very unusual set of results as the bottom three teams -- Wildcard, ORDER, and Chiefs -- all won their matches, while Qconfirm kept their flawless record against second-placed Knights.
Looking at the last two games, ORDER vs Elevate and Chiefs vs iG both ended in tight 8-7 scorelines to the Oceanic teams, with these being the first points of the stage for both lineups.
This, therefore, means that this was the first time we've heard from these teams, with ORDER's Ryan "Speca" Ausden in particular stating the following:
Raven: ORDER made significant roster changes recently (ItBeStyle and JKR leaving), (so) has there been a significant moment that brought about you guys tying together as a team?

Speca: I'd actually say about a month ago, we underwent some kind of process where everyone kinda clicked in their mind that "alright, we gotta genuinely start grinding hard as a team and improving as a whole" as opposed to the individual aspect. So that kinda separation from ego I suppose from thinking "I gotta do these hero plays" to realizing that I've got four teammates that can support me and I can be relied on.

So kinda coming to all that and slowly but surely we're just starting to fit into those pieces. As you said that sense of comfortability I would say, where it's like "ah, I know how to reason to this situation and make an appropriate play". Saying that there's still a lot of kinks here and there but a lot less than last season so we're all moving in the right direction. I do feel like this is the strongest lineup we've fielded and it's very early days for us, so it's exciting.
---
Week 4 will kick off its games tonight with the EUL, followed by NAL on Wednesday, an APAC super-week from Tuesday to Friday, and then the BR6 tournament over the weekend.
SiegeGG will be covering all these tournaments as usual so check back for stats, news, and highlights for your favorite teams!