Season 3 of the 6 French League kicked off last week, following the 6 French Challengers b-league that ran throughout January.
Now, let's take a look at the teams, format, and schedule, of the league as well as the games which took place during Play Days 1 and 2.
Jump to:
The Teams
Six teams return from Season 2, with two new organisations, while a further two teams qualified via the 6 French Challengers tournament to form the following eight participants:
BDS Esport -- Shaiiko, Renshiro, RaFaLe, Elemzje, BriD, and eaglemees (Analyst)
Acend -- ENEMY, RevaN, Meloo, EiZ, Jeya, and BiOs (Coach)
Team Vitality -- BiBoo, risze, P4, Shiinka, Kaktus, Lyloun (Head Coach), and Helbee (Assistant Coach)
TrainHard eSport -- BlaZ, NoerA, Chaoxys, Dirza, Voy, spokeN (Coach), and MrBox (Analyst)
Maestria -- Aurel, Prime, Avadentt, Osarck, Vegas, and Fio' (Coach)
BeKind -- Legendz, Aste, Xaniara, Duckii, ToroQ, Pink-Angel (Coach), and AlphaX (Analyst)
DeathroW -- Shoukri, FuZiion, Ra1kos, JaKs, and KuQuS
Helios Gaming -- Purple, BryanS, Nztro, Robin, Nay0z, and Px7 (Coach)
Firstly, we have BDS, Vitality, and TrainHard, who need no introduction as the current EUL participants are currently sitting in first, fourth, and eighth in the top-flight season so far.
While BDS won last year's 6 French League Season, it was in fact TrainHard who bested them in the 6 Open Cup back in April. Vitality, meanwhile, hasn't won a French national tournament since 2018, but is looking to change that with its new promising French-speaking roster.
The key competitor to these three teams will be Acend, which beat Mkers to win the second Challenger League qualifier just last weekend.
This team enters as a remnant of the old PENTA lineup, with just RevaN and ENEMY remaining as BlaZ and Voy moved to TrainHard, Kaktus moved to Vitality, and Alive teamed up with the ex-Millenium players of Liven and Aherys on Mad Wizards.
Nevertheless, this team is still a force to be reckoned with and will almost certainly be competing in the Challenger League later this year as one of the favourites.
With three EUL lineups, this leaves four more rosters trying to compete against Acend for the 6FL Challenger League spot -- Maestria, BeKind, DeathroW, and Helios.
Despite coming in from the 6 French Challengers tournament, Helios is a major competitor for this spot as it finished the first Challenger League Open Qualifier way up in a second place, just behind Mkers.
Helios got this far after beating the GSA League's CL favorites of Sissi State Punks, the Polish Masters CL favorites of NOX Esports, and the PG Nationals grand-finalists of Outplayed, among others, showing itself to be a real competitor in Tier 2 Siege.
DeathroW, meanwhile, comes in after finishing the 6 Open Cup in third place, while Maestria and BeKind finished last year's 6 French League in ffth and sixth place, respectively.
Lastly, BeKind had also gone on to finish 2020's Challenger League in joint-ninth.
While BDS is the standout favourite to win this season, there are a number of teams that could pull off an upset, as we saw during the 6 Open Cup.
Furthermore, with so many promising non-EUL teams, the race for the Challenger League spot will be incredibly tight.
The Format & Schedule
In order to shorten the length of the tournament so that it ends before the start of the Challenger League season, this year's 6 French League format is a simple round-robin tournament.
Following this, the top three teams will progress straight to the single-elimination finals, while the remaining teams play in a ladder playoff bracket to determine the fourth team.
The league kicked off last week on Wednesday and will see play days every week, with the exception of June 14th, which has been moved to July 29th. This means that we are already two out of seven play days through the league portion of the tournament.
The games are being cast purely in French by Guillaume "Scok" Beck, Paul "Frenchi" Droal, Sébastien "FuriouSG" Guérineau, Nicolas "Swish" Bouhier, and Julien "Kivvi" Serrier, with Fiorenzo "Fio'" Elba being the main caster due to his coaching position with Maestria.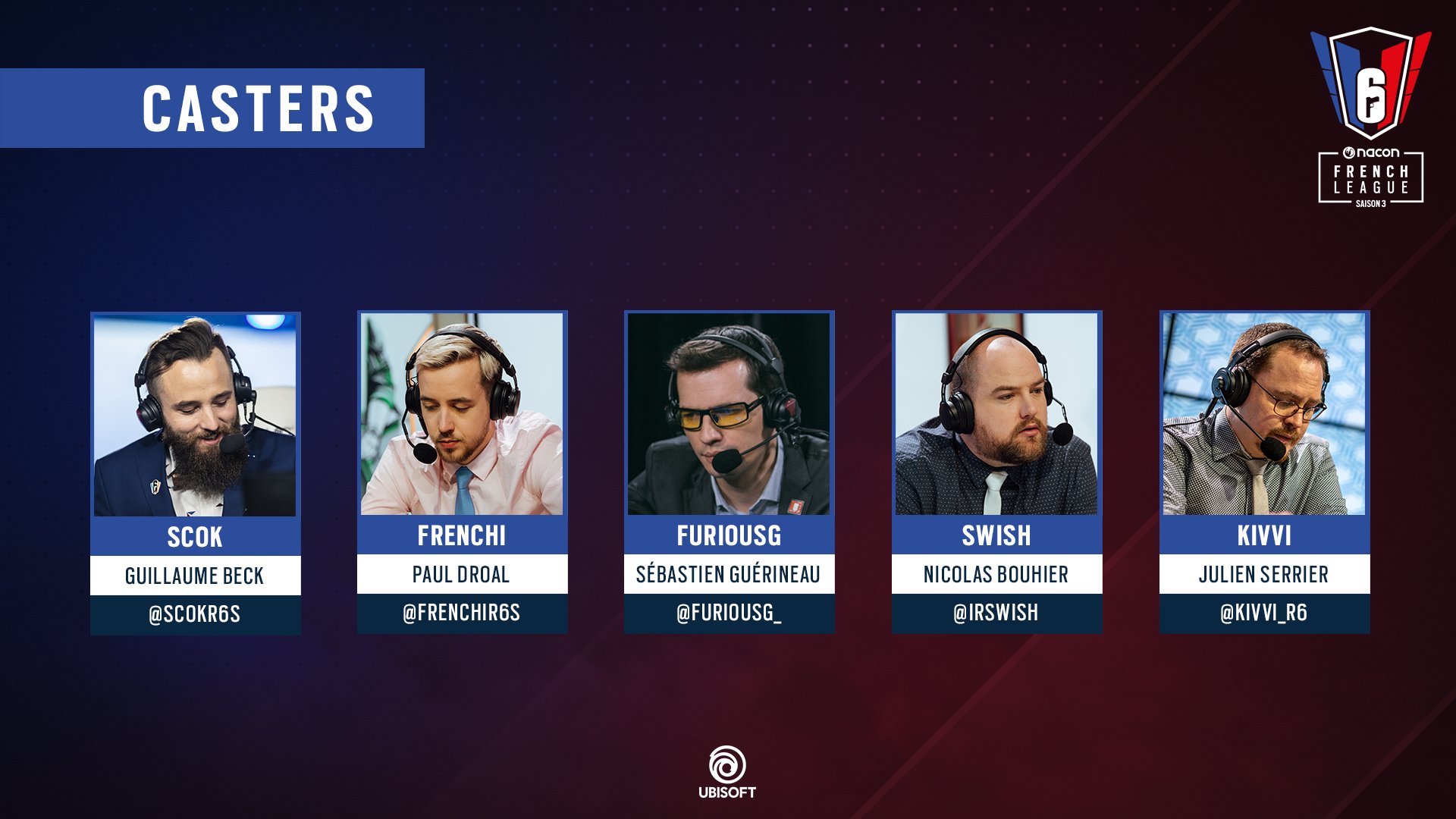 The Games So Far
Across the two play days and eight games that have happened so far, we have unfortunately not seen any head-to-heads between EU League teams.
BDS, TrainHard, and Vitality are all two-for-two, but this doesn't mean we haven't seen some good games.
Firstly, yesterday's matchup between Team Vitality and Maestria was very close.
After a 4-2 defensive half from Vitality on Villa, Maestria won four rounds of their own in the second half, which included a 1v4 from Prime. This took the game to overtime, where a quadruple kill from BiBoo on Zofia won Vitality the much-needed offensive round to take the game, 8-6.
This meant that Vitality earned two points, not three, from this game and allowed BDS and TrainHard to edge ahead of them into first place.
Looking at the non-pro lineups, only two other games saw them earn points, as Helios beat BeKind 7-1 and Acend beat Maestria 7-3, putting the two main Challenger League hopefuls in fourth and fifth place.
In their second games, both Acend and Helios lost 2-7 to TrainHard and BDS, respectively, missing out on what would have been an excellent statement to start the season.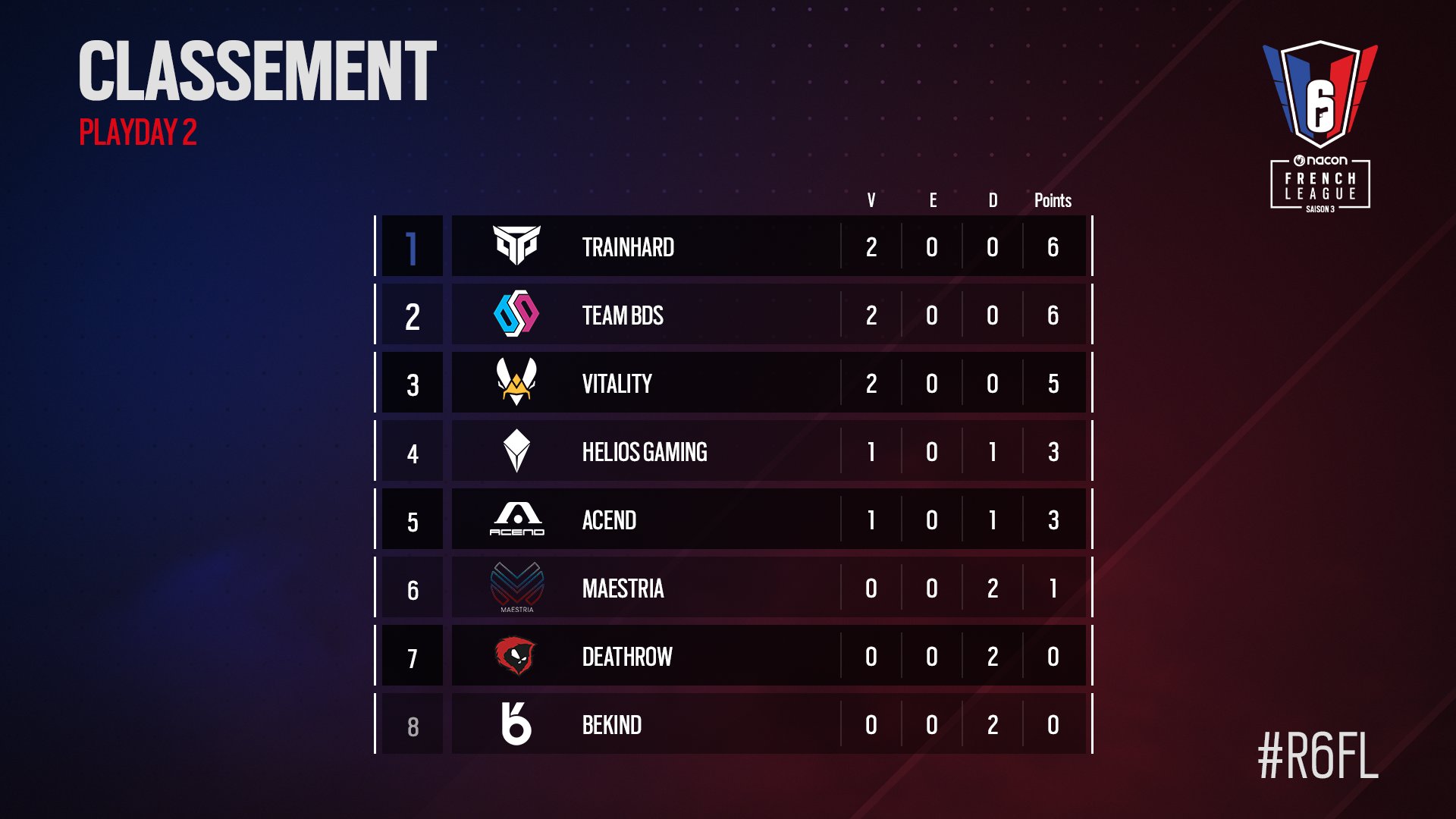 What's Next?
Play Day 3 next Wednesday will be a massive one ,as Vitality faces TrainHard and, crucially, Helios faces Acend.
This latter match will position the winner as the standout favourite for a Challenger League spot and possibly put them up to third place should Vitality lose their game.
18:30 -- Helios vs Acend
19:50 -- BDS vs BeKind
21:00 -- DeathroW vs Maestria
22:00 -- Vitality vs TrainHard
Should this latter scenario happen, the week following will then see Helios vs Vitality in another must-watch game.
---
Check back at SiegeGG next week for the full stats of these games with further news coverage to come later this in the season.