In a continuation of the 2021 Korean Open season, the Summer version of the ₩60,000,000 (US$53,000) Korean national tournament got underway about two weeks ago, featuring four APAC North teams in attendance, with the monumental organisations of T1, Cloud9, and DWG KIA.
Here's a rundown of the games from the two weeks prior and here's what to expect from the week ahead.
Jump To:
Week 1
Day 1
Cloud9 3-7 Faust
Talon 1-7 T1
5PM 0-7 SGA
DWG 5-7 StarRise
The Summer season started off explosively, featuring three upsets against Cloud9, Talon Esports, and DWG KIA. But it was the curtain-raiser that raised most eyebrows.
Fresh off a first-round playoff elimination at the Six Invitational 2021, Cloud9 was looking to rebuild its confidence but found the exact opposite as they crashed to a 3-7 defeat on Clubhouse.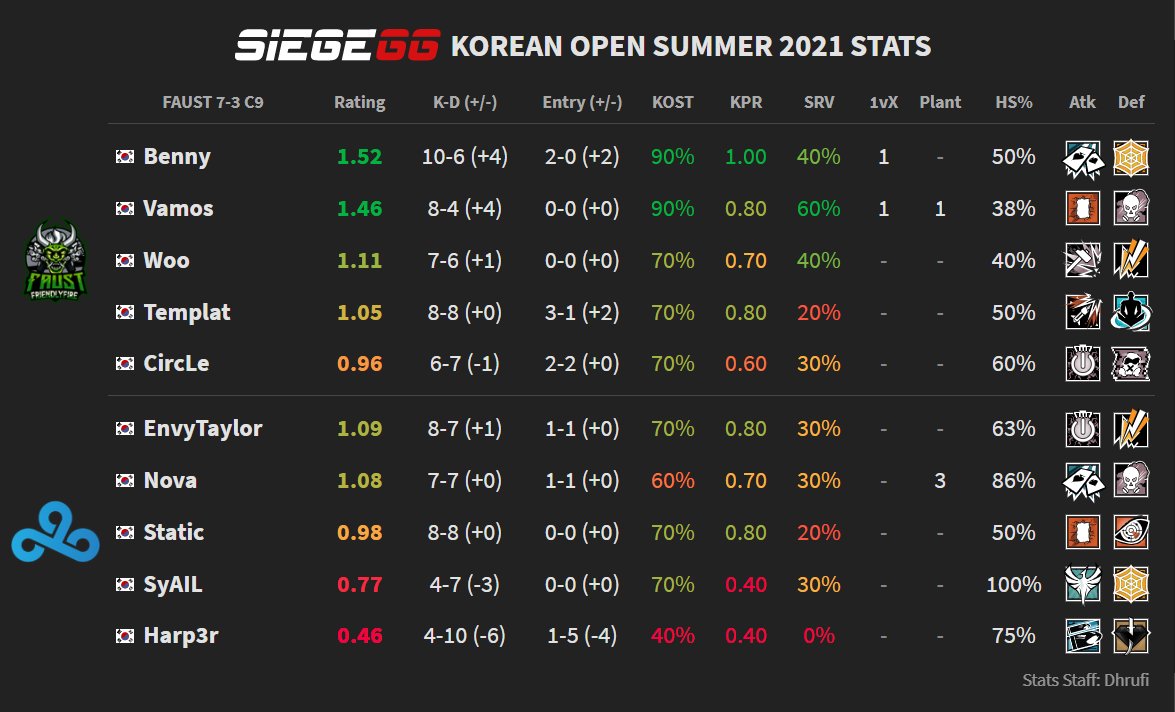 Day 2
Faust 4-7 Talon
SGA 1-7 DWG
T1 8-6 5PM
StarRise 3-7 Cloud9
Much to everyone's surprise, the second day of play saw newly promoted 5PM pull off an incredible recovery after a Day 1 0-7 loss. A new-look T1, who itself had upset Talon, was pushed to overtime on Oregon by 5PM, but still went home with the 8-6 win.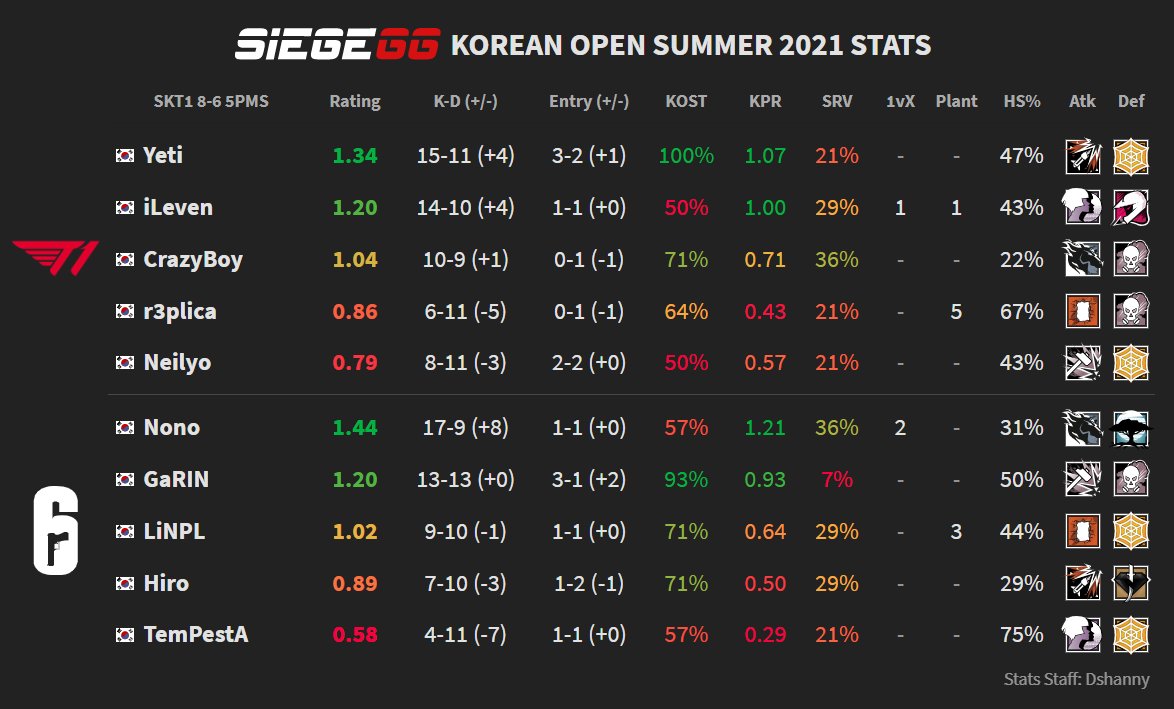 Day 3
T1 8-6 Faust
Cloud9 7-5 SGA
5PM 0-7 DWG
Talon 7-5 StarRise
The third say saw further exciting action and Cloud9 was once more in the thick of it, taking on the Spring 2021 winners SGA. While SGA might have fancied a chance on Consulate, it was Cloud9 that brought its experience to bear to win 7-5.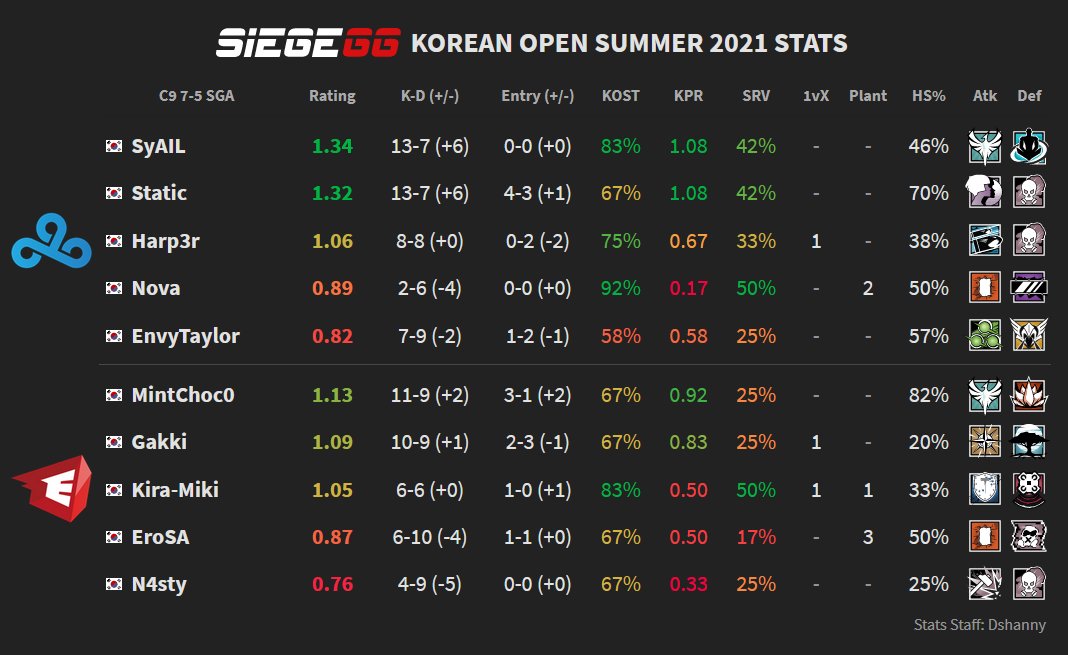 Day 4
DWG 7-4 Cloud9
StarRise 7-3 T1
Talon 7-2 SGA
Faust 5-7 5PM
The final day of play in the first week saw the two titanic organisations of Cloud9 and DWG KIA clash once more, with some favouring the latter in somewhat of a reversal from the Spring edition. Sure enough, DWG KIA came out on top on Oregon, winning in a somewhat comfortable 7-4.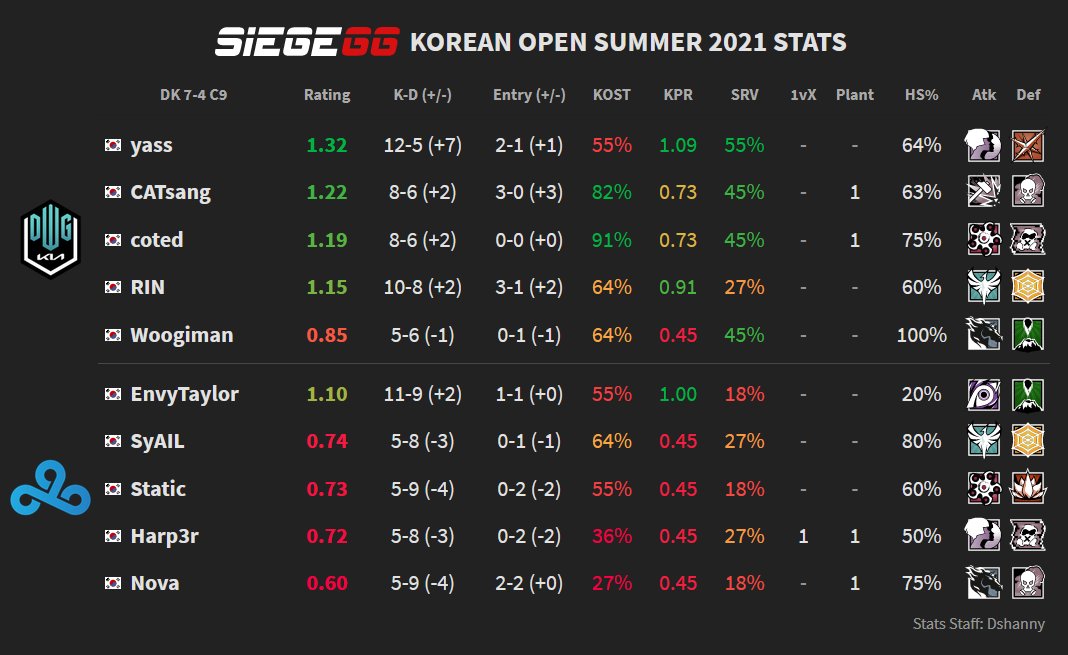 Week 2
Day 5
Cloud9 7-3 5PM
Talon 2-7 DWG
T1 7-4 SGA
Faust 7-3 StarRise
The second week once more kicked off with a devastating loss for Talon Esports, as it was DWG KIA's turn to demolish Talon after T1 had done so on the first day. Playing on Villa, it was a jaw-dropping performance from DWG KIA that sealed a 7-2 victory.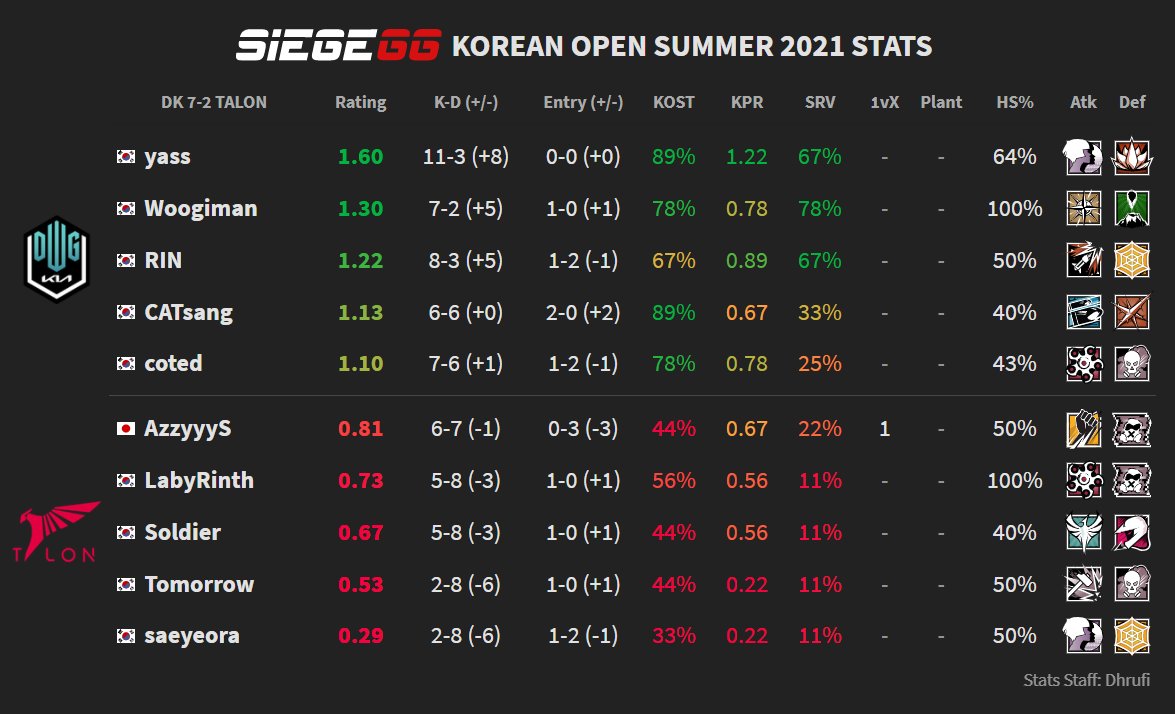 Day 6
SGA 3-7 Faust
DWG KIA 7-8 T1
StarRise 7-4 5PM
Cloud9 4-7 Talon
The sixth day, once more, featured three upsets as had occured on the first day. While SGA fell to Faust and Cloud9 was taken down by Talon, the pick of the action was the maximum-overtime game between DWG KIA and T1. Playing on Villa, former Cloud9 player and Siege retiree Inyeop "Neilyo" Lee was instrumental in securing the 8-7 win for T1.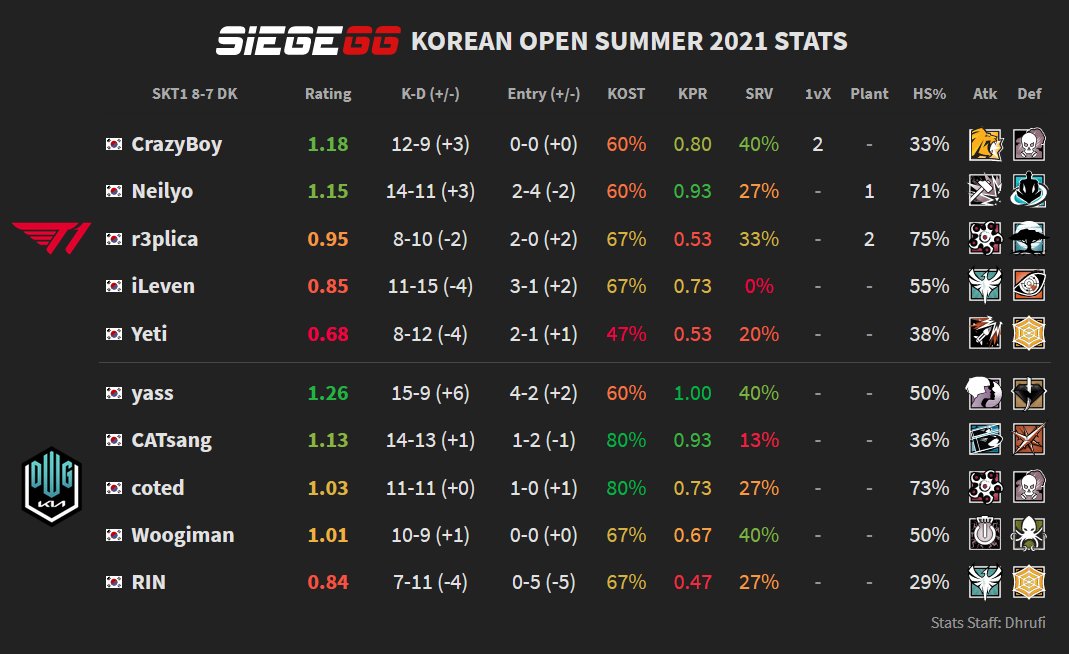 Day 7
T1 2-7 Cloud9
5PM 1-7 Talon
Faust 1-7 DWG
StarRise 0-7 SGA
T1 then once again featured in the most interesting match of the seventh day, but it was a complete role-reversal from its 8-7 win over DWG KIA from Day 6. Cloud9 dragged T1 to the cleaners on Chalet, taking five attacking rounds on-course to a dominant 7-2 victory that kept the Six Invitational attendees in the top half of the league table.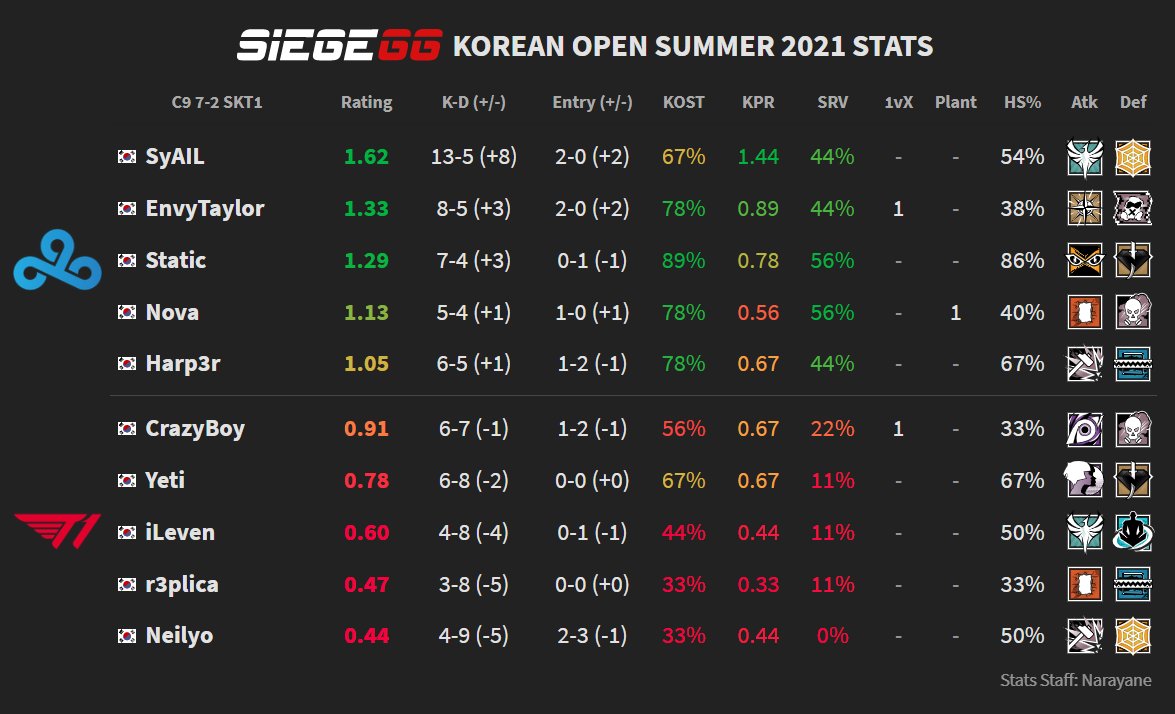 What's Next?
This week, another tantalising APAC North clash awaits on Day 8 between T1 and Talon Esports, with the latter surely keen to avenge its 1-7 defeat on the opening day.
SGA Incheon, meanwhile, will be facing a stern test in the form of DWG KIA on Day 9 and then Cloud9 on Day 10. The Spring edition champions currently find themselves in seventh place and will need at least a win to stay on-course for a playoffs spot.