Week 1 of Stage 2 took place last week, which included the kick-off of all four regions and a NA League super-week.
Following most of these games were interviews with the victorious teams, so for those that missed them, we've summarised the best quotes and responses from the players below.
Jump to:
All the quotes below are extracts of the interview, not the full conversation. A timestamp to the full interview can be found linked with the quote.
EU League
The European League started on Thursday and had a number of surprise results, while other teams performed as if there hadn't been a break at all.
BDS Esport was the most at east, taking down its fellow Six Invitational (SI) competitor Team Empire 7-0. While both teams finished SI in joint-seventh, the return to online play looked like a return to Stage 1-Empire, allowing BDS to win cleanly.
After the win, Bryan "Elemzje" Tebessi stated the following about the newly available operator of Flores:
Elemzje: In my mind, I think it may be the strongest operator right now.

Jess: Really? Why do you say that? And are you using it more for destruction or are you using it to move people?

Elemzje: Both. For this game, I used it a lot to destroy Melusi, Maestro devices, and shields if there are any.

On the round in which we decided to rotate Bakery, I used it to make Jager move from the Bakery Desk to kill him, so it's very hard to avoid (the Ratero) as you need to be constantly watching. If you're not watching, or if someone's throwing flashbangs to create a distraction, it's so easy to use.

So, I think he's one of the strongest operators right now.
One of the traditional rivals to BDS in G2 Esports beat the other Russian squad of Virtus.pro in an equally impressive 7-1 scoreline.
This match was the top-flight debut for both Hungry and Jonka on G2, leading Ben "CTZN" McMillan to summarise their roles as follows:
CTZN: Basically, we brought these two new players in 'cause we needed flex/support players instead of just fraggers. I think that's the thing that slowed us down.

Obviously, it worked well sometimes, but not all the time, so we felt like we needed a change, we needed the flexibility and to allow us to enable each other.

We were struggling, sometimes we couldn't play this op, sometimes we couldn't play that. Can't do this, can't do that, so just get two flexible guys in there to take up those roles and it'll fit perfectly.
Finally, in Europe, following a redesign of the roster in March and a close 7-5 win over the third seed of Cowana Gaming last week, Valentin "risze" Liradelfo stated the following about the growth of the new lineup:
risze: First of all, we figured out after the first stage that we were working too much. Everybody was so hyped about this new project, it's full of young talented players who want to prove themselves, so everybody wanted to scrim every single day, twice a day, sometimes three times a day. I think we kinda burned ourselves (out).

At the end of Stage 1, we figured that out and what we did is scrim less and manage our time better thanks to our coaching staff and now we work more efficiently.
---
NA League
Over in North America, so far it looks like a return to 2020, with TSM firmly on top with two wins, followed by DZ and SSG with their new players, while the Stage 1 winners of OxG and the Soniqs got off to a weaker start.
The LAN League format merged with the home casts did, unfortunately, limit the number of interviews that were available, but some interesting remarks were still made by Disrupt's newest coach of Kevin "Easilyy" Skokowski.
After finishing fourth during the last stage and ending last week's games 3-7 vs TSM and 7-4 vs XSET, Easilyy stated the following about his new role, their opponents, and their new player of Dpfire:
Velly: What was the game plan on Villa against XSET?

Easilyy: To be honest, we played them last stage on Villa 'cause I actually worked with them towards the end of the last stage unofficially, so I kinda carried over the same preparation on Villa.

A lot of the stuff they kept the same, but at the end of the day, player for player, we're just a better team than XSET, period.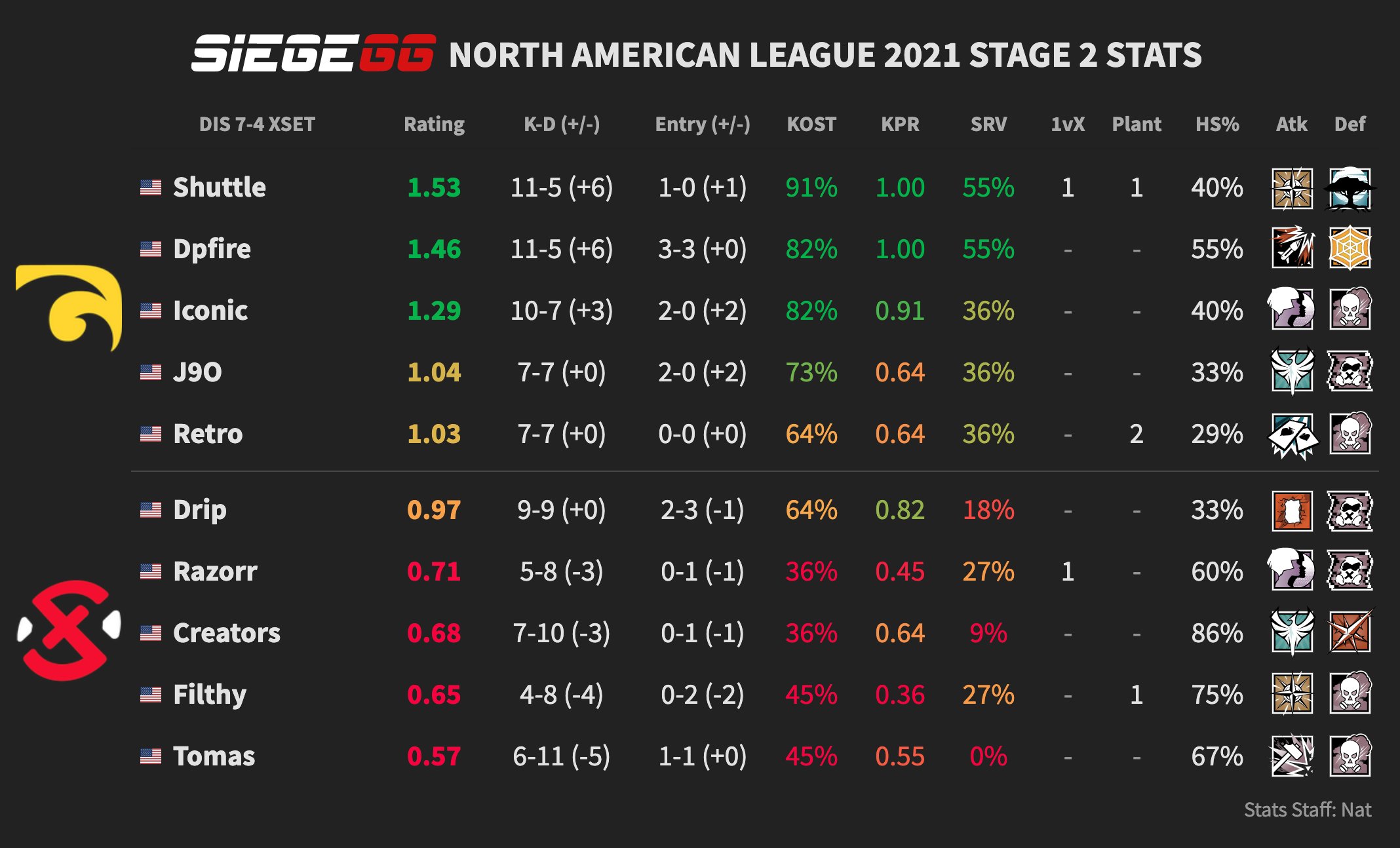 Velly: What about Dpfire made you want to try him out and pick him up?

Easilyy: We had some issues with Mark towards the end and the team decided they wanted to make a change and when I got picked up, they already had Dpfire in mind and I didn't really know about Dp, but after meeting him and talking to him, and watching a couple of his CL matches, I was impressed.

Velly: What made you want to be a coach and why do you think this team will be a serious problem (for others) in the future?

Easilly: Honestly, I had a couple of offers to come back and play, but the coaching side of the game always interested me from the very start and I've actually thought about going into coaching before when Rogue got relegated, but I think this was the perfect opportunity for me.

I'm already friends with the team, I think they've got a lot of potential, and with them being so young, the sky's the limit.
---
Brasileirão
Following this, last weekend saw the BR6 League start-up after teams such as NiP, Liquid, MIBR, and FaZe had undeniably proved this to be the best region in the World at the Six Invitational.
Straight from becoming world champions at the Six Invitational, NiP returned to the BR6 as an absolute force of nature.
7-1 wins over both of the top organizations from 2020 -- Liquid and MIBR -- is a performance unseen from the Ninjas in the past, with Julio "Julio" Giacomelli crediting their win to their improvements in roam clearing:
Julio: I think at the Invitational, our roam clear was not that good, so we fixed that for this tournament. That was the main thing for us, to fix our roam clear on all maps.

XRTROIKA: So was it the roam clear that was causing your prior timing issues?

Julio: Yeah, for sure. We tried to change some things, like we always ban Thatcher on this map (Club House), so we decided to ban Maverick to change the game style as the main things they're gonna do... we know, so we just change some little things to counter [Liquid].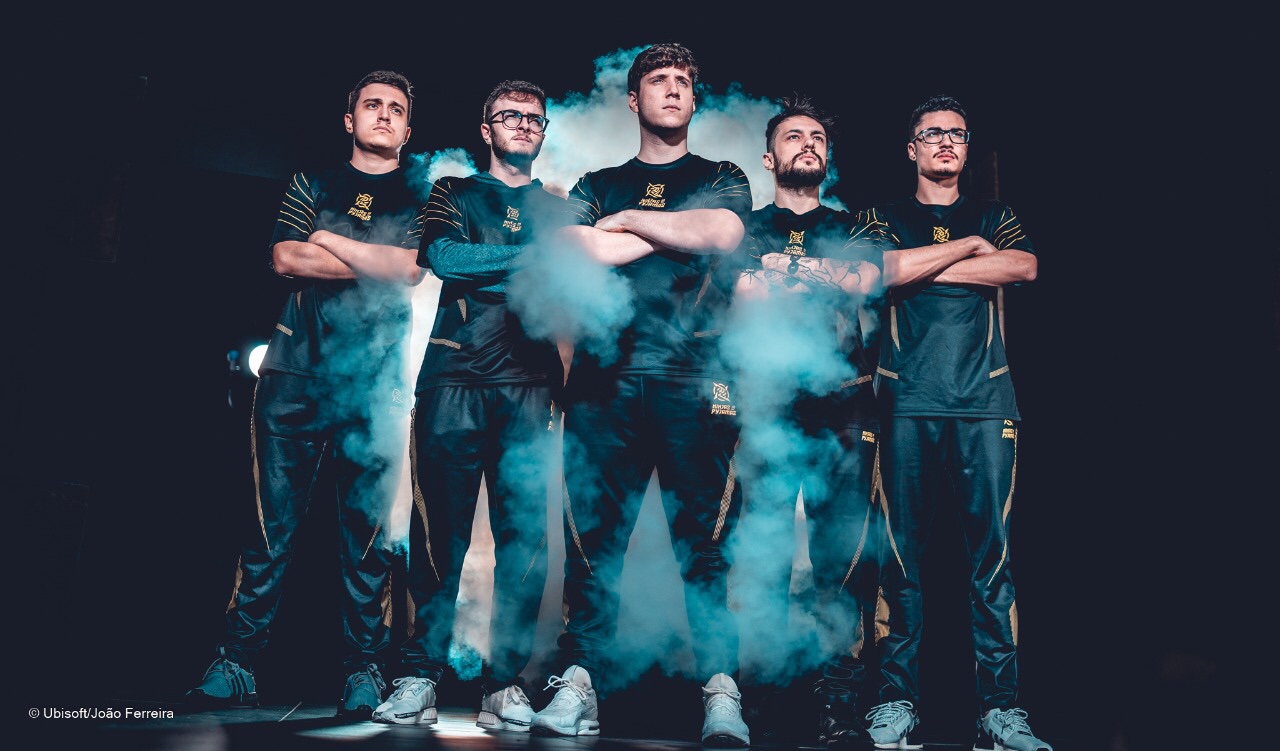 Next up was Gabriel "cameram4n" Hespanhol from FaZe Clan and Arthur "TchubZ" Martins, the coach of Team oNe who both spoke about what they thought of the new operator of Flores:
TchubZ: I think everyone's studying him a bit, see what he brings. You need to practice with him to know all the downsides.

I think the nerf on Ash impacted (the meta) more, so we are just testing and testing and working it out. I think he's a good operator who'll get better eventually.

I think the other Brazilian teams will use him too, especially on close-quarter maps.
cameram4n: He's a pretty strong operator. There's so much utility and we need to get rid of the flashbangs and one or two drones in my opinion.

You can't have an operator with that amount of utility, so it needs to be reduced as soon as possible. Maybe three drones and no flashes, I think that would balance it a lot.
This was following FaZe's 7-5 victory over MIBR (who played with Budega subbed-in for FelipoX), with FaZe going on to lose 7-2 to Liquid the following day.
Team oNe, meanwhile, won both their games in a fairly tight fashion. An 8-7 against W7M Gaming on Oregon and a comeback 7-5 against FURIA on Kafe were sufficient to mark a successful week for them.
This is what Lorenzo "Lagonis" Volpi had to say about that latter matchup after they had previously beaten FURIA in a more convincing 7-3 fashion on Consulate at the Six Invitational:
Lagonis: At the Six Invitational, [Consulate] was a better map for us. This was the first time playing Kafe in the BR6.

We didn't have Kafe ready for the Invitational, so we needed a new Kafe for the second stage of BR6 and today was our first try on this map. We weren't as comfortable on the map and that's the biggest difference.
Finally, after two key games for Team Liquid -- the previously mentioned 1-7 against NiP and 7-2 vs FaZe -- Thiago "xS3xyCake" Reis gave an insight into how they play Oregon and their specific roles:
Geo: You and psk1 seemed to have switched roles again? What's going on with the roles in Liquid?

xS3xyCake: No, no, no, no. It's just a coincidence as Oregon is the only map that I'm not on support.

XRTROIKA: So you guys have got it down per map to whether you're support or not?

xS3xyCake: Yes, yes, yes, yes. Oregon is a tight map and I know some plays we can do, so it's better for me to stay in a lurker position with aggressive play.
Finally, looking back to their 7-1 defeat, this is what Nesk had to say about the result:
xS3xyCake: I think... We were not hyped. "Ah, it's just a match, we're back in Brazil," -- I think that was the real problem.

I'm not talking shit or saying excuses, but we didn't enter the game to win. We entered the game to play and that was our mistake.
APAC Leagues
Over in APAC, a total of eight matches took place across the North and South regions, all of which included post-match interviews.
In North, the big result was Cloud9's 0-7 loss to DWG in a 7-0 sweep. Elsewhere, Japan dominated in the rest of the games with GUTS, FAV, and CAG all winning by fairly narrow margins.
Concerning the interviews, the best response was probably from CYCLOPS' Italian coach of Riccardo "Hybrid" Massimino Font.
Following an 8-6 win over Fnatic in their first game since their group-stage exit from SI, he stated the following about their change in play styles:
Jess: At SI, you played really aggressively, but not so much here. Do you think that's a play style you're moving away from because of how it went at SI?

Hybrid: During the first matches of SI, the first day in particular, you could see we weren't playing our play style as we knew it was a gamble playing aggressively against the international teams.

At the end of the second day, we knew we didn't have any other options. If we continued playing this calmer playstyle, the other teams will probably beat us, so we went for the risk and tried everything.

Okay, in the end, it didn't work out, but we think that it's a play style that can work internationally, but in APAC can be way too risky.
In the South meanwhile, eyes were on Invictus Gaming (ex-Giants Gaming) who came in with a new organisation and a new player in Jo (formerly Histoire).
This team took down Wildcard 7-3, as they had also come in with a new player and coach in Milostka and r0usty.
Glen "Lunarmetal" Suryasaputra stated the following about how the team got ready for Stage 2:
Lunarmetal: Yeah, it's really all about... revitalising is the word I've heard a lot of times.

Obviously, 2021 started pretty rough for us in and outside the game and I think the priority for us over the last few weeks was to get rid of all the distractions and really focus and bunker down on what we're trying to do which is win. So far, a pretty good Game 1, I would say.
Elsewhere, 7th Heaven beat ORDER and Knights surprised the reigning APAC Champions of Elevate by taking them down 7-5.
Finally, we almost saw another clean sweep, as the Chiefs lost 1-7 to QConfirm after having beaten QC 7-0 in Stage 1. As the only lineup change saw QC replace Roldinii for Darkk, this is what Sillapakorn "Lycolis" Dokmaikhaw had to say on why they opted to make the change:
Lycolis: We wanted to change the roles on the team and we figured that if we push Darkk back in and take Roldinii out, things might change as we need more of a fragger rather than a support role at the moment.
---
Week 2 will kick off its games tonight with the EUL, followed by NAL on Tuesday and Wednesday, APAC on Wednesday and Thursday, and then the BR6 tournament over the weekend.
SiegeGG will be covering all these tournaments as usual so check back for stats, news, and highlights for your favorite teams!