Stage 1 of 2021's North American League season ended with an upended final standing, as Oxygen Esports led the teams of the Soniqs, Mirage, and Disrupt Gaming at the top of the table.
Now, as we go into Stage 2, the rosters of TSM, DarkZero Esports, and Spacestation Gaming (SSG) will all be hoping to regain the top positions they held last year, with the latter two teams having made key and vital roster changes.
Here's a full rundown on the upcoming R6 action in North America, including the NAL teams and format, as well as the upcoming Challenger League season.
Jump to:
Teams & Changes
The same nine organisations which competed in Stage 1 are back, with all but three teams making alterations to their lineups.
Oxygen Esports -- FoxA, LaXInG, VertcL, Yoggah, Kyno, Redeemer, and HOP3Z (two coaches)
Susquehanna Soniqs -- supr, Gryxr, Yeti, Rexen, kanzen, and jobro (coach)
Mirage -- NotLoading, QrTz, Dream, Nyx, Benjimoola, Guerra (coach), and DnA (analyst)
Disrupt Gaming -- Retro, Shuttle, J9O, iconic, Dpfire, Easilyy (coach), Mango (analyst)
TSM FTX -- Achieved, Merc, Beaulo, Geometrics, Chala, Daeda (coach), and Pojoman (coach)
DarkZero Esports -- Hyper, Ecl9pse, njr, BC, Panbazou, Mint (coach), and Grant (analyst)
Spacestation Gaming -- ThinkingNade, Rampy, Bosco, Fultz, Hotancold, Lycan (coach), sov (coach), and Luke (analyst)
beastcoast -- Phozzo, Sippin, Rooty, AnthonyMGS, b1ologic, and Krux (coach)
XSET -- Tomas, Filthy, Drip, Creators, Razorr, Jarvis (coach), and DrewSpark (analyst)
DarkZero Esports, in particular, had some sweeping changes following the competitive retirement of both Skys and Mint. Now, the team's coach of BC rejoins the roster to swap places with Mint, while the Challenger League player of Panbazou jumps in to make his pro-debut.
Meanwhile, SSG have the tough job of replacing the most successful NA player of all time in Canadian and have signed the ex-DarkZero and Mirage player of Hotancold.
Lycan stated the following about the change, when speaking to SiegeGG:
[Hotancold] has been an active part of the Top 4 of NA since the end of Year 1 and he was instantly one of our main contenders for what we considered our 'Top 5'.

...we are excited to show you guys all the role changes that will be coming with the arrival of Hotancold.SSG, but I want you to see them for yourselves.

...It would be amazing to just click right away, but I just think we would be living in a dream world if we assumed that would happen.
With Hotancold's exit from Mirage, the Canadian player Quartz will be rejoining the main lineup after finally having secured his visa to play in the United States.
On the other hand, XSET replaced Butterzz with another ex-LiViD player, Razorr, and added Jarvis and DrewSpark as staff.
Next, Disrupt Gaming replaced Mark with Dpfire in what will be another top-flight debut and added Easilyy as a coach, while beastcoast replaced GhxsT with b1ologic.
Oxygen Esports, the Susquehanna Soniqs, and TSM FTX, on the other hand, all opted to make no roster changes. However, TSM will be playing with Pojoman subbed-in for Geo at the beginning of the stage due to visa issues for the latter.
Format and Schedule
The league will be a simple round-robin Best-of-One (Bo1) map tournament, in which every team plays each other once.
Just like Stage 1 and in every other region, there will be overtime, where an overtime win grants two points and an overtime defeat grants just one.
At the end of the league, the top four teams will progress onwards to the August Major and the following prizes will be awarded:
1st -- $15,000 and a Six Major spot
2nd -- $7,000 and a Six Major spot
3rd -- $6,000 and a Six Major spot
4th -- $6,000 and a Six Major spot
5th -- $5,000 and 225 SI Points
6th -- $3,000 and 180 SI Points
7th -- $2,000 and 140 SI Points
8th -- $2,000 and 115 SI Points
9th -- $2,000
The schedule, meanwhile, will see play days every Wednesday for the next seven weeks, as well as two extra Tuesday play days both today and next week.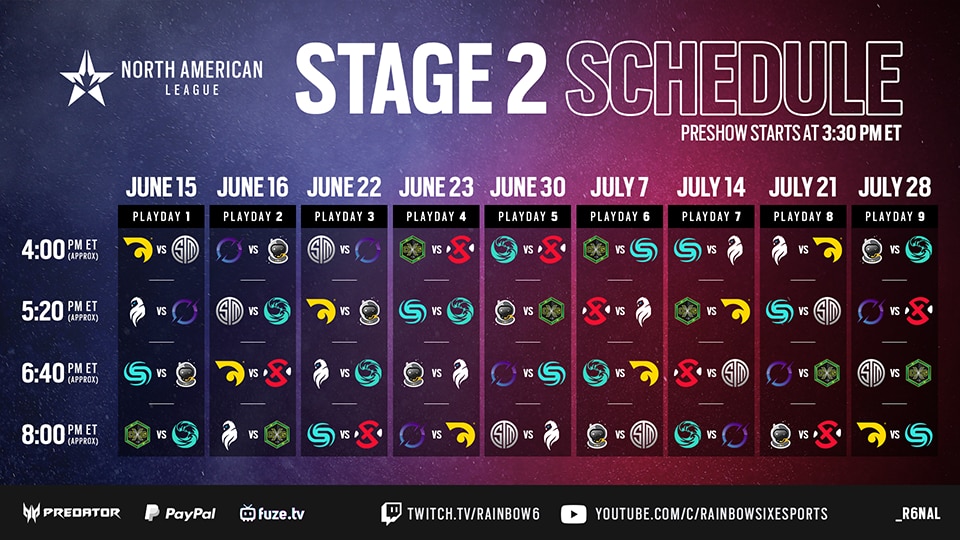 The games will be cast in English by the usual names, including Interro, KiXSTAr, BLU, and Stoax, while Jesse and CaliberJacob sit on the analyst desk, and Velly hosts.
Challenger League
While the NA League takes place, 16 teams will be competing in NA's Challenger League competition, which offers $40,000 in prize money and will see the top 14 teams progress to the all-important Stage 3.
Format-wise, the 16 teams are split into two groups of eight each and will play in a round-robin Bo1 tournament. Following this, the top six teams progress to the playoffs, where the winner is determined.
Stage 1 victors APE have since been picked up by the Wichita Wolves and enter Stage 2 as the clear favourites. Parabellum, meanwhile, is fresh back from the Six Invitational 2021, hoping to impress domestically after failing to qualify for the Stage 1 playoffs.
Other notable teams include Stage 1 runners-up Kansas City Pioneers, who recently dropped Beastly for Inryo, and the SH Esports organization, which dropped its third-placed roster and picked up the fourth-placed Supernova lineup while replacing Frozen with Kilo.
CCSW, DBNO & Project Eris
Finally, the tournament organiser of CCS Esports is running two tournaments during this stage; the ongoing CCSW leagues in Europe and North America, as well as the second edition of the DBNO charity tournament.
While little has been announced surrounding the specifics of the DBNO event, it will include four teams of players who are all over 30 years old, will take place on June 19th, and will help raise money for The Trevor Project.
The Trevor Project is an American nonprofit organization founded in 1998 focused on suicide prevention efforts among lesbian, gay, bisexual, transgender, queer, and questioning youth. Through a toll-free telephone number, it operates The Trevor Lifeline, a confidential service that offers trained counselors.
As well as this, the CCSW leagues kicked off last week and will see play days in NA and EU every Tuesday and Thursday, respectively, until the grand-finals at the end of July.
Once this tournament ends, another women's tournament will kick off in the form of Project Eris, which will be run primarily by the EU League caster of Jess.
---
SiegeGG will be covering both the NAL and NACL as usual with stats, news, and video coverage, with every game available on the matches, competition, and prediction pages closer to time.
SiegeGG is supported by its audience. When you purchase through links on our site, we may earn an affiliate commission. Learn more