Last week saw two play days take place on Wednesday and Thursday. Check out our pre-season guide on the teams, schedule, and format for a full roundup on what's going on in the league this season and our weekly roundups for a summary of any action you may have missed.
Jump to:
Mid-Season Transfers
During the global break for domestic leagues and tournaments during the 2021 Six Invitational, a mid-season transfer period took place in the PG Nationals scene that saw a number of teams make significant changes to their lineup.
Most notably, second-placed Hmble saw Nyfuun and Carzi leave the team to be replaced by the ex-analyst of Lolloboi (not to be confused with Mkers' Lollo) and his ex-teammate of Fabby.
Additionally, the team's Dutch coach of Lucania has left, with the Greek analyst of Kerv joining as the solo remaining staff member.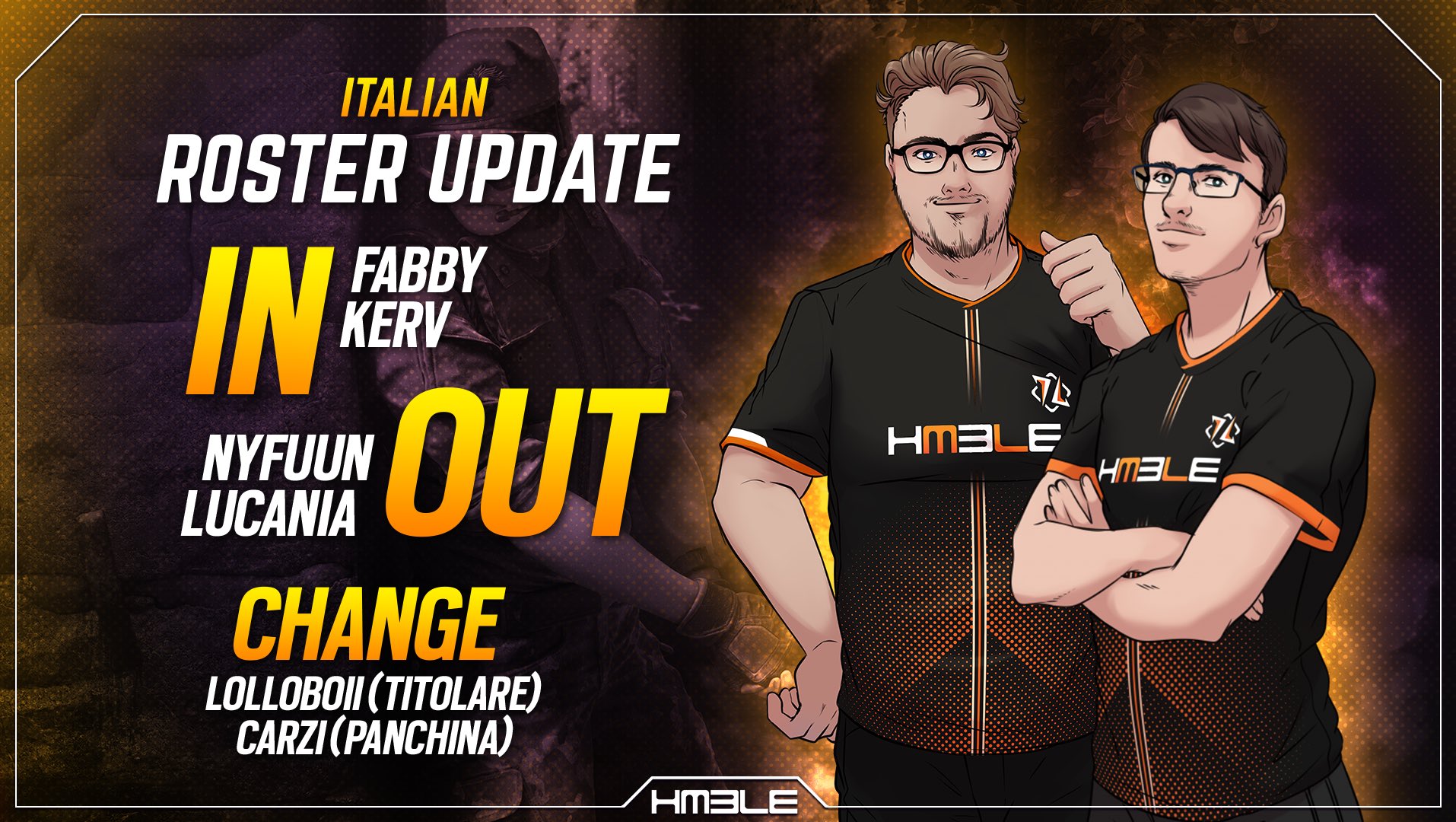 Also of note are fourth-placed MACKO, who saw two of their best-known players -- Keenan and SirBoss -- be replaced by g3r0 and Krizz, with Keenan joining Team Secret.
Meanwhile, Notorious Legion in fifth swapped out Otgaz and NoAir for Treiko and Pat and Totem in last swapped Gamma for Neyox and their analyst of Olxen for Shocks.
Finally, there were also significant changes to Cyberground Gaming, who sit precariously in second to last after the first seven play days.
Their changes involved dropping the players of Raku and Helgast, as well as the analyst of Need. To replace them, they moved the coach flusha into a player position, picked up NoAir from Legion, and added Cux as a coach.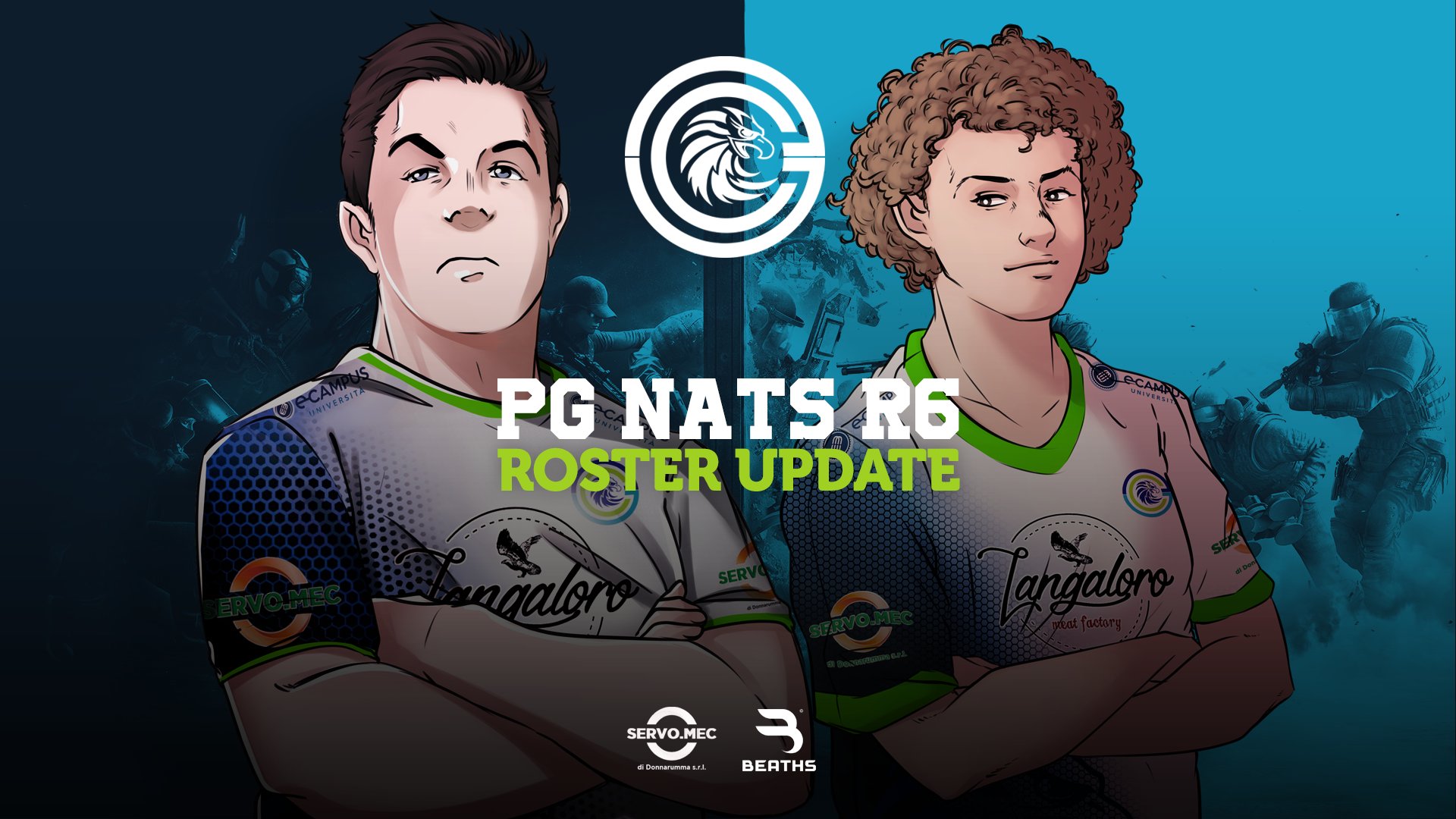 In total, five out of the eight teams made changes, with Mkers, Outplayed, and IGP in first, third, and sixth staying the same.
Mkers Back from SI to Secure Two More Wins
Fresh from their joint ninth-place finish at the 2021 Six Invitational, Mkers were eager to put last week's loss against Outplayed behind them and continue their winning ways.
Last week, they had faced Italian Gaming Project in sixth and Hmble in second; two games they won by 7-0 margins in the first half of the season.
In the rematch against IGP, Mkers didn't disappoint, taking Oregon 7-0 again, despite Mirenzo standing in for Scatto, who was busy focusing on his education.
While it was a 7-0 sweep, the game was somewhat closer than the result indicated, with Sasha and Mirenzo both winning 1v1 clutches on Thermite and Iana.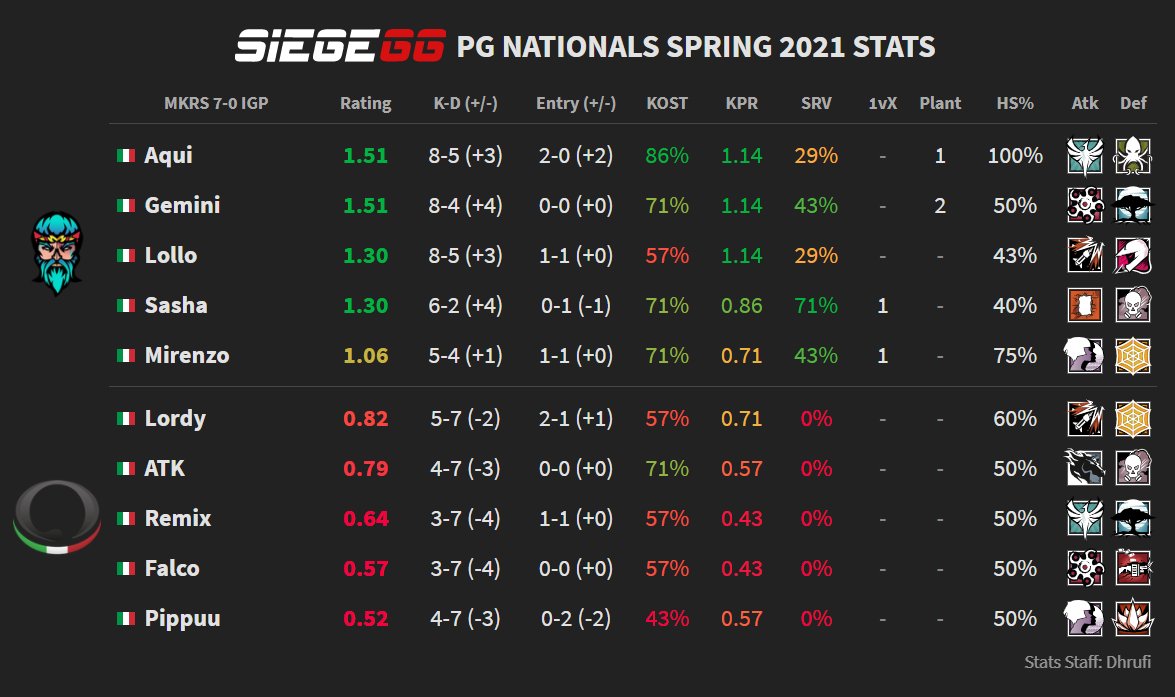 Hmble, meanwhile, faced Mkers with their new player of Fabby. But even though they performed better than IGP, the game still ended in a 7-3 in Mkers' favour.
Mirenzo secured yet another 1v1 (this time on Ace), while the only non-Italian in the game of Apexx achieved the very rare feat of going positive against Mkers. His 1.19 Rating, +2 on entry, and 11-9 kill-death spread was, however, somewhat cancelled out by his teammates wuK and Fabby's, who had ratings of 0.37 and 0.61.
Three more points for @mkersofficial as they start again in a great way
Totem's Roster Changes Pay Off
Totem Esports had ended the first half of the stage in dead last, with just four points thanks to a win over MACKO and a 7-8 defeat to CGG. And with games against the second and fifth-placed teams of Hmble and Legion up last week, it seemed like things would not change.
However, this definitely wasn't the case, as their upset against Hmble on Wednesday showed.
While their newest player of NeYox only secured a 0.79 rating, this was still better than two Hmble players including Apexx, as a standout performance by DjuZ and a 1v1 clutch on time by Ayzenn in Round 12 ended the game 7-5.
With this win secured, they were likely very confident going into Thursday's match against Legion. Here, in what was just Sloppy's second game for Legion after he sat the first half of the season out due to a wrist injury, he went 3-11 despite his North American League experience.
Things weren't all bad, however, as Treiko excelled, with the second-highest rating of the week at 1.59 with a 2.14 K/D. This performance wasn't enough to secure a win, though, as 1v1s from Ayzenn and Linkoo gave Totem the edge, as they took the full six points from the two games.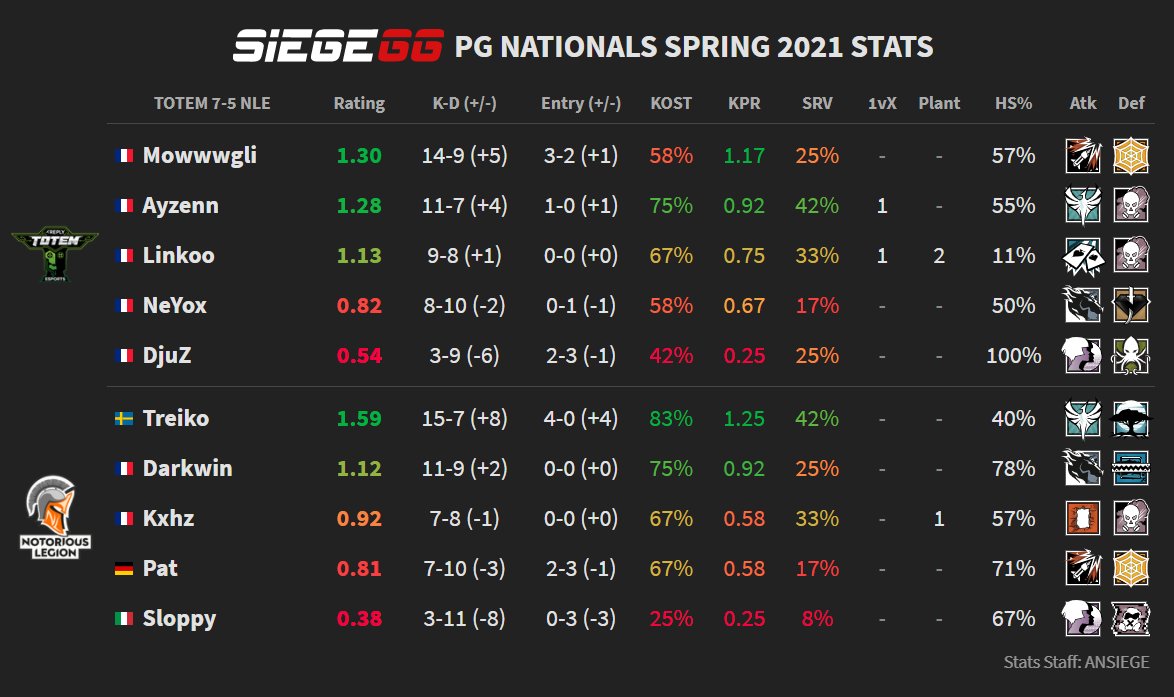 With this, Totem more than double their points, rise up the table from dead last to sixth place and sit outside of the relegation zone with five games remaining.
Outplayed Comfortably Climb to Second
With Outplayed already having beaten Mkers this tournament and having made no roster changes since, their games against fourth and sixth-placed MACKO and IGP were definitely favoured towards the third placed wildcards.
Their first game against the reigning champions of MACKO continued the pattern. MACKO's newest players of Krizz and g3ro ended the game as the only two negative players on the team with -2 K-D spreads.
Despite this, after going down 5-1, MACKO made a valiant comeback on their defensive half of Consulate, winning three rounds running before they were halted, ending the game at 7-4.
Once again with that win on Wednesday secured, Outplayed's game against IGP on Thursday was, on paper, a much easier one.
Despite this, and even with a number of not-so-great performances from the IGP members, a 1.33 rating from Falco and a 1v1 clutch from Pippuu was needed to stay in the game. A tied defensive half was finally tipped in Outplayed's favour due to a triple kill retake from csonki in Round 12, winning the game 7-5.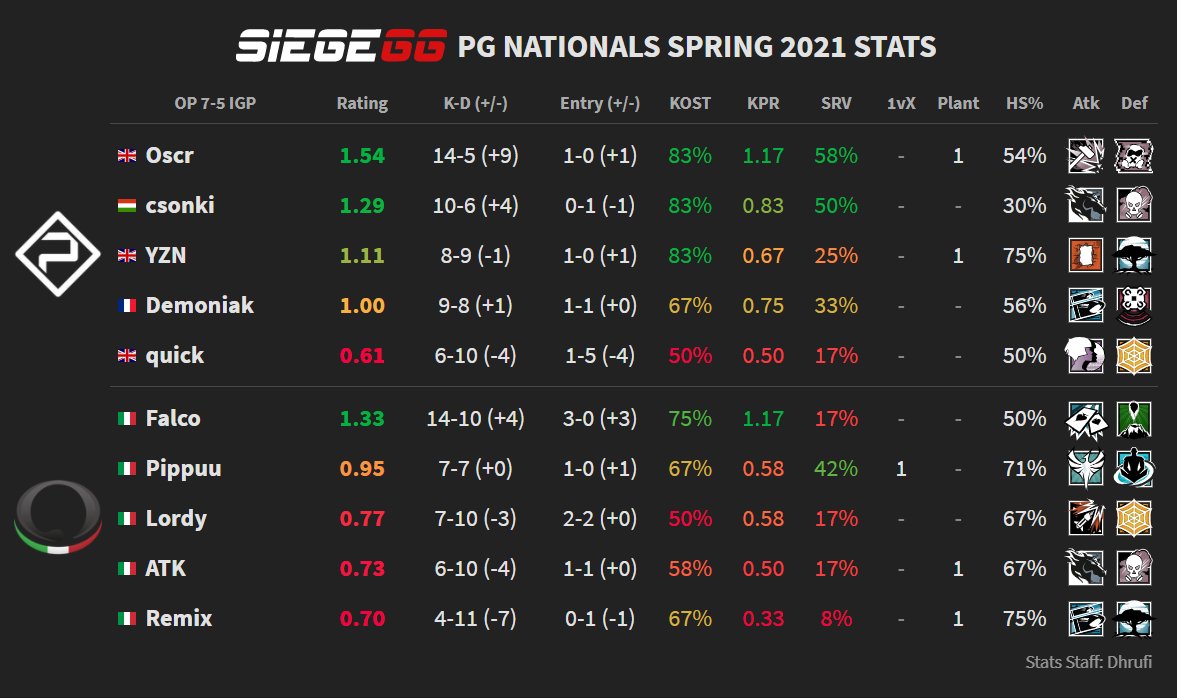 While Mkers sit five points ahead of them, these six points pushed Outplayed up to second place and five points clear of MACKO -- who they've already beaten -- and Hmble -- who lost both their games last week.
These two results should therefore solidify the British-majority Outplayed as Mkers' primary domestic opposition, with the two sides not set to meet again till the final play day of the league.
Cyberground Drop to Last Despite Three Player Changes
Finally of note, we have Cyberground's story who ended the first half of the season in sixth place and has since made two roster changes. Last week they faced the two teams directly above them in the table in Legion and MACKO meaning these were games they should be desperate to win if they wanted to progress up the standings.
Starting with the game against Legion, despite initially taking the lead which included a 1v1 clutch from Mariushka, Cyberground's 3-1 advantage quickly was chipped away as triple kills from Sloppy and Treiko ended the half tied before CGG moved to the attack.
While Legion managed to win the game 7-3 due to a clean four-round sweep while defending on Club House, this really hides how close the games were. a 1v1 from Kxhz was followed up by a 1v3 from Sloppy and a 1v2 from Darkwin as three clutches in four rounds were required to end the game this quick.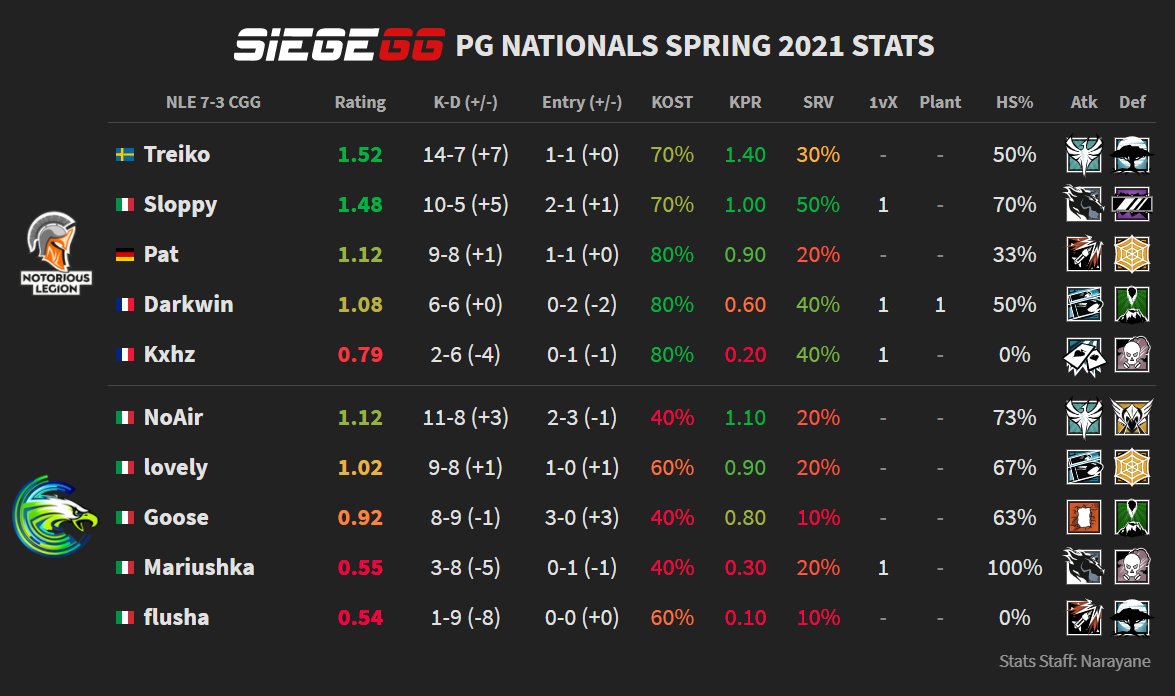 Finally, CGG vs MACKO on Coastline where a 5-1 defensive half for MACKO aided by a 1v3 from g3ro on Mozzie was only not a clean sweep due to another clutch from the CGG player of Goose. As well as this clutch, the MACKO player of g3ro really stood up, going 12-7 with a 1.41 Rating which was desperately needed as CGG came right back into the game with a triple kill from Krizz -- MACKO's other new player -- ending the game 7-5 in their favour.
While they came into the day hoping to possibly jump up all the way to fourth place, their two defeats coupled with Totem's two victories mean they end the day in the last place behind IGP due to an 8-7 head-to-head defeat earlier in the season.
Top Players
The best single-map performance over the two playdays came from Mkers' Aqui who secured a 1.65 Rating against Hmble going 14-6 while his 1.51 Rating against IGP also means he was the overall best performing player of the week.
Also of note is Legion's new Swedish player of Treiko who secured ratings of 1.59 and 1.52 to lead his team in both games in an excellent debut for the player.
Finally, the best individual play of the week was awarded to Totem's Mowwwgli with the following triple kill during their 7-5 win over Notorious Legion:
Next Play Day's Games
Week 7 will see two play days on Wednesday and Thursday, with the must-watch game emboldened:
Wednesday, June 2nd:
19:00 CEST -- CGG vs OP
20:15 CEST -- Totem vs MACKO
21:30 CEST -- Hmble vs IGP
22:45 CEST -- NLE vs Mkers
Thursday, June 3rd:
19:00 CEST -- Totem vs CGG
20:15 CEST -- NLE vs IGP
21:30 CEST -- Hmble vs OP
22:45 CEST -- Mkers vs MACKO
---
Be sure to watch these games on the Rainbow6IT Twitch channel and check back here at SiegeGG for full coverage of the games next week.