This coming week sees the finale of the biggest event of the year, the 2021 Six Invitational. This sees a 16 team double-elimination bracket take place from Wednesday onwards with Monday and Tuesday being given to allow the teams to practice, rest and take part in Ubisoft's media days.
Luckily for us viewers, these two days will not be devoid of action with the Spear Gaming organisation running the "APAC Rivals" tournament which invites some of the top remaining teams in APAC North and South to compete.
Teams
The eight invited teams sees three from Korea, three from Oceania, one from Japan, and one from South-East Asia split into the North and South regions:
APAC North
GUTS Gaming -- CrazyPapiyoN, Lily, JJ, Li9ht, Yura, and Cloud
Talon Esports -- LabyRinth, AzzyyyS, Tomorrow, Soldier, and Kanos
DAMWON Gaming -- CATsang, yass, Woogiman, coted, and RIN
T1 -- iLeven, r3plicA, Yeti, Neilyo, and CrazyBoy
With the tournament being run by a Korean organisation, three Korean rosters being invited is unsurprising with Cloud9's spot being taken by GUTS while C9 and CAG are busy competing at the Six Invitational.
This will be the first chance we'll get to see T1 in action since two players and their coach were all replaced in the team which you can read about in detail here.
APAC South
Elevate -- Sapper, DCH, Nay..Pew, sprOnigiri, AnGryX, and Kanomtuay
Knights -- Dino, Hayward, Jsh, Juicy, and Sageon
Chiefs Esports Club -- Dgtl, Vast, GodLeg1on, Worthy, Fishoguy
ORDER -- JackDaddy, Cutie, Nikoh, JKR, and Speca
These four teams were the first, second and third-placed during stage one with seventh-placed ORDER being invited over fourth-placed Seventh Heaven. This will therefore be ORDER's first time playing against North teams with this organisation while Elevate will be the standout favourites to perform a clean sweep of their opponents.
Format and Schedule
These eight teams won't be competing for themselves but in fact as part of their region as each team will play four BO1s against the opposing sub-regions teams. At the end of the tournament, the sub-region with the better win record will be crowned victorious.
This means while it's likely Elevate and GUTS will all perform really well, the results from teams such as T1, DWG, and ORDER are equal and worth the exact same amount making the tournament a tight one.
The tournament will take place this Monday and Tuesday cast on the official rainbow6kr channel with the schedule below:
At the end of the 16 games, the $10k prizepool will be awarded as the winning region received $6k while the losers get $4k.
KJ Friendly Match
This is the second official event ran by Ubisoft Korea in this format following the KJ Friendly last December. Here eight teams from across Korea and Japan competed as teams for a net $10k prizepool also which was eventually won by Team Korea thanks, in part, to CYCLOPS not competing for Japan.
Full details about this event can be found here as it seems these sub-regional playoffs will become a regular fixture in the APAC calendar.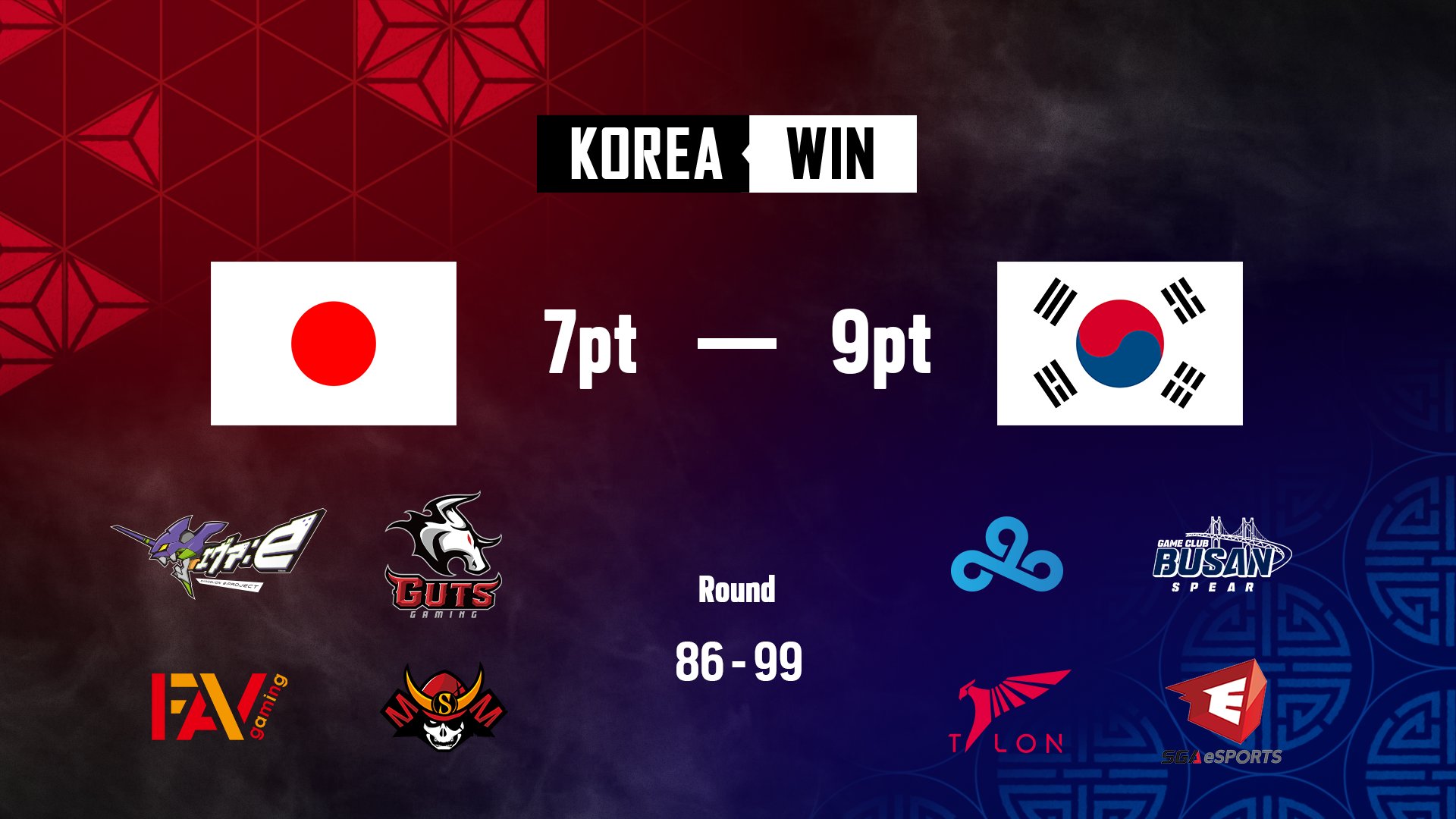 ---
Be sure to check out these games when they start tomorrow morning and keep an eye out on the remaining APAC teams at the Six Invitational as Giants hopes to gain wins today to join Cloud9 in next week's playoffs.