Three months after its initially planned date in February, the Six Invitational will finally take place, starting tomorrow, in Paris, France.
This closed event will see 18 of the 20 qualified rosters play on LAN in the first international competition since the 2020 Invitational.
Below we have summarised everything you could want to know about the event, including who's playing, when, and who to look out for.
The Teams
Of the 18 teams, 14 had qualified via the SI point standings, based on their performances across 2020:
BDS Esport: Shaiiko, Renshiro, RaFaLe, Elemzje, BriD, and eaglemees (analyst)
"I don't see us as favourites ... but I think we have got the capacity to be the best"
TSM: Achieved, Merc, Beaulo, Geometrics, Chala, Pojoman (coach), and Daeda (analyst)
"Playing the regular season on LAN is awesome ... you don't have to deal with online Siege bullshit"
Giants Gaming: Lunarmetal, Ysaera, HysteRiX, SpeakEasy, jrdn, and GiG (coach)
"It really wasn't about the level of competition ... we almost lost our jobs without warning"
Cloud9: EnvyTaylor, Static, Nova, Harp3r, SyAIL, OniChan, and RechoTZ (two coaches)
"The current C9 is stronger than the Six Invitational 2019 MantisFPS"
Team Liquid: nesk, xS3xyCake, psk1, Paluh, HSnamuringa, and Silence (coach)
"The previous Invitational cannot be forgotten, it must serve as a lesson for everyone"
DarkZero Esports: Mint, Hyper, Skys, Ecl9pse, njr, BC (coach), and Grant (analyst)
"We still haven't added in our identity to our play style ... but with this boot camp we have time"
Ninjas in Pyjamas: Kamikaze, Psycho, julio, Muzi, pino, and Mity (coach)
"The biggest lesson learnt from that loss was how to deal with that much pressure"
Spacestation Gaming: Thinkingnade, Rampy, Bosco, Fultz, Canadian, Lycan, Sov (two coaches), and DrewSpark (analyst)
"[Canadian] is a competitor, he gives his heart and soul to what he believes in"
Team oNe eSports: Lagonis, KDS, Alem4o, Levy, Neskin, TchubZ (coach), and RafadeLL (analyst)
"We studied every single player, even my analyst, before we signed them, so that the team could be perfect"
Team Empire: ShepparD, JoyStiCK, Scyther, Dan, Always, RayzerGM (coach), and Zheka (analyst)
"Confidence is the most important part ... In a Bo1, even one mistake can cost you three points"
FaZe Clan: Astro, cameram4n, Bullet1, Cyb3r, Soulz1, and Ramalho (coach)
"They said that we would play in another European country if things went wrong"
Oxygen Esports: FoxA, LaXInG, VertcL, Yoggah, Kyno, HOP3Z, and Redeemer (two coaches)
"Kyno knew he was not our first choice and I think that lit a fire in his eyes"
MIBR: reduct, Faallz, LuKid, Rappz, FelipoX, and Budega (coach)
"For them, it will be the first [such tournament] ... Pressure will be the biggest enemy"
G2 Esports: Kantoraketti, UUNO, CTZN, Virtue, Kayak, and Shas (coach)
Four other teams, meanwhile, qualified via the regional open qualifiers:
Finally, due to the COVID-19 pandemic, two teams were unable to attend after qualifying for the tournament: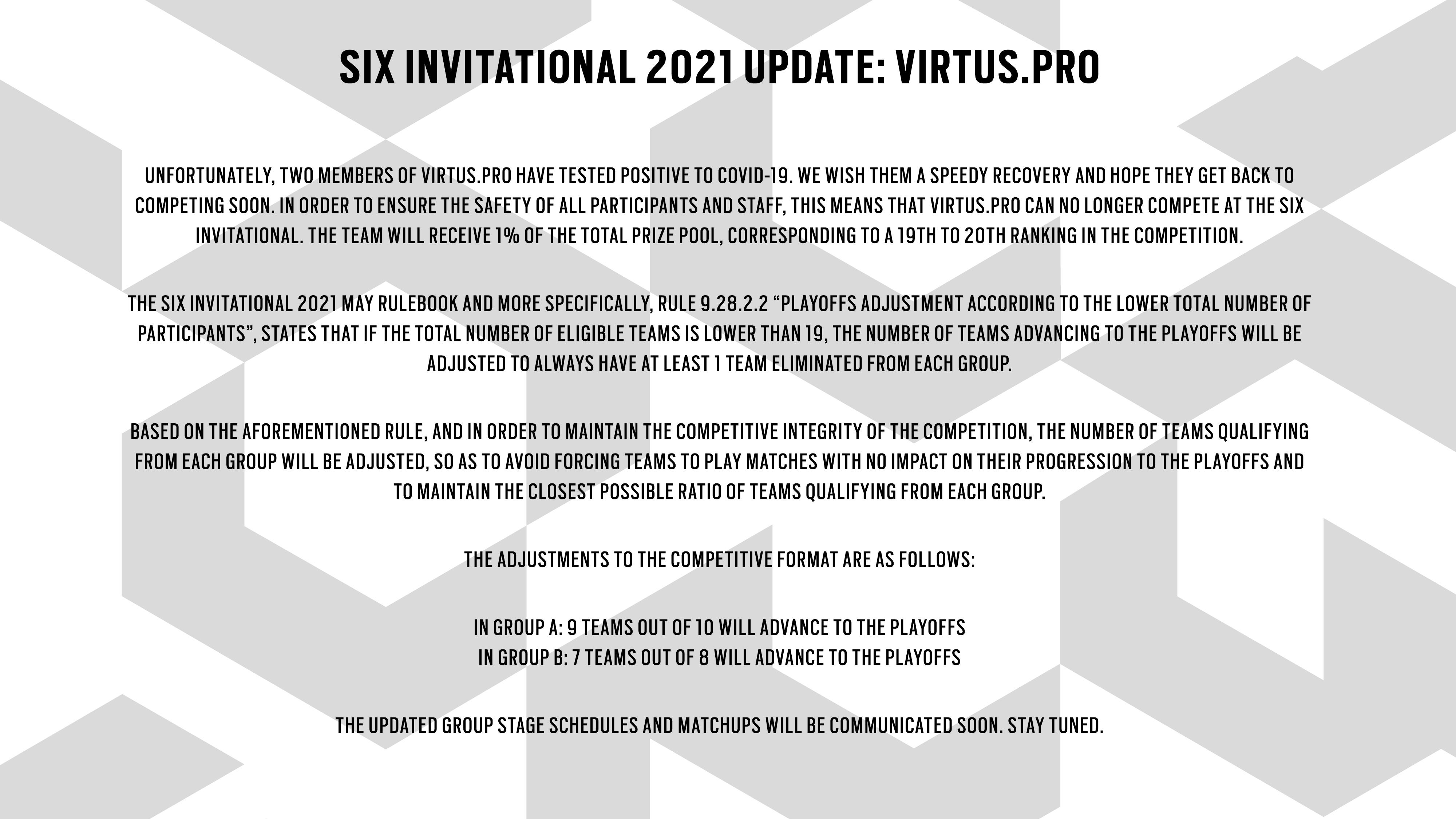 In total, across the 18 teams that will actually be attending the event, there are six teams from Latin America, five from North America, four from Europe, and three from Asia-Pacific.
Most eyes will be on the returning champions of Spacestation Gaming who, after a rough NA League stage, see the two-time SI champion of Canadian come out of retirement in the hopes of winning a record third title and defending his title from last year.
While out of necessity due to Luke's lack of a valid passport, this news was met with a huge wave of excitement as North America's most successful player ever comes back for one last event.
However, the status quo has changed since the last Invitational. North America saw perhaps the greatest shakeup, with only one of the top four teams in Stage 1 in attendance at the Six Invitational, making Oxygen Esports one of the leading favourites to claim the title.
Add on the recent LAN experience during the NA League, which no other region enjoyed, on top of the unparalleled quality seen in the NAL, and it really seems like North America has the edge at this event, as the 2020 Invitational's third and fifth placed teams of TSM and DZ are also representing the region.
Moving down south to Latin America, while the same organisations remain at the top and both NiP and Liquid are relatively unchanged from last year, there have been some key changes in the lineups of the other Brazilian teams.
After qualifying for the Six Invitational, FaZe Clan replaced its roster with the MIBR one, with MIBR in turn picking up Team oNe's roster, prompting oNe to acquire a fresh roster of upcoming players.
All these changes have resulted in Team oNe and a revitalized FURIA thriving, possibly to the point of being able to cause international upsets. However, after all this, Team Liquid ended on top in the Copa Elite Six, followed by MIBR, while NiP struggled in the mid-table.
After consistently falling short of what everyone knows they are capable of at Majors, this could just be the event where Team Liquid hits its stride.
Next up, Asia-Pacific had four teams initially qualify, but has since lost Wildcard after the Australians were unable to attend due to local travel restrictions. Furthermore, APAC's top team of Elevate isn't even in attendance.
The region's three representatives of Cloud9, CYCLOPS and Giants finished second, fourth, and 13th in Stage 1, as Giants failed to even qualify for the APAC Playoffs.
It's not all bad news, however, as these three teams spent 2020 as the unrivalled top three teams in the region. As such, with no roster changes coming amongst any of them, they clearly have the potential to compete with the best. It's now just a question which of them will be able to step up.
Last, but not least, is the home region of Europe. Like APAC, it suffered from the particularly unfortunate circumstance of not having its top team in attendance, after Na'Vi took the Stage 1 title thanks to an 8-6 head-to-head over BDS Esport.
Nevertheless, after being the top European team at SI20 and finishing in the top two of every tournament since, it's hard to count out BDS Esport as Shaiiko aims to finally win a world title.
Elsewhere, the remaining EUL teams attending SI21 are in a similar situation as the NAL lineups, as they finished Stage 1 in fifth (G2) and ninth (Empire). Both of these teams have a very strong history at the Six Invitational, as they met each other two years ago in the SI19 Grand Final.
Now, they both sit at turning points, with Empire reaching the lowest point in the team's history, while the G2 roster attends its first event ever without Pengu.
Finally, we have the two wildcards of Parabellum and Mkers. Not only are they the very first teams representing the nations of Canada and Italy at a Major event, they are also Tier 2 rosters at the moment, as Parabellum competes in the NA Challenger League and Mkers leads the EU Challenger League qualifiers.
With Mkers having already beaten EUL teams such as Rogue, Chaos, Na'Vi, and Tempra and are currently the top non-EUL team in Europe, there's a very good argument in the Italians' favour.
On the other hand, Parabellum's story over the last few months has unfortunately revolved around the many controversies the roster suffered thus far.
The Event
The Six Invitational this year will see 18 teams split across two groups playing in a round-robin format for the first week from May 11-16th.
Following this, the bottom-placed team in each group will be eliminated, while the top four progress to the playoffs Upper Bracket. The remaining teams will fill out the Lower Bracket to form the 16-team playoffs from the 19-23rd.
This creates the following schedule for the group stage:
Tues, May 11th -- 15 games starting at 11 AM CEST
Wed, May 12th -- 9 games starting at 3 PM CEST
Thurs, May 13th -- 15 games starting at 11 AM CEST
Friday, May 14th -- 9 games starting at 3 PM CEST
Sat, May 15th -- 15 games starting at 11 AM CEST
Sun, May 16th -- 10 games starting at 12 PM CEST
And for the playoffs:
Wed, May 19th -- Upper Bracket QF and Lower Bracket R1
Thurs, May 20th -- Upper Bracket SF and Lower Bracket R2
Fri, May 21st -- Lower Bracket R3 and R4
Sat, May 22nd -- Upper Bracket Final and Lower Bracket R5
Sun, May 23rd -- Lower Bracket Final and Grand-Final.
This means that the Six Invitational will kick off at 11 AM CEST (UTC+2) tomorrow on the Rainbow6 and Rainbow6Bravo channels, with the full group stage schedule also available here on the SiegeGG Matches page.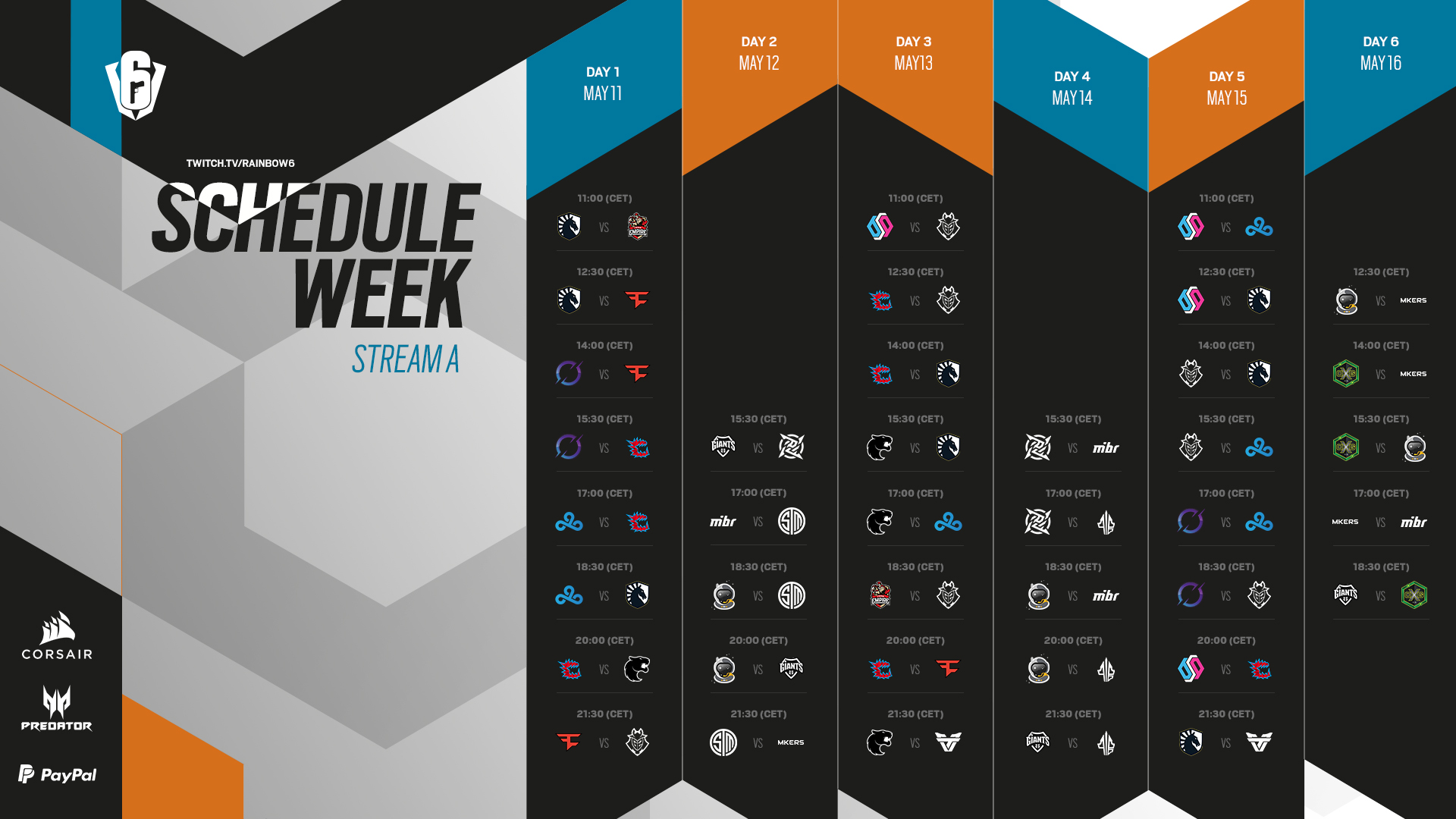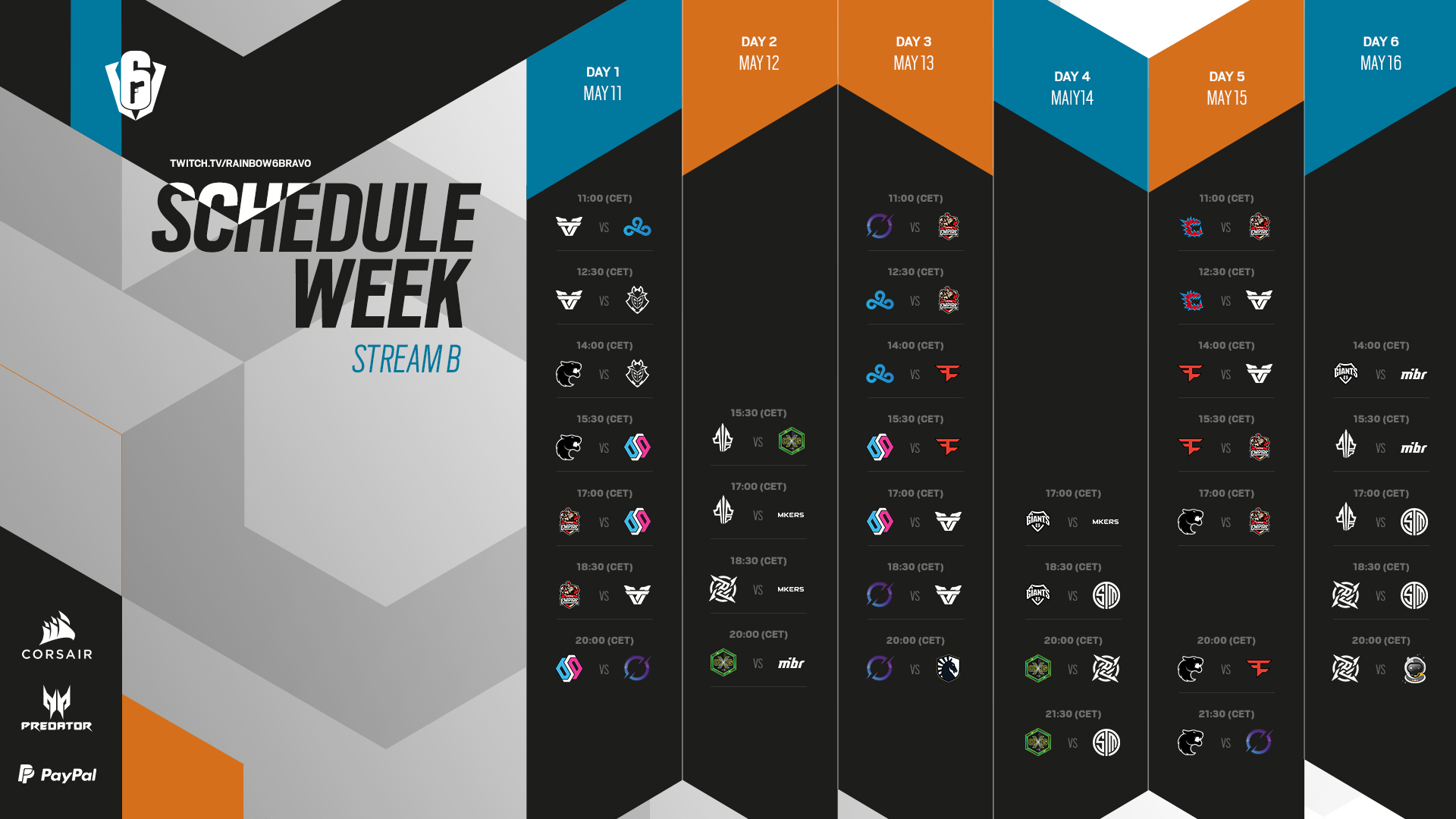 As well as the grand final, the final day of the Six Invitational will also see the unveiling of the new free update coming to Rainbow Six Siege at the beginning of June.
This will include a casual-orientated rework of the Favela map and a new defender from the North American Indigenous group of the Nakoda.
Due to added COVID-19 restrictions, the talent lineup for this event will be very different, with not everyone attending the event in person.
In Paris with the players will be the EUL casters of Milosh, Dezachu, AceOfPyrite, CaptainFluke, and Hap, as well as the two BR6 and UKIN casters of XRTROIKA and Demo.
Tuning in from home, meanwhile, will be JessGOAT, the NAL casters of BLU, Stoax, Interro, and KiXSTAr, as well as the APAC South names of Devmarta, Guzz, and Zenox.
Almost all of these casters have prior Six Invitational experience, however, Guzz and Zenox previously have only done APAC events, Demo's top appearance was at the Paris Major and, while XRTROIKA has done pro-tier events before, he has never done cross-regional tournaments.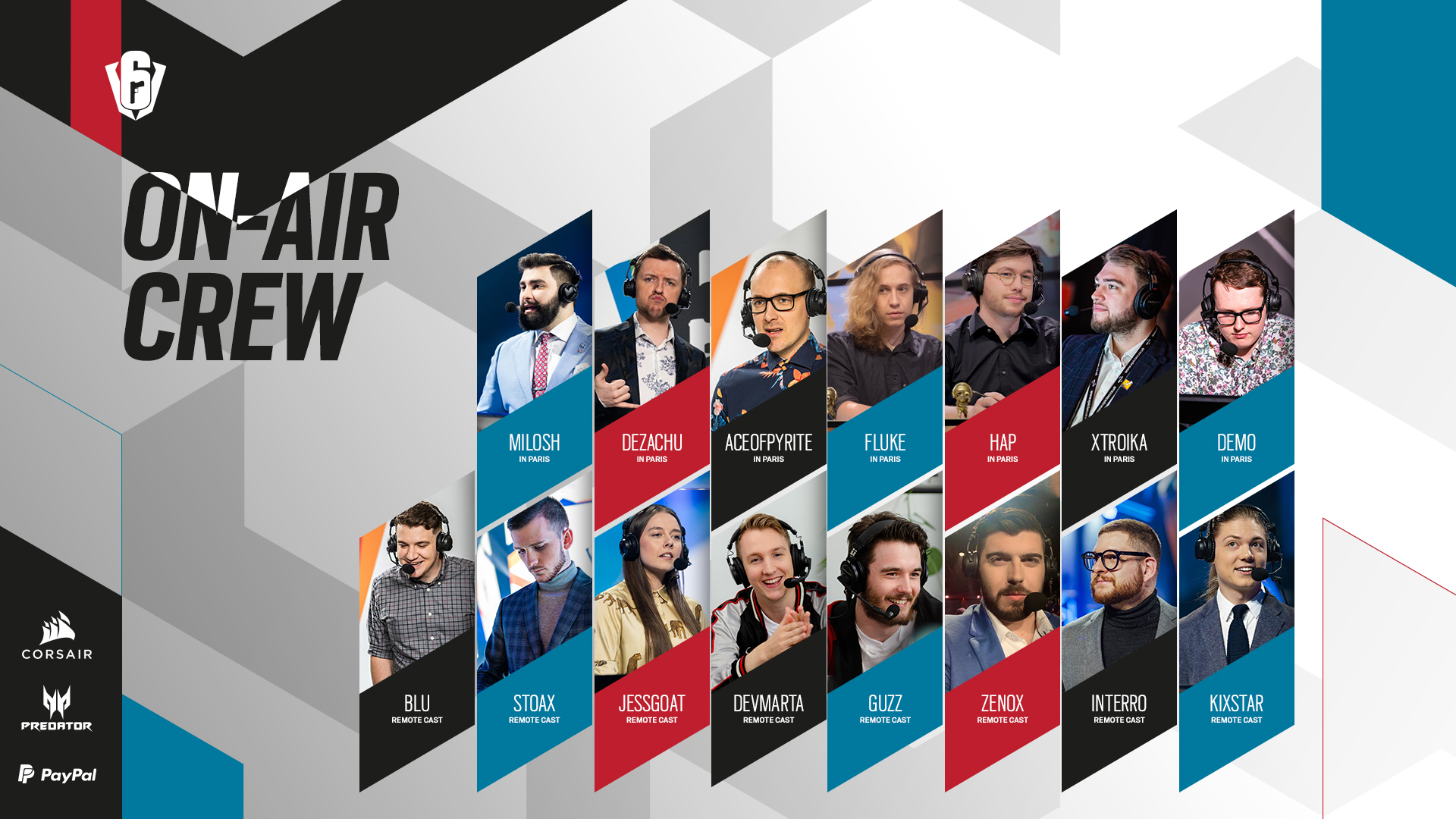 The teams will be competing for a total of $3,000,000 -- the same total as last year -- split across 20 teams, rather than 16 as seen previously. The prize pool is therefore split as follows:
1st -- $1,000,000
2nd -- $450,000
3rd -- $240,000
4th -- $170,000
5-6th -- $135,000
7-8th -- $105,000
9-12th -- $75,000
13-16th -- $55,000
17-18th -- $40,000
V.p and WC -- $30,000
Not all the prize pool will go to the current players, however, as any players who qualified for the Six Invitational but were dropped before this event are also entitled to a cut.
For example, Hotancold had qualified for the Six Invitational on DarkZero, but was dropped in March after the original February date for the Invitational. He will thus get a share of DZ's prize pool winnings, despite currently playing for Mirage.
COVID Precautions
While many people have criticised the event for going ahead, and the coronavirus has already led two teams to be unable to compete, Ubisoft has assured fans that the event itself will be safe and have set up the following safety precautions among others to combat the virus:
Only six people per team can attend the event (five players and a staff member)
Each player has a separate bedroom and teams can't mix during the event
Regular COVID tests will be carried out and masks must be worn at all times except when on stage
All players are recommended to self-isolate for seven days and must pass a COVID test before leaving for Paris
When eliminated, teams must return home within 48 hours
Competition areas and high-touch surfaces will be sanitised regularly
A COVID Manager, a Doctor, and first-aid workers will all be present at the event throughout
Twitch Drops
As always, viewers can earn in-game items by simply watching the games. To get them, you must link your Twitch and Uplay accounts here and redeem them here after completing the following actions:
SI Esports Charm -- watch for four hours between May 11-16th
SI VIP Charm -- watch for four hours between May 19-23rd
Esports Packs -- one pack drops every four hours to a max of three between the 11-16th and five between 19-23rd
The contents of the packs can be seen below, with four items each from the Ash, Nomad, and Castle Pro League Set, as well as the Tachanka VIP Bundle, totalling 16 items altogether.
---
And so, that's what to expect for the upcoming Six Invitational starting tonight, as 18 teams playoff for their share of the $3,000,000 prize pool. Keep an eye out here at SiegeGG for full results, highlights, roundups, and statistics for every game of the major!