The only — if there is one — con when celebrating a Six Invitational 2021 is that national leagues are put on standby. The GSA League is one of these, as the tournament will experience another pause, as the league was forced to stop due to a confirmed COVID-19 case amidst the production crew.
However, Day 4 would not disappoint and teams produced some results that have set the standings on fire. Although we are still in the early stages of the competition, every game may just be important to determine the eventual final results.
Keep on reading to not miss anything about the action on Tuesday!
Team GoSkilla 7-3 PENTA Sports
G2 Esports' Ben "CTZN" McMillan had started off things in this season of the GSA League with an incredible 2.20 rating against Team Secret. And prior to Day 4, CTZN had been leading the standings with an impressive 1.49 overall rating across all games.
But on Day 4, there was a new Brit in town. After three game days with Christian "Kapkan" Steffenses playing as a sub, the core lineup of Team GoSkilla was finally completed as Leo "M4DMAN" Kukielka made his first GSA appearance.
And what a debut it was. The British player produced a stellar performance as he got 14 kills, had a rating of 1.80, and finished with a KOST of 100%.
Although Taha "Sadrzm" Yumak gave his best, as he was by far the top-rated player on PENTA, it was not enough. Team GoSkilla secured a win that put them in third place, just one point behind SSP.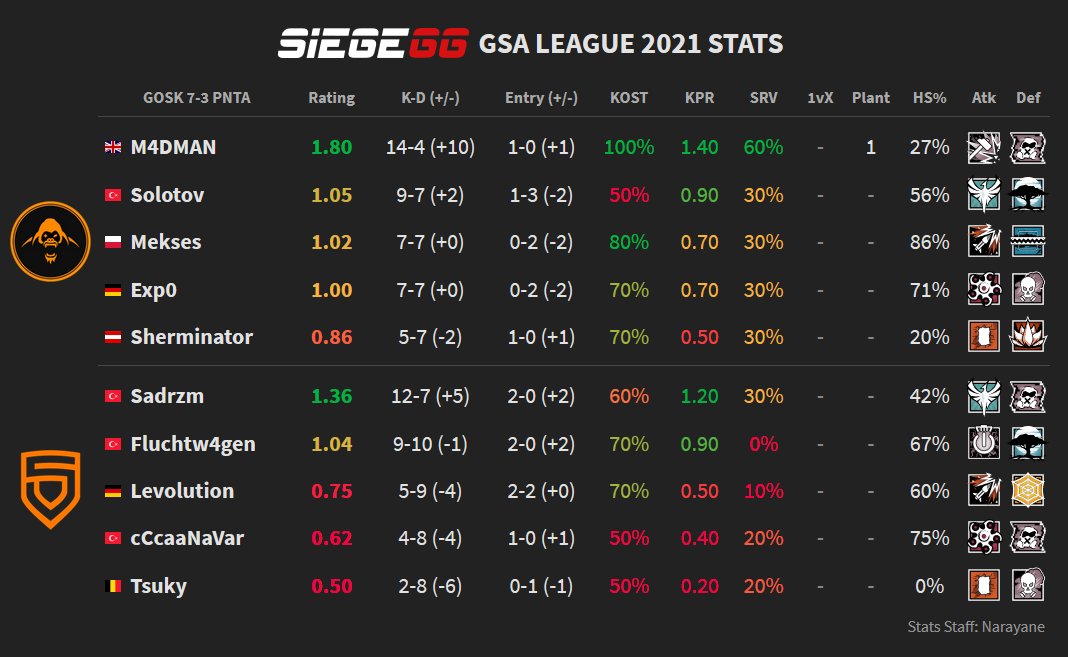 Team Secret came into this matchup after failing to win a GSA League game after the first two game days. Nevertheless, everything changed this week. The European League team won against the top-bottom team of Ovation eSports on Tuesday, before an impressive followup against Rogue.
It all started as a very competitive game, as Rogue were in front on the scoreboard after the very first three rounds, with Leon "LeonGids" Giddens successfully planting the defuser in two of them. Unluckily for them, things were about to change.
Team Secret went on a rampage and went on a four-round streak, which gave them a 5-2 lead on the scoreboard. It was then when Rogue seemed to react, as a brace of kills by AceeZ in Round 8 and four kills by LeonGids in Round 9 made Rogue see the light at the end of the tunnel.
But that would be as far as they would make it, as Team Secret stopped any plans of a comeback. After planting the defuser on Round 10 and winning by elimination on Round 11, Secret managed to take the three points.
Secret was led by Prano, Gomfi, and SlebbeN, who all finished with ratings over 1.20. Meanwhile, on Rogue, AceeZ had a second complicated game as he finished with a rating under 0.80 for the second time within a week.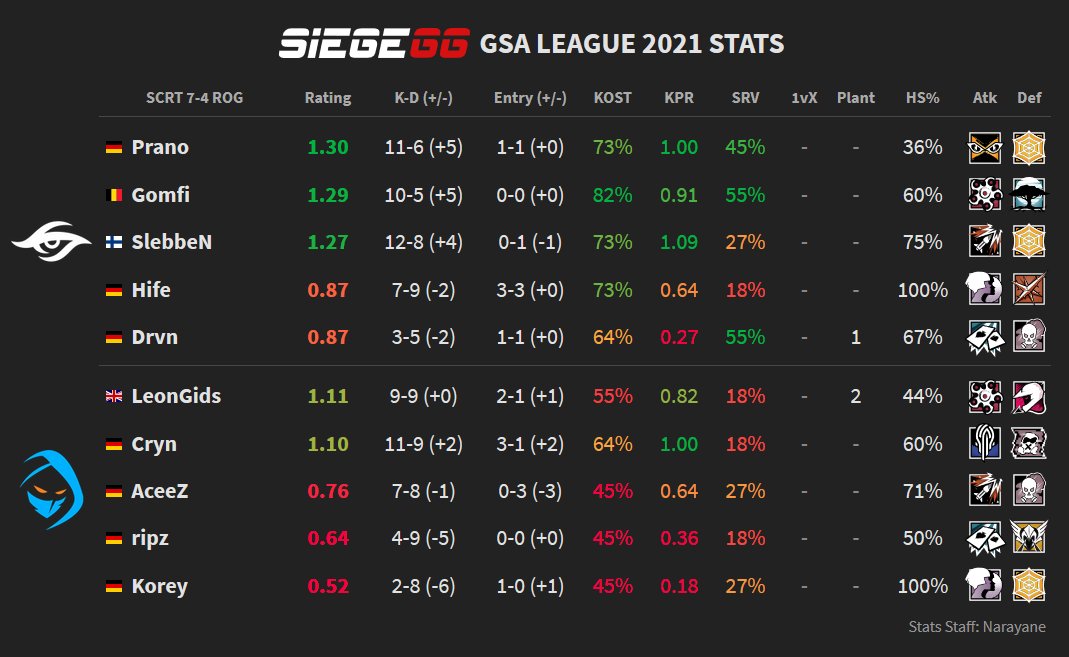 G2 Esports 7-3 Sissi State Punks
This was the match everyone had been looking forward to. With G2 Esports' mind busy with the Six Invitational, it was SSP's turn to try and pull off what would be a huge boost to their chances to make it to the final playoffs.
But, G2 were far from asleep. Although their strats were far from what we usually saw from them in Stage 1 of the European League, the Berlin-based roster did not have any problems to win the game.
Looking at G2's version at the GSA, it is worth noting their strat while defending Lobby/Piano on round nine. The team put a Castle barricade just in front of the hatch on Lobby, and was just opened by a UUNO nade so Kantoraketti could appear and cut the plant with only a few seconds left.
At the end of the day, it was CTZN who finished as the best player of the game once more. Alongside him was the other British player of Kayak, with both scoring KOSTs of 90%.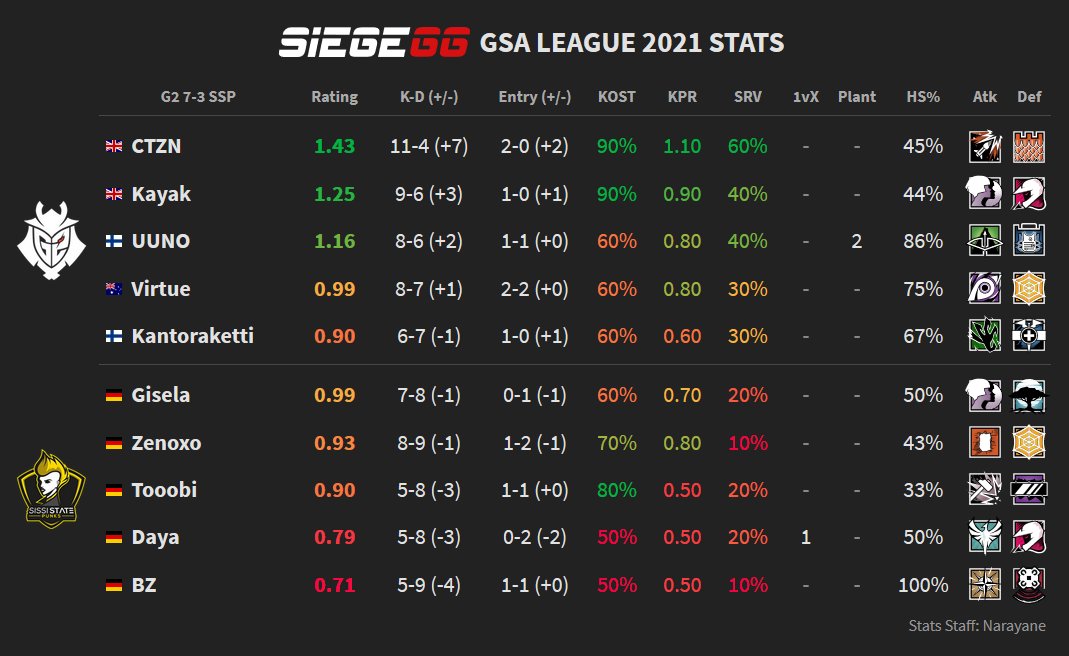 Although we did not have any European League sides in this match, it was undoubtedly a great game to watch. These two teams have been the favourites to be in the fight to avoid the relegation zone, which made this clash an important one for the eventual ending to the season.
After a solid start by GC, as they won the very first three rounds, it was Ovation's game. Led by Ryoo, who ended with 17 kills and a rating of 1.9, the German side won their first game in the competition.
The best round was the 10th one, as Ryoo won a 1v4 situation when defending Astrology. After his stellar play, Ovation seemed to be on top, as they did not have problems to win the following two rounds.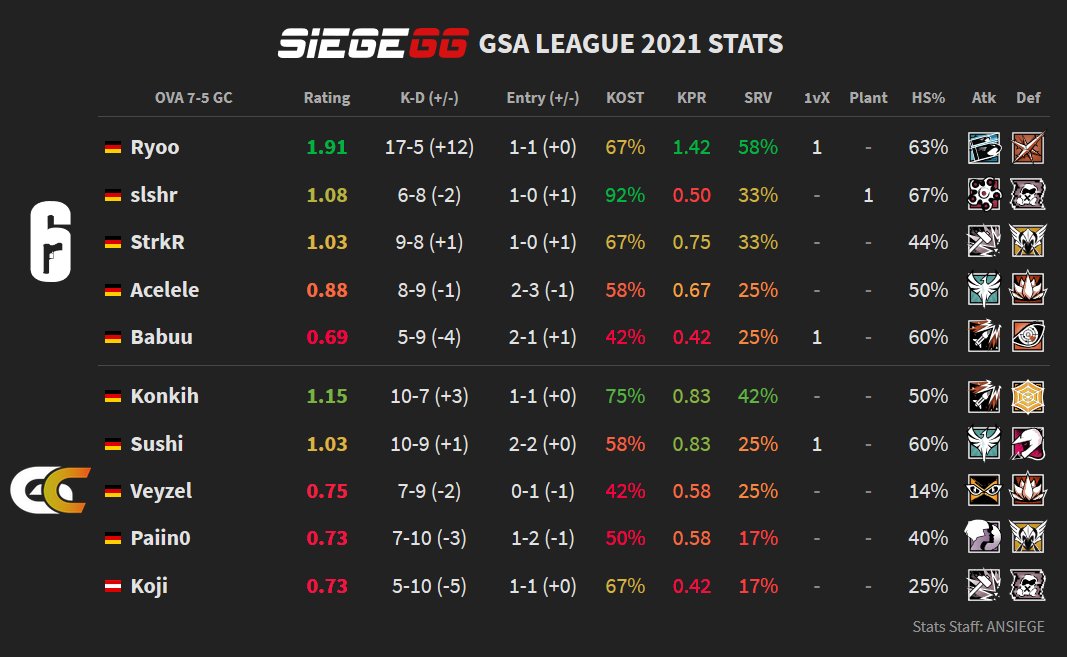 What's next
With the Six Invitational being around the corner, we won't see any more GSA games until the 3rd of June.
Then, Ovation will face Secret in what will be another vital game down the table. G2 Esports will protect their lead against Team GoSkilla, while Rogue will face the bottom team of GC Esport.
Day 5 will end with an interesting clash between SSP and PENTA, a crucial game in the fight for a Challenger League spot.