Last week saw two play days take place on Wednesday and Thursday. Check out our pre-season guide on the teams, schedule, and format for a full roundup on what's going on in the league this season and our weekly roundups for a summary of any action you may have missed.
Jump to:
Two More Wins for Mkers
Mkers added to their unstoppable streak this week with two more wins, a 7-2 against Cyberground and a 7-1 against Totem.
Both of these games were fairly standard from Mkers as we have come to expect. Against CGG, the only rounds they lost were due to a post-plant retake and a very early triple kill from Mariushka, as Sasha ended with nine kills to three deaths.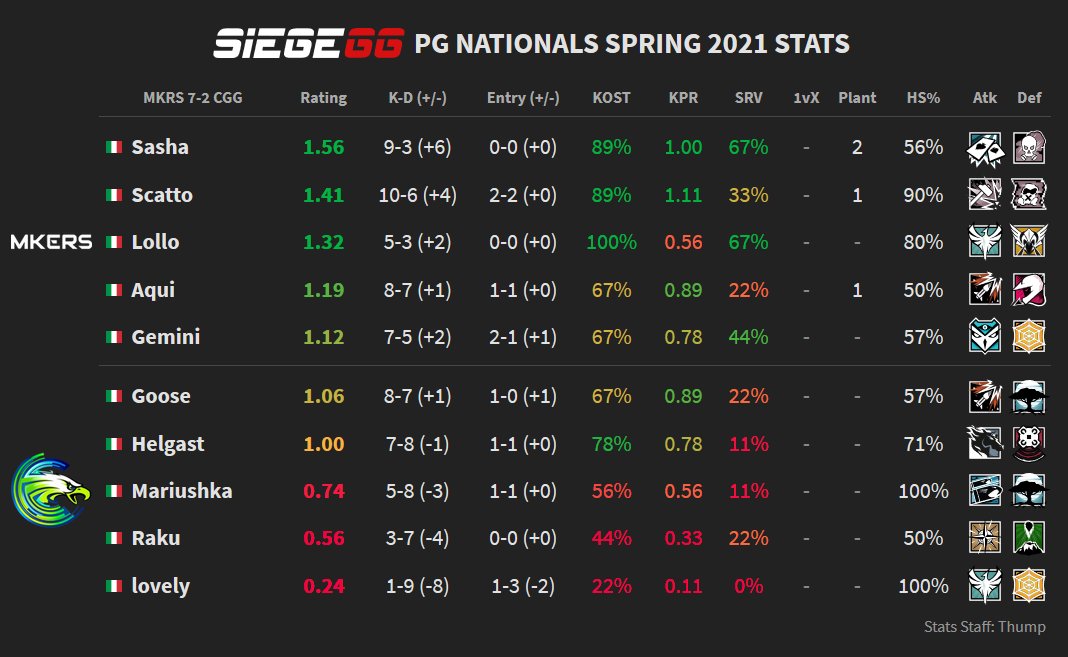 Mkers then did even better the following day with an almost perfect game against Totem. The only round they lost here was due to a 3k from Linkoo, while Aqui ended the game with a quad-kill.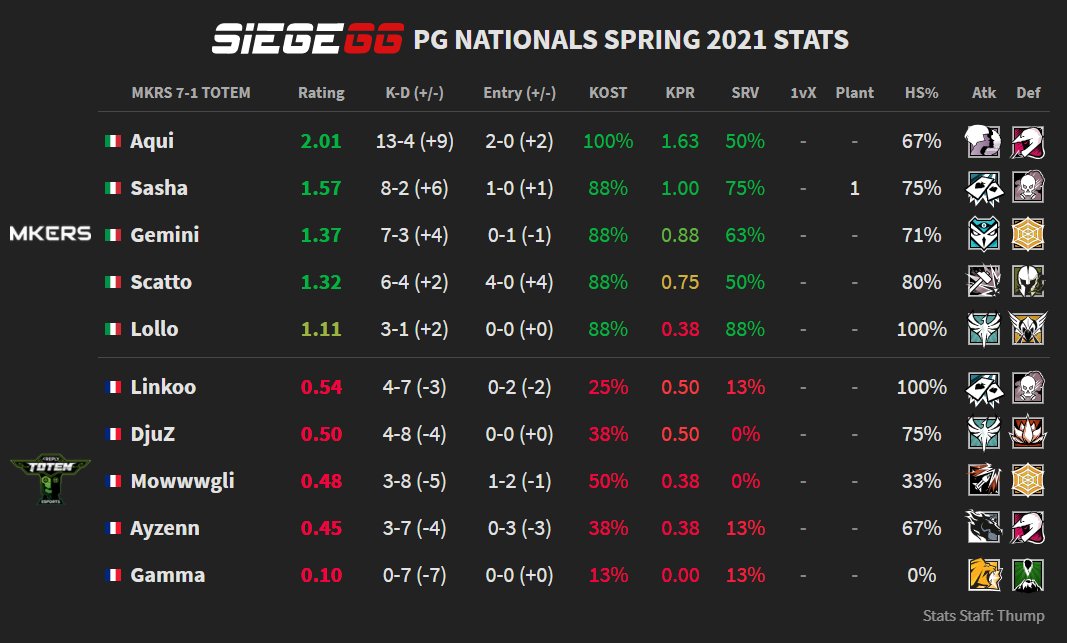 Across both of these games, Mkers didn't ban any operators and have only played three maps -- Consulate, Clubhouse, and Kafe (four times) -- throughout the season so far as they prepare for the Six Invitational starting in just six days.
As well as the Six Invitational and PG Nationals, Mkers have also been competing in the EU Challenger League Qualifiers, winning the first one last weekend and showing yet again how far ahead of the competition they currently are.
MACKO Felled Once More, Drop to Fourth
While Mkers in first excelled this week, the back-to-back reigning Italian champions of MACKO who sat in second struggled. Their two games came against IGP and Hmble which, after a handy initial win, saw them take a second loss of the season on Thursday.
Starting against IGP, MACKO was pretty much in control throughout. A quad-kill from Falco helped IGP to 2-2 in the first half before MACKO ran away with it as a 1v1 by Alation over Lordy, after a SirBoss 4k, stopped IGP's only close offensive round.
After this victory, they then played a much more capable roster in fifth-placed Hmble, who desperately needed this win as they sat two points away from both third and seventh place.
This game was a very different story. As SirBoss and Alation combined to go 6-18, Hmble took a massive 4-1 lead -- including a 4k from LolloBoii -- before T3b stopped the bleeding with an ace on Round 6.
MACKO took advantage of this and began their own defensive half by pulling things back to a tie at 4-4. Two Hmble rounds almost led to two MACKO rounds, only for Apexx to kill the Echo of Alation with two seconds remaining to win the game 7-5.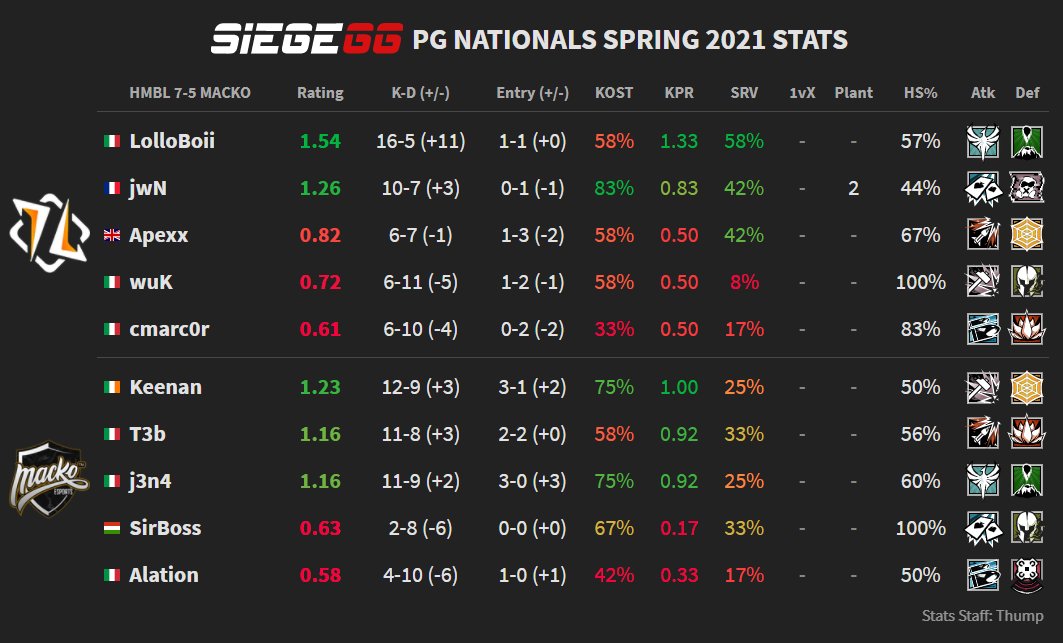 This is just MACKO's second defeat of the season -- the first being against Mkers -- which means they drop right down to fourth below Mkers, Outplayed, and Hmble themselves.
Bad Week for Legion with Another Stand-in
While MACKO lost one game, Legion had a truly horrible week, losing both their games against Outplayed and Hmble -- both of whom were tied with Legion at six points -- while securing just four rounds across both maps.
This was, in part, due to them having to play with their coach of ProphetKing for SurA which, along with NoAir playing for Sloppy, meant that they had two unexpected players on the lineup.
Game 1 was Hmble's throughout, as they went up 3-0 before Legion finally got on the board. Multi-kills from Kxhz helped them to Rounds 4 and 5 before a 4k from Darkwin on Jager put the scoreline at 3-4.
The game eventually ended 7-3 to Hmble, as they mopped up the remaining three rounds thanks in a large part to Apexx who secured 14 kills to five deaths, including multi-kills in half of all rounds.
After this, Outplayed tore through them on Thursday, with a 7-1 win. Legion's only round win came on Round 6, as Kxhz got a triple-kill on Zofia to take Clubhouse's CCTV objective. Oscr was the star player this game, with a remarkable 4.0 K/D and 1.5 KPR.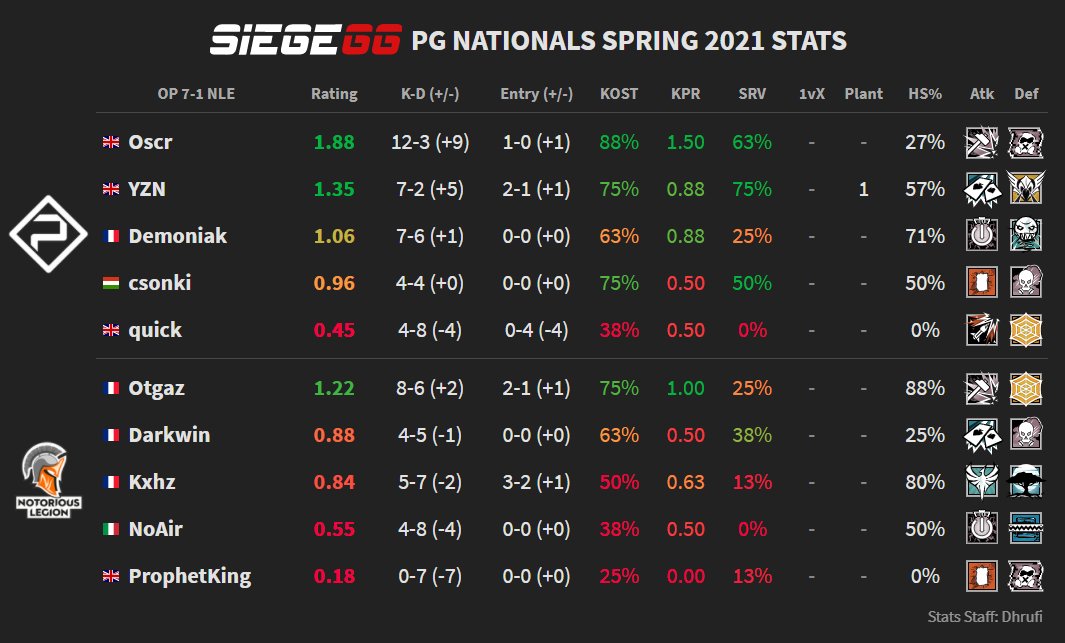 There is some light for Legion, however, as after playing the first half of the season with NoAir, their star player of Sloppy will debut after the break for SI as his wrist has finally healed. ProphetKing, meanwhile, will only have to play one more game before the transfer window opens up and a replacement player can be found.
IGP Secures First Win of Season
Finally, after the previously mentioned defeat to MACKO on Wednesday, the last-placed Italian Gaming Project secured their very first win of the season in a game against sixth-placed Cyberground Gaming in Oregon in a 15-round marathon.
As many expected, Cyberground took a very strong initial lead against IGP going up 5-1 with their only defensive loss coming due to a quick offensive push from IGP onto the Kids/Dorms objective. As the sides switched, so did the game, as the defensive advantage held allowing IGP to come straight back into it.
The only round win here for Cyberground came on Round 9, as Raku on Ace secured a quad-kill while attacking the Kitchen/Dining objective to put them on map point at 6-3.
Nevertheless, IGP pushed it all the way to overtime, where they started with the defense side first. A five-kill Round 13 put them ahead, before flusha on Kaid secured a 3k to take us to Round 15. Here Pippuu and Lordy both secured double-kills to take the game 8-7 in which 13/15 rounds were won by the defenders.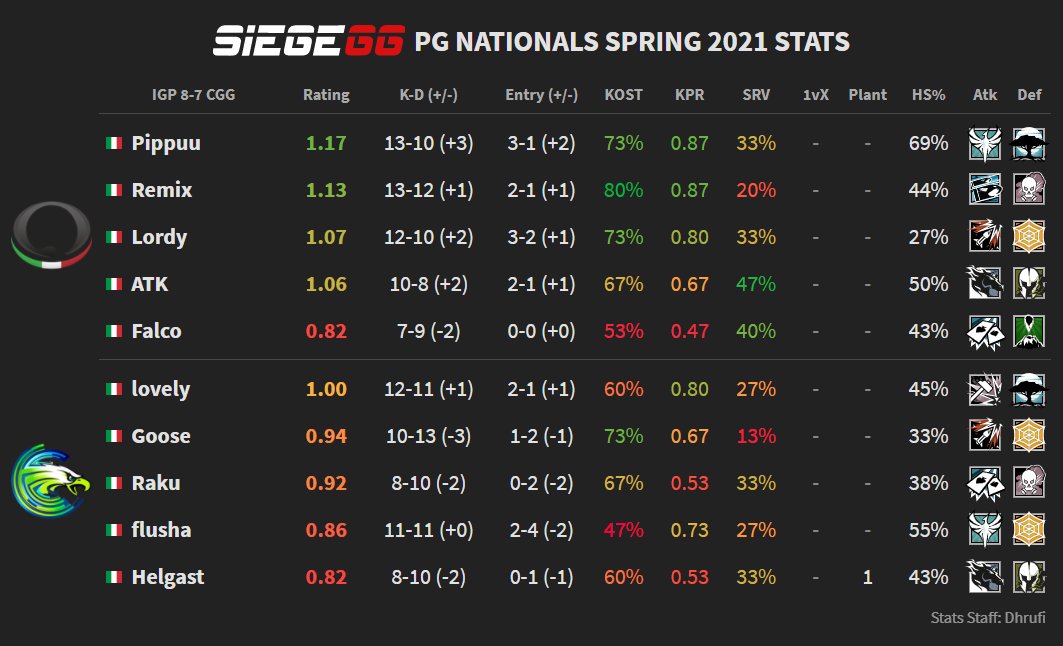 This result is only the third overtime of the season, with the prior two also including either CGG or IGP -- CCG beat Totem 8-7 and IGP lost to Legion 6-8 in subsequent games during play day four. Despite this win, IGP remains in last place, but a game against seventh-placed Totem to end the first half may change that.
Top Players
This week's star players include Hmble's LolloBoii who went 23-12 across the two matches, Outplayed's Oscr who went 12-3 and 9-5 in each game, and, once again, the whole of Mkers, for whom the lowest Rating across both games was a 1.11 with not a single player going negative in kills.
Finally, the best individual play of the week was awarded to MACKO's T3b for the following ace against Hmble:
Next Play Day's Games
The PG Nationals now won't return till after the Six Invitational on May 5th which will see the last four games in the first half of the season. Following this, there'll be another three-week break before the second half starts with a super-week on May 26th:
Wednesday, May 5th:
19:00 CEST -- Hmble vs CGG
20:15 CEST -- OP vs Mkers
21:30 CEST -- Legion vs MACKO
22:45 CEST -- Totem vs IGP
This play day is pretty notable as, as well as being the last of the first round-robin split, it also sees all four matches being must-watch ones, with the following match-ups; 1st vs 2nd, 4th vs 5th, 7th vs 8th, and 3rd vs 6th.
---
Be sure to watch these games on the Rainbow6IT Twitch channel and check back here at SiegeGG for full coverage of the games when the tournament returns.