The last seven days have seen a number of pro-tier tournaments around the world come to a close, so be sure to check out our individual previews and round-ups to get a detailed rundown on the following leagues:
As for everything else, Tier 2 to 3 tournaments took place across every region, including the Challenger League in North America and the start of the Brazilian Cup. Here's the best of the action at the end of Stage 1 as the pre-SI break slows things down.
Jump to:
Copa do Brasil: W7M First-Rounded, Golden Kids Taken to Three Maps
Last night saw the opening day of the LATAM Super-Cups, which you can read about in further detail here. With the four pro teams being the top seeds in the 16-team event, they were expected to have a fairly easy first few games, but Tier 2 teams in Brazil showed how capable they are as the virtually-unknown Dromedalho roster defeated W7M Gaming.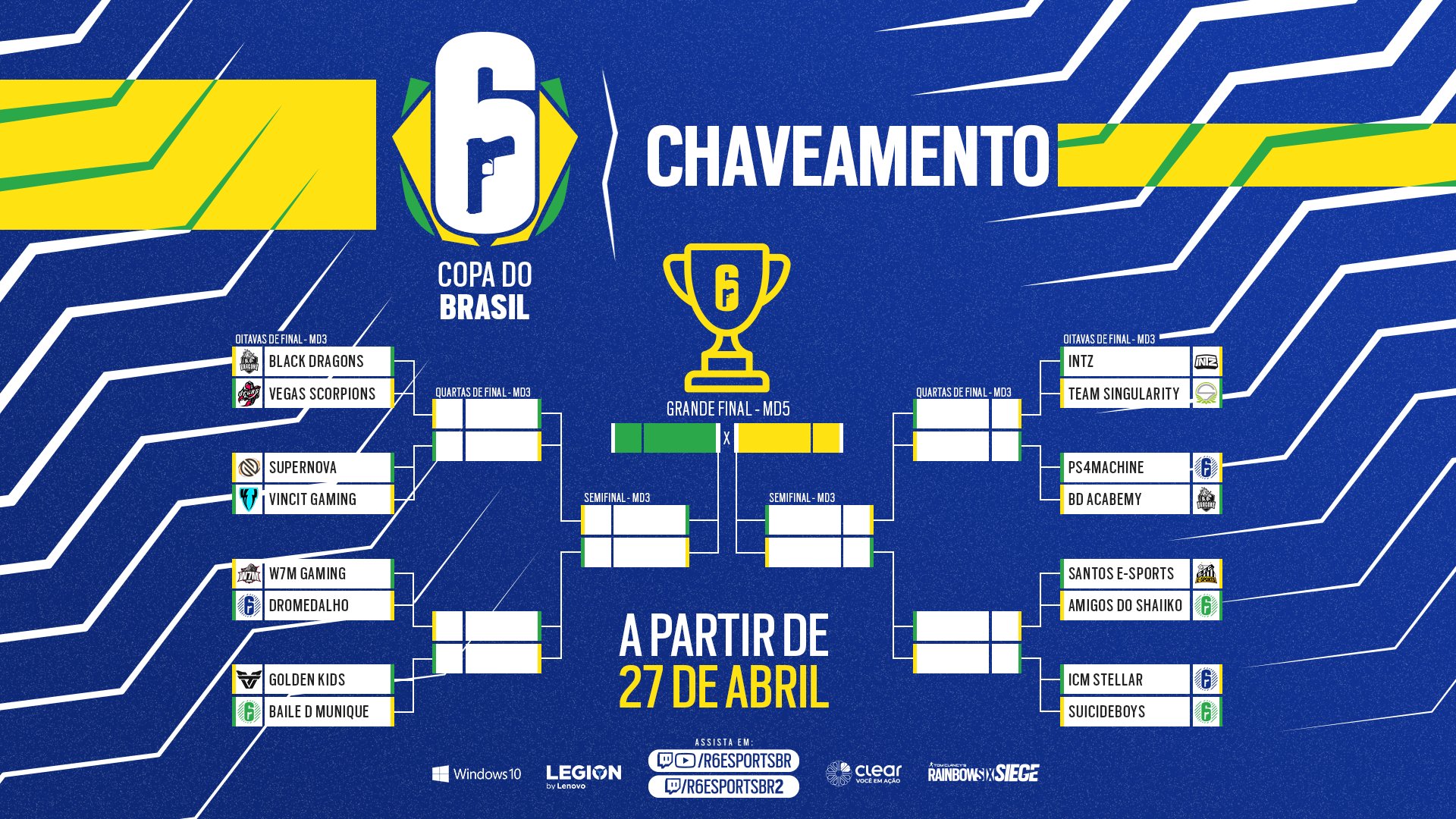 Dromedalho only played in a single one of the Liga Six Cups to qualify for this tournament in which they finished in second, defeating two other Brazil Cup-qualified rosters in the process. W7M, meanwhile, comes in as the last-placed BR6 roster, showing there's likely a big overlap between the tiers in the Brazilian sub-region.
The game itself saw the Dromedalho player of deffalt1 excel as the top fragger, while W7M had two players -- pdr1n and Guii -- hit just a 0.5 K/D or below, leading to the 7-4, 7-2 defeat.
Also of note across the four Bo3s played are Black Dragons, who were forced to play with resetz -- a player for Black Dragons Academy -- in the place of yoona, who was banned on Twitch the day prior. This could be somewhat of a problem, as BD Academy is also competing in this tournament, meaning there's a realistic chance we could see resetz face his current team by the end of next week.
The reason why resetz was picked as yoona's stand-in was very obvious, however, he went 22-8 K-D) across the Bo3 on the operators of Zofia and Melusi, helping lead his side to victory. As resetz only initially joined the Academy roster as he was underaged prior, it is very likely he will be promoted to the main lineup for Stage 2 as a major young gunner entering the fray.
Tonight will see four more Bo1s with INTZ, Santos, BD Academy, and Singularity all in action, while the quarter-final dates have yet to be confirmed.
NA Challenger League: PDHM, Honor, and Nokturns All Toppled
Firstly, over the last week, two new organisations entered NA Challenger League; the Kansas City Pioneers, who picked up The Favelas, and Aqualix, who acquired dGeneration. As well as this, following the in-game ban of Luiz, Parabellum announced that Sonar will be replacing him for the rest of the stage, reuniting him with his ex-Altiora team members.
Starting with Group A, this week saw the two leaders of PDHM and Honor both lose their games in very convincing scorelines as two of the preseason favorites finally stepped up.
To open the playday, Slaughterhouse, previously known as Team Oblation, jumped from sixth to a single point away from the top with a 7-0 win over the current league leaders of PDHM Gaming, gifting them their first loss of the season.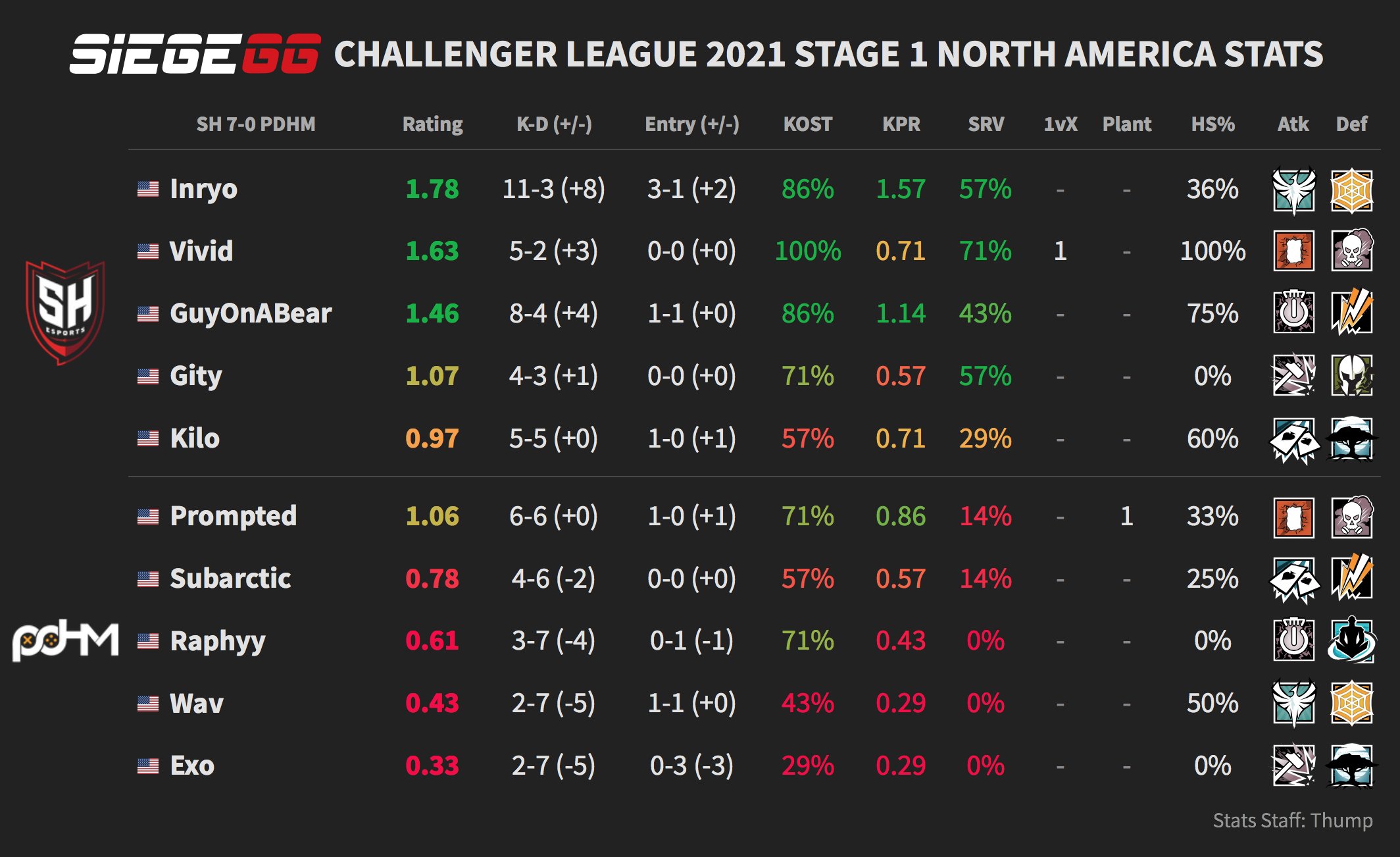 Honor Esports hoped to capitalise on this and take first place for themselves, only to fall against APE in a 7-2 scoreline of their own. These results now mean that a single point separates first from fifth place, followed by Honor, two points below at six total, and then Aqualix and Smoke Break, at zero points at the bottom.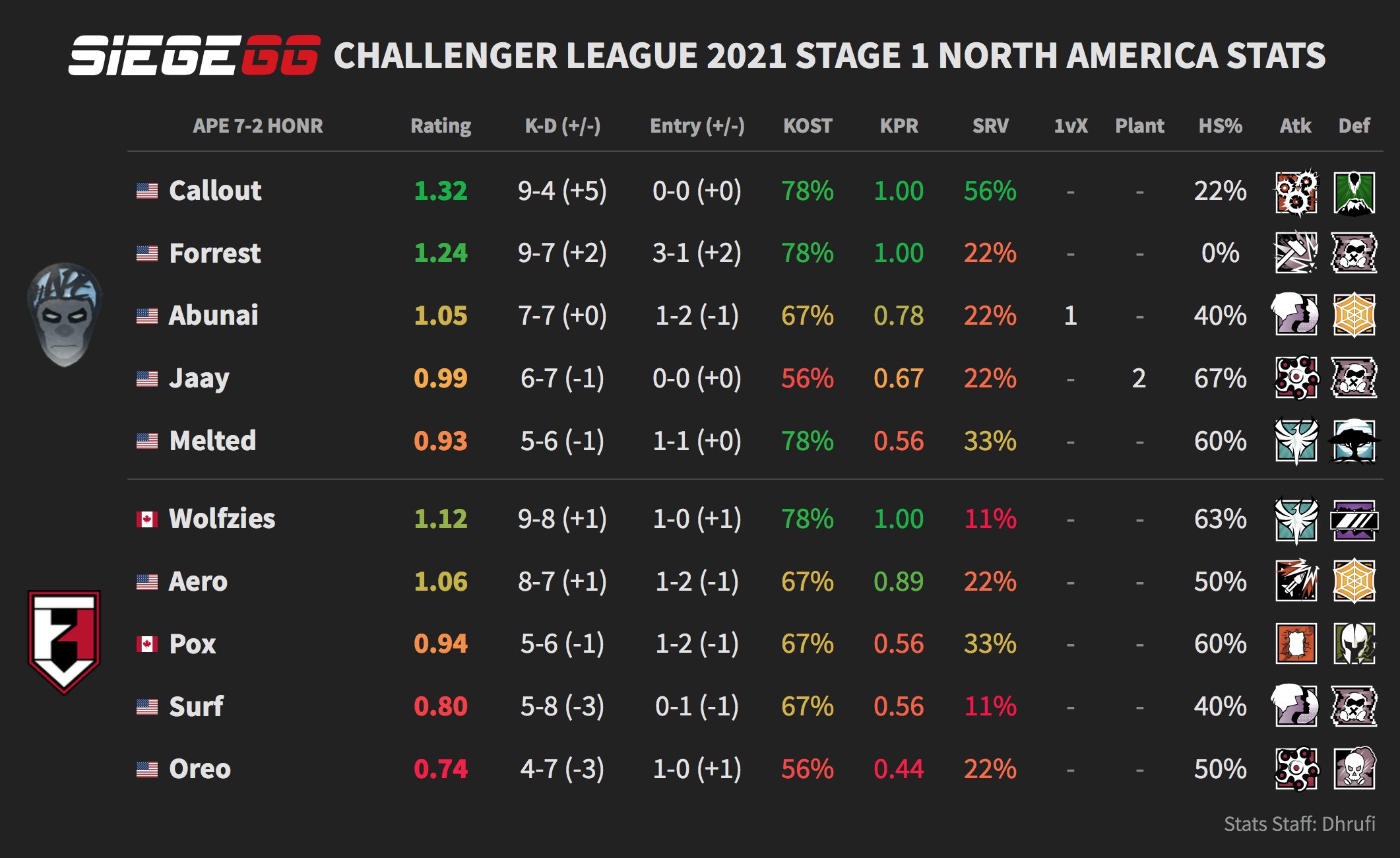 In Group B, there was also an upset, as second-placed Nokturns were defeated by the Orgless roster which included Jarvis, StorMz, and Prod. Orgless had been one of the favorites coming into the stage, however, they failed to get a win in the opening two weeks.
Now, with a 7-2 win over the fully Canadian Nokturns roster, they shoot right up to third place and look to be back in it.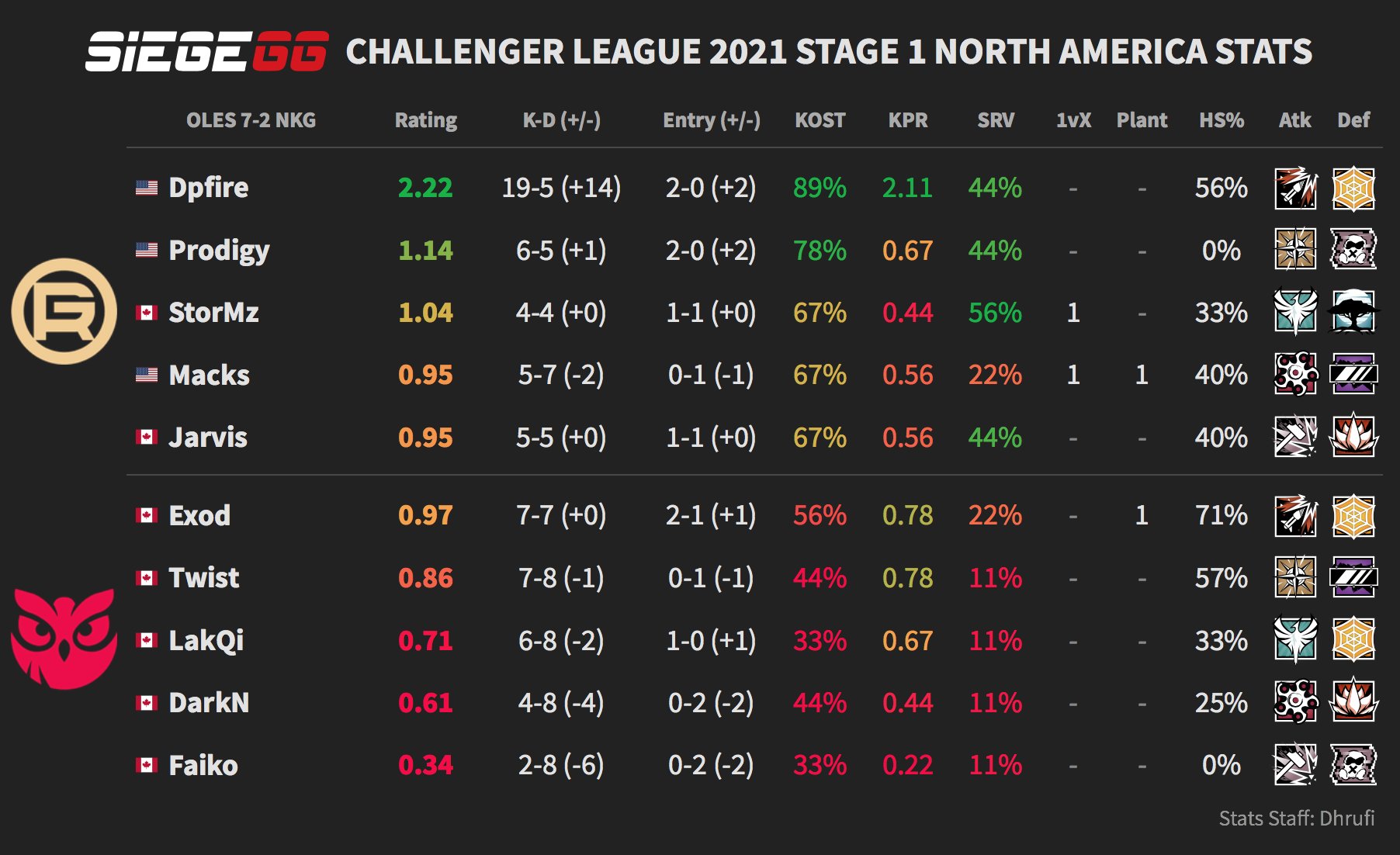 Finally, Sunday also saw the league leaders of the Kansas City Pioneers debut under their new org against LennyGG, who sat in third, which ended in another 7-0 victory. With twice the points of Orgless, who they face next, it seems certain they will make it to the playoffs.
Russian Major League: Empire Jumps to First with Two Wins
The last seven days saw play days on both Thursday and Tuesday, which saw Empire play three times, giving them the opportunity to regain first place.
Their hardest of the games across these three was against 43rti -- the ex-Winstrike roster -- who had held first place. While it took them until overtime to get the win, Empire eventually secured it, with Always securing 15 kills to just six deaths, a 2.5 K/D, while dan went 4-1 on entry.
With this win secured, Empire took first place by the round differential, but with an added game in hand consolidated their position with 7-3 and 7-1 victories over Varazze and Povezlo-Povezlo.
Tuesday also saw an upset for 43rti, as they lost 7-5 against REIMEi, but they had gained such a lead at this point that it didn't really matter. Finally, an 8-6 win by V.p over MA4 locked the fourth and final team in for the playoffs, which will likely take place after the Six Invitational in late May.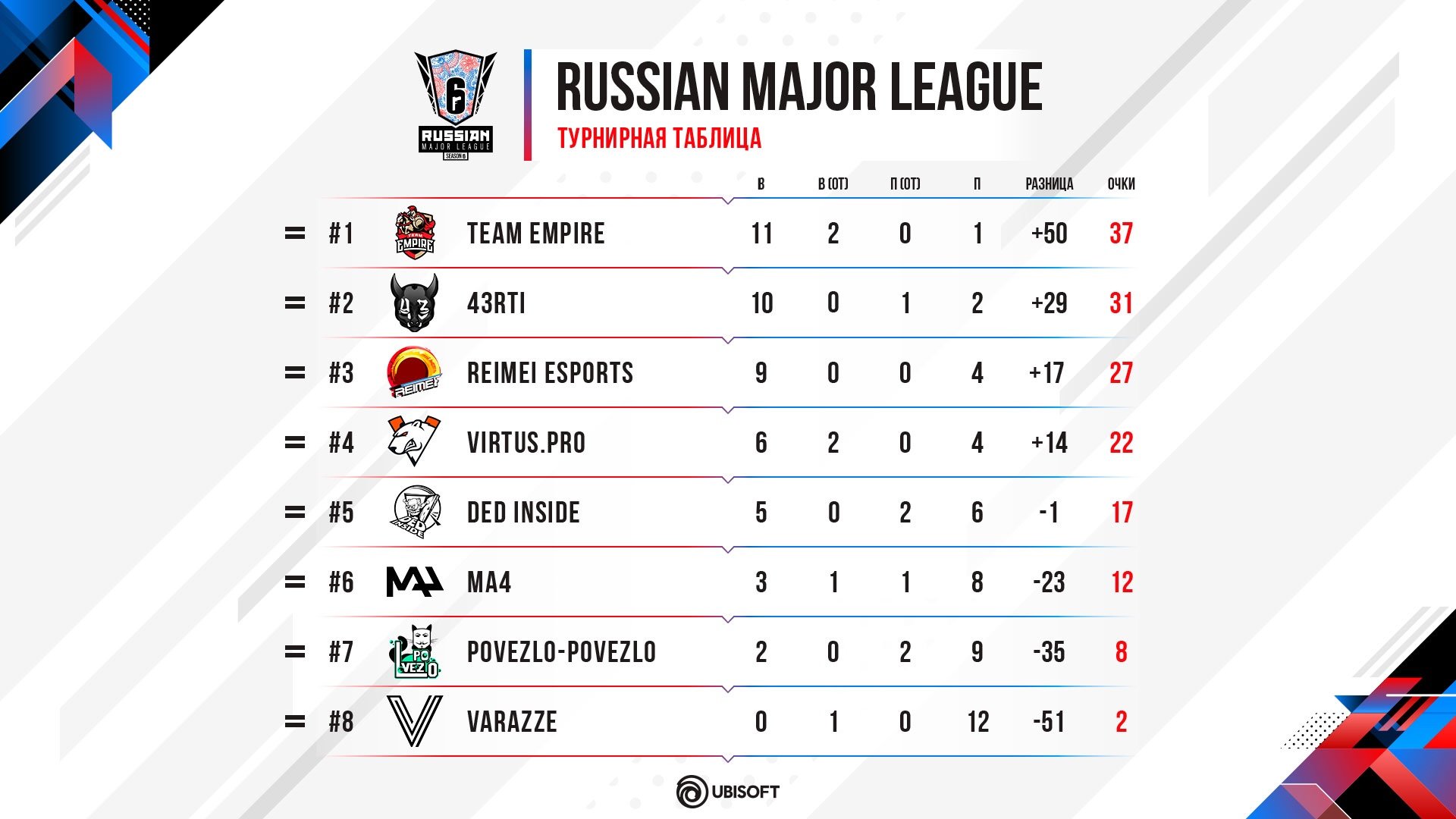 There is now just a single play day remaining in the season before the playoffs, but the playoff and relegation teams have already been determined, with the only possible change in standings that can happen being V.p jumping to third over REIMEI if they win both of their games tomorrow.
Nordic Championship: High Coast Takes Second with Win Over Ambush
Last Wednesday, the Nordic Championship saw its sixth play day in which the favorites of the Chaos Esports Club were hoping to regain the top spot they had lost to Ambush Esport the week prior.
Starting with Chaos vs Riddle -- second vs third place in the league -- the game was somewhat even on Villa, not a great thing for the defenders of Riddle, with a lone 1v1 victory by tARREN giving Riddle the half, 4-2.
Another 1v1 started the second half, as REDGROOVE on Valkyrie ran from Yuki to win the round on time, before Chaos won yet another clutch two rounds later as pacbull took down Mengo. These helped keep Chaos in the game, as they tied the scoreline 5-5 before a triple kill from Vitoline and an almost-flawless Round 12 gave Chaos their fifth win in six games.
With this result secured, this meant Chaos went ahead of Ambush Esports and back into first following Ambush's loss to fourth-placed High Coast Esports earlier in the day. This game on Oregon wasn't as close as expected, with the Hungarian roster of High Coast playing extremely well.
The very first round saw a clutch from DogeFather on Hibana, as HC went on to take a 4-2 initial half, with Krizz at a 9-4 K-D and Diffele at 1-5 K-D. Ambush won one more round in a flawless fashion and that was it, as the game eventually ended 7-3. As a result, High Coast jumped up to second and Chaos took first for themselves, as Ambush and Riddle stayed close by in third and fourth.
Tonight will see the final play day before a mid-season break as Riddle and Ambush themselves meet, while Chaos will be hoping to increase their lead at the top of the table with a win against last-placed Exen Esports.
Benelux League: GAMMA Taken to Overtime, KVM Remains Joint First
Finally, we had the Benelux League, which had its first super-week of the season this week due to a change in schedule caused by the new Six Invitational dates. As well as play day three last Wednesday and play day five tonight, there was also an extra lot of games on Monday.
This means that over the last eight games, we've seen quite a lot of action and a number of close games that also featured the leaders of GAMMA and KVM.
Play Day 1 saw both the most interesting game and probably the best individual performance in Benelux League history from ASTRO in the GAMMA vs Activit-E matchup. Here, the game on Consulate was taken to overtime purely thanks to GAMMA's Ash/Jager player, who achieved a multi-kill virtually every round, including an ace in Round 9.
In total this added up to 26 kills in a single map, just behind Paluh's professional kill record set at the OGA PIT Minor. Without this performance, therefore, it seems likely that GAMMA would have been felled by AvE in what would have been a major upset. Instead, they keep first place with their two points won as AvE drops down to fourth.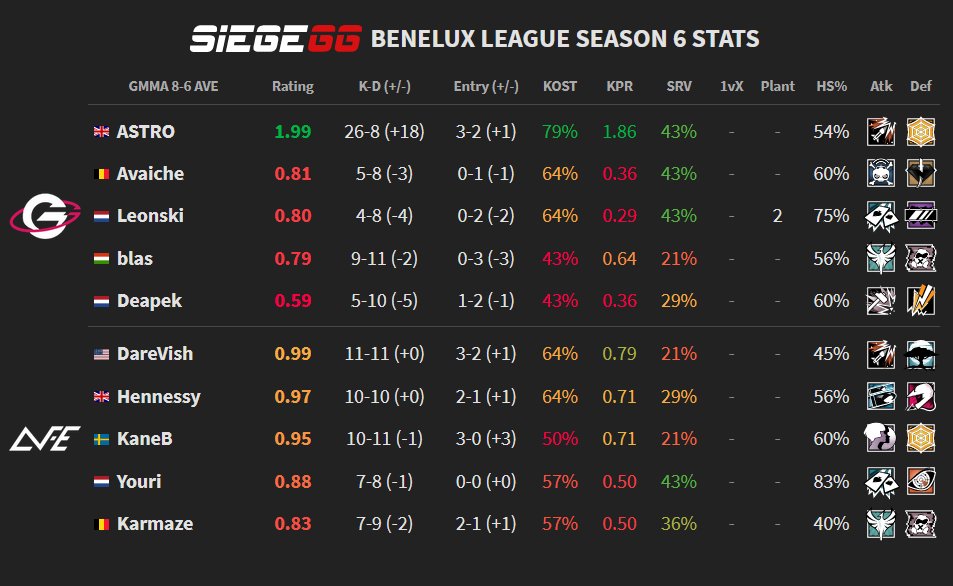 Another close call came for second-placed KV Mechelen Esports as they faced 4Elements. This game also went all the way to overtime and ended 8-6 and also saw KVM's Ash/Jager lead them to victory, but not quite as dominantly as ASTRO had.
The 4E player of g3ro was instrumental in securing their one point. While he didn't top frag, he secured a 1v1 and a 4k to win two rounds during their 4-2 defensive half. Kwekko then secured a 1v1 of his own to go to overtime, where 4E won two almost-flawless rounds to take the game.
After these two exciting games, last Monday's matches were somewhat tame. GAMMA once again secured another win in a 7-1 scoreline over 7AM, while the two last-placed teams of Red Falcons and Game Fist lost in very one-sided results against 4E and Clutch Rayn Esports respectively. This led to just one other game, second-placed KVM against fourth-placed AvE, who had done so well against GAMMA the week prior.
Round 1 had Youri win a 1v1 on Frost, while Round 2 ended in a 4v2 situation as the defenders of AvE went up 2-0. Another clutch, this time a 1v2 from Anom, put KVM in the game as it progressed to a 3-3 half.
AvE started the second half the same way they did the first, with a 1v1 clutch, this time by Hennessy to gain the lead. Unlike the first half, however, KVM wasn't putting up a solid fight as three rounds ended in a 1v3 situation for KVM, giving Activit-E a 7-4 win with the Brit of Hennessy leading the day.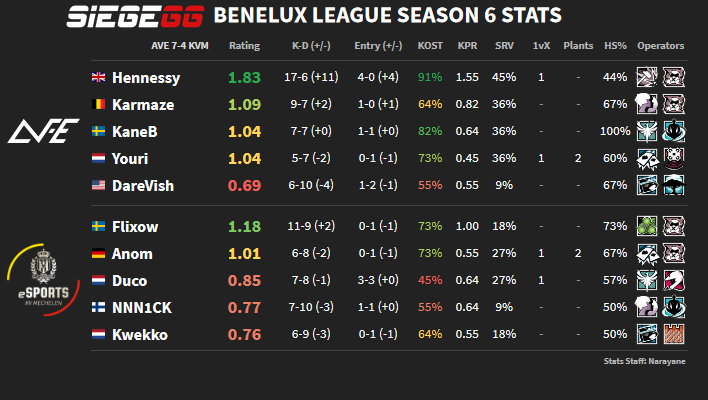 These two results make Activit-E undoubtedly a team to watch, but with just a single Challenger League spot to play for between them and GAMMA, it's going to be a tough season yet for them.
---
This coming week will see the continuation of the Benelux, GSA, PGN, NACL, and Brazilian Cups while all the top-tier teams spend the next two weeks off as many of them travel to France for the Six Invitational.
Be sure to check back at SiegeGG for a full rundown on the action this time next week.