After a week with a modicum of a break for all but the South Asian APAC teams, the Stage 1 Playoffs for the 2021 APAC League are finally here.
The top teams from APAC North and South will play each other for the title of Stage Champions, while the second-to-fourth placed teams from APAC North and South will be joined by the top two teams from the South Asia Nationals for the main playoffs.
Read on to find out all you need to know for this event, from the teams, to the format, and to the storylines you need to watch out for.
Jump To:
Teams
Stage Championship:
Cloud9 - EnvyTaylor, Static, SyAIL, Harp3rXD, Nova, RechoTZ (Head Coach), OCN (Assistant Coach)
Elevate - Sapper, DCH, Nay..Pew, Onigiri, AngryX, Dr.Bestsiaer (Coach), redsun (Analyst)
APAC Playoffs:
Cyclops athlete gaming - Anitun, SuzuC, Gatorade, Ayagator, BlackRay, Fuji3 (Coach), Hybrid (Analyst)
GUTS Gaming - CrazyPapiyoN, Lily, Li9ht, Yura, JJ, Joghurt (Coach), OUDON (Analyst)
Fnatic - Mag, Lusty, Stigs, Tex, Alphama, Dizzle (Head Coach), Crapelle (Strategic Coach)
Knights - Dino, Hayward, Jsh, Juicy, Sageon, Pikniq (Coach), Sketchy (Analyst)
Chiefs ESC - Dgtl, Vast, GodLgn, Worthy, Fish0guy, WarTurtle (Coach), Hell (Analyst)
7th Heaven - Ray, Pikan, Ed, Souffle, SPirited, Odin (Coach), Ratio (Analyst)
MercenarieZ - Fatar, Hasib, M4KER, Mii7, SnoowW
KIRA e-sports - Invi, Rattl3r, Slayer, Death_Amar, Atharv
Of the teams, Giants Gaming and Wildcard Gaming are notably missing, with the two Six Invitatational-bound squads surprisingly failing to make it through.
Giants, for their part, simply dropped off, while Wildcard lost their captain of Diesel just days before the start of the season, necessitating their coach and former player of syliX to step in.
Format and SI Points & Prize Money Distribution
A total of 10 APAC teams will be playing this weekend, with Cloud9 from the top of APAC North squaring off against the APAC South leaders of Elevate in a separate, one-game bracket for the title of APAC Champions for Stage 1.
This game will be a Best-of-Three (Bo3), with the winner taking all, with 510 Six Invitational (SI) points and US$62,500 on offer to the winner compared to 390 SI points and US$31,250 for the runner-up.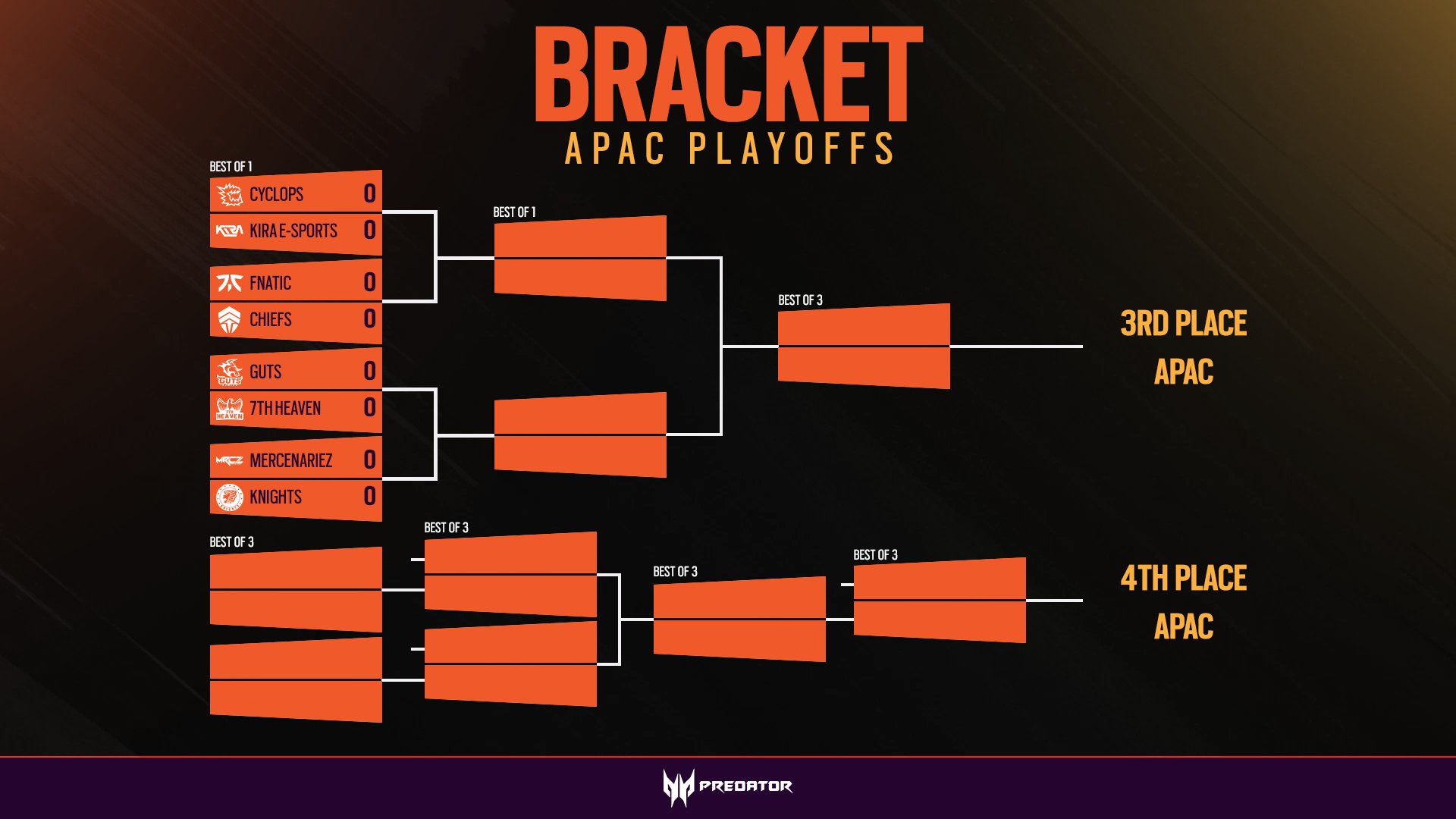 Meanwhile, for the APAC Playoffs, the double-elimination bracket will have the first two Upper Bracket Rounds -- the quarter-finals and semi-finals -- and the 5th-6th place seeding matchbe played as a Best-of-One (Bo1).
The Lower Bracket and the Upper Bracket Final and Grand Final, however, will entirely be played as Bo3s.
Of note is that both sets of quarter-finals will be played across two slots, meaning that the first and third-listed quarter-finals will have the same time slots as the second and fourth, respectively.
As such, only the Fnatic vs Chiefs and GUTS Gaming vs 7th Heaven quarter-finals will be on stream, while the other two will be recorded and posted to YouTube afterwards.
The SI points and prize purse will be split as follows:
1st - US$23,750 & 330 SI Points
2nd - US$15,500 & 275 SI Points
3rd - US$2,000 & 225 SI Points
4th - US$2,000 & 180 SI Points
5th - No prize money & 140 SI Points
6th - No prize money & 115 SI Points
7th-8th - No prize money or SI Points
Storylines
With South Asian teams playing against APAC North and APAC South teams in the first-ever APAC Playoffs, the event offers fascinating insights into the strength and meta of each subregion.
Mountains are There to be Climbed
The highest-profile game of the weekend will undoubtedly be between Cloud9 and Elevate.
The two teams had been regular league opponents in APAC Noth in 2020, but with the move of South-East Asian teams to APAC South for 2021, the Thai Elevate squad saw some distance open up between them and the Koreans.
That distance, however, seemed to have been space for Elevate to grow, as they achieved their highest league position ever in APAC South. Now, they gear up to mount a challenge against the Six August 2020 Major and APAC North 2020 winners of Cloud9 in a bid to climb their biggest mountain yet.
Indian Expansion into APAC
While CAG and MercenarieZ had gone head-to-head in the Six Invitational 2021 APAC Qualifier, it was only a preview of more regular and non-qualifier events such as this.
This time, CAG will be facing the Indian-majority side of KIRA e-sports, in what will be a game to watch to gauge the strength of the South Asian subregion. Both teams' play styles are also somewhat similar and could spell fireworks.
Return of the Prodigal Sons
The second quarter-final, played between Fnatic and The Chiefs will also mark the first match the former will play against fellow Oceanic opposition since a year ago. Last year, after the end of the ESL Pro League, Fnatic had switched regions to APAC North and had left the Oceanic servers in anticipation of a move to Japan.
However, the COVID-19 pandemic means that the physical move has not yet materialised and the team has been playing against Asian sides with a ping disadvantage. This year, however, the team also shifted MentalistC to the bench and signed the ex-eUnited and Giants Gaming player of Alphama.
While a move to Perth reduced the latency issues to Asian opposition, allowing Fnatic to squeak into the Playoffs on the final day in the regular season, this match on local servers by geography will likely show a Fnatic we have not seen for a long time despite Alphama now at a disadvantage due to his Taiwan residence.
A Familiar but Harsh Proving Ground
Sharing a home with Alphama in Taiwan is 7th Heaven, who certainly had the largest improvement from last year. Last year had seen the South-East Asian (SEA) side finish second-last and be forced to play in the APAC North Relegations.
The team had survived, however, then under Electrify, but two roster changes seem to have completely turned fortunes around. Former Aerowolf substitute SPirited came into the squad halfway through, with only a handful of Pro League games under his belt, while 7th Heaven also added Odin as a coach.
Together, they pushed an 11th-placed team from the 2020 APAC North to fourth place in the 2021 APAC South Division and very nearly made it third had they been able to complete the win in their 0-6 to 6-6 comeback against second-placed Knights.
Now, they return to face APAC North opposition in GUTS Gaming, with the players having spoken about their eagerness to prove their worth against opposition from a league that had swept them aside last year.
Maybe Second Time's the Charm
The fourth and final quarter-final will see MercenarieZ go up against non-South Asian opposition only for the second time in an official match. While the Bangladeshis had lost 0-2 to CAG earlier this year, they had pushed the Invitational-bound squad to overtime on the second map.
Now, they play arguably easier opposition in the Knights, but have made a roster change since that CAG game as well. While odds are decent for the South Asians to take a map against the Knights, only time will tell if they will be able to win an inter-subregional match for the first time, in their second attempt.
---
Catch the APAC Playoffs this weekend, from the 23rd to the 25th of April. Games will start at 2 PM JST (UTC+9) each day, so be sure to tune in at the Rainbow6 Twitch and YouTube channels for them and the esports pack drops.