The last seven days have seen a number of pro-tier tournaments around the world come to a close, so be sure to check out our individual round-ups to get a detailed rundown on the following leagues:
As for everything else, Tier 2 to 3 tournaments took place across every region, including the Challenger League in North America and the Oceanic Nationals in APAC. Here's the best of the action as Stage 1 reaches its mid-point.
Jump to:
NA Challenger League: Favelas and PDHM Remain Undefeated
Week 3 of North America's Challenger League saw the top two teams face off in both groups to determine who are the top dogs as we approach the mid-way point in the league.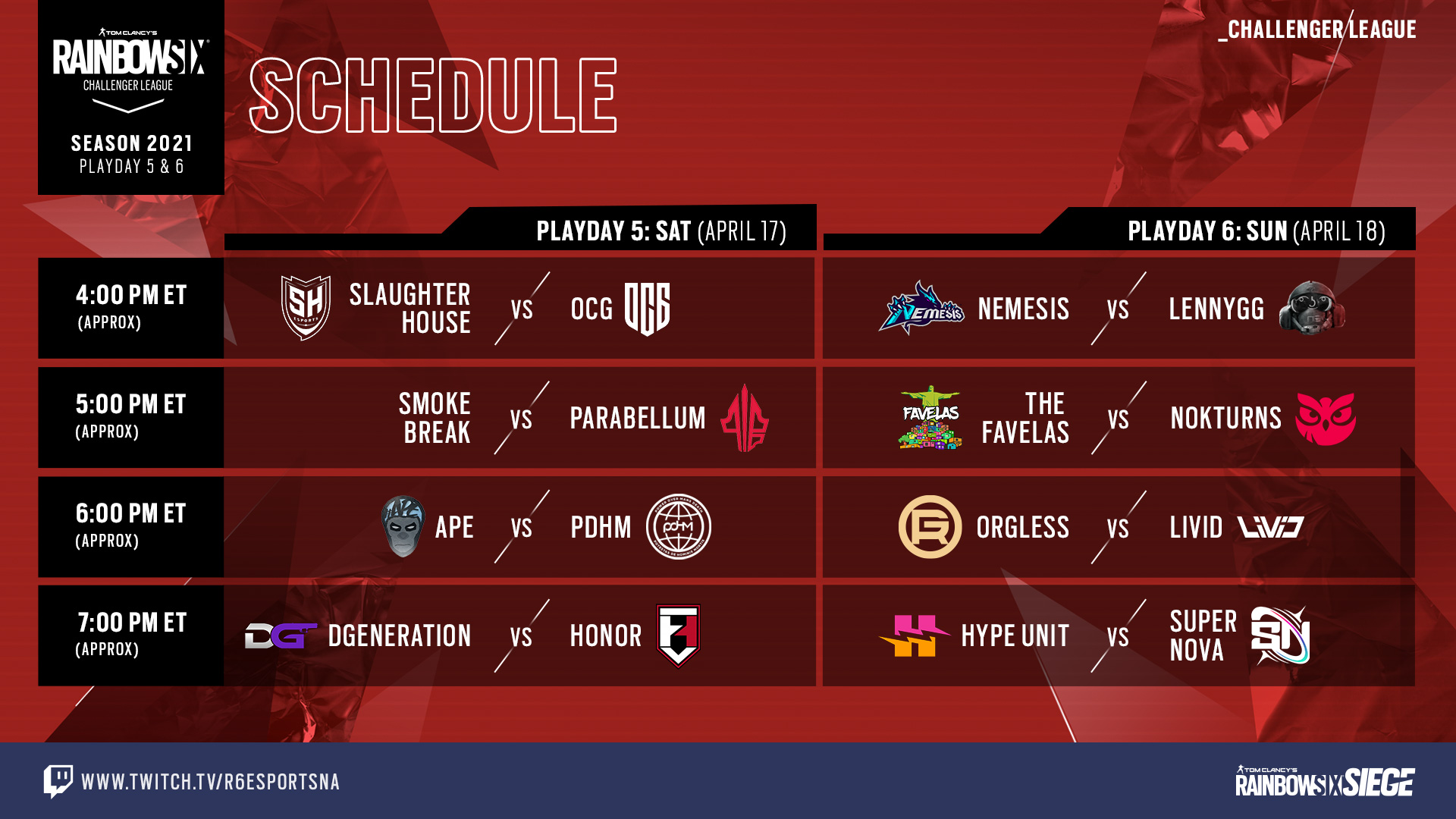 Starting with Group A and APE vs PDHM, both these teams had won their prior games, but APE had the arguably harder opponents with an overtime victory over Parabellum. This week, on Clubhouse, PDHM started out strong with a 1v2 from Subarctic before APE recovered from their 0-3 deficit with two clutches of their own from Abunai and Melted.
The side switch at 3-3 then had the two teams cool down, with five rounds going back and forth from PDHM to APE before PDHM broke the pattern with another Subarctic 1v2 winning the game for PDHM Gaming 7-5.
Elsewhere in Group A, Parabellum -- who had dropped their coach four days prior -- got their first win of the season against Smoke Break, Dgeneration secured their third defeat, and joint-second team Slaughter House dropped down to sixth following a 7-4 defeat against Oceanus Gaming.
Next up, Group B saw an exciting clash between Nokturns and Favelas. This game had the same dynamic in play as the first game, but transpired very differently. After the Favelas took the initial lead, Faiko stood up with a number of key kills before a LakQi triple took the half 4-2.
The side switch saw Favelas come right back into it, with GMZ securing a 1v1 in the first of three round wins in a row, which was only halted by Exod on Ash on Round 10. It took a quad-kill here to gain a single round, but The Favelas ended it, 7-5.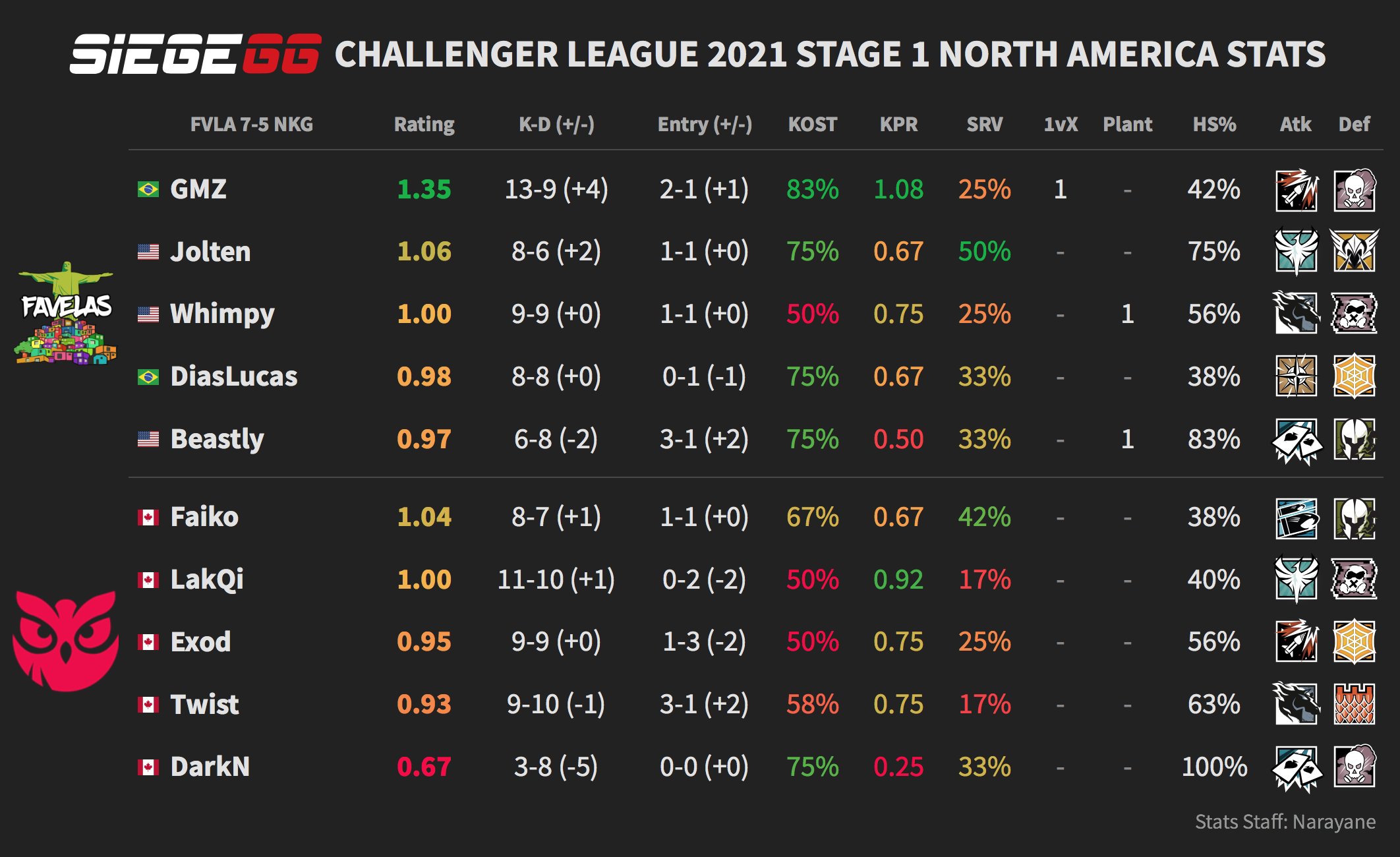 Elsewhere, third-place LennyGG demolished fourth-placed Nemesis, 7-2, Orgless secured their first win against LiViD, and Supernova beat Hype Unit to push up to joint-second.
This coming weekend sees Favelas be tested again against LennyGG, Group B's bottom two teams of Hype and LiViD face-off, and APE attempt to regain their lost standing with a game against second-placed Honor.
Russian Major League: Team Empire Beats Virtus.pro, 43rti Goes Top
This week saw the second meeting between the Russian Major League's EUL teams of Empire and V.p, as Empire won their fifth straight domestic head-to-head despite losing the same matchup in the EU League in this stage.
On Coastline, Empire initially went up 4-0, which included a flawless Round 4 before V.p won their first attack in a 5v1 situation of their own. V.p looked to be pulling off a complete comeback as they reached 4-3, only for an ill-advised swing from Rask in a 1v2 with the defuser going down and just three seconds remaining ending what could have been a major clutch.
A successful plant on round nine followed by a flawless round 10 gave Empire a 7-3 win as Scyther and ShepparD combined to go 21-7.
While these two teams were fighting among themselves, 43rti -- the ex-Winstrike roster which played in the Challenger League last season -- managed to keep its position in first place with a win over V.p itself last Thursday.
This win was somewhat tenuous, with a tied first half on Kafe only skewing 43rti's way on Round 10. By the end, the 7-5 win can be clearly attributed to the ex-V.p player of Amision, who secured 17 kills to seven deaths against his old lineup, while V.p's stand-in of officia1, who played for m1loN, went 3-10.
This win puts 43rti a single point ahead of Empire and nine ahead of V.p -- who lost all three games last week -- with just one week to go. Their season-deciding game against Empire will come tomorrow, as Empire will be eager to end the season on top after a very disappointing EUL stage.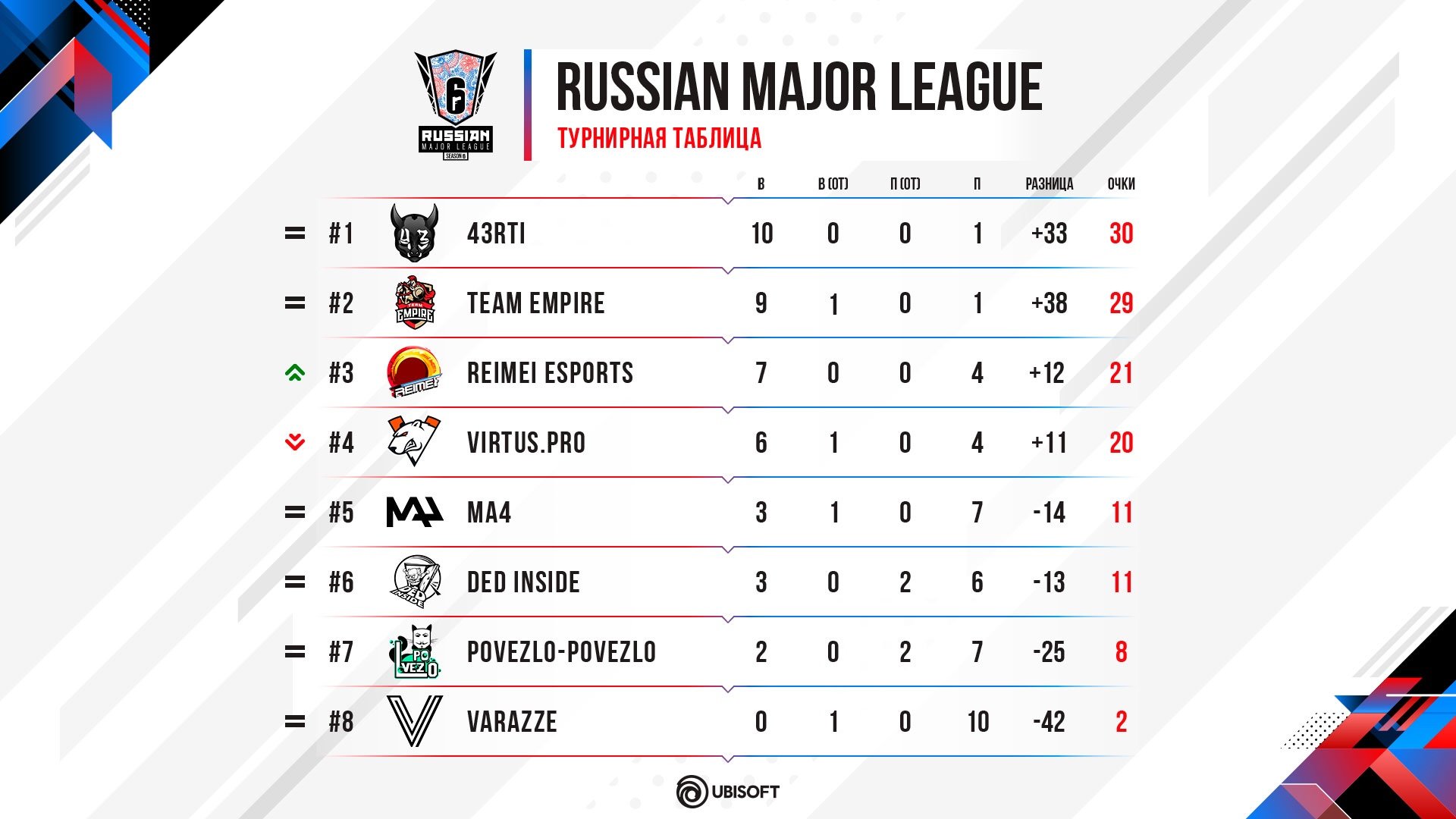 Nordic Championship: Ambush Defeats Chaos
Yesterday saw part one of the Nordic Championship's "super-week" with play days five and six. As well as a large volume of games, the two days are also important as the league leaders of Chaos play the second and third-placed teams of Ambush and Riddle.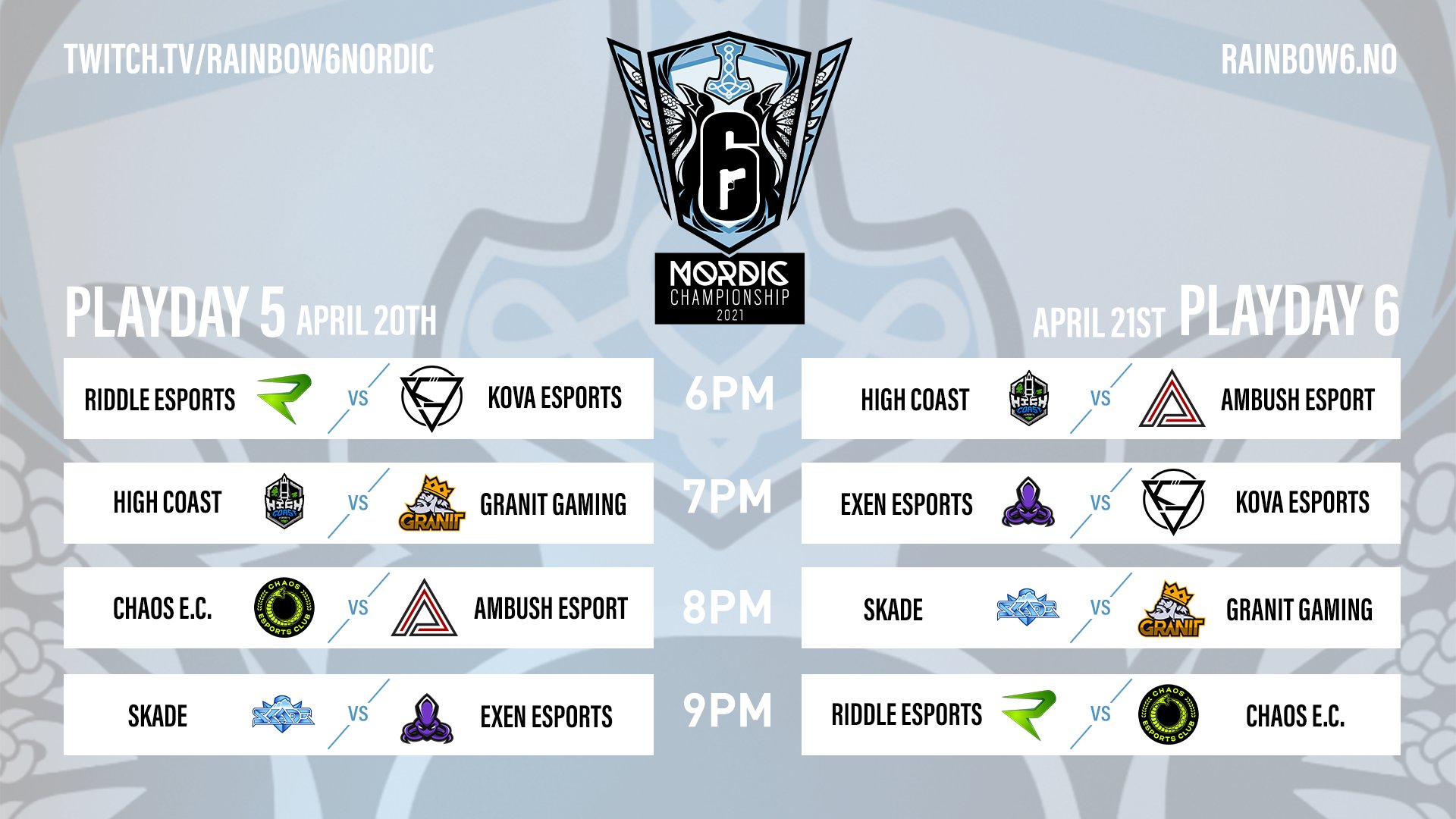 So far only play day five has been played, with six tonight. Nevertheless, Chaos vs Ambush has already given us a shock result, as Chaos was felled by Ambush, a Finnish team that includes the ex-Benelux Cup player of Krizz.
Ambush went ahead in this game 2-0, before a 1v3 plant denial by Vitoline's Yokai drone got Chaos on the board. Chaos then tied the scoreline with a 1v1 win from pacbul on time, before eventually ending the half at 3-3.
With Chaos now on attack, they took their first lead of the map after a somewhat close 1v4 attempt from Junnika failed. Junnika made up for this with a 1v1 win the following round, before two attacks in a row had minimal impact on Ambush, securing Ambush map point.
Finally, Ambush ended the game at 7-4, as Kyliys secured a surprise quad-kill by hiding prone in a smoke grenade.
Despite this, Ambush having lost earlier in the season to KOVA Esports meant that they are tied with Chaos in first, with 12 points across five games. Just below those two is the Czech team of Riddle on 11 points, and then the Hungarian team of High Coast on 10 points in fourth.
The league also saw another key result as in the game between last-placed SKADE and second-to-last Exen Esports, SKADE achieved their first win of the season after technical issues forced Exen to forfeit a game they were winning 6-5.
This puts SKADE, a team that doesn't include a single Nordic player, ahead of the Finnish Exen roster, with Exen unlikely to get another win till they meet SKADE once again on play day 12.
Benelux League: KVM and GAMMA Take the Lead
In relation to the two prior tournaments, the Benelux League this week was relatively calm, with no major upsets. This doesn't mean, however, that there weren't some spectacular plays, with Clutch Rayn performing well against GAMMA to start the day.
On Oregon, CR came to play right from the start, as Nagoh on Echo took down Deapek and Avaiche's Maverick and Montagne to win a 1v2 and take the lead. Deapek was certainly not happy with this, responding with a 4k and then a 1v2 of his own, in which the final kill was against Nagoh.
This battle between these two continued throughout the game. A triple kill on Round 4 from Deapek then saw a quadruple kill from Nagoh in Round 5 before the half ended 4-2 in GAMMA's favor.
Two more clutches came out from Deapek and Sanginell this time, with a 1v1 and 1v2 respectively, before an ASTRO 4k pushed them onto map point. Finally, this was secured two rounds later in a 7-4 scoreline as Nagoh's 1.42 rating was bettered by Deapek's 1.58.
Following this, last week's victims of GAMMA of 4Elements faced Activit-E in a fairly even game. The result was tipped in 4E's favour primarily thanks to their Italian player of g3ro who, as well as being the top fragger, turned up when it mattered the most with his triple kill ,giving 4E their first lead on Round 3, a 1v1 clutch tying the scorelines up on Round 8, and two more triple kills then taking the lead once again and eventually winning the game, 7-5.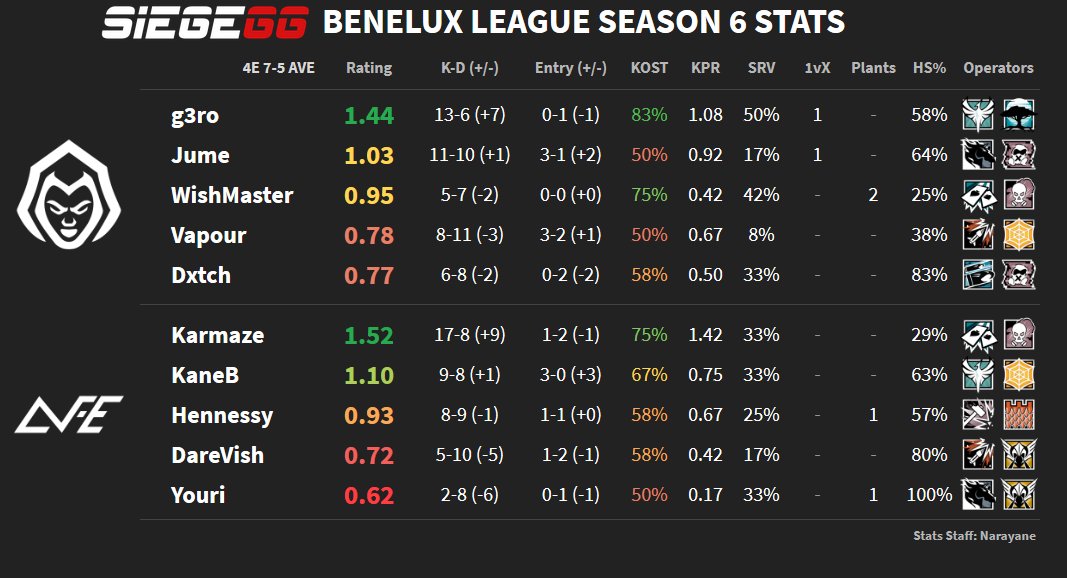 Next up was 7AM vs Red Falcons, two teams that had both lost in Week 1. On Villa, 7AM took a predictable lead on their defensive half at 4-2, before then winning their first offensive round to put them within sight of a win. The Falcons kept themselves composed as SlaYerZz secured back-to-back triple kills to nearly come right back into it, before map point was secured by 7AM.
Team 7AM then closed out the game on the back of a 4k post-plant 1v1 victory by Locky to get his team on the board.
Finally, the last game of the day had one of the league favorites of KV Mechelen Esports face Game Fist on Villa once again. Like the GAMMA game previously, this game was defined by individual plays which, after an initial quadruple kill from LNG, KVM consistently came ahead in.
Despite attacking Villa, KVM took the lead on Round 5 following a 1v2 from NNN1CK over Smurfje and LNG and a 4k from Flixow on Ash. While Game Fist did manage to pull it back to a tie, this didn't bode well as the sides switched.
A triple-kill and 1v3 4k from NNN1CK in the space of three rounds put them well in control before the game ended 7-4 in a next-to-perfect defense of the Trophy/Statuary site. In total, NNN1CK secured 16 kills to four deaths across the 11 rounds, which included two 1vXs totaling a 1.96 SiegeGG Rating.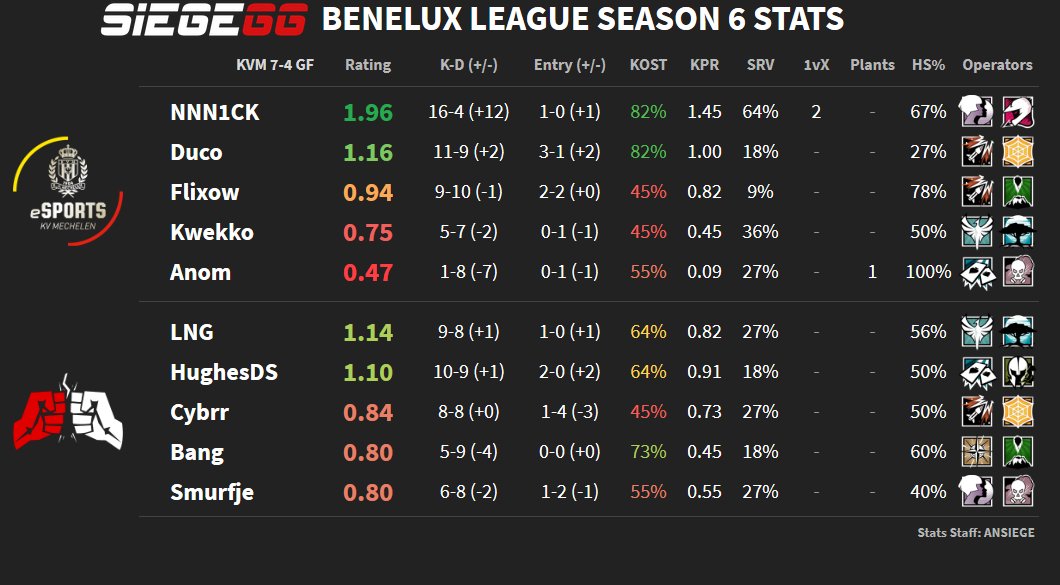 This result gave KVM their second win in two weeks, netting them joint first alongside GAMMA. These two teams will meet a week today, with KVM facing the joint-third place teams of 4E and AvE before then.
---
This coming week will see the end of Stage 1 as the EUL, NAL, APAC and LATAM playoffs come to an end by Sunday. Be sure to check back at SiegeGG for a full rundown on the action this time next week.