Last week saw two playdays of games on Wednesday and Thursday as the PG National season kicked into full swing. Check out our pre-season guide on the teams, schedule, and format for a full roundup on what's going on in the league this season and our week one roundup for a roundup of any action you may have missed.
Jump to:
Mkers Can't Be Touched
After beating IGP 7-0 during week one, Mkers faced Hmble and Legion during week two in which they won in two more 7-0 scorelines.
Against Hmble the closest round saw Scatto win a 1v1 clutch against jwN on a Consulate Garage defense as Gemini got seven kills to zero deaths while Hmble's best player peaked at a 0.68 rating.
The following day against Legion, Gemini this time secured the clutch to win Kafe's Kitchen site while they took the remaining rounds fairly clearly.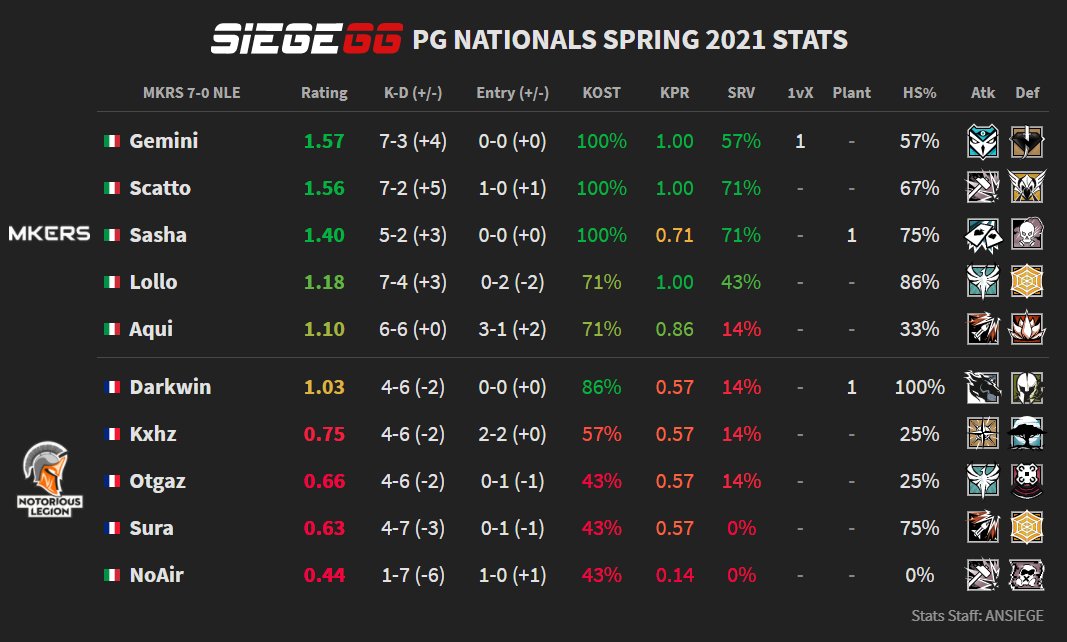 This puts Mkers at 21 rounds won and zero lost, a pretty unprecedented scoreline even when pro rosters face T2/3 rosters. After losing two seasons running they're clearly wanting to make a statement and doing a good job of it.
This coming week they face the reigning champions of MACKO which should be their toughest challenge of the season but, with how they're playing, their main goal will be to keep their flawless streak going.
MACKO Felled
While Mkers were busy turning heads as they took down their opponents as if it was a game of Quick Match, MACKO attempted to emulate them against Cyberground on Wednesday and then Totem on Thursday.
Starting with their game against CGG, this was once again another 7-0 win totaling four in three days. A week after CGG lost 1-7 to Legion, they didn't much improve here as Mariushka achieved a 0.00 rating and Alation clutches out a 1v2 in their lone attack round to take the game:
With this win boosting their confidence, they undoubtedly wanted to continue this on Thursday against Totem on Oregon. After winning round one flawlessly, Totem smashed this hope with two fairly confident attack wins of their own before Linkoo got a third with a clutch win.
Two more clutches ended the half as Keenan stopped the bleeding with a 1v3 only for Linkoo to get another clutch to win the half at 4-2. MACKO tied it up only for Mowwwgli to win back-to-back clutches -- the fifth 1vX in seven rounds -- with a trip[le kill from Mowwwgli then ending the game two rounds later, 7-5 to Totem.
As well as being Totem's first win of the season, this was also obviously a major blow for MACKO as they fell behind Mkers into second alongside Legion and Hmble. They'll have to beat Mkers tomorrow to regain the ground lost here in a herculean task.
IGP Drops to Last
While Mkers and MACKO were fighting for first, Italian Gaming Project was fairing much rougher as they never really bounced back from their 0-7 against Mkers in week one.
Last week they started with a game against the British roster of Outplayed on Kafe which started off very badly for them as OP went ahead 5-1 on defense which included back-to-back flawless rounds on Bar and Kitchen. OP then started their attacks by going onto map point before a comeback attempt was crushed at 7-4 with a 1v1 win from Oscr.
While this remains OP's only win of the season, Oscr has been a standout player across all three of their games with him currently sitting as the second-best non-Mkers/MACKO player in the league behind just Legion's Kxhz.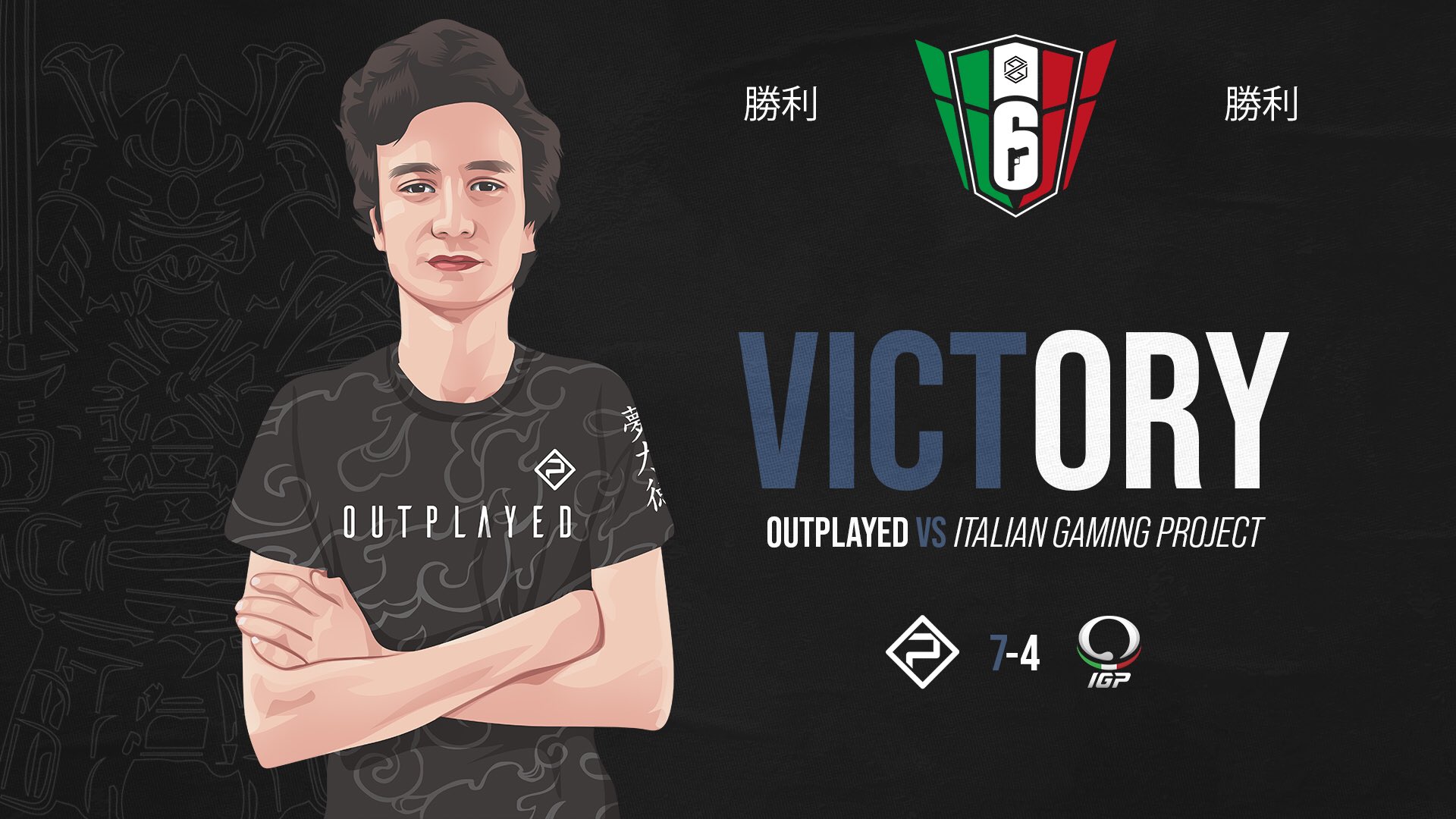 For IGP, this disappointing result was then repeated the next day against Hmble. Here, while they did manage to keep it to a 3-3 half, this was due to two clutches from Remix and ATK, results they couldn't emulate on their attacks where, following a 1v2 from jwN, Hmble then won three rounds running to win the game.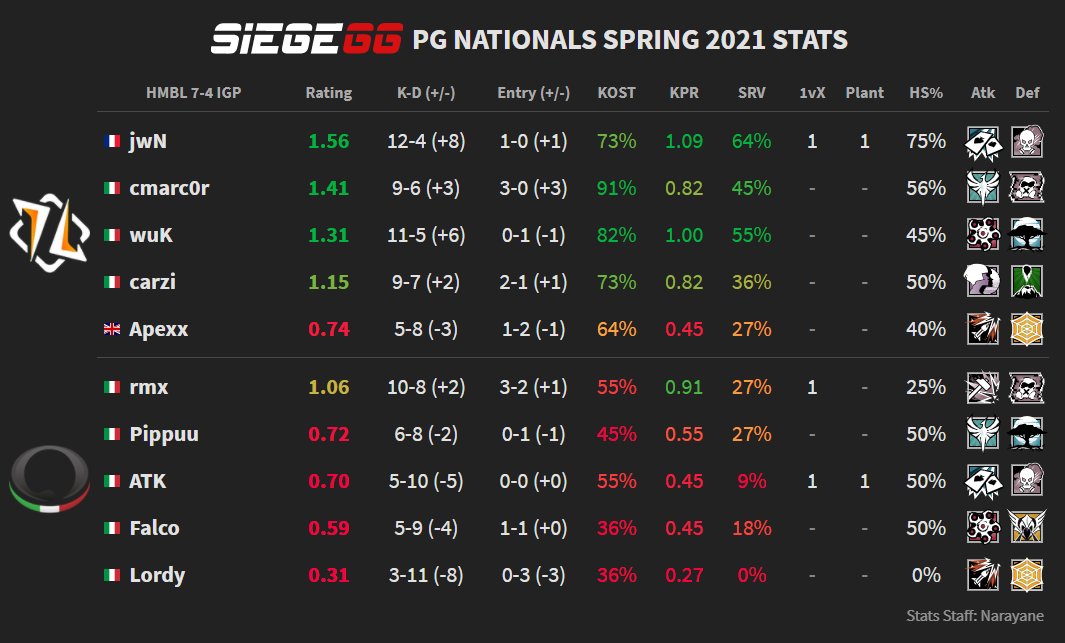 Hmble as a team is hard to pin down as, as well as this result, they lost 0-7 to Mkers on day two but beat Totem -- the roster which toppled MACKO -- in week one. This puts them in joint second and as a possible top level challenger to the likes of MACKO as the season progresses.
As for IGP, this puts them in dead last as the only team without a win. Three points ahead of them is Totem, OP, and CGG who'll they'll hoping to join with a win over second-place Legion next week.
Legion Ties for 2nd as OP Gets on the Board
Talking about Legion, they began this week with a win over their fellow French roster of Totem on Club House, a match they only won thanks to Kxhz. On both halves, they went behind before Kxhz secured a clutch on attack and an ace on defense to kick off Legion's comebacks both times. On the attack an ace on round eight put them back up to 4-4 which was followed by three straight wins ending the game, 7-4.
This, along with their 7-1 win over CGG the week prior, puts them at six points and tied with MACKO and Hmble with them very likely to overtake MACKO this week considering MACKO faces first placed Mkers and Legion faces last-placed IGP.
Finally, ending the PGN "super-week" is the matchup between Outplayed and Cyberground, both of which have previously been mentioned. While OP comes in off a win against IGP, Cyberground had won just a single round across the last two games and was forced to play with their coach of flusha in for Vapoor due to "personal reasons".
Due to this, OP came in confident which seemed earnt as they went up 4-0 only for flusha himself to break the streak with a quadruple kill on Iana to win the team's second round of the season. This remarkable feat was then eclipsed by four clutches in a row from CGG; two 1v1s from Mariushka, and 1v2s from Helgast and flusha once again.
At this point, OP was both behind and demoralized leading the game to end a few rounds later in a 7-5 scoreline.
The day of the #PGNats in a nutshell:
- @Cyber_Esport thank you coach @flushagod who comes in and breaks down the 0-point door
- @TeamHmble maybe I don't bring so much bad luck
- @Reply_Totem they beat the Italian champions and could be scary
- @mkersofficial 21-0, what else?
Top Players
Scatto was the top player this week from Mkers with ratings of 1.87 and 1.56 with his teammates all right behind him. Keenan from MACKO is also performing as well, as well as a 1.59 rating in their 7-0 victory, he also secured a 1.31 rating in their loss against Totem.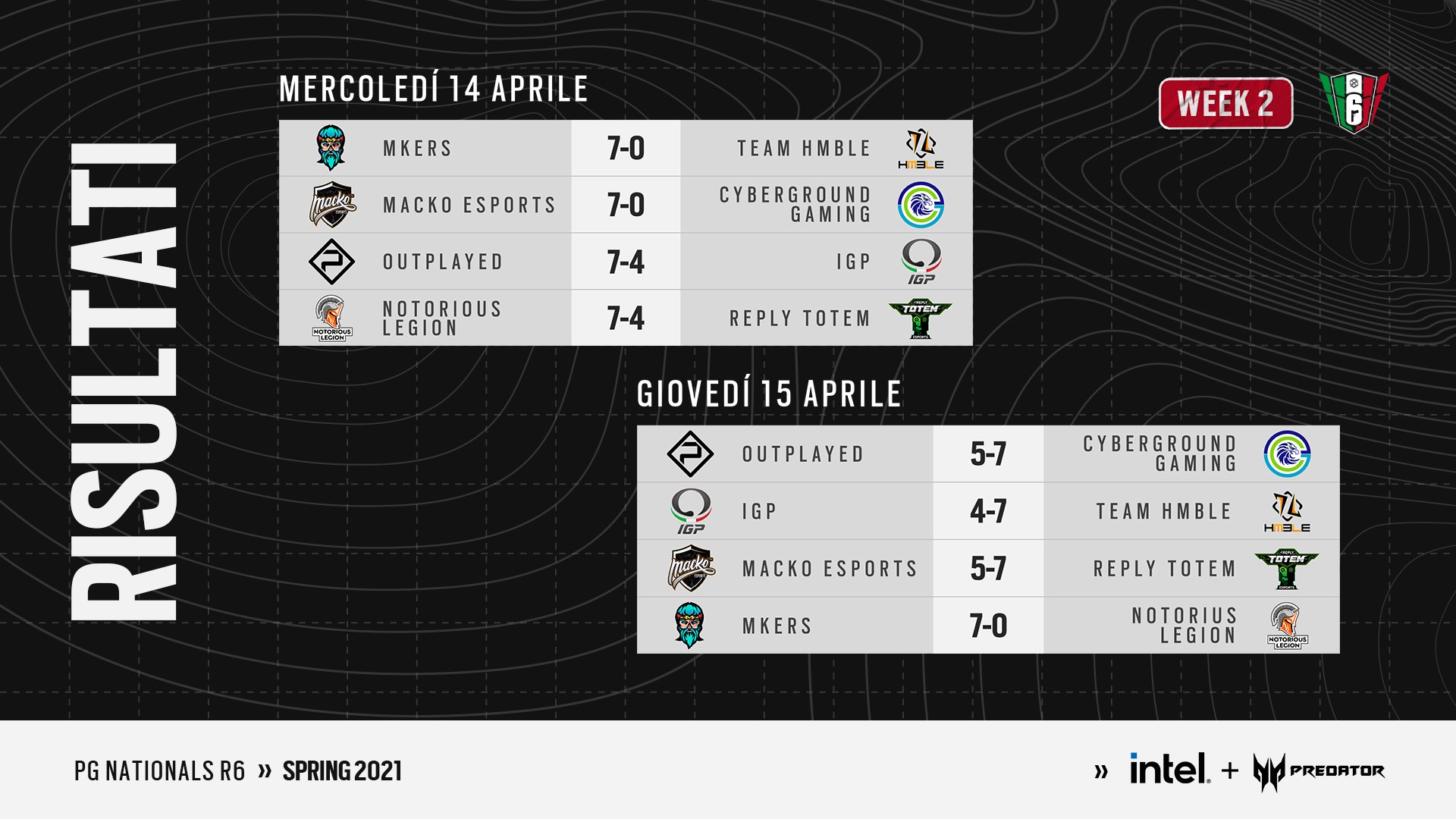 Finally, Kxhz from Legion won week two's official "Best Kill" with the following ace against Totem:
Next Week's Games
Week three will see a single playday tomorrow with the must-watch game emboldened:
Wednesday 21st:
19:00 CEST -- Outplayed vs Hmble
20:00 CEST -- Cyberground vs Totem
21:00 CEST -- IGP vs Notorious Legion
22:00 CEST -- MACKO vs Mkers
---
Be sure to watch these games on the Rainbow6IT Twitch channel and check back here at SiegeGG for full coverage of the games next week.