Having kicked off on the 13th of March and running until the 18th of September, the new Rainbow Six Japan League is the biggest domestic tournament across all of competitive Siege, with its ¥32 million (US$308,000) prize pool.
Not only is the prize pool be a sizeable amount in the Japan League, but each team will also have up to each of its six players and coaches (combined) be guaranteed up to ¥21 million (US$202,000) in salary for the competitive year.
Read on to find out what went down in the fifth week of play from the best in Japan.
Day 9
The weekend started off with a Crest Gaming matchup against a struggling EVA:e that was fresh off its first victory in the season.
Crest, who were not doing too hot themselves, started the game on Chalet on defense, but it was EVA:e that drew first blood. The two teams went back and forth, but neither could shake the other as the first half ended 3-3. While taking the lead right after switching to attack, Crest had to scramble to force overtime after EVA:e put three rounds together in a row, but it was all for naught as Crest managed to hang on for the win in overtime.
Onto EVA:e's pick of Villa, an initial defensive round win by EVA was responded to with a triple-kill by Eclair in Round 2 and then a 1v1 win by Ruruta to put the attackers up in rounds. As EVA took a second round, as they revisited the Aviator/Game Room site, they looked to recompose themselves, only for Ruruta to secure another 1v1 to take the half 4-2.
As they moved onto their own defensive half on Villa with a round lead, Crest was in a very strong position. EVA quickly tied up the scoreline thanks to a clutch from SIFTY, before Crest's fragging power proved too much for them. The remaining three rounds saw Eclair and Wh1skey each get triple kills to win the map and series, 2-0.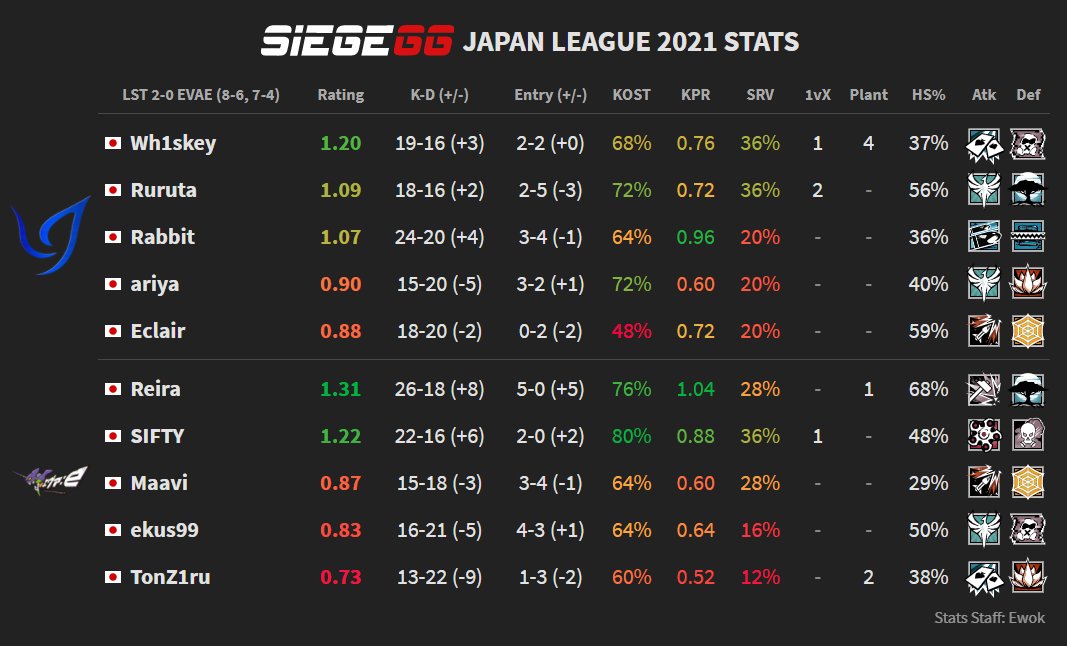 Next up, fourth-placed Northeption faced sixth-placed REJECTS, starting on Club House.
While this wasn't their map pick, REJECTS looked very strong on the attack with their only loss in the first half coming against in 1v4 quad-kill clutch by Kohk1 on Melusi. In response, the attackers of NoTimeGG, solty, and VaNiSh each achieved triple kills, leading to this substantial advantage.
REJECT added to this count as the teams switched sides before a three-round comeback from Northeption -- which included an uninterrupted quad-kill by SpeakEqsy on Ash -- was halted by a post-plant 1v1 victory from solty on Kapkan to win the map.
Coastline was up next, which started just as well for REJECTS as Clubhouse had. A flawless round for each team was then followed by three fairly slow rounds, all of which were won by REJECTS, before they then closed the half with a 1v2 win from Take.
A triple-kill by Sekiheki on Oryx gave Northeption their second round, but no comeback was on the cards this time as, two rounds later, the map ended with a 1v1 win by NoTimeGG and REJECTS took the series 2-0.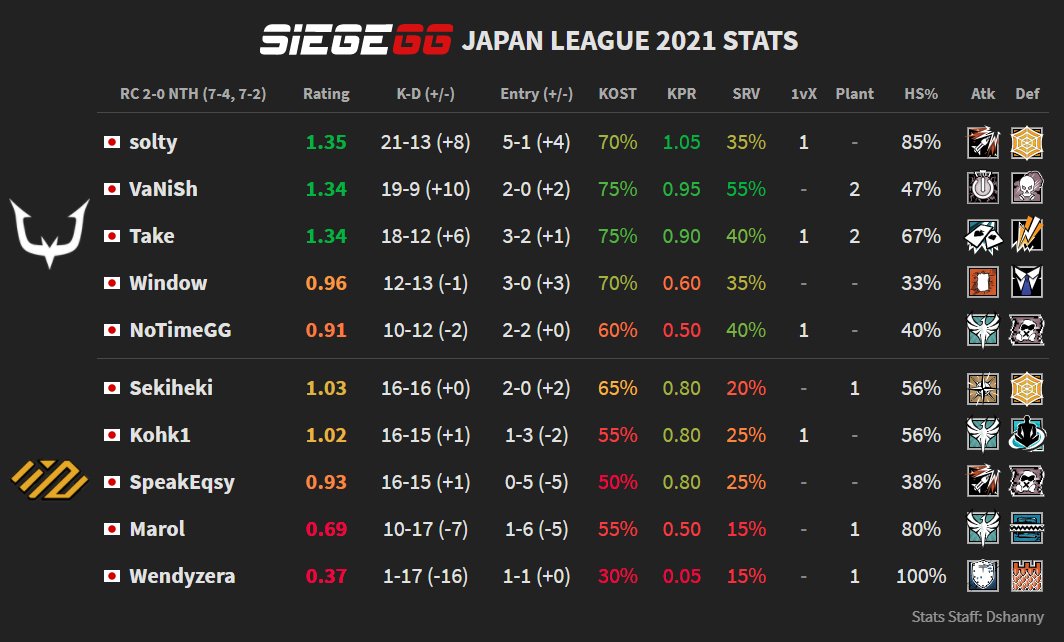 Day 10
Sunday started with Japan's two most successful teams meeting as CAG aimed to keep their unbeaten record intact, while FAV wanted at the very least to finally overtake Sengoku, who had sat in second place for the three prior weeks.
CAG had not lost a single map to FAV since September 2019 and not lost a series to them ever, making this a close-to-impossible task for FAV, which was demonstrated as CAG took a commanding lead in their defense of Consulate.
After a number of triple kills from CAG, a 4-2 half was taken, with FAV hanging in there thanks to a quad-kill from ShiN on Gridlock. As sides switched 1v1s by BlackRay and Ayagator added to CYCLOPS's count to put them on map point.
ShiN fought back valiantly, with a 1v1 followed by a double and then triple kill to push all the way to Round 12, where he was left in a 1v3 he couldn't salvage.
With this, the series moved onto FAV's pick of Kafe. Here, FAV struggled to get more than two kills per round as CYCLOPS went up 4-0 without any need for multi-kills or clutches before BlackRay pulled off yet another clutch in Round 5 to end FAV's only close round on the map.
In the end, GatoRada on Nokk ended the map 7-0 with a triple kill to truly punch home who the top dog in the scene is and to keep their record a clean 15 points in five games.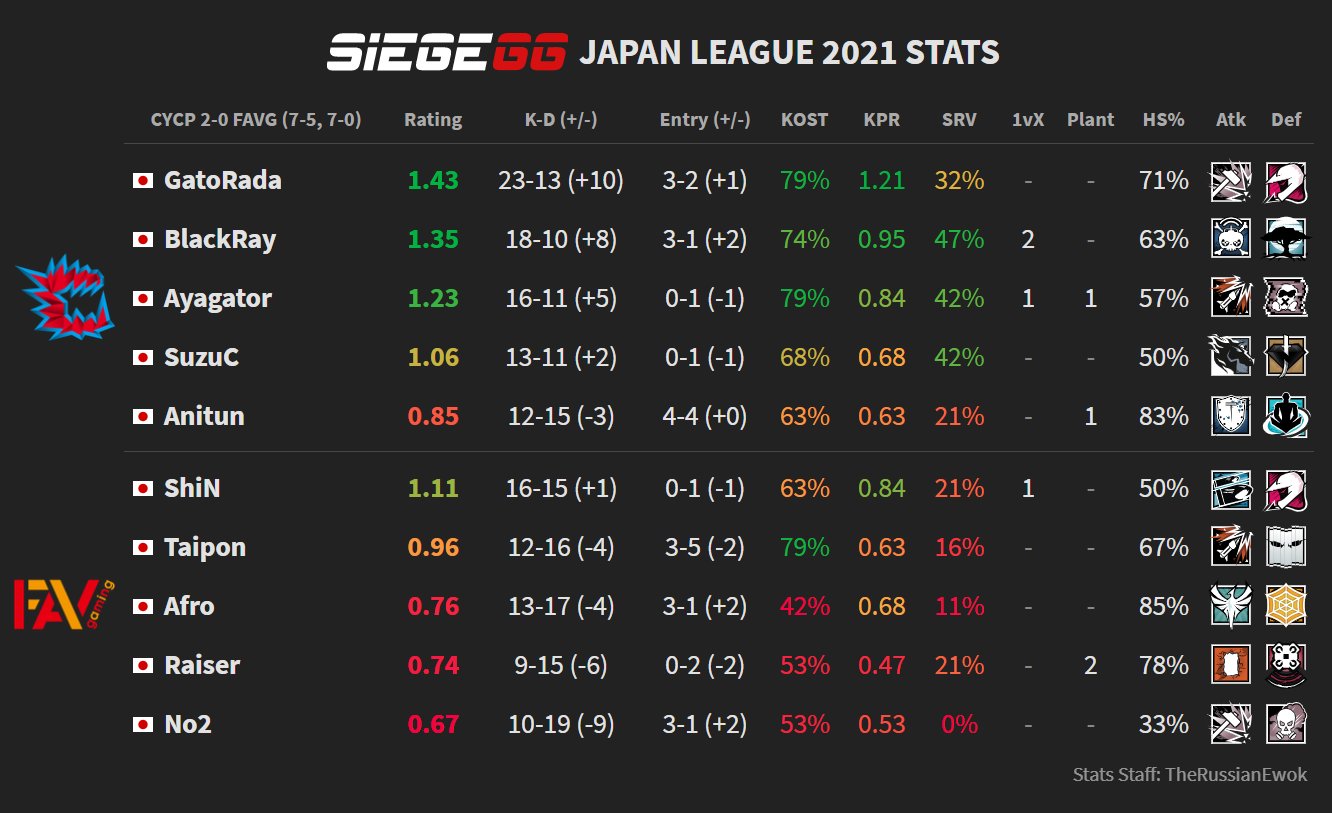 Finally, second-placed Sengoku faced the struggling fifth-placed GUTS Gaming, who is remarkably doing better in the APAC North league than their national championship.
To begin the game, GUTS took Sengoku to Clubhouse, where a series of extremely slow attacks from GUTS kept them from capitalizing from any gained ground.
Round 1 saw them take two minutes and 49 seconds to get their opening kill, leading to them running out of time. A similar issue happened on Round 4, as three attackers rushed the site with seven seconds remaining, while Round 6 saw the same time issues lead A1kyan to secure a 1v3 quad-kill.
As Sengoku went onto the attack, Ramu got into action on Zofia, as he secured triple kills on three consecutive rounds leading to victories in each, and putting them up 6-3 and onto map point. Finally, Clubhouse was closed out by a quick execution from A1kyan on Round 10 to hand Senguko GUTS' map pick.
Next up was Coastline. Here, in Round 1, it looked like Li9ht would pull off quite a feat as he picked off three kills in a 1v4, only to run out of time, gifting ReyCyil a technical 1v1 clutch. After this, things did seem to even up as the two teams began trading rounds to a 3-3 half, before Sengoku ran away with it on the attack.
Three straight round wins were capped off with a flawless Round 10 to end the second map 7-3 and give Sengoku their second pro-level victory, keeping them in second. GUTS, however, dropped right down to seventh, with just a single win to their name.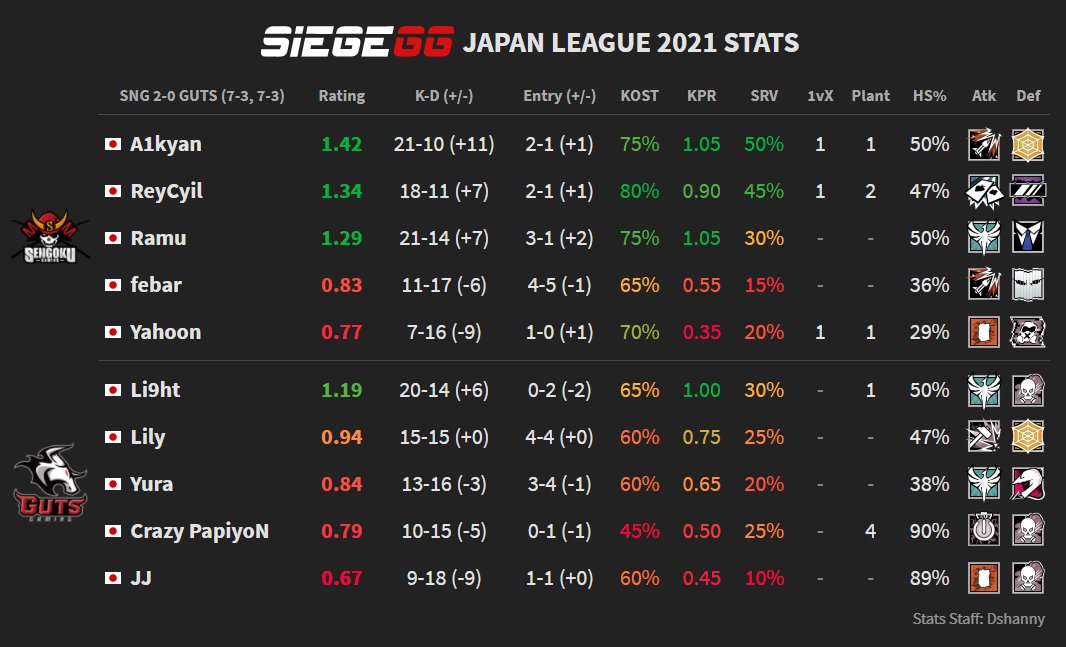 What's Next
This weekend, tune in at Rainbow6JP once again at 1 PM JST (UTC+9) for more games. The games include a key matchup between the third and fourth-placed teams of FAV and REJECTS, while GUTS Gaming will once again attempt to escape the relegation zone with a game against fifth-placed Crest Gaming.