BDS Esports and TrainHard both fought this weekend to win the 6 Open Cup title alongside a number of up-and-coming rosters which includes eight ex-pro players between them
Jump to:
The Format and Broadcast
Single elimination open qualifiers took place over the last three weekends to determine which teams will compete in this annual French National Cup. This runs completely separate from the 6 French League event which offers a Challenger League spot and, while currently unconfirmed, will likely kick-off in June.
This Cup simply offers €20k in prizemoney and is formatted as a simple single-elimination BO3 bracket: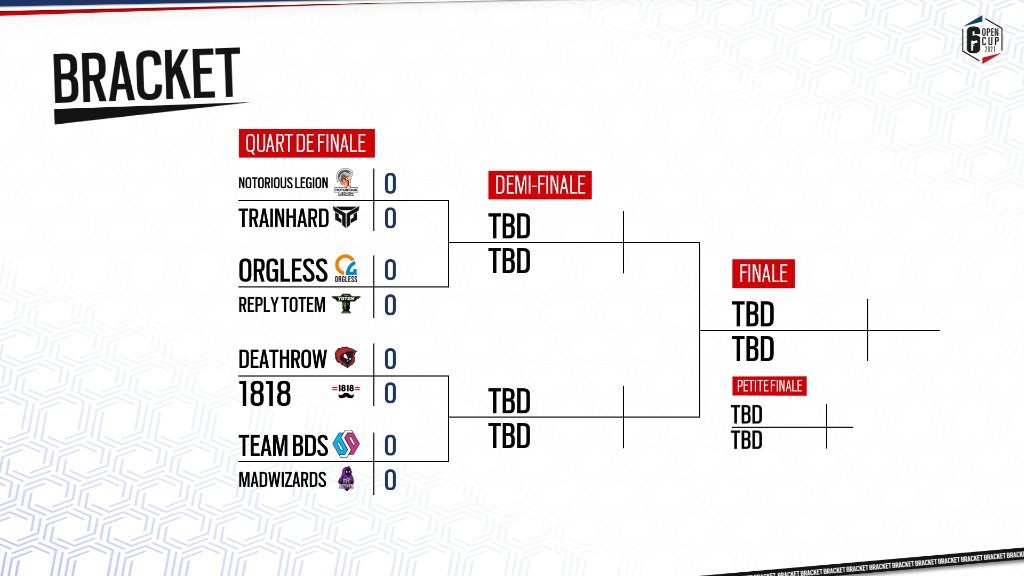 The games were cast by the French trio of Julien "Kivvi" Serrier, Nicolas "Swish" Bouhier, and Paul "Frenchi" Droal while Ante "med1cz" Medić and Tanguy "Kozak" Picavet observed.
The Teams
The first three teams were invited while the next five came through three open qualifiers leading up to the event to get to the following participants:
BDS Esport -- Shaiiko, Renshiro, RaFaLe, Elemzje, BriD, and eaglemees (analyst)
TrainHard eSport -- NoerA, BlaZ, Chaoxys, Dirza, Spark, spokeN (coach), and MrBox (analyst)
Orgless -- ENEMY, RevaN, Meloo, EiZ, Voy, and BiOs (coach)
Mad Wizards -- Aherys, Alive, Sushi, Whiteshark67, Liven, and FiskeR (coach)
Notorious Legion -- Otgaz, Kxhz, Sloppy, SurA, Darkwin, NoAir, and ProphetKing (coach)
Totem Esports -- DjuZ, Mowwwgli, Ayzenn, Gamma, Linkoo, Bolt (coach), and Olxen (analyst)
DeathroW -- KuQuS, FuZiion, Ra1kos, JaKs, and Shoukri
Le 1818 -- Tito, Trako, Skipey, Demin, Steelz, Marco, and MW
BDS and TrainHard are clearly the favorites here as the current second and eighth-placed teams in the European League aren't joined by their national brothers in Team Vitality. BDS also comes in as the reigning 6 French League (6FL) 2020 champions while TrainHard's BlaZ won the 2020 6 Open Cup (6OC) while on PENTA.
This PENTA roster which last year won the 6OC and came second in the 6FL is now best represented by Orgless which includes the two players of ENEMY and RevaN. Since failing to qualify for the EUL once again last year, Kaktus left to join Vitality, Alive joined Mad Wizards and BlaZ joined TrainHard leading to the pickup of the ex-Tempra, and Vitality player of Voy and the two CCS players of Meloo and EiZ to round out the roster.
See you this Friday to see our ORGLESS team with @ENEMY_N1, @RVAN__, @MelooR6S, @EiZrm, and @ValentinCh_! 6:30 p.m., but the schedule may change depending on previous matches. GL to all teams :)
As well as these three invited teams, the PG Italian Nationals were well represented as both Totem Esports and Notorious Legion who competes in that league qualified to this tournament also. Legion finished the last PGN Season in third and has since picked up the ex-NAL player of Sloppy while Totem previously finished CCS Season 5 in third while known as Sleepy Gang but has since lost two players to Orgless.
As well as these two, there's a third Italian organization in Mad Wizards that attempted to qualify for the PG Nationals but fell in the qualifiers. This team includes a number of very well-known ex-Pros including the ex-DreamHack champion for Millenium of Liven, his prior teammate in the Pro League of Aherys, and the two-time French champion of Alive.
Finally, we have DeathroW and Le 1818 the former of which won the 6 French Challengers tournament to qualify for the upcoming 6FL 2021 Season while 1818 has virtually no other competitive experience outside of the 6 Student Trophy 2020 tournament in which the core roster finished joint fifth.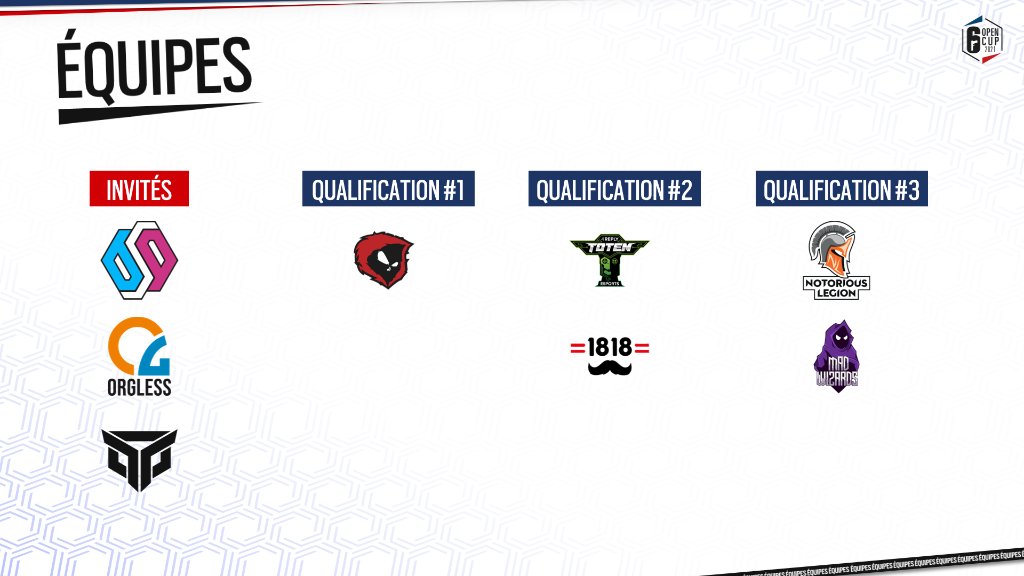 The Games
Quarter-Finals
Day one saw the four QF matchups take place, starting with the two somewhat newcomers to tier-three R6S in DW vs 1818. DW had in fact already defeated 1818, 7-3, 7-3, during the quarter-finals of the first open qualifier and almost repeated this once again with a 7-3, 7-5 scoreline despite a standout performance from Tito with a 1.05KPR including both 1v3 and 1v1 victories.
Next up, TrainHard vs Notorious Legion saw Legion's substitute of NoAir play in the place of Sloppy who is out for a month due to an injury to his hand. While this is clearly a blow to the team, NoAir did perform with an opening double-kill onto Dirza and Chaoxys winning Legion their only round on Villa in a 7-1 defeat.
Club House was closer, however, TrainHard remained consistently in the lead throughout to an eventual 7-4 victory. By the end, four players on TrainHard beat or neared a 2.0 k/d with BlaZ being the standout player: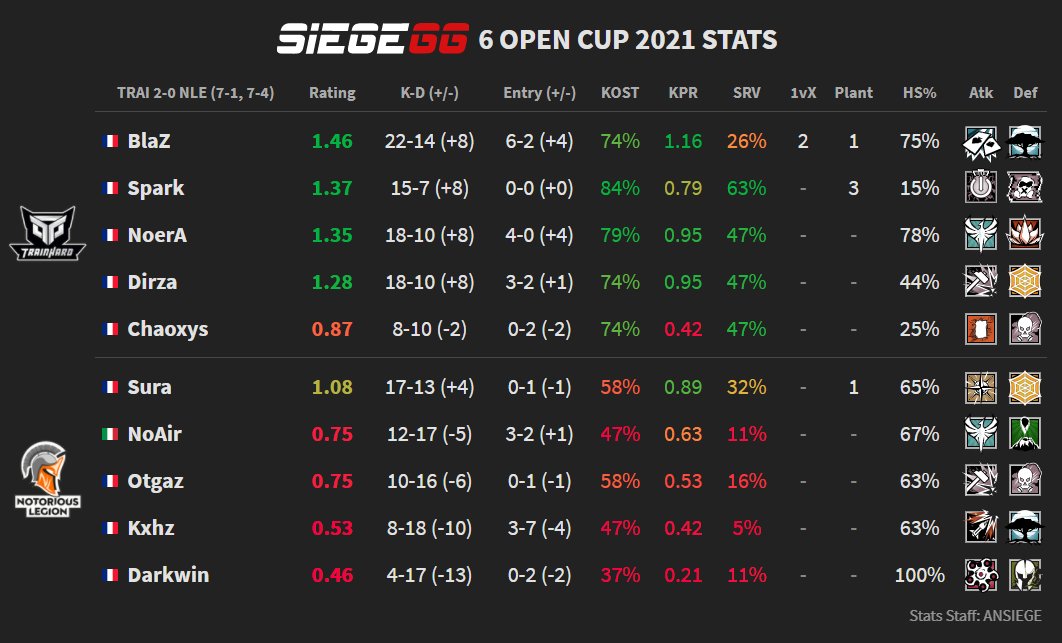 Next up Orgless vs Totem which was somewhat of a grudge matchup as Orgless' members of EiZ and Meloo previously played on the Totem roster up until last January. Following this, they left to join the ex-Pros of ENEMY, RevaN, and Voy in the 6 French League as one of the favorites for EUCL 2021.
With this in mind, it was somewhat of a surprise by how strong Totem came out as, despite losing map one, they initially went up 4-2 before then taking map two in an action-packed 7-1 scoreline.
While 7-1 may seem one-sided this included a remarkable four 1vX victories by Totem across just five rounds; 1v1s by Linkoo, Gamma, and DjuZ, on rounds two, five, and six as well as a 1v3 ace by DjuZ on round four:
And so the game came down to map three in which, despite a number of running wins at the beginning of both halves, Orgless eventually lost in the only major upset of the day which really puts their CL aspirations in question.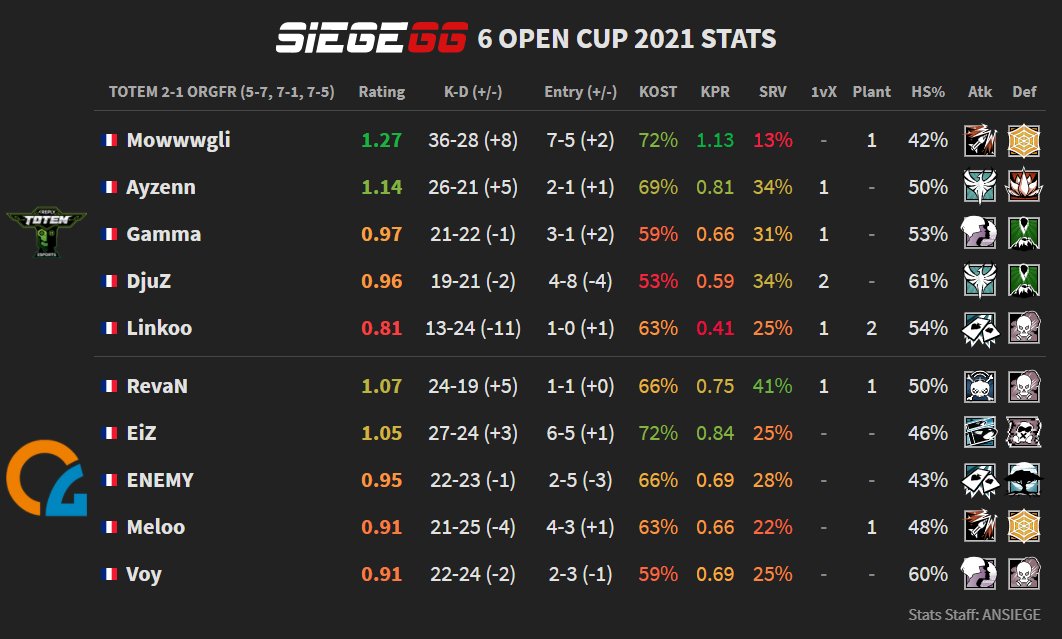 Finally, we had BDS vs Mad Wizards which was a chance for Liven, in particular, to impress after an embarrassing PGN relegations performance from the team.
Unfortunately for the Wizards, BDS is not going to be toppled by anything less than a world-class team as BriD led them to a 7-2, 7-4 victory with a 1.23 Rating. The final round, in particular, showed just how strong BDS can be as Shaiiko singlehandedly ran into the site and got four kills by the 2:22 mark as if he was playing Training Grounds:
This meant Le 1818, Mad Wizards, Notorious Legion, and Orgless all were knocked out in the very first round and took away €1k in prizemoney each: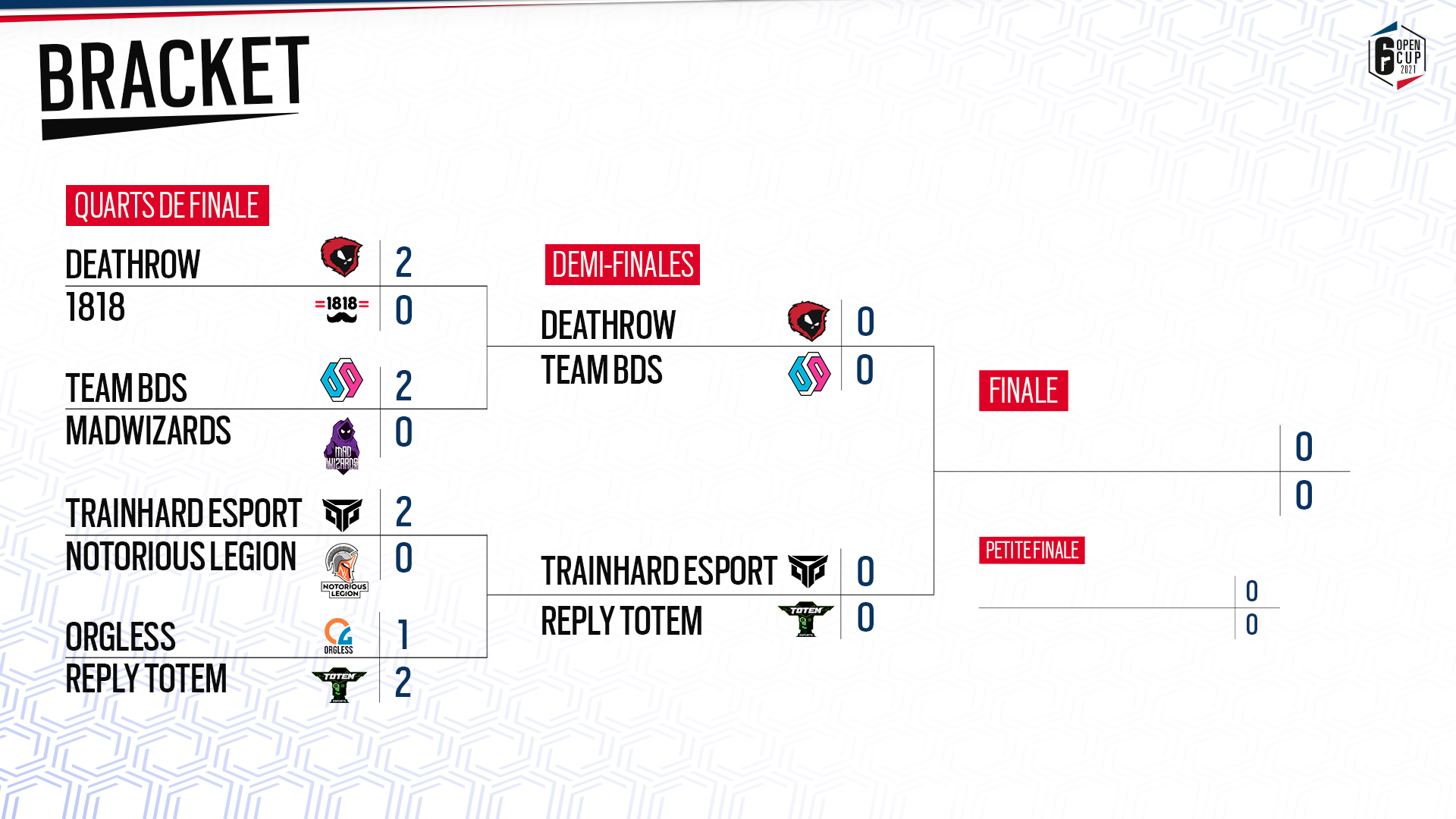 Semi-Finals
Day two began with Totem trying to keep their run alive against a current pro team after their win over the ex-PENTA roster of Orgless the day prior.
Starting on Kafe, Totem and TrainHard traded rounds back and forth throughout all 15 rounds, with one team never gaining a real advantage on the other throughout thanks in part to two clutches by Ayzenn and Gamma. As the game went into overtime, Totem finally managed to win two consecutive rounds in numbers 14 and 15 to take the map 8-7 and go ahead.
Next up was TrainHard's pick of Club House which started off quick with a 1v2 by Gamma on round one followed by a 1v1 by BlaZ on round two. A few rounds later Mowwwgli secured an ace before a 1v2 by Chaoxys leading to a 3-3 half. The side switch slowed the action down with the map ending 7-5 as TH broke the deadlock when it mattered on round 15 as a double-kill by Spark ended Totem's attack.
Finally, we came to Chalet which unfortunately was not as close as the prior two games. Totem's lone win came thanks to a triple from Ayzenn as TH swept the seven other rounds in an anti-climatic finish to the series.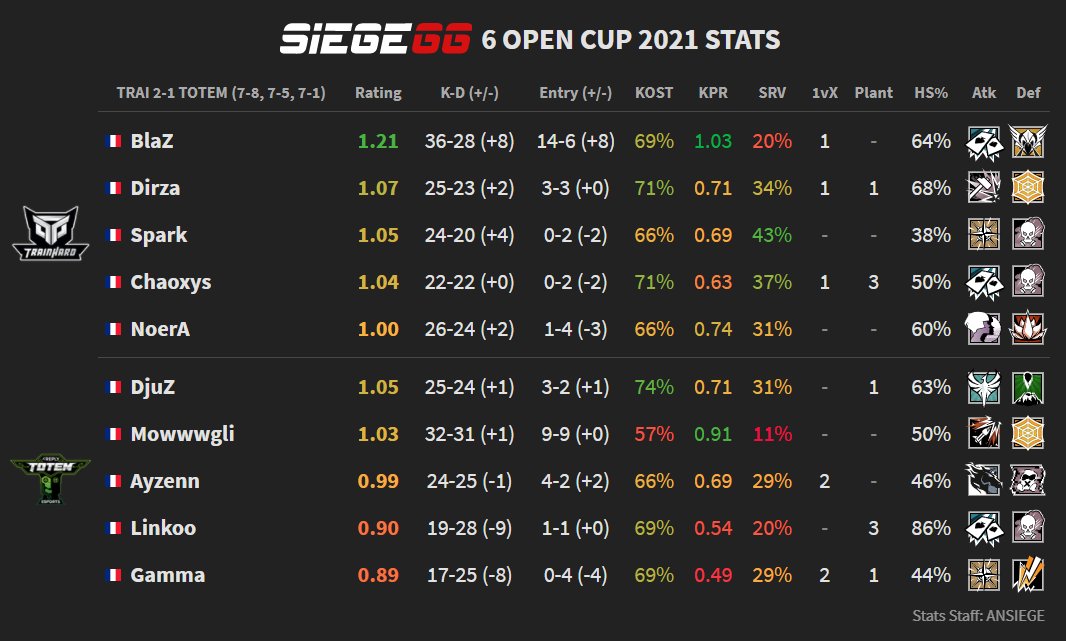 Considering Totem lost their opening PG Nationals game against Hmble, beating Orgless and taking a map from TrainHard is very impressive and speaks to the skill within the PGN League.
Next up, BDS vs DeathroW which saw another barn-burner on Villa. The first half saw Shaiiko on Jager get a total of 10 kills as they went ahead 4-2 before he was almost completely shut down on the attack allowing DW to reach overtime.
Here a triple kill from Renshiro gave BDS the attack win they needed as they took the map 8-6.
With this over, BDS' map pick of Club House went like a breeze with another 7-1 to close the series with a 1v2 by BriD by the round timer ending the game, 2-0
Grand-Finals
Following a third-place playoff win by DeathroW over Totem in a 2-1 scoreline, the grand-final between BDS and TrainHard kicked off for the title. BDS currently has an undefeated record against TrainHard and the prior Tempra roster across six games with their recent EU League game ending 7-1 in their favor.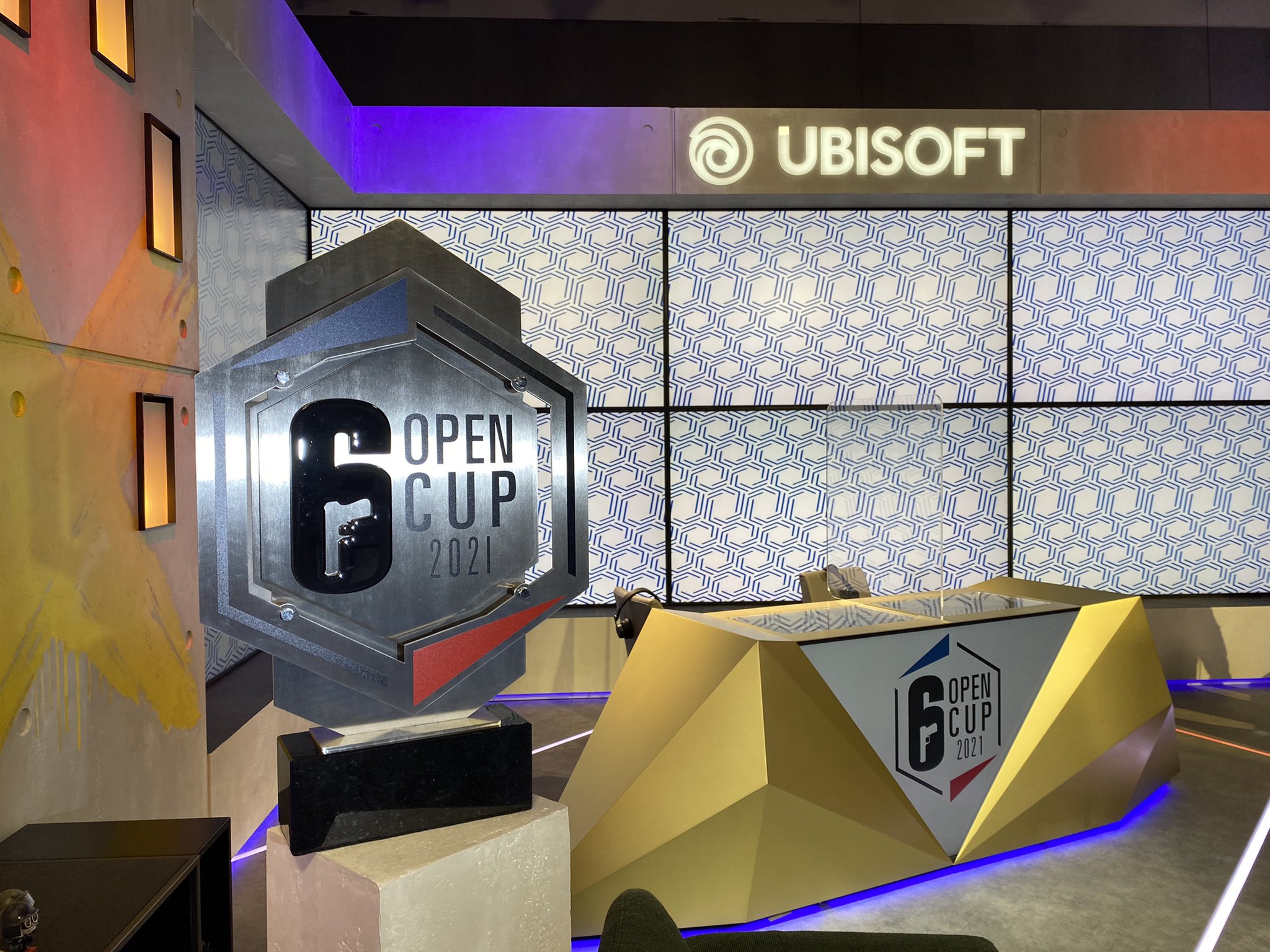 Map one of Villa started with BDS on defense leading them to get the opening two rounds before TrainHard pulled off a remarkable feat by winning seven of their own in a row, including four offensive rounds.
While seven kills across four rounds from Dirza helped them win on the attack, the most notable part of these rounds was how quick they were happening with TH managing to win a lot of map control within the first minute. On their defense meanwhile, TrainHard did have quite a challenge from BDS, however, a 1v3 ace by Spark and a triple kill by BlaZ helped them close out the map, 7-2.
Next up, Club House in which this time Elemzje managed to also secure the seven kills in four rounds due to a 3k in round three. These kills helped give BDS a 3-1 lead on their attacks before three separate opening kills from BlaZ allowed TrainHard to pull it back to 3-3.
BDS' defensive half began with a 1v2 by Shaiiko by time as TrainHard had increasingly little resistance and managed to pull back just a single round win to a 7-4 defeat.
Finally, map three of Coastline took a couple of rounds for BDS to get into things before BDS looked to take both rounds three and four before Spark won both in 1v1 and 1v2 victories. These wins meant they ended the first half with a massive 5-1 lead as they looked to close out the series.
As TrainHard went onto the defense, TrainHard quickly went onto the series point as BDS started a comeback by winning rounds seven and nine very quickly with over 50 seconds left on the clock. By round 12 BDS was just one round away from overtime when a plant denial by Dirza left Elemzje outside in a 1v2 with 20 seconds away giving the game to TrainHard.
THEY DID IT!
@TrainHardEsport wins the #6OC ahead of @TeamBDS and becomes the new Champions!
Congratulations to the 2 teams for this high level meeting.
---
And so, with that TrainHard takes the French national title one month and one day after the team was first announced. Keep an eye out here at SiegeGG for details and full coverage of the third 6 French League Season when it kicks off in a few months time.
SiegeGG is supported by its audience. When you purchase through links on our site, we may earn an affiliate commission. Learn more