Having kicked off on the 13th of March and running until the 18th of September, the new Rainbow Six Japan League is the biggest domestic tournament across all of competitive Siege, with its ¥32 million (US$308,000) prize pool.
Not only is the prize pool be a sizeable amount in the Japan League, but each team will also have up to each of its six players and coaches (combined) be guaranteed up to ¥21 million (US$202,000) in salary for the competitive year.
Read on to find out what went down in the fourth week of play from the best in Japan.
Day 7
The weekend started off with an absolutely explosive matchup between the two APAC North sides of FAV gaming and GUTS gaming, which ended with what is quite possibly the most even stat-sheet, as both sets of players virtually mirrored each other.
The match started off on Villa with a No2 triple-kill and K-Raiser defuser plant to get FAV a first attacking round, which they eventually converted into a 3-3 first half. Switching over to defense on the defender-sided map, it seemed that FAV would have the upper hand over GUTS, especially with Thatcher and Nomad the two attacking bans.
Sure enough, FAV managed two put the four required rounds together, only split by two GUTS attack wins in the middle, to take the first map in a 7-5 manner.
Switching to Coastline, it was GUTS Gaming that drew first blood, also with a defuser plant and two double-kills from JJ and CrazyPapiyoN. Unlike FAV on Villa, however, GUTS did it better, taking a 4-2 lead at the half on the arguably balanced map.
In a comeback bid, FAV then equalised the scoreline immediately on attack, and pegged GUTS back at 5-5 as well. However, concerted efforts from the entirety of GUTS led to their squad taking the final two rounds in regulation time, and the maps were thus at 1-1 apiece.
Clubhouse was the decider, but this time it was the defenders of GUTS that took the first-round lead off the backs of a Li9ht triple-kill in the span of five seconds. To their dismay, however, they were once again unable to make the full use of the defensive-sided nature of the map on their own defense and only finished with a 3-3 first half.
While GUTS Gaming then secured two alternate rounds after the role swap to attack, FAV needed little more invitation, closing out the map with three defensive lockouts on the trot to win 7-5 and take the series 2-1.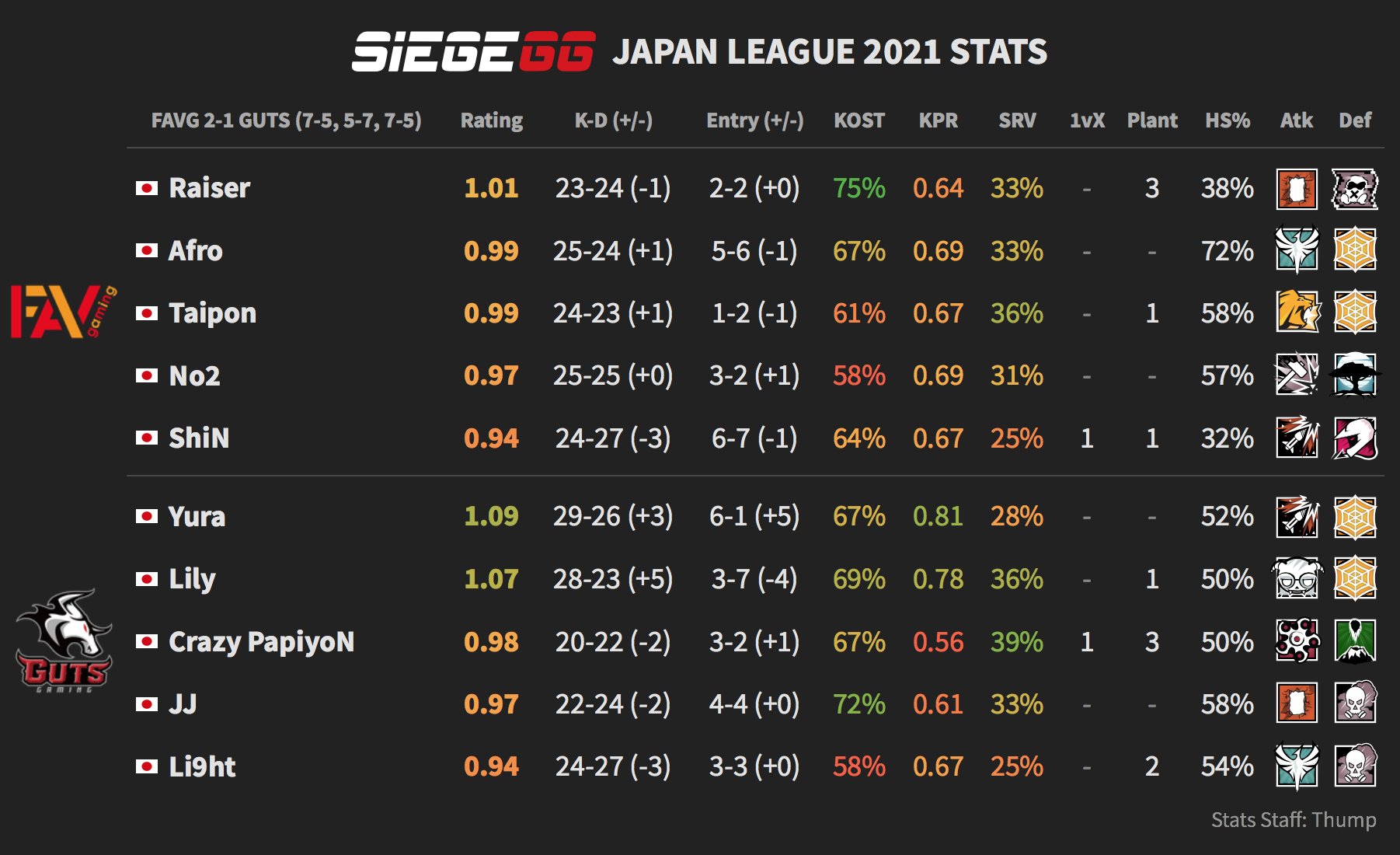 The next game of the day was somewhat of a palate-cleanser after the neck-and-neck first game. The two Japan League leaders of Sengoku Gaming, the APAC North hopefuls, and Cyclops athlete gaming, also the APAC North leaders, took each other on in what was anticipated to be a close matchup, but turned out to be devastatingly one-sided.
BlackRay kicked things off explosively on Kafe with a quad-kill on Pulse, before Anitun joined the party with a triple-kill next round. Yahoon responded in kind to secure the first round for Sengoku, but it was domination from Cyclops, who raced away to a 5-1 first-half lead.
While Yahoon would help his team get a second round with another triple-kill, this time on defense, Cyclops would easily close things out 7-2 after two successful defuser plants.
The opening round on Consulate would be even more intense than on Kafe, with a BlackRay triple-kill, GatoRada double-kill, and Yahoon double-kill on the side of Sengoku. Yahoon would then feature once more with a double-kill in Round 3 for what would be his team's only round on the map. Cyclops would simply prove too hot to handle, even for the otherwise-streaking Sengoku Gaming, which recorded its first loss in the Japan League this season.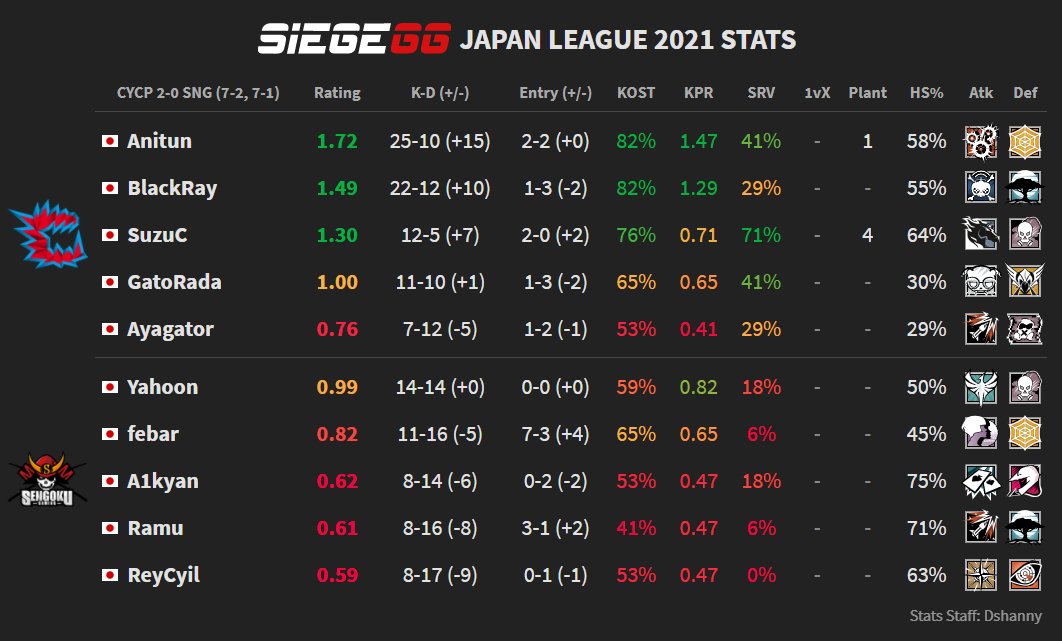 Day 8
The next day, two of the teams at the bottom end of the table clashed instead. Crest Gaming had only been able to accumulate two points from three games, while REJECT was slightly better with four.
Crest got things started well on Villa, taking a first attack win from the get-go, which they capitalsied upon well to push to a 3-3 first half. However, with Thatcher and Kaid being the pivotal bans, it seemed that both teams were equally proficient on attack and defense, as REJECT finished 3-3 on their attack as well.
However, in overtime, it was REJECT that managed to string two rounds together, winning 8-6 off the backs off multi-kills from ariya and VaNiSh.
Wounded but far from finished, Crest then started off the next map of Chalet with a 1v2, post-plant clutch from Rabbit, but were once again unable to finish the first half with a lead. Nevertheless, the team was certainly not disadvantaged at 3-3, and reeled off three rounds to lead 6-3. REJECT could only delay the third map for a round more, as Rabbit and Whiskey combined for all five in Round 10 for a 7-4 map win.
On the decider of Consulate, Crest once again started off with the first-round lead, but this time it was REJECT that took a 4-2 lead on their defense. Two rounds in the lead and threatening a series win, REJECT looked strong, but Crest turned on the style on defense, putting together four rounds in a row to have two match points. They eventually only needed one and took the map 7-5, and thus the series 2-1.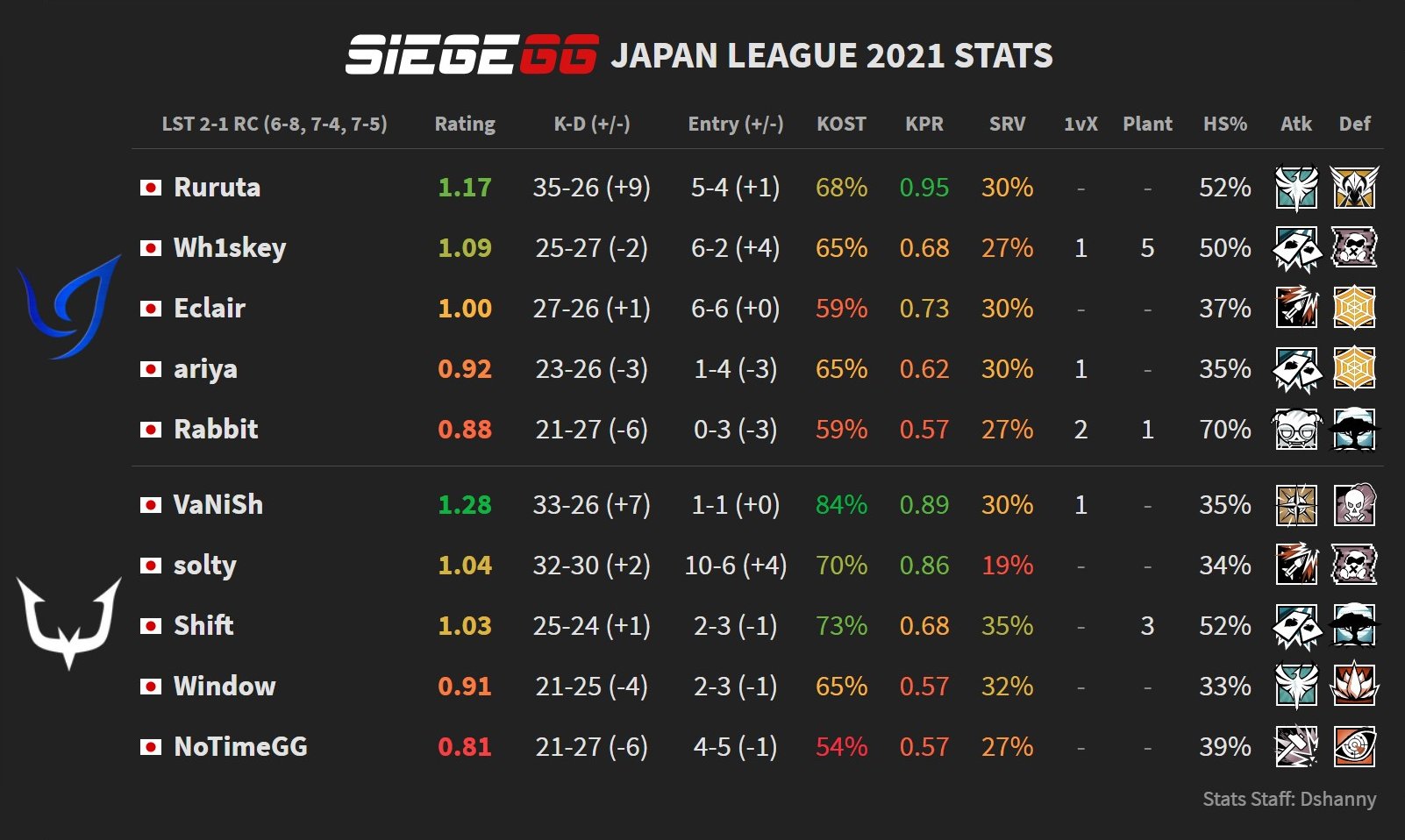 Finally, closing out the weekend were Team Northeption, which had started the season with a 2-1 win over GUTS Gaming, and EVA:e, which had played in the APAC North 2020 Relegations but was winless thus far.
Initially, it seemed that EVA:e's struggle would continue, with Team Northeption putting on a clinic on Clubhouse. An opening-round quad-kill from Sekiheki that included a 1v1, post-plant clutch started things for Northeption, and the team soon led 6-0 at the half. While EVA:e would get its first round on its own defense, Northeption would end the misery with a swift attacking victory for a 7-1 map win.
Moving to Villa, EVA:e began a lot more positively and looked a lot more competitively. A back-and-forth in the first half led to a 3-3 scoreline, and while Northeption took its first attack win for a 4-3 lead in Round 7, it was EVA:e that pulled away. Four rounds came for them in immediate succession and suddenly a third map was at hand.
Coastline started off with a virtual repeat of the Clubhouse opener, with Sekiheki getting a multi-kill and the planted defuser being disabled, but EVA:e managed to keep pace in the first half, ensuring it ended 3-3. The second half, though, saw EVA:e surge ahead to 5-3, and while they were pulled back to a 5-5, former Nora-Rengo player Maavi did just enough to help his team through to a 7-5 map win.
The result meant that EVA:e recorded its first points and first win in the Japan League in 2021, a far cry from the higher expectations after a strong 2020 performance domestically.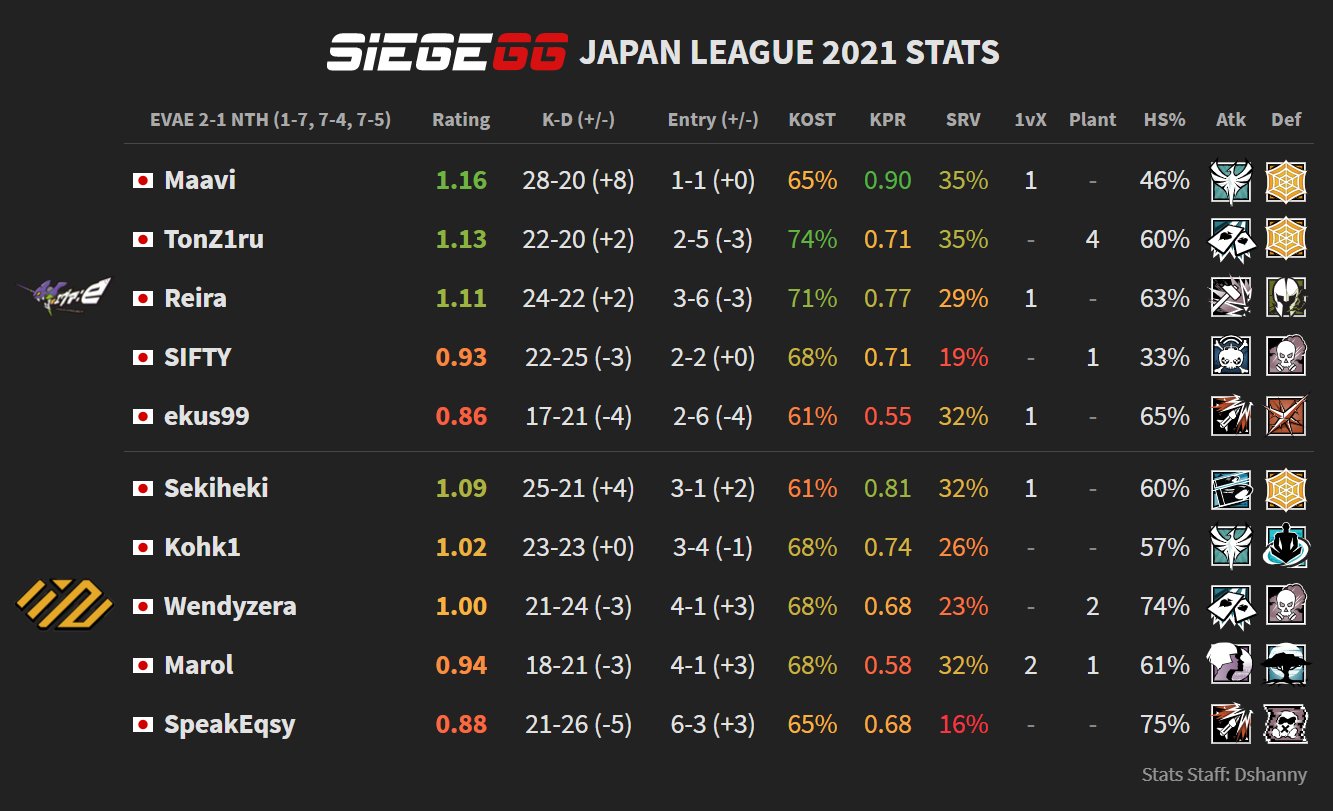 What's Next
This weekend, tune in at Rainbow6JP once again at 1 PM JST (UTC+9) for more games. Three of the top four will be in action on the second day, with Cyclops Athlete Gaming looking to extend their lead with a win against FAV Gaming. GUTS Gaming, meanwhile, will look to break into the top-four and draw level against their opponents of Sengoku Gaming.