With five new national leagues kicking off and the pro-circuit getting into full swing, the following week will be the most action-packed to date. Here's a rundown on everything we have to look forward to over the next seven days:
Jump to:
Pro-Circuit Super-Week
This coming week will see a "super-week" take place, with an added EUL, NAL, and APAC play day to create the following schedule:
Monday -- EU League Day 4
Tuesday -- APAC South Day 4, and NA League Day 3
Wednesday -- APAC North Day 4, and NA League Day 4
Thursday -- APAC South Day 5, and EU League Day 5
Friday -- APAC North Day 5
Saturday -- Brasileirão Day 7
Sunday -- Brasileirão Day 8
As well as this, Mexico, South America, and South Asia will all have their usual play days.
The following two weeks after this will also have added games, but not as many as this week's, with the EU, NA, and APAC Leagues all coming to a close in two weeks' time, while the Elite Six LATAM Playoffs take place the week afterward.
The biggest games over this next week are as follows:
Monday at 18:30 UTC -- G2 Esports vs Team Vitality
Tuesday at 23:00 UTC -- DarkZero Esports vs beastcoast
Wednesday at 21:00 UTC -- Spacestation Gaming vs TSM
Thursday at 12:00 UTC -- Giants Gaming vs 7th Heaven
Thursday at 19:45 UTC -- Natus Vincere vs BDS Esport
Friday at 12:00 UTC -- Cyclops athlete gaming vs Talon Esports
Sunday at 19:00 UTC -- Team Liquid vs FURIA
6 Open Cup
As well as these pro-tier games, next weekend will also see the €20,000 6 Open Cup French tournament, which stars BDS, TrainHard, and the ex-PENTA roster of Orgless.
This runs completely separate to the 6 French League and has had qualifiers for it run over the last two weeks.
BDS Esport -- Shaiiko, Renshiro, RaFaLe, Elemzje, BriD, and eaglemees (analyst)
TrainHard eSport -- NoerA, BlaZ, Chaoxys, Dirza, Spark, spokeN (coach), and MrBox (analyst)
Orgless -- ENEMY, RevaN, Meloo, EiZ, Voy, and BiOs (coach)
DeathroW -- KuQuS, FuZiion, Ra1kos, JaKs, and Shoukri
Le 1818 -- Tito, Trako, Skipey, Demin, and Steelz
Totem Esports -- DjuZ, Mowwwgli, Ayzenn, Gamma, Linkoo, Bolt (coach), and Olxen (analyst)
Notorious Legion -- Otgaz, Kxhz, Sloppy, SurA, Darkwin, NoAir, and ProphetKing
Mad Wizards -- Aherys, Alive, Sushi, Whiteshark67, Liven, and FiskeR (coach)
The tournament is a simple single-elimination bracket, with the quarter-finals on Friday, semis on Saturday, and the grand final on Sunday. In the past, this tournament has been a LAN event but will be completely online this year for obvious reasons.
GSA Nationals
On Friday the GSA Nationals -- the national league for Germany, Switzerland, and Austria -- will kick off its 2021 season as eight teams play weekly for the €40,000 prize pool and a Challenger League spot.
G2 Esports -- Kantoraketti, UUNO, CTZN, Virtue, Kayak, and Shas
Rogue -- AceeZ, Korey, ripz, LeonGids, cryn, meepeY, Rcuth, and Bernie (three coaches)
Team Secret -- Drvn, Prano, Hife, SlebbeN, Gomfi, and Titan (coach)
Sissi State Punks -- Zenoxo, Gisela, Daya, Tooobi, and BZ
Looking For Org -- StrkR, Acelele, Babuu, slshr, Ryoo, Witheball, and Sloth (analyst)
GoSkilla -- Shermi, Solotov, Exp0, M4DMAN, and Mekses
PENTA -- FluchTw4geN, cCcaaNaVaR, Tsuky, Levolution, Sadrzm, and Lion (coach)
GC Esport -- Koji, Veyzel, Konkih, Paiin0, and SushiTheMonkey
The league will continue weekly in a double round-robin format before a double-elimination final in September, which will likely be online.
Benelux League
Yet another national league will start on Wednesday in the Benelux League for the Belgian, Dutch, and Luxembourgish teams, as a third Challenger League spot is on the line, which GAMMA GAMING will be eager to get:
GAMMA GAMING -- Leonski, Deapek, Avaiche, Panix, ASTRO, and Sternab (coach), and Phenomene (analyst)
Game Fist -- HughesDS, LNG, Bang, Smurfje, Cybrr, and Deox (coach)
4 Elements -- WishMaster, Dxtch, g3r0, Vapour, Bsaint, and Bard (coach)
Activit-E Esports -- Youri, Karmaze, Hennessy, DareVish, onlykaneb, Alipali (coach)
Clutch Rayn eSport -- Zevroz98, Voxsey, Sangtinell, Shizo, and YvANoE
KV Mechelen Esports -- Duco, Kwekko, Anom, NNN1CK, Flixow, Lance (coach), and Lynam (analyst)
Red Falcons -- SlayerZz, GNXaknu, Heavy, Deschaux, and Fragz
Team 7AM -- Hoffo, Jonna, Locky, aveyy, and Mata
The league will run till the weekend of August 8th, when the Finals will end.
Spain Mid-Season Cup
Wednesday is also the start of the Spain Nationals Mid-Season Cup. This tournament is a €2,000 single-elimination cup that includes all eight of the Spain National rosters and four qualifier teams.
This Wednesday sees the first-round game, next week has the quarter-finals, and the week after that, the 20-21st, has the semi and grand-finals. Mav3ricks eSports is currently leading Season 3 of the Spain Nationals without a loss, making them the favorites for this tournament.
PG Nationals
Alongside the BNL League, the Italian National league will also start this week on Wednesday, with another Challenger League spot on offer. While this league copies the GSA format with a double-round robin league, the CL spot will be assigned differently, with the final standings giving each team points.
The top six teams by PGN points across both this Spring and the prior Winter season will play in a playoff tournament for the spot. This forces teams to be more consistent over the year and means every PGN Season matters; not just this one.
Mkers -- Scatto, Aqui, Gemini, Sasha, Lollo, and Ablanz (coach)
MACKO Esports -- SirBoss, T3b, Alation, J3n4, Keenan, and Jakesouthster (coach)
Notorious Legion -- Otgaz, Kxhz, Sloppy, SurA, Darkwin, and ProphetKing (coach)
Hmble -- cmarcor, Apexx, wuK, carzi, Nyfuun, Lucania (coach), and Lolloboii (analyst)
Italian Gaming Project -- ATK, Falco, Lordy, Pippuu, and Remix
Cyberground Gaming -- Helgast, Mariushka, Goose, Vapoor, Raku, flusha (coach), and Need (analyst)
Outplayed -- csonki, YZN, Demoniak, quick, TreikO, Oscr, and Hurdes (coach)
Totem Esports -- DjuZ, Mowwwgli, Linkoo, Ayzenn, Gamma, Bolt (coach), and Olxen (analyst)
The SI-qualified roster of Mkers will be the favorites here after they lost last season's grand-final against MACKO with their coach of Torok subbed in.
RML, Nordic, OCN, JP, KR & Liga Six Cup
There is also a number of ongoing tournaments, which will have play days this week:
NA Challenger League
Week 2 of the North American Challenger League will take place on Saturday and Sunday, with Slaughter House vs Parabellum being the match to watch as two of the CL favorites face-off.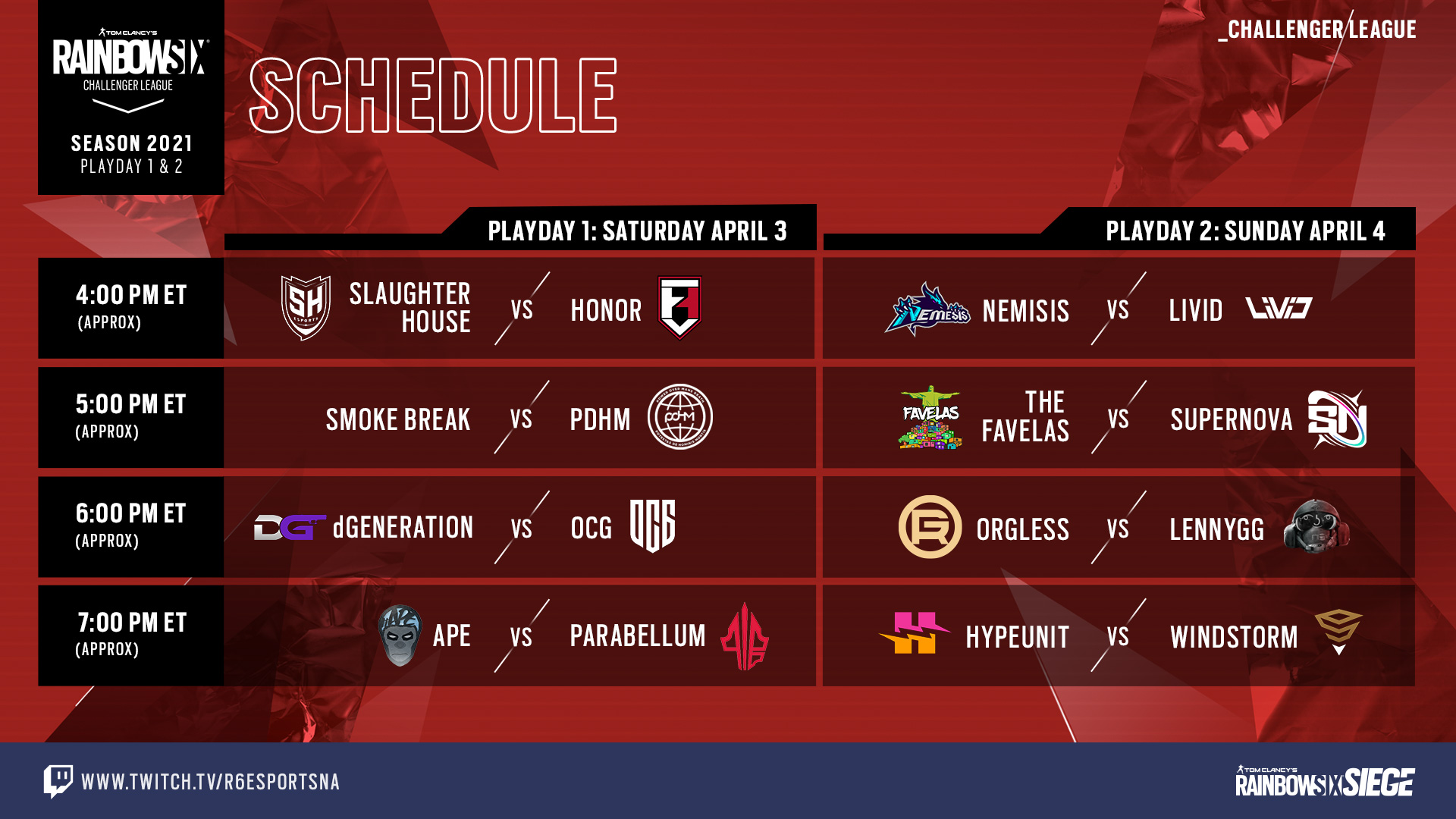 Russian Major League
Play days on Tuesday, Friday, and Saturday mean we'll see a lot of all-Russian games. Currently, Empire, V.p, REIMEI Esports, and 43rti are all tied with three wins and one loss, with REIMEI set to face V.p on Tuesday.
Nordic Championship
With play days every Wednesday, next week will see Day 3 of 14 of the Nordic national league. This includes a matchup against the third and fourth-placed teams of Riddle and High Coast, two teams that hail from the Czech Republic and Hungary, respectively, as they aim to join Chaos Esports Club in the Challenger League.
Oceanic Nationals
Leaving Europe, the OCE national league had play days, both earlier today and on Sunday, with Elevate vs ORDER being the week's standout game. Also of note is Team Bliss (ex-Ferox) who sits tied at the top of the table and plays fourth-placed Wildcard Gaming, as they hope to join the APAC South league next year.
Japan Nationals
The Japanese nationals have two of the top games of the season on Sunday, as the two APAC North teams of FAV and CAG meet, followed by a match between GUTS and the second-placed Sengoku Gaming roster.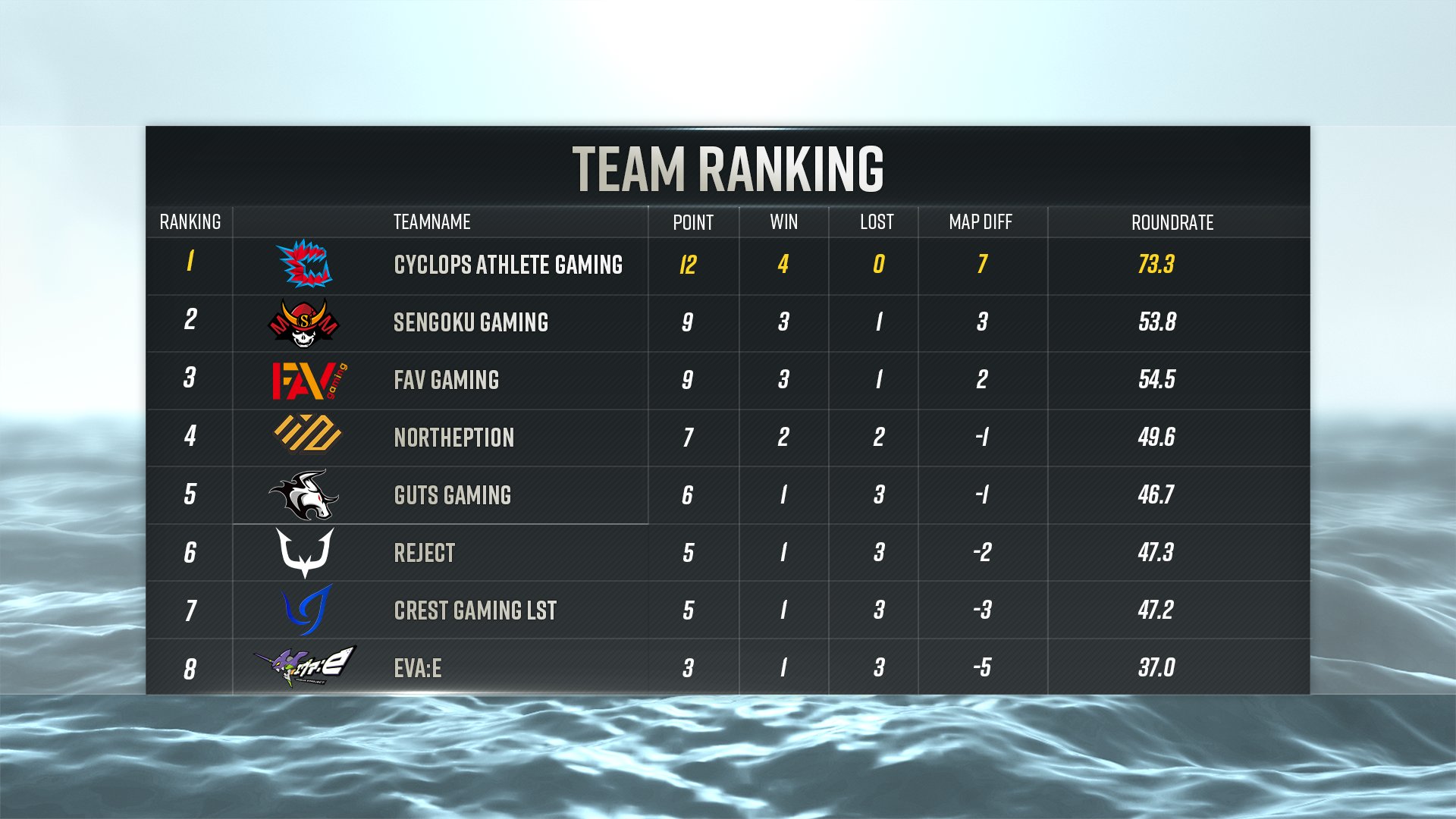 Korean Open
In Korea, meanwhile, this morning saw a rematch between T1 and DWG KIA, which DWG won 7-2 while Saturday and Sunday will each see all four Korean teams in action, as the league comes to its close before the following playoffs.
Liga Six Cup
Finally, in LATAM, all Tier 2 and 3 teams in each sub-region will be taking part in Week 3 of the first Liga Six Cup. The top 12 teams in the Liga Six Cup will qualify for the Brazilian Cup, alongside the 7-10th placed BR6 lineups.
In Brazil, the prior two weeklies were won by SuperNova Team and the ex-Santos roster and will see both Black Dragons Academy and Team oNe Academy take part this week.
---
This all adds up to be one of the busiest weeks of R6 action to date and easily the busiest of this stage, as NA, EU, and APAC has super-weeks, four national leagues kick-off, NACL gets into the swing of it, and another French champion is crowned.
Check back here next week for the results and stats of a lot of these tournaments and be sure to lock in your game predictions on the newly launched SiegeGG Predictions tab.