After a relatively smooth 2020 season, the pre-season break saw relatively few changes to the BR6 format, with the bulk of attention directed to the drastic changes to the lineups in Brazil and Mexico, as more than half of the organisations changed their complete lineup.
With the BR6 starting later tonight, here's a rundown on LATAM's three sub-regions in Stage 1, including the new lineups, schedule, and teams to watch.
Jump to:
Format Changes
This year, to fit the format of the other pro-tier leagues, all three LATAM regions have moved to a Best-of-One (Bo1), round-robin format with no draws.
This means that a lot fewer maps will be played in 2021 than in 2020, with BR6 and the Mexican Championship taking place on Saturdays and Sundays, while the South American Championship will be on Thursdays and Fridays.
Following the round-robin league the top-six Brazilian, and top two from each of the Mexican and South American Leagues will meet at the Elite Six LAN event in Sao Paulo.
With the May Major cancelled and replaced with the Six Invitational, this LAN will be worth a massive 2165 SI Points and $400,000 in prize money during the week of April 27th.
All the teams which didn't qualify for the Elite Six LAN will spend this time playing in National Cup tournaments (the Brazilian Cup, Mexican Cup and Southern Cup) with the top Challenger League teams, which is a very rare opportunity for Tier 1 and Tier 2 teams to mix in high-level tournaments.
Finally, five Liga Six Open Cups will run from March to October in each sub-region, each offering different rewards to the victors:
Cup 1 -- Top 12 qualifies for the National Cup for Stage 1
Cup 2 and 3 -- Top 6 in each qualify for the National Cup for Stage 2
Cup 4 -- Top 10 qualify for the BR6b Challenger League tournament
Cup 5 -- Top 2 qualifies for the National Cup for Stage 3
Each cup is split into four-weekend tournaments with the combined points from each weekend adding up to determine the final cup standings.
This adds up to a lot of Siege for tier-two teams between the Liga Six, National Cups, and BR6b tournaments, especially with each of these happening in three separate scenes. However, it should add up to having more prepared and experienced challengers when the relegation matches come once again in November.
Brasileirão
The BR6 League starts tonight with a lot of fresh new rosters. While the league includes 10 teams, each play day will have just four games, meaning both the new FURIA and INTZ rosters will be waiting till tomorrow to make their debuts.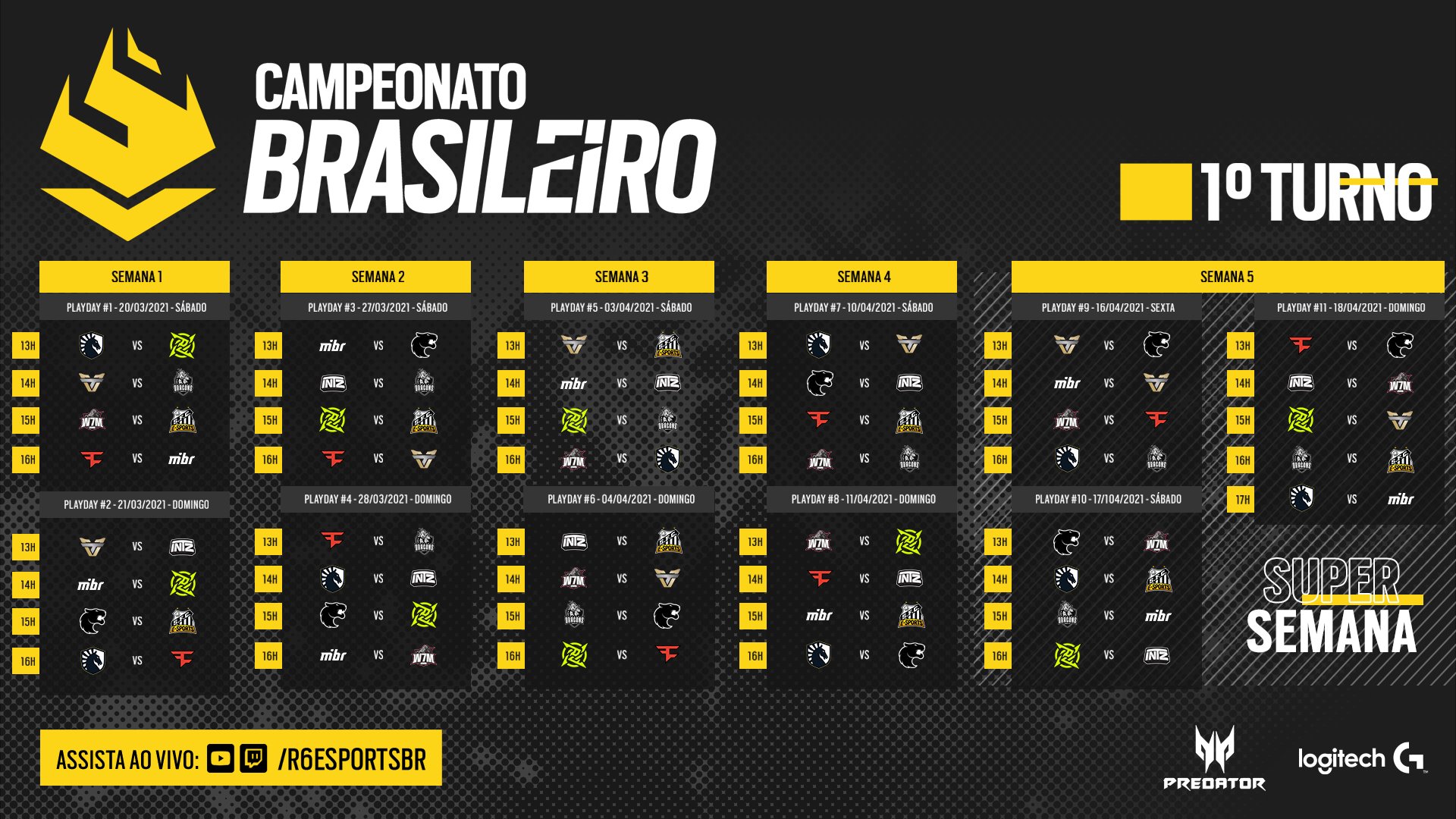 The rosters themselves have seen FaZe, MIBR, oNe, Santos, and BD each replace over half of their teams, while only Team Liquid and NiP kept their starting rosters the same:
MIBR -- reduct, Faallz, LuKid, Rappz, FelipoX, and Budega (coach)
Team Liquid -- nesk, xS3xyCake, Paluh, psk1, HSnamuringa, and Silence (coach)
Team oNe eSports -- Lagonis, KDS, Neskin, Alem4o, Levy, TchubZ (coach), and RafadeLL (analyst)
Ninjas in Pyjamas -- Kamikaze, Psycho, julio, Muzi, pino, and Mity (coach)
FaZe Clan -- Astro, cameram4n, Bullet1, Cyber, soulz1, and Ramalho (coach)
INTZ -- Dudds, Vnx, DRUNKKZZ, Vittzzz, Hornetao, JP (coach), and igoorctg (analyst)
W7M Gaming -- panico, HerdsZ, Guii, pdr1n, kurtz, Abreu (coach), and Alpha (analyst)
Black Dragons e-Sports -- live, hugzord, ion, Patoxy, yoona, sSeiiya, and Vivas (two coaches)
Santos e-Sports -- rhZ, kondz, Hxnteer, destiny, Stk, freezao, Lend4 (coach), and depresso (analyst)
FURIA Esports -- h1ghs, LENDA, Miracle, Fntzy, R4re, Twister, and Kizi (two coaches)
The main change from 2020 saw three teams rotate orgs in one of the weirdest set of changes in R6 history:
Full Team oNe roster to MIBR
Four members of the MIBR roster to FaZe
Three members of the FaZe roster to Black Dragons
To replace their lost lineup, Team oNe picked up a team of left-over players from FaZe, INTZ, BD, and Singularity. Finally, the last organisation to completely remake its team was Santos, who dropped four players in favour of four rookie players from four separate Challenger League teams.
The closest prior change we've had to this was back in Season 7, when Team Vitality's roster went to Mock-it and was replaced by Supremacy's, with Supremacy then picking up the whole beGenius lineup to replace them.
These changes, however, are much higher-stake, as they (chiefly) involve the reigning regional champions and one of the biggest organisations in R6 in FaZe Clan.
Elsewhere, FURIA made two changes in bringing in Fntzy and R4re, while INTZ and W7M both made one change each in Hornetao and kurtz.
Finally, staff changes were made in Liquid, NiP, and FURIA, with Liquid dropping mav following abuse allegations, NiP picking up Mity from Santos, and FURIA acquiring Mizi from last year's CL winners of Falkol.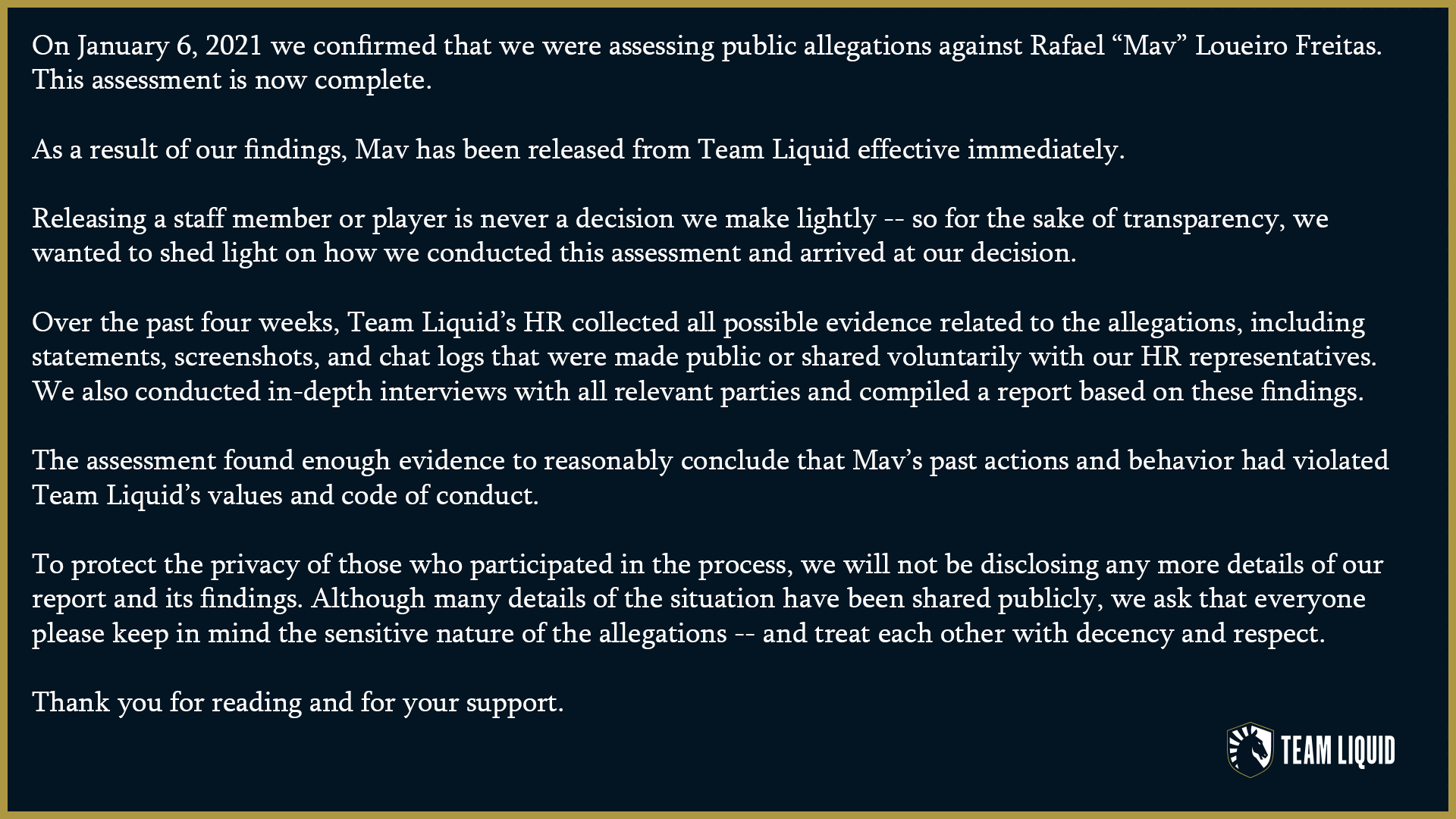 In total MIBR will probably be the happiest with the changes, as they both sold their roster to FaZe for what was likely a very lucrative deal and picked up the arguably even-better oNe roster for this season.
2021 now will likely see the traditional top-four organisations -- NiP, Liquid, FaZe, and MIBR -- once again dominate the BR6 League after oNe had pushed MIBR, and then FaZe, out over the last year.
Lower down the league, last year's relegation challengers of FURIA will likely be pushing up the table after qualifying for the Six Invitational and picking up two promising players from the Challenger League, with the team's coach of Marlon "Twister" Mello stating the following:
After we decided that we won't proceed with Novys we started to look into people that we were interested in and did some tests during an entire week. After seeing the possibilities on the table, we chose to give a chance to the new and talented blood on the competitive scene.

"Fntzy" is a young guy who's always played with the top tier players and improved a lot learning about the game and practicing even while not playing in big tournaments, and "R4re" was the most promising player that we picked up for our Academy team last year. He did great on the tryout for it and proved to be one of the best not just there but in the game and we decided this was the time to give him a chance to be part of everything we want to achieve!

I believe the Stage 1 will be a no pressure ground for us. We have two new players modifying our playstyle, communication and game knowledge. I believe we will need a practice stage to fit some things into official matches! But of course we're always aiming the best spot for us!
Finally, with a ninth-place in 2020 and an almost completely new roster this year made up of Challenger League players, Santos will be a team to watch to see whether their gamble pays off.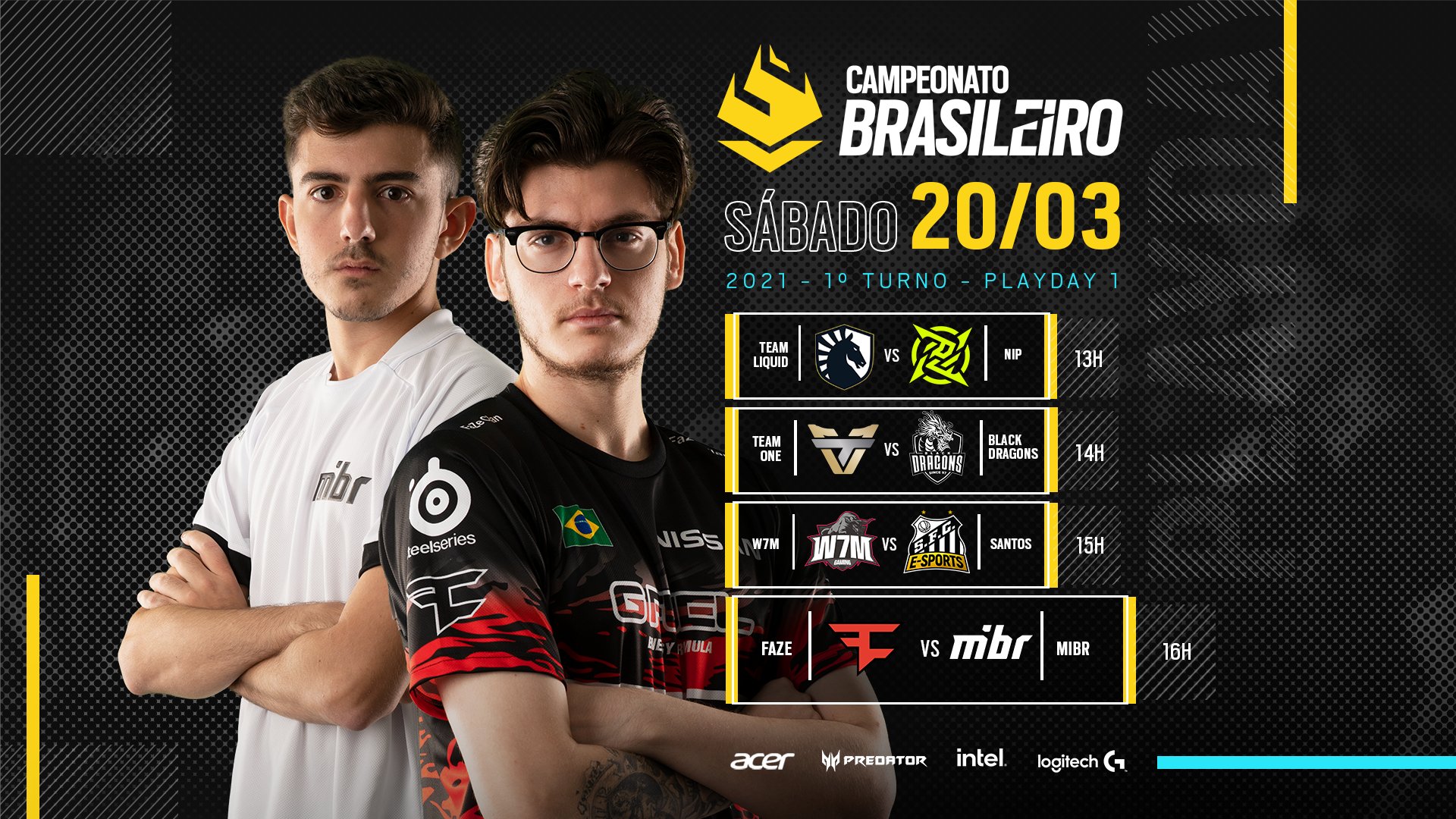 Campeonato Mexicano
Saturdays and Sundays will also see the Mexican Championship take place with just three Bo1s per play day.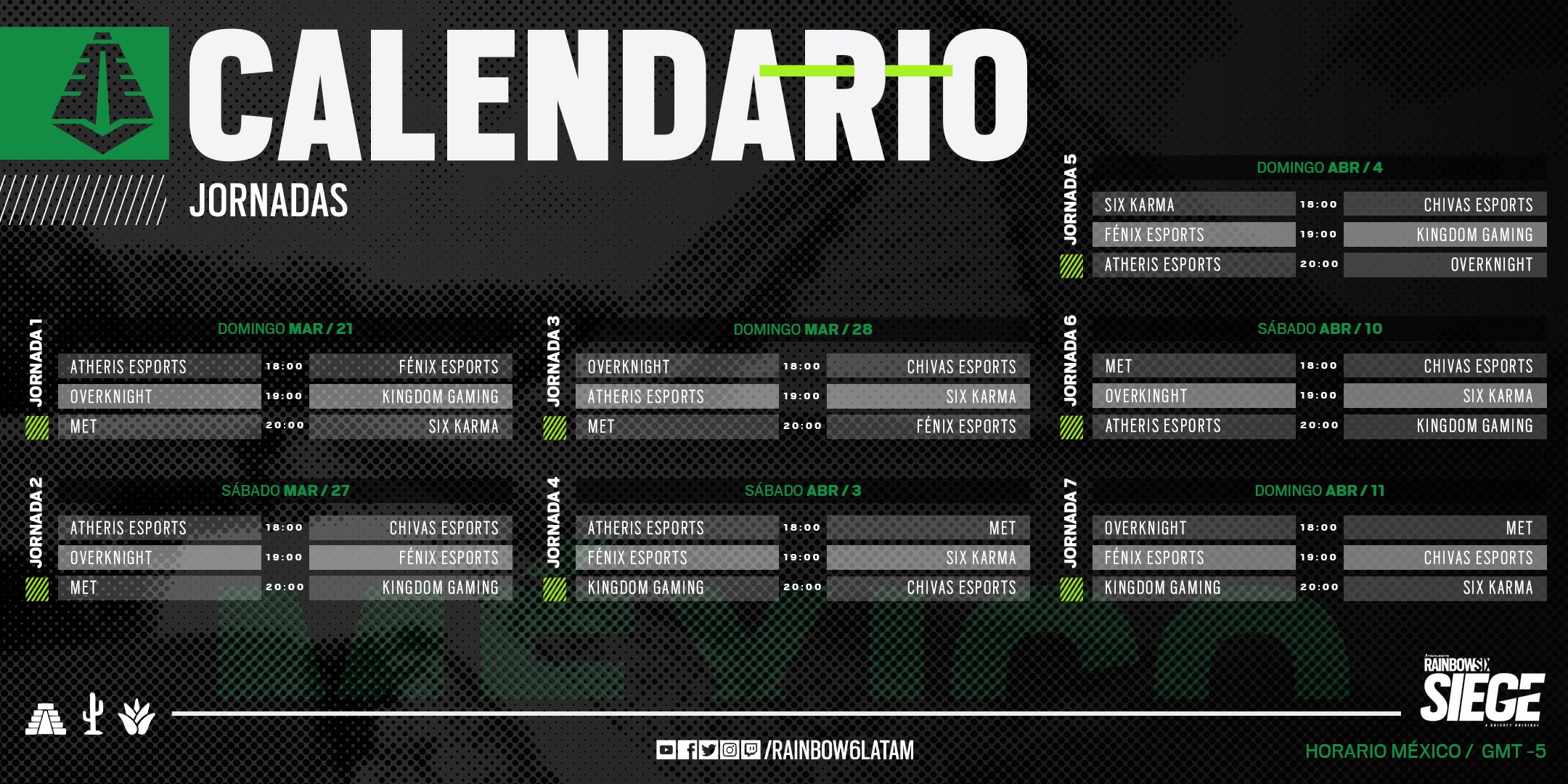 Despite there being no relegated rosters, only two out of seven of the 2020 lineups remain in 2021, as the top players were all mixed up to create a number of fresh new teams:
Atheris Esports -- SkMzY, Novys, Guicho, Navy, MKing, Royz, and GOKU (two coaches)
Fenix Esports -- XigmaZ, Morphed, P1XIE, Luxor, BOPE, and Waiffer (coach)
Kingdom Gaming -- Clerici, Cerberus, Slaay, Vector, Raven, and Thumperr (coach)
Chivas eSports -- AlanDerf, Gabo, Lua, NhilV, Mireles, Physicz, and EzPz (two coaches)
MeT -- Ravz, Hydre, Wrath, DotDash, LethalGamage, Dfult, and Luk3 (coach)
OverKnight -- Kcire, Draab, larzt, Livexe, Atlas, and Xyro (coach)
Six Karma -- Harry, Crespo, Victory, Stony, Hunther, Max1mus (coach) and Olimpo (analyst)
Firstly starting from the bottom, OverKnight and Six Karma both come in from last year's Mexican Challenger League tournament as the first and second-placed teams, respectively. OverKnight was auto-promoted to the league, while Six Karma was offered a license spot and picked the CL lineup.
Next, after the Estral organisation was banned from competing in R6, the lineup has split up into the two teams of Fenix and Atheris, who are the standout favourites for this stage.
Atheris picked up SkMzY and GOKU from Estral, Navy from Timbers, and the two well known ex-MIBR imports of Novys and MKing to make a very promising mixed-national roster.
Fenix, meanwhile, took XigmaZ and P1XIE from Estral, and one player each from Timbers, Pixel, and Chivas to create the top rival lineup.
The ex-Atheris roster meanwhile has found a new home on Chivas, while ex-Timbers moved to Kingdom, both with a number of roster changes. Kingdom's coach of Christpher "Thumperr" Segura stated this about his new team and their opposition:
Starting over with a practically new roster is exciting and scary because it's so unknown, but I have high hopes after seeing them play with each other. The potential is there, it's just giving them the tools and for them to improve inside and outside the game. 


With Atheris and Fenix, I think we can take advantage of some things and surprise a lot of people, but also I'm not going to overlook them because those are all great players and each one can carry a game themselves so squaring up to them won't be easy, but it's not impossible.

Overall, though, this year is going to be interesting looking at the rosters and will be way more competitive than last year so should be fun. Hydre will now be a sub and the main roster will be Ravz, Dot, wrath, lethal and Dfult.
Finally, we have Mexico eSports Team (MeT), which is, ironically, no longer Mexican. In its push to be the best team in Mexico, it has picked up another American in Lethal and the Canadian of Dfult.
These two added on top of the two Americans of DotDash and Wrath who joined them mid-2020, makes the starting lineup an American one.
The Co-Owner of MeT, Rafael "Aslan" Castillo, on the changes:
When we finished last year's championship we knew that the base of the team was amazing, we only had to make a few changes to make the team ultra competitive.

We started doing tryouts in December, Mexican, Brazilian, Canadian, players from all around the continent. So we crossed paths with Dfult and it was love at first sight, incredible player skilled and with amazing game sense. We signed him the same day.

We had to only fill one spot left, this one wasn't easy; we had two players we liked a lot, one mexican and one from the US, and in the end neither could make it because of personal reasons. Then Lethal came into the picture and he adapted so well we didn't even had to think about it twice.
MeT's initial pick-up of their first two Americans led them to jump up just two spots from a last-place finish at the end of Stage 1 to finish Stage 2 in fifth, a modest jump which is likely much less than the organization hoped. Now, with two more, far less experienced North Americans joining, they'll need to outdo expectations to compete with the likes of Kingdom, Atheris, and Fenix in 2021.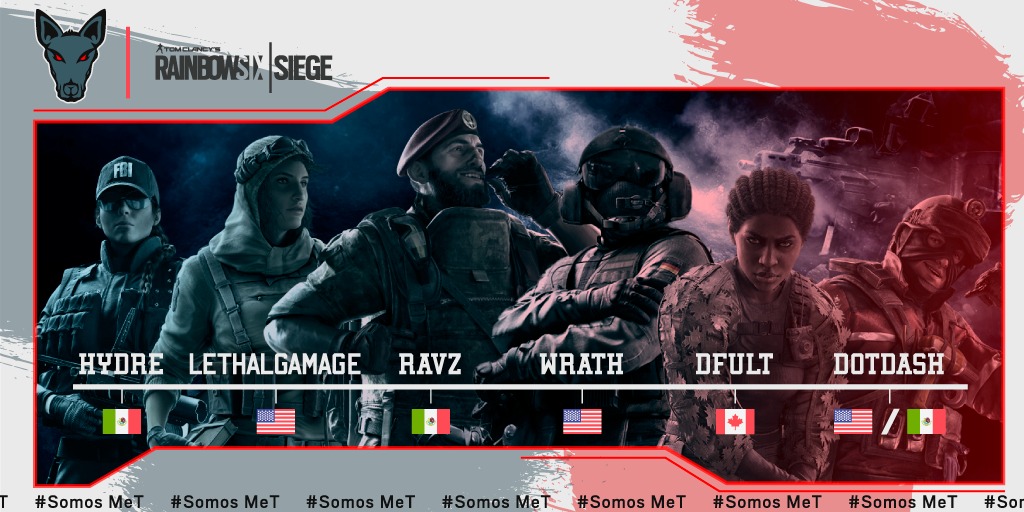 Campeonato Sudamericano
Finally, we have South America, which kicked off last night and will usually have play days on Thursdays and Fridays.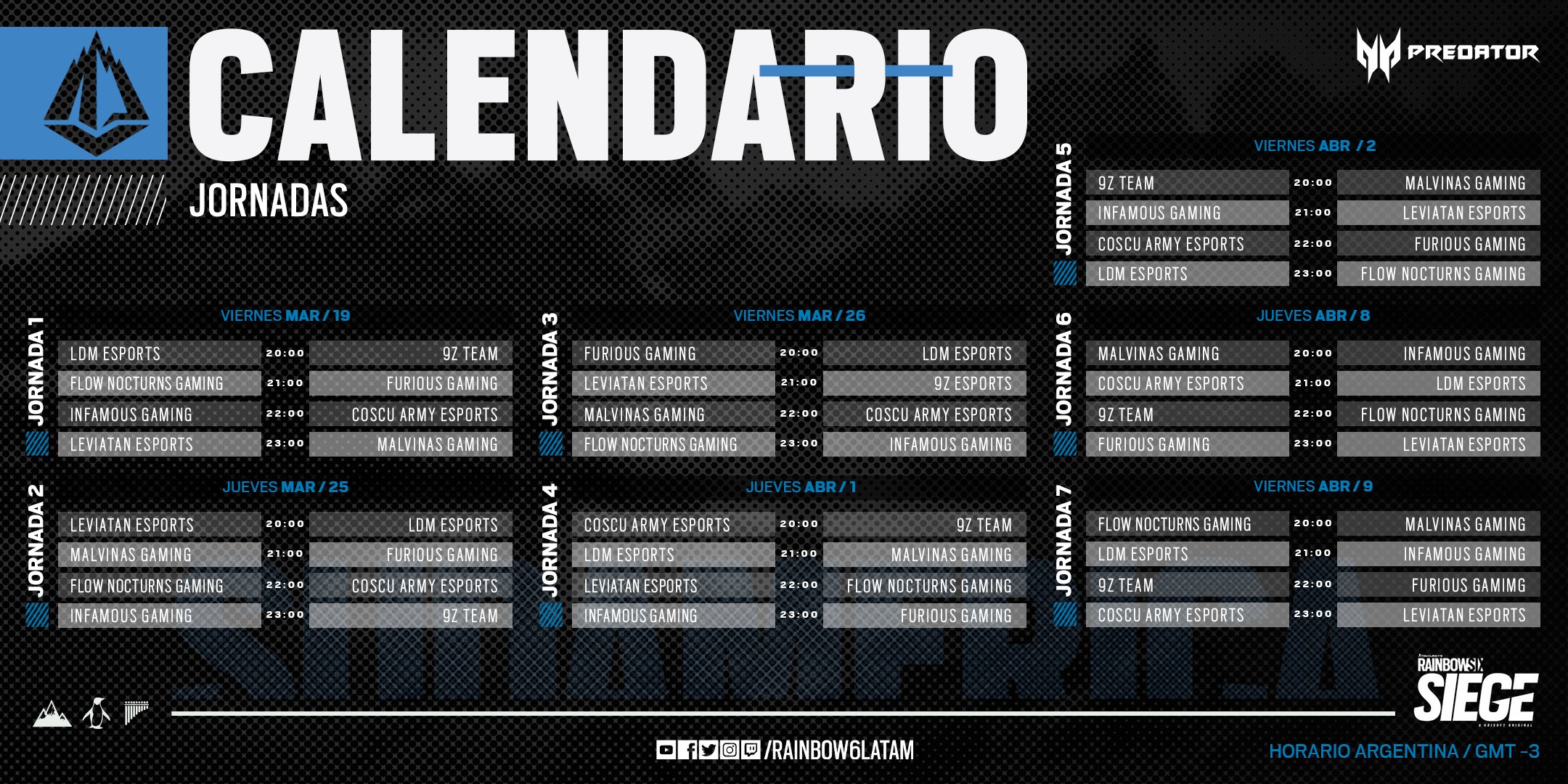 Just like Mexico and South America, most of the rosters completely changed their look, making things hard to track and almost impossible to predict:
Malvinas Gaming -- Ragn4r, Meight, Patan, Soco, TomHagen and Asterix (coach)
Coscu Army -- wikS, Mich4, R3mbrandT, Dzr, F0RBIZERAA, and L4ZinG (coach)
9z Team -- denike, zeta, Atlas, Pechito, PePe, and RICK (coach)
LDM Esports -- Re77er, SUPREMAA, Alpaca, Skillz, Slemds, and L1m0n4d4 (coach)
Furious Gaming -- Yekko, DirTy, VJ, shoxo, WeTz, and nkt
Nocturns Gaming -- Masher7, Kraften, Cueva, Anarki, FlyKer, Tucu, and xChugo (coach)
Infamous Gaming -- Lautixs96, xChiLeaaN, Cocomilazor, Zorman, Dego, Ferchie, and OneTap (coach)
Leviatán Esports -- Nefu, Yayo, HazeldorF, el_barto, Dauert, and Ruivoz (coach)
After dominating most of the 2020 season in South America, Coscu Army has largely collapsed as only two players -- wikS and FORBI -- remain on the new lineup.
Meanwhile, their main competitors of Malvinas -- who beat both Estral and Timbers during the LATAM SI Quals -- added just a single coach to their lineup in Asterix to prepare them for the new season.
Elsewhere the third, fifth, and seventh-best teams in 2020 of 9z, Furious, and Infamous all cut half their rosters, making it hard to predict their performances.
In contrast, Nocturns kept most of their roster picking up just two new players, one of which will be a substitute.
Finally, the fourth-placed LBS Esports organization was bought by LDM Esports, which picked up a fresh lineup of players, including three from the Challenger League, while Leviatan Esports acquired 2020's last placed team of Azules Esports, and picked up two players from LBS and one each from Furious and Nocturns.
With so many changes, it's pretty impossible to tell where each team will stand by the end of the stage, but Malvinas will be very confident in their ability to keep first place.
So far, on Day 1, the top returning organizations from 2020 each top the table as Coscu, 9z, Furious, and Malvinas all won their opening games without going to overtime.