Eight invited teams -- four from each nation -- competed on December 19-20th purely for national pride and a $10k prize pool. This date meant it took place the day after the end of the APAC Six Invitational qualifier and so marked the end of the 2020 calendar for most of the teams competing.
Jump to:
Format
Each team played two best-of-two maps each day against the four teams from their opposing nation. This formed the closest tournament we have seen in ages and the best look at the tier-two teams in these scenes to date.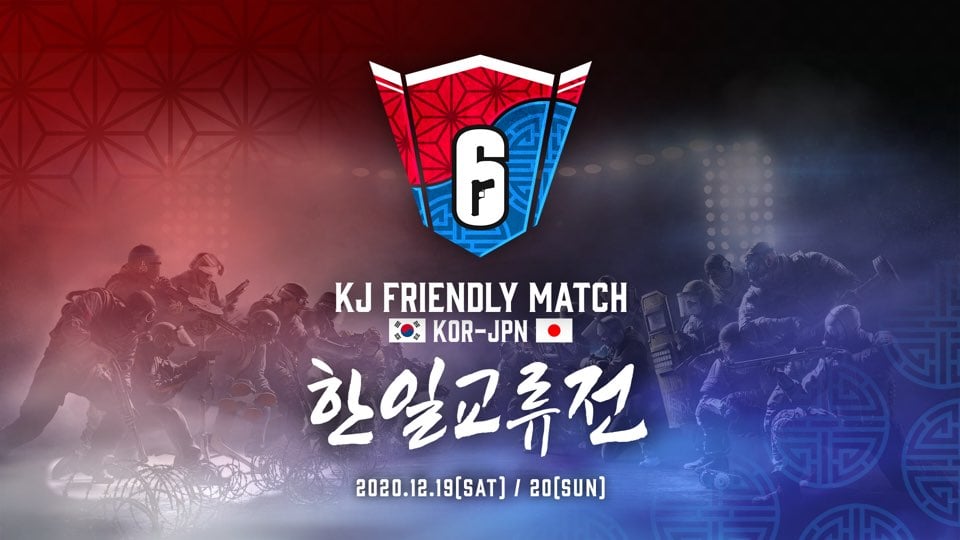 After these games were played the number of wins each nation had was added up to decide the victorious country. This meant having one very strong team doesn't help as one weak link could cost your nation four whole points. Depending on how well each country did the teams then shared the following prize:
1st Place -- $6,000 (so $1.5k per team)
2nd Place -- $4,000 (so $1k per team)
The games were cast in both Japanese and Korean by the top casters in both sub-regions making it a real event for the APAC scene.
Teams
And so here were the eight invited teams:
FAV gaming -- Finished 5th in APAC North across 2020
GUTS Gaming -- Finished 6th in APAC North across 2020
EVA:e -- Played in APAC North relegations
Sengoku Gaming -- Japan National runner-up
Cloud9 -- Back-to-back APAC North grand-finalist
Talon Esports -- Finished 9th in APAC North across 2020
GC Busan Spear -- Only new APAC North team for 2021
SGA eSPORTS -- Korean Open Autumn runner-up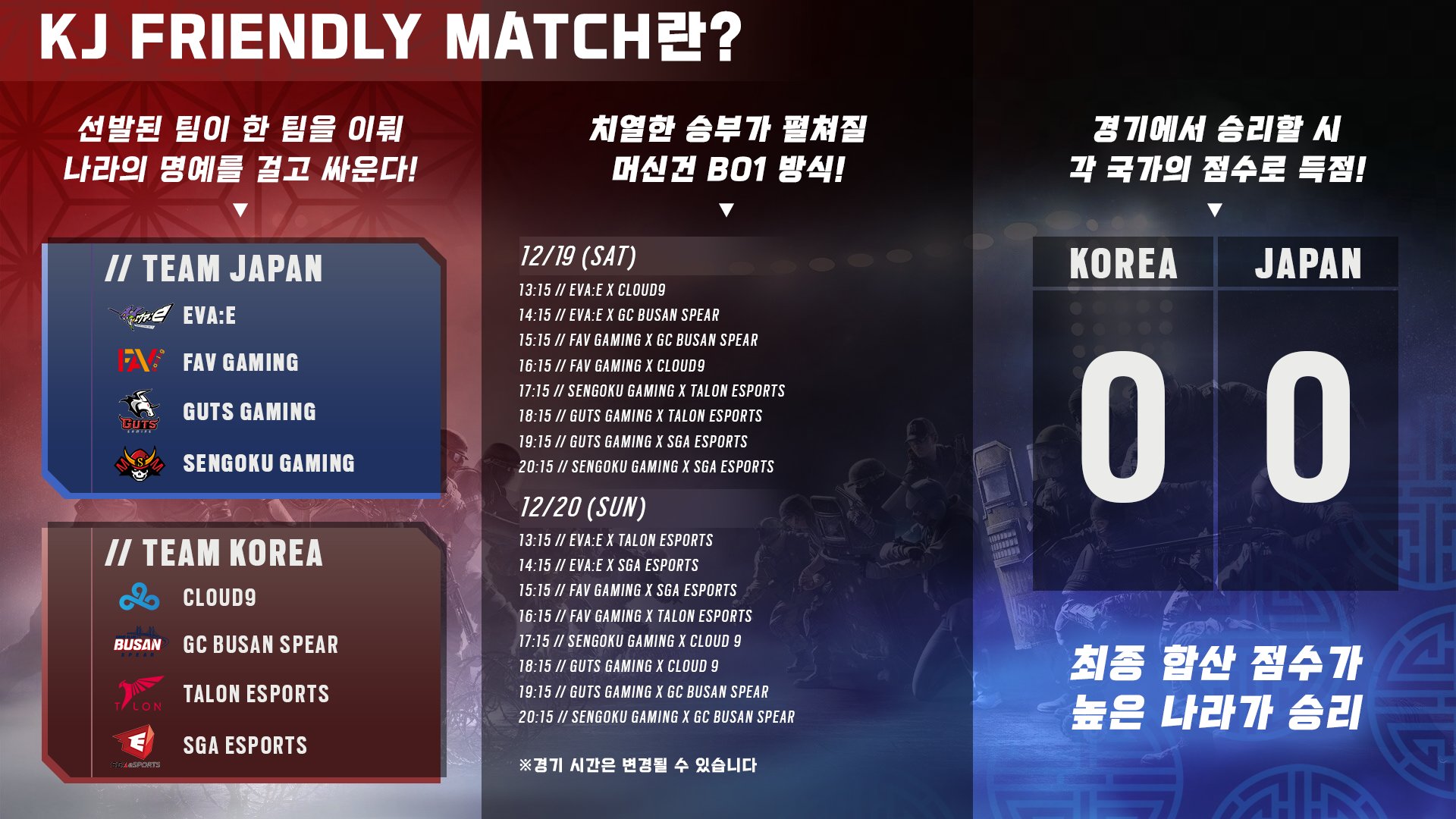 With South Korea bringing three APAC North teams including Cloud9 compared to two pro teams from Japan's lineup which crucially excludes CYCLOPS, Korea was clearly the favorites here. Furthermore, out of these eight teams, attention was all on the new APAC North team for 2021 of GC Busan Spear to see how they will fare against new opponents as we had not seen them compete outside of the Korean nationals so far.
Matchups
Day One
Saturday had four big games starting with EVA:e vs GC Busan Spear as Japan and Korea's relegation challengers faced each other. This game was somewhat unsurprisingly won by Spear as they continually prove they are a pro-tier roster. After ending the first half 5-1, 10 kills in 10 rounds by the ex-Nora and Cloud9 player of h3dy won Spear the match 7-3 following a somewhat anticlimatic clutch on the final round.
Straight following this game, Spear faced another greater challenge in FAV Gaming in a somewhat landmark game for them. FAV started 2-0 ahead and kept this lead all the way to 6-4 at which point GCBS came back to take the game to overtime following two 4v1 round wins. The game went all the way to round 15 where another 1v1 gave the match to the Japanese. This time while h3dy faltered and finished negative, it was ShiN that excelled with 20 kills to 10 deaths.
Next up FAV vs Cloud9 as the two best teams faced each other. Despite C9's regional success, historically FAV is one of just three teams to have beaten Cloud9 since mid-July while their only other meeting went to overtime. As this record would imply, the game was a marathon as they remained neck and neck throughout Consulate and yet again into overtime of round 15 where Nova secured a 1v2 clutch win. Despite the loss, FAV has shown once again they are one of C9's biggest enemies.
And so finally, GUTS vs Talon in another pro-tier matchup. While Talon had the advantage in head-to-heads, GUTS was the better team as they avoided the relegation zone meaning this could go either way. Turns out the direction was decided by an effective 1v5 ace from Yura in the best play of the weekend which ended what looked to be yet another 8-7 game.
The full results listed below meant the day ended 4-4 between Japan and South Korea with Korea ahead in rounds, 55-50:
Cloud9 7 - 1 EVA:e
GCBS 7 - 3 EVA:e
FAV 8 - 7 GCBS
Cloud9 8 - 7 FAV
TALON 8 - 7 Sengoku
GUTS 8 - 6 TALON
GUTS 8 - 6 SGA
Sengoku 8 - 6 SGA
In summary, flawless days from Cloud9 and GUTS were cancelled out by a weak showing from EVA:e and a few close losses from SGA.
Day Two
Next up, Sunday gave the prior day's duds a chance to redeem themselves as SGA faced EVA:e. SGA eSPORTS took an extremely strong 4-1 lead while attacking Consulate before EVA looked like they were gonna mount a comeback. After 2 lost rounds Korea's representatives pushed to match point before ending it a round later as Wheatling denied the plant to win a 1v3 on time.
The next game was somewhat of a letdown as FAV Gaming faced TALON. While all three prior APAC North vs APAC North matches went to overtime, this game ended in a 7-1 stomping by FAV. Afro almost securing a four k/d ratio with 15 kills to four deaths is to thanks for this as all five TALON players secured just 20 kills combined.
Luckily, this was beaten the following map as Cloud9 secured the first and only 7-0 win of the tournament against Sengoku. While it is more expected than between APAC North teams, it allowed the games to skip along to a much more interesting game in Cloud9 vs GUTS.
These two teams were still flawless with this being C9's final game making it the biggest game of the tournament. GUTS took an early lead thanks to a 1v1 victory on round one with it taking till round six and the end of C9's defenses on Coastline to tie everything up. Cloud9 then took the lead flawlessly on round seven and never looked back.
So the score between nations was at 8-6 with two games remaining, both of which starred Korea's newest pro team of GCBS. Spear had to win at least one game against either GUTS or Sengoku to secure their very first title and gain a number of domestic fans ahead of their big debut next year. Luckily for them, however, the pressure was really off.
Even if they lost both games the score would then be 8-8 and it would come down to round difference... of which Korea is ahead by +13. So all Spear needs to do is not lose 0-7, 0-7 and Korea takes the win.
GCBS passes this mark easily and while GUTS does best them in their first game, they do infact beat Sengoku to win the title outright for South Korea.
So today's results in full saw:
TALON 7 - 2 EVA:e
SGA 7 - 4 EVA:e
FAV 7 - 3 SGA
FAV 7 - 1 TALON
Cloud9 7 - 0 Sengoku
Cloud9 7 - 4 GUTS
GUTS 7 - 5 GCBS
GCBS 7 - 5 Sengoku
This meant Korea won the KJ Friendlies 9-7 and with a +13 round difference meaning in effect, Japan needed both of Saturday's 8-7 losses to have flipped their way to have won the event.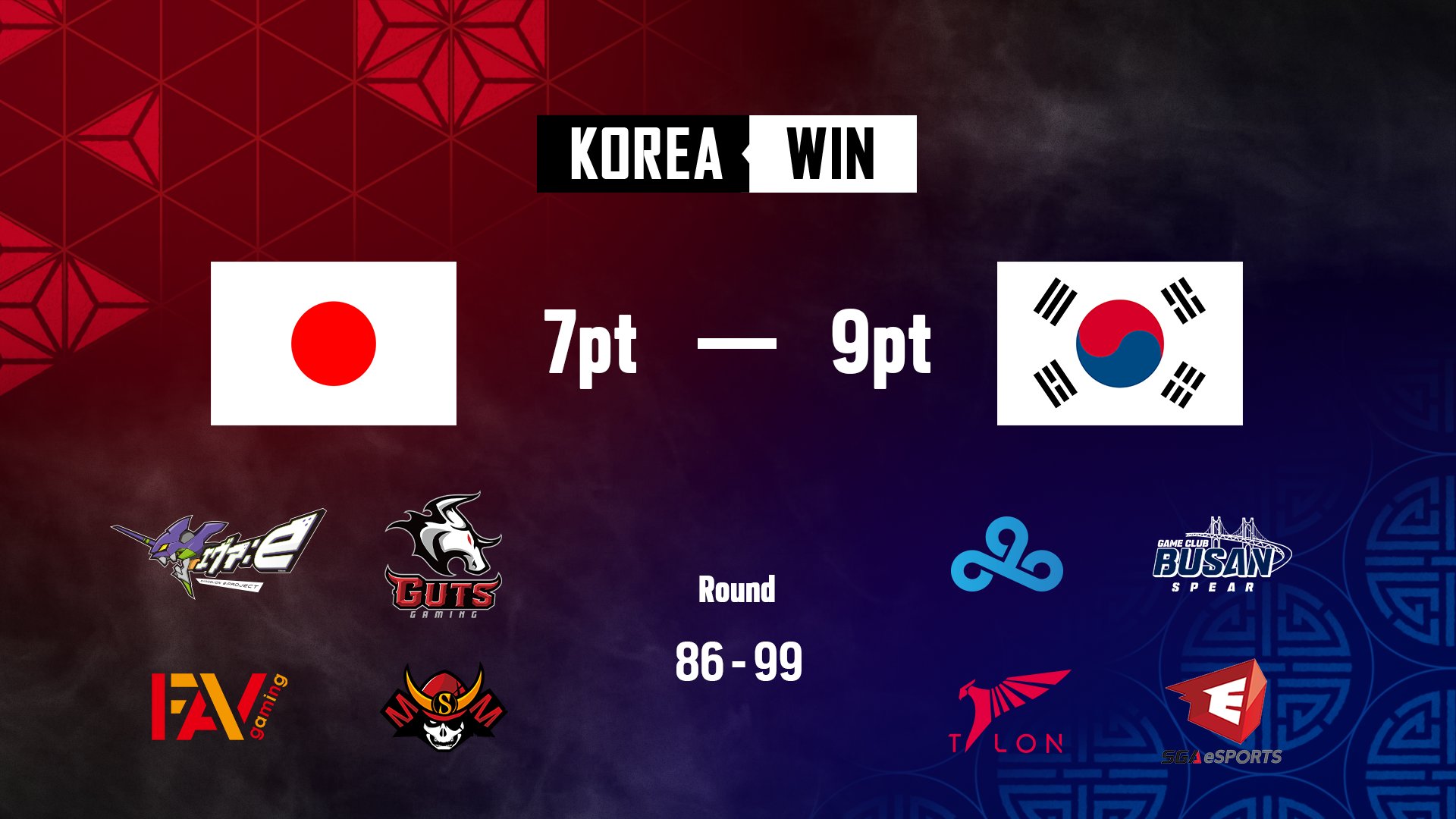 Team by team, these were their records:
Cloud9 -- 4-0 record (29-12 in rounds, +17)
FAV gaming -- 3-1 record (29-19 in rounds, +10)
GUTS Gaming -- 3-1 record (27-24 in rounds, +3)
GC Busan Spear -- 2-2 record (26-23 in rounds, +3)
Talon Esports -- 2-2 record (22-24 in rounds, -2)
SGA eSPORTS -- 1-3 record (22-27 in rounds, -5)
Sengoku Gaming -- 1-3 (20-28 in rounds, -8)
EVA:e -- 0-4 record (10-28 in rounds, -18)
---
All eight of these teams will be in action in the Korean and Japanese nationals over the next month while Cloud9 will also be at the 2021 Six Invitational in February. Keep an eye out here for coverage of these events as they happen.