The online Finals of the fifth season of the Russian Major League -- the regional league for Russia and nearby nations -- took part this weekend following six weeks of league play. Here two of the top teams in Europe lead the fight to end the year as the most recent champions after a mixed year for all teams in attendance.
Check out all information on the tournament below:
Jump to:
The League Season
The league saw eight teams compete in a double round-robin, best-of-one map tournament, with play days twice a week from mid-September to the end of October. Throughout this time we saw very few upsets, with the league matching last season very closely.
Starting with Empire, the team came back well from an early loss against V.p (7-5) to beat them in the second half on the same scoreline keeping the two teams kneck and kneck. The only other fault for the otherwise perfect season for the team came against Winstrike, where, despite winning three attack rounds on Villa, Empire was unable to take the win and instead had to settle with just a single point to their name.
This unforced error from Empire gave V.p an opportunity to capitalize and take the lead, however, it turned out Winstrike was a bigger obstacle than many anticipated with V.p needing a comeback on Oregon's defensive side to take a draw of their own.
This put Empire and V.p even on points, but then on the final week of play DED Inside (formerly known as CrowCrowd) caused another upset by taking down the EUL competitors 7-5 on Villa thanks to 5 attack wins. This meant Empire took the lead right at the end after trailing in second since playday one.
Next up, we have DED Inside and Winstrike.
While DED Inside did secure their surprise victory over V.p, they also had a number of less impressive results such as draws against 4sv and Varazze as well as the to-be-expected losses against Empire and V.p in their other meetings.
In total, this was a pretty strong season for them as they finished five points away from second and 11 ahead of fourth. Considering they finished the Season 4 league play in fourth this is a turned in the right direction, especially considering last season's position was in part thanks to a forfeit win over Empire.
Then there's Winstrike, who showed Europe where they stand with two draws against both V.p and Empire; scorelines which many EUL teams would love to secure. Their focus on these games and the Challenger League seemed to have hurt them elsewhere with them losing against Varazze, REIMEI, and DED Inside twice as well as to Empire and Vp later in the season.
This put them in real risk of failing to make it to the top four as they sat with just a three-point gap from fifth ahead of the final play week. Luckily, while Winstrike did lose both their week seven games, they narrowly scraped the final playoff spot.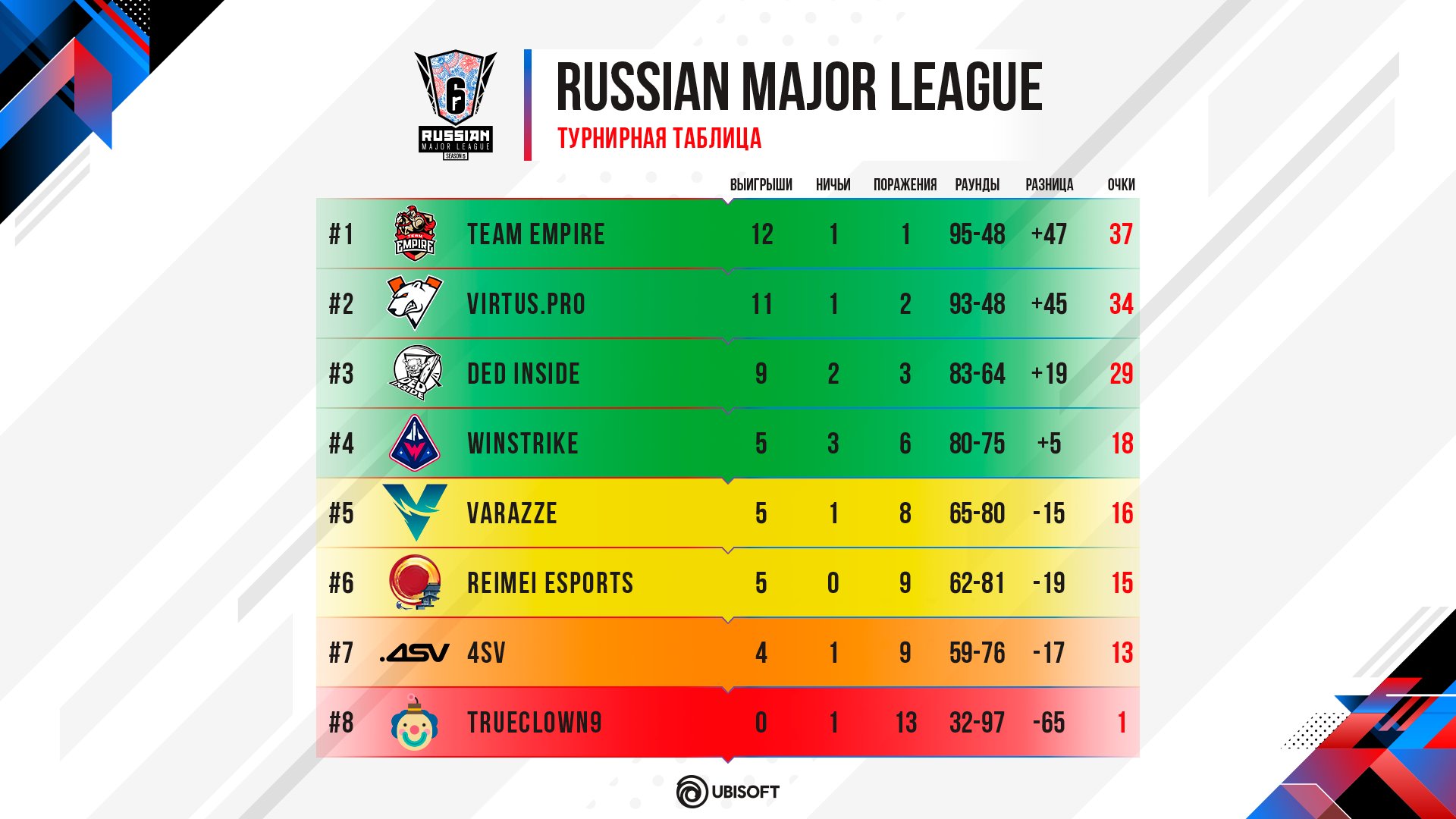 Finally, the bottom four teams saw a somewhat even battle with the clear exception ofTrueClown9 who's lone point came to a draw against Winstrike. The other three teams all had a chance of making it to the playoffs over Winstike with REIMEI losing both their final games against Varazze and DED Inside to miss out on the opportunity.
The Playoff Teams
These results meant the exact same four teams which attended the Season 4 Finals back in May also qualified for these Finals meaning we've seen them all in play quite a lot over the last year:
Team Empire -- ShepparD, JoyStiCK, Scyther, dan, Always, RayzerGM (coach), and Zheka (analyst)
Starting with the reigning Regional Major victors of Empire, the team burst onto the scene two years ago when they won the Euro Cup and Challenger League within the space of a month before starting 2019 with a runners-up finish at SI19 and victories during Pro League Season 9 and the Raleigh Major.
After this remarkable run of form, Empire then fell way off, with their only wins coming during Seasons 1-3 of the Russian Major League over the following year up until the most recent Stage where it looks like Empire has rediscovered their form.
A second-place finish during Stage 2 followed by two shock defeats over BDS during the November Major put Empire back on the map as one of the very best teams in the World and making them the standout team for this event.
Winstrike Team -- SmashByAsh, Leri, flaers0, eXoduSS, rush. and VIKING (coach)
Next up, Winstrike Team caught the attention of viewers around the World over the last few months as it looked as if they were to become the next Empire/V.p and expand Russia's dominance even further in the EU League. This was as the team went undefeated during the particularly hard Group A of the Challenger League including a 7-4 win against the favourites of GAMMA to top the group.
The team did then fall 2-0 in the quarter-finals of the playoffs to the eventual finalist of Cowana, however, they look to be a real force in Europe's tier-two scene nonetheless. Considering they qualified for the CL Season following a victory over Empire and a third-place finish last RML Season, they were hoping to prove themselves again and take down one of the big two for the second season running.
Virtus.pro -- wTg, Rask, Shockwave, p4sh4, m1loN, Toda (coach), and Andreezy (analyst)
Vp meanwhile, has much less of a history with them debuting in the EU League earlier this year. Nevertheless, the team took down Empire during the Season 4 RML Finals to become the current title holders and, along with BDS, attended both the August and November Majors (finishing third in both) making them one of the most consistently successful teams in Europe in 2020.
Furthermore, while their debut was this year, the team has been performing way before that with the V.p roster finishing third at the Raleigh Major before even their first Challenger League game. This all makes V.p a force to be reckoned with that clearly has the ability to mingle with the best in the World and so should give Empire a run for their money.
DED Inside -- Johnny, Niko2k, skiteyyy, Kszar, Amision, and MeDVeD (coach)
Finally, we have the questionably named orgless roster of DED Inside which stars the player of Amision who's currently on loan from Virtus.pro. While the team doesn't have the Pro or Challenger levels of success seen by their rivals, they are consistently one of the top performers domestically with this success likely to spill over into Europe as a whole as they gain more top-level experience.
The team currently sits in the winners final of CCS Season 5 showing their ability with them already doing better than the lone Challenger League competitor in this tournament of Homeless (ex-Izako Boars). Their own CL campaign was only halted by a 2-1 loss against Cowana Gaming in the Open Qualifier semi-finals in a better scoreline than Winstrike's previously mentioned 2-0 loss to the same roster.
The Finals
And so we come to this weekend's playoffs. The double-elimination bracket took place over the weekend as the teams fought for the $13k prizepool, the title of Russian champions, and a trophy highly resembling Fuze's Ballistic Shield.
Saturday:
Starting with the semi-finals, as two of the top four teams in Europe at the moment faced two challenger lineups, it was somewhat of a slaughter. Last season Winstrike took down Empire at this stage; this season Empire responded with a resounding 7-1, 7-1 to show who's boss. Every single player on Empire achieved close to a 2KD while the Winstrike players of rush and eXoduSS totalled a combined count of 3 kills to 31 deaths. It was a remarkable loss.
DED Inside did do better against Virtus.pro, however only marginally so. The 2-0 result inside ended in a still one-sided but less embarrassing 7-4, 7-2 scoreline pushing them also down to the losers' bracket. This result was despite Amision's valiant performance against the team in which he's loaned out from where he secured 40% of his team's kills alone.
This led to the inevitable Empire vs V.p winners' final which was much more of a contest. Here while Consulate and Kafe were blowouts to Vp and Empire respectively, Villa is where the action was with it going all the way to 15 rounds. After taking their defensive half in a respectable 4-2 scoreline, Empire then lost three offensive rounds running putting the comeback insight before a quadruple kill by JoyStiCKallowed Empire to regain the momentum and edge into overtime.
Two very attack sided round wins put the score at 7-7 with Empire on the attack to end it. A possibly accidental teamkill from wTg onto the Jager of Shockwave during the prep phase seemingly ended it before an extremely effective post-plant retake forced Always to secure a 1v2 to take the map.
Sunday:
Empire thus went straight to the best-of-five grand-final with a map advantage while V.p dropped to the lower bracket to face the winner of Winstrike vs DED Inside. This game saw another 15 round map two as Winstrike took the game in two maps.
Starting with a 7-3 victory on Kafe (a map they had lost 1-7 the day prior), they took this momentum onto their own map pick which after a weak start they began to roll through on their defence eventually ending round 15 flawlessly. The close scoreline itself was purely thanks once again to Amision who's 18 kills on Theme carried skiteyyy and Kszar who achieved no more than 8 kills each across both maps combined.
While Winstreak took down DED Inside once again, they had to win two more games back-to-back if they wanted to take the title, both against EU League opponents. Turns out, this was not a realistic goal. The following game saw a virtual repeat of their semi-final matchup as V.p took them down 7-0, 7-3 on Villa and Consulate in which Shockwave secured 26 kills to just 6 deaths to carry his team through the game.
This set up an Empire vs V.p rematch in the final which everyone knew was coming.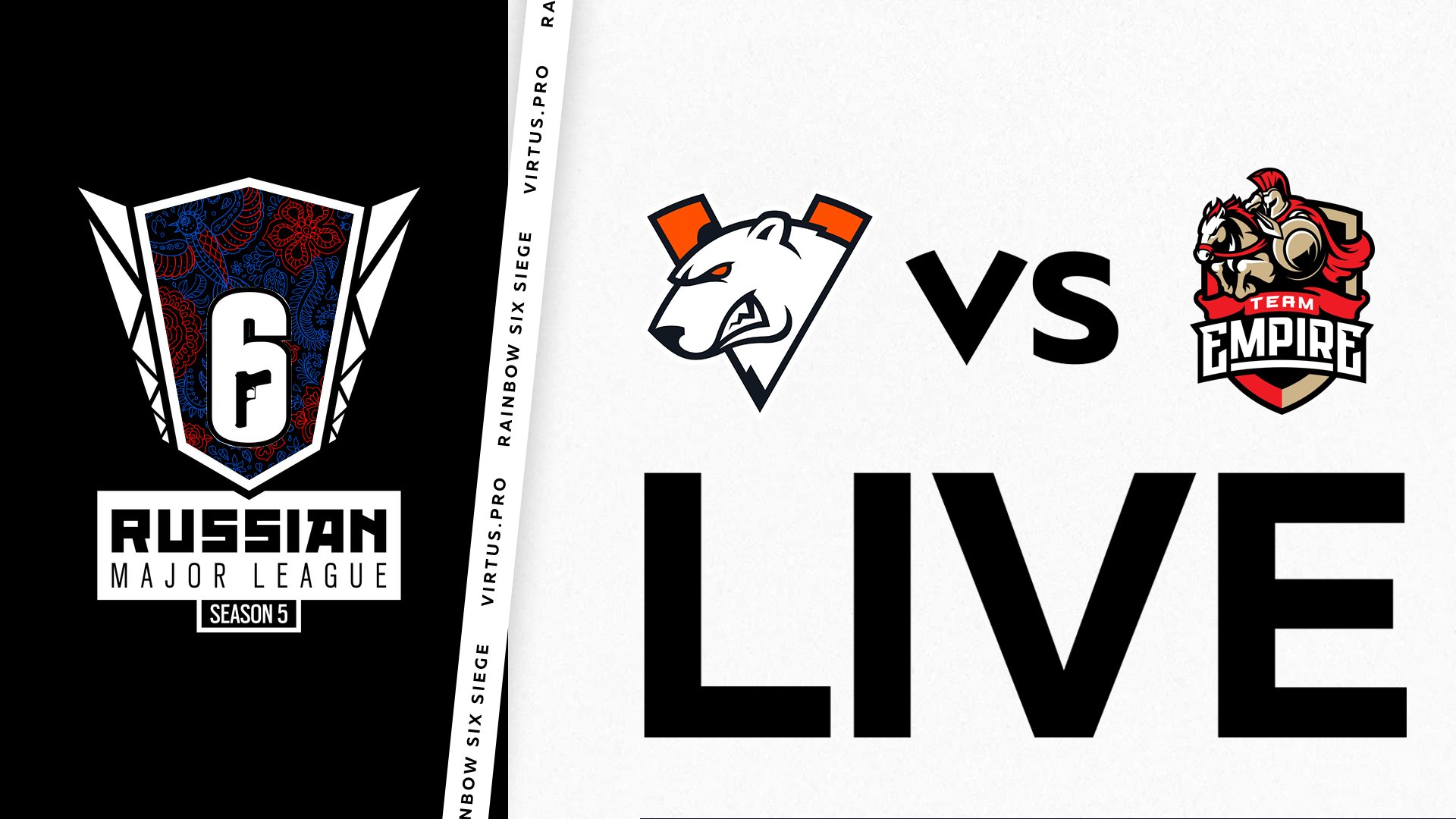 With Empire holding a map advantage we started on Clubhouse, a map we had seen from V.p a lot from in the past month. Despite this their range seemed limited as on defence they found just one safe space in CCTV which they won on both attempts while on attack they lost repeatedly including in a 5v1 against ShepparD. An eventual 7-2 scoreline put Empire on the brink of their fourth national title in five seasons.
Consulate was next, which Empire was likely expecting to lose as it is likely V.p's strongest map and the one map in which Empire lost during their 2-1 winners' final victory the day prior. This looked to be about right as they went down 4-2 on attack only for the supreme fragging skills of JoyStiCK to pull it back round by round from 3-5 to 7-5 with the final round being won on time as ShepparD managed to blindly down the planter of m1loN through a Smoke Grenade with zero seconds remaining.
While V.p is likely disappointed to have lost this game and their title, they will be thrilled with how the last few months have gone as, along with Empire, they have booked a spot at the 2021 Six Invitational, which will be their first time attending the event and the strongest Russian attendance to date for the annual event.
Coupled with Empire's Major victory, Winstrikes strong CL performance and DED Inside looking like the CCS favourites, Russian R6 is ever at an up with these Finals showcasing some of the best teams in Europe, regardless of the blowout matches.
You can check out DED Inside's next CCS game on Thursday against Sleepy Gang while both them and Winstrike will be eager to perform once again in next month's Six Invitational qualifiers. Finally, Virtus.pro will compete in the last event of the domestic season against BDS, G2 and Na'Vi in the EU Finals on January 15th. Keep track of all of these tournaments and more here at SiegeGG!