Over the last month, eight teams have been competing in a double round-robin best-of-one map format tournament which tonight will kick off the second half of the season. Let's take a look at everything that has happened so far in the Italian nationals.
Jump to:
The Teams
As introduced fully in our pre-season article the eight teams competing this season are:
Mkers -- Scatto, Sloppy, Sasha, Gemini, Aqui and Torok (coach)
Notorious Legion -- Nyfuun, Otgaz, Demoniak, Kxhz, sNKy, Arquero (coach) and Yosh (analyst)
MACKO Esports -- SirBoss, T3b, Alation, J3n4, Keenan, Px7 (coach) and Volteli (analyst)
Hmble -- wuK, cmarc0r, Jokerr, Stelks, carzi and SnyP (coach)
GoSkilla -- Neuro, Darkwiin, Bommax, Kerv, YZN and Sways (analyst)
Italian Gaming Project --

ATK,

Brodello,

HappySimo,

Lolloboii,

Atroci, Smile (coach) and Nootka (analyst)

Cyberground Gaming -- Smirky, g3ro, flusha, NoAir, B3RTO and argomino (analyst)

Mad Wizards -- Samb, s7orm, Dismal, Kygoz, Mirkoo, Slam and Ksen (two analysts)
During the league's two-week-long midseason break, there has been a number of roster changes. Most notably this includes the introduction of the ex-Pro League player from Vitality and Mock-it of David "sNKy" Khalfa to the very promising Notorious Legion roster making them a huge threat for the remaining seven playdays with this added experience.
As well as this, the struggling Mad Wizards lineup has been completely replaced with the ex-MACKO Academy lineup with Atroci and HappySimo reportedly both moving on to IGP. The MACKO Academy team had previously finished the PGN Promotion tournament in third place losing in a very close three-map contest against the team now known as Hmble making them a promising pickup for the organization.
The Games So Far
Starting with the reigning Italian champions of MACKO, the team played probably one of the most important games of the season against Mkers on playday two. This game went pretty bad for MACKO with them losing four straight defensive rounds on Villa to an eventual 7-4 scoreline. Furthermore, this result was only this close thanks to two clutches -- a post plant 1v2 3k by SirBoss and a 1v1 double kill by Alation -- which puts the result in a pretty dire position.
Including this game, MACKO went to Villa in four out of seven games this season so far, beating Hmble 7-5, IGP 7-4, and GoSkilla 7-0 on the map and marking it as a very obvious ban going forward.
On the final playday, they faced Legion who did ban Villa and took the game to Clubhouse which was a pretty even affair. While MACKO took their defensive half 4-2, the game went all the way to 12 rounds with a 1v3 quadruple kill clutch from SurA saving the game for the team in his final act on the roster before kicked a week later.
Little tweet to say that i'm LFT, really disappointed about this situation but I think it's the best for NLE and me. I wish them good luck for the future and hope they can find somemone who can fit the team. <3
Btw, NLE is an amazing org with amazing persons inside. I love them #TogetherWeRise
Onto Mkers, while the team managed a win against MACKO they did struggle against two other lineups -- Legion and, surprisingly, Italian Gaming Project. Starting with the IGP game, Mkers started dominant with them winning five defensive rounds and Aqui achieving a double, triple and quad kill in the opening three rounds. As sides switched a 1v1 by alanconnors, a 1v2 by LolloBoii and a triple kill by ATK clawed the rounds back to an eventual draw in IGP's second point-scoring game in five matches.
Earlier on in the season on the very first playday was another draw between Mkers and Legion on Consulate as Legion's primary fragger and planter of Nyfuun somewhat carried the team to this result after going down 3-6.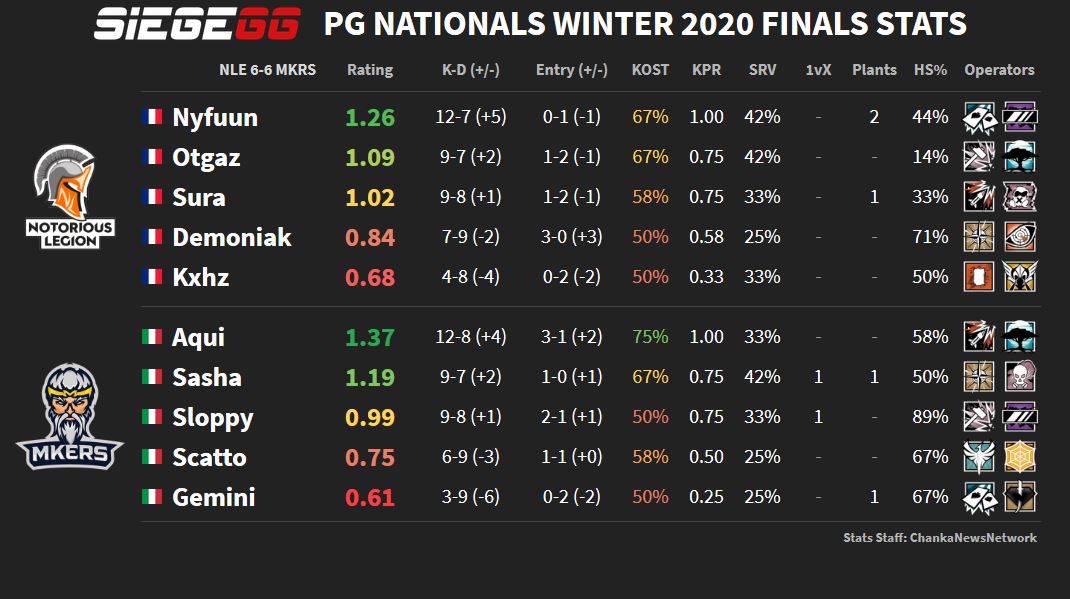 And so we come to Notorious Legion who clearly has had a very good season so far. After finishing the Challenger League Closed Qualifier in fifth place last season they were clearly confident this season and currently sit undefeated halfway through with just the previously mentioned draws against Mkers and MACKO against their name. With sNKy now joining to reinforce the team, there's a real chance they could turn these draws into a win to upset the league during the second half of the season.
Below these three teams, we have Hmble who came up from the Promotion tournament and also played in the Challenger League Closed qualifiers. While they failed to halt the main competitors, they have had a very impressive debut season and will likely be a team to watch in the Spring season to come.
Finally, at the lower half we have four teams who are pretty much fighting to avoid the relegation zone. Three of these teams -- all but CGG -- have made roster changes in the mid-season as they hope to get more wins on the board and the Wizards hope to get their first point of the season.
The above standings are slightly wrong as while both Mkers and Legion are tied on points (17 each) and head-to-head results (a tie), Mkers currently sits a single round ahead of Legion at +17 round difference compared to +16. This puts Mkers in the lead, for now, with the thinnest of margins.
What's Next?
Tonight the second half of the Winter season kicks off with the key matchup of Mkers vs Notorious Legion in which we get to see how impactful sNKy can be. No matter the result, however, it shouldn't really make a difference as the top six teams all advance to the Finals while the top two just advance straight into the semi-finals.
This does create a rather unfortunate issue in which the semi-finals will likely be seed one vs three and seed two vs seed four meaning as there are three top-tier teams, the format effectively encourages teams to aim for second place, not first.
The games tonight will be cast by Filippo "Etrurian" Burresi, Jody "ChiNook" Carraro, Mauro "JustRyuk" Barone, and Valentino "LordChanka" Allegri with Pietro "RedLike" Girardo observing on the Rainbow6IT Twitch account with the VODs and highlights available on the Rainbow Six Italia YouTube account later in the week.
As well as the undisclosed prize pool, all eight teams earn points which, along with their Spring 2021 standings, adds up to determine which team will represent the Italian scene in the 2021 Challenger League season. This means while there is no LAN Final, this season is important in keeping each players EU League hopes alive.
Check back here at SiegeGG later in the season for more news coverage of the season as well as weekly statistics of every game in the league!