Between Benelux seasons, Ubisoft Netherlands is running a smaller playoff tournament over the next month to determine the very first Benelux Cup champion. Here's everything you would want to know about the tournament from the teams, schedule, prize and similar tournaments around Europe.
Jump to:
The JBL Cup and Qualifiers
Leading into this tournament was a smaller tournament called the JBL Cup which offered 15 Quantum headsets to the victors worth up to €250 each as well as a spot in the eventual Benelux Cup tournament. The tournament included a number of well known national players including the ex-Sector One players of Rehan "WishMaster" Ahmed and Hughes "HughesDS" de Schepper on separate teams.
The tournament and Benelux Cup position was eventually won by the Belgian majority team of Grouchy Warriors in a tight 2-1 scoreline, however, the runners-up of 4 Elements were also invited to the Benelux Cup regardless.
Also leading into the Benelux Cup was the open qualifiers which took place three weeks ago and saw 12 teams compete for four more spots. These six teams joined two more invited lineups to make the eight team tournament kicking off tonight.
The Teams
Starting with the invitees, then the remaining teams in the order they qualified, here are the lineup which will be competing:
GAMMA GAMING — Leonski, Avaiche, Deapek, Panix, ASTRO, Sternab (coach) and Phenomene (analyst)
Starting with the standout favourites, GAMMA has won four out of five of the Benelux League seasons, is the only Benelux team to have qualified for the Challenger League and last week was a single round away from a CL grand-final.
The roster itself includes the Benelux core of Leonski, Avaiche and Deapek who have been competing together since July 2018 along with the relatively new aditions of Panix, who played in the Pro League for eight seasons and qualified for three SIx Invitationals, and ASTRO, who has previously competed in three different national scenes but never won a title before.
While their loss against MnM Gaming in the most nerve wrenching of fashions during the Challenger Legaue knockout games would certainly be a major blow to the team, they have proven themselves time and time again to be a regional challenger and are likely once again to show the Benelux region who's boss.
4 Elements — Robinshu, Pangoro, Lucania, OneTepHek and Shocks
Next up we have the Dutch roster of 4E (previously known as UX Gaming) which qualified for the Benelux League Season 5 grand-finals. Pangoro, Robinshu, Lucania and OneTepHek all finished the season in fourth which included a draw against the soon-to-be Challenger League team of Sector One before then being first rounded by GAMMA 7-0, 7-0 in the Finals.
While this result was a pretty bad end to the season, the team comes into this event as one of the longest lasting and has already won a number of smaller Benelux events likely putting them ahead of other newer teams which qualified later.
Poggers — Youri, Kabouter, Prxmoted, Virch and drateR
Kabouter is the best known player in this team as he previously attended the Benelux Season 1, 3 and 4 Finals in which he finished in second, second and third place. For this tournament, he has stuck with two of his teammates from mCon during Season 5 of Youri and drateR who finished second during Benelux Season 4.
Joining them for this tournament comes a the German player of Prxmoted and a second Slovenian player in Virch who recently finished in last at the UKIN Nationals. Considering the core lineup has been competing together for longer than most others, Poggers has a very good chance to be one of the teams to watch as the Cup progresses.
Aethra Esports — Tsuky, HughesDS, LNG, Duco, Bang, Lance (coach) and Okidokie98 (analyst)
HughesDS, Duco and Okidokie each come from the Benelux Season 5 runners-ups and Challenger League qualified roster of Sector One with the former two both being kicked before the team began their Challenger League campaign.
These players are now joined by three Turkish players (one of which is on the bench) which marks the highest profile appearance from any players from the nation. Finally, rounding off the team is the second Belgian player of the team (alongside HughesDS) of Tsuky who previously played with the Turks during the Challenger League qualifiers.
Both the ex-Sector One players and the Turks will be hoping to make a showing here as the players want to show they have the ability to compete against some of the top European lineups.
Team 7AM — Hoffo, Jonna, Smurfje, Locky, Soggy and Conco (analyst)
With Greek, Swiss, Slovenian and Turkish players previously mentioned, 7AM adds on to the collection of flags with players from the UK and Norway alongside two Belgian and one Dutch player.
These players have limited experience with this being the first top level national league for all five of them. The team did however enter this event as the top seeded lineup from the qualifiers after they beat both Team Zoned and Axibyte -- two teams which qualified via the losers brackets -- to reach this event. This shows promise they'll be hoping to take into the Cup.
Passion — nudl, NotFreq, Luigi, Bruno and Gunner
Two more Ducth and one Belgian player joins a Croat and Polish player in Passion which also qualified via the qualifiers in straight games. This included two wins over the ex-Benelux League team of Mouseplayz which included the regionally well-known names of Dark, SoClosed, MissMarie, Spordos and BobiBoy, and a win over Team Cultist which had been one of the top performing teams during the Benelux Bi-Weekly events.
Axibyte — Zend, Dxtch, WishMaster, jjume11 and SoulSeekeR
Another one of the Season 5 runners-up in WishMaster joins SoulSeekeR who previously played alongside teammates such as neLo and Fonkers to create this team which has already put up a performance during the JBL Benelux Cup mentioned earlier. While they did finish in third, they took down Grouchy Warriors (which includes much of the current Aethra lineup) in its qualifier before only falling to 4E.
Both these teams are very strong lineups as 4E was invited directly to this event as Aethra includes much of the S1 lineup. This puts Axibyte in a confident position despite both these lineups being in the a separate group to them.
Team Zoned — Zevroz98, Atomicc, SHAKUUR, Voxsey and Sangtinell
Finally, we have Zoned which enters the tournament as the complete underdogs with them not playing any notable tournament before.
To get this far the team beat players such as BDraxon, TomZyee, Fragz and Tw1 showing they can compete at that tier, however, with an opening game against Aethra their season will start very hot.
The Format & Broadcast
These eight teams have been split into two groups of four. Each group will play a double-elimination bracket each Monday and Wednesday over the next three weeks with the top two in each group progressing to a single-elimination Finals on December 12th.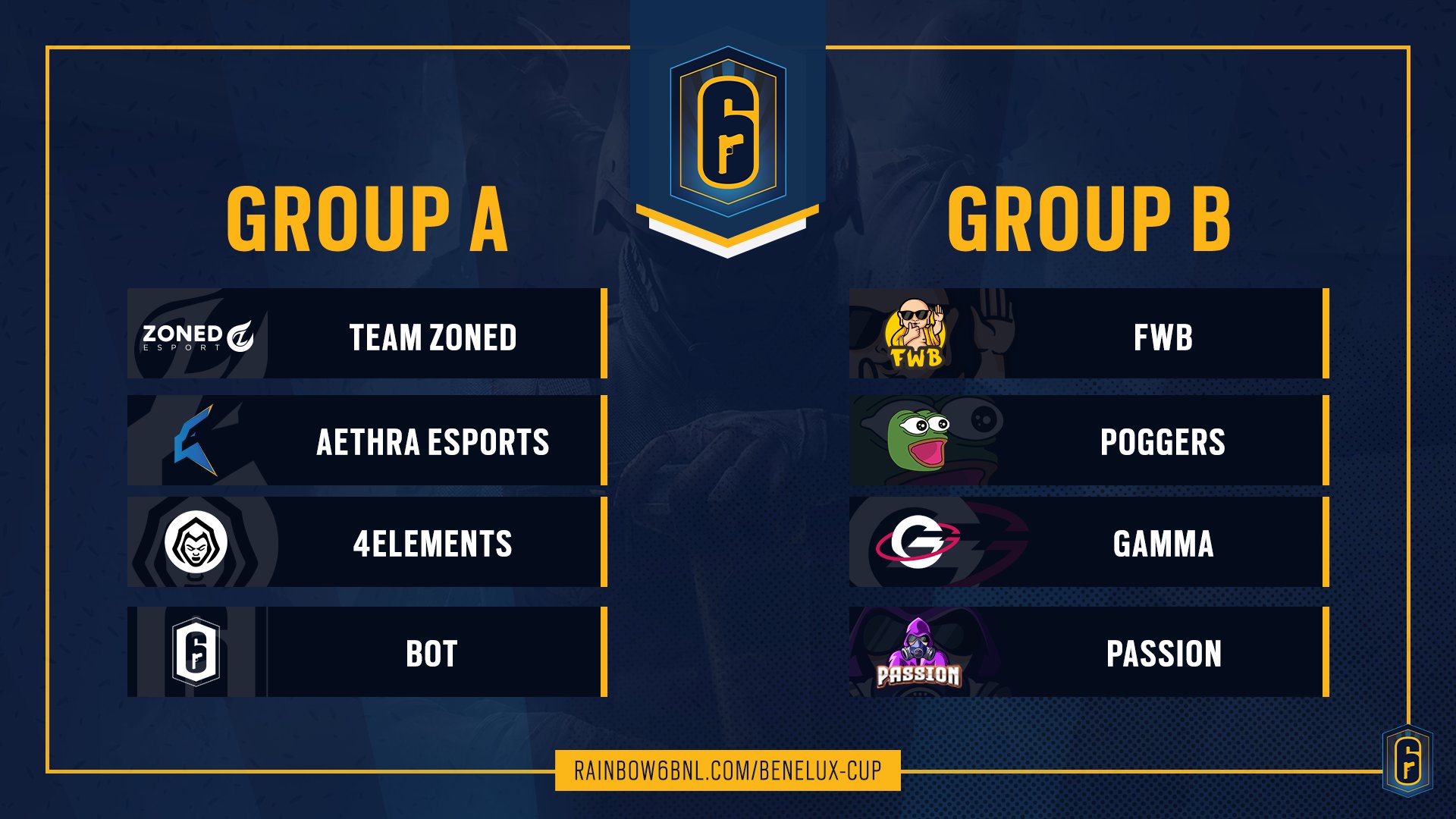 In offer to these teams across the Benelux Cup is a total of €10,000 split as follows:
1st Place -- €4,000
2nd Place -- €2,000
3-4th Place -- €1,000
Fairplay prizepool -- €2,000 split between all teams which follow the rules
Previously, these have been the victors of the Benelux region's most notable tournaments:
Benelux League:

Season 5 -- LowLandLions -- Leonski, Avaiche, Deapek, Next1, blas, Sternab and Phenomene
Season 4 -- Trust Gaming -- Leonski, Avaiche, Deapek, Meadzzz, Easy and DocYen
Season 3 -- Trust Gaming -- Leonski, Avaiche, Deapek, Meadzzz, Quadzy and Anthony
Season 2 -- Demise -- Farooq, Staed, rxwd, sNKy and NoerA
Season 1 -- Trust Gaming -- Leonski, Avaiche, Craxan, Snuf, Sant0ss, Anthony and oVie

Smaller events:

DreamHack Rotterdam 2019 -- Trust Gaming -- Leonski, Avaiche, Deapek, Meadzzz, JinxedOwl and Easy
CLUTCH Season 1 -- Imagine11 -- Bryans, Nztro, Osarck, Purple and Vegas
The Reality 2020 -- Friends With Benefits --

WishMaster,

NikkeS,

Jjume11,

SemTheGamer and

Krizz

The Reality 2019 -- Free Gains

-- Aizy, MissMarie, Dark, SoClosed and Kwekko

The Reality 2018 -- Trust Gaming

-- Leonski, Avaiche, Deapek, Snuf, Quadzy, oVie and Anthony

Siege Summer Series 2018 -- Chaos EC

--

Secretly, REDGROOVE, sno0ken, Renuilz and Kripps
Those prior results show exactly why GAMMA are so favoured this season considering the success of the Leonski/Avaiche/Deapek core roster over the last two years.
Two best-of-three games will be played each Monday and Wednesday over the next three weeks cast in just Dutch on the rainbow6bnl Twitch channel. You can check here at Siegegg for full stats coverage of the Cup as it progresses.
Elsewhere in Europe
As well as in the Benelux region number of post-Challenger League national tournaments have kicked off around Europe which gives an insight into some of the changes in format we could see over the next nine months leading into the 2021 Challenger League season.
So far national tournaments of note have kicked off in Italy with the PG Nationals, Russia with the Russian Major League, Spain with the Drone Cup and, later this week in the UKIN region with their B league tournament. Of note here is the PGN and RML seasons which have changed the way they determine their Challenger League representative.
Instead of them just giving it to the top team, in both nations a Winter and Spring season will be ran with points available each season depending on your finishing position. The team with the most points after the two seasons earns the Challenger League spot. This format is copied directly over from the way South Korea determined their relegation team indicating it is a EMEA format change which we could see spread into other national leagues helping to insure the most deserving team wins the Challenger League spot.
For now the seven challenger teams will be practicing to hopefully topple GAMMA during these two seasons while GAMMA will be despertaly wanting a fifth shot at the Challenger League title.