After two intense days in Brazil, which determined a Grand Final between Team Liquid and Team oNe, it was now the Mexican region's turn to show the talent of their two best teams. Estral Esports and Timbers Esports battled it out to determine which was the new Mexican Major champion. While Estral was looking for a second Major win, Timbers wanted to dethrone their rivals, nowadays considered to be the best Mexican team.
Just to put you in context, Estral's record in the Regular Phase was impressive to say the least, as they dominated the Campeonato Mexicano with 10 wins, 1 draw and 1 loss, which came with their coach and their analyst in the starting lineup. To that we have to add their record against Timbers, which included a 1-0 and a 2-0 victories at the Mexicano and a 3-1 at the August Six Major. Not only that shows Estral's clear superiority over the rest, but also the standings, as they finished ten points above Timbers, eleven above Atheris and sixteen over Chivas. That is a huge difference as there are only twelve game-weeks in México.
This match was not only important for being a Major Grand Final, but also because Estral was still in the fight to make it to the Six Invitational 2021. Despite their chances being small, maths gave the Mexican side hope as a win would give them 225 SI Points, which would be added to the 225 from the previous Mexican Major. Leaving them in 15th place, Estral would have to wait for other regions results -- especially in APAC and Oceania. This is the first time that a Mexican team is so close to make it to the biggest stage in this esports scene, meaning that a good result from them was hoped by a large crowd.
These two rosters also played in the previous Mexican Major, with Estral taking the crown in August after a 3-1 win. Now, Timbers had the chance to get their revenge, which would also remove any Mexican team from the race to the Six Invitational qualification through the Global Standings.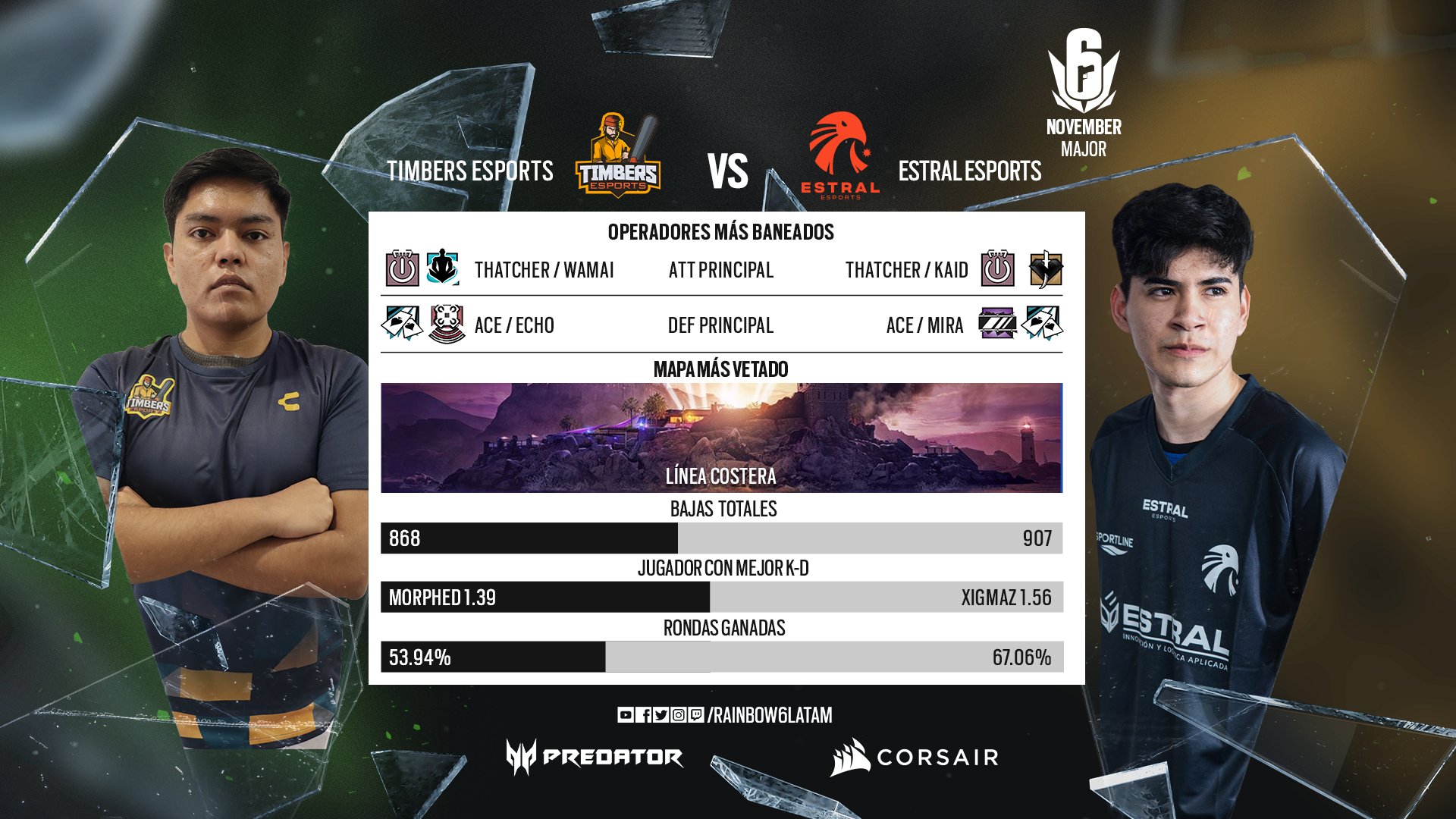 Grand Final: Estral Esports 3-2 Timbers Esports
Maps: Clubhouse (7-1), Villa (5-7), Oregon (7-1), Kafe (3-7), Consulate (7-2).
Estral's dominance was clear in the first map, which was their favorite, Clubhouse. After winning five of their six defences, the Mexican side did not have any problems closing it 7-1. The second map was Villa, and that clearly was the most important map of the series due to this being Estral's worst map. A win here would make things very difficult for Timbers; luckily for them, Timbers won 7-5, which was the only map they won in their previous Six Major meeting.
Oregon was a replay of what we saw at Clubhouse, as Estral won five of their six defences and got to win their only two attacks. However, from here things went to an unknown field, as Timbers, against all odds, got to win in Kafe. And it was not by a round, as a very good defensive half helped them to secure a 7-3 win in the Russian map.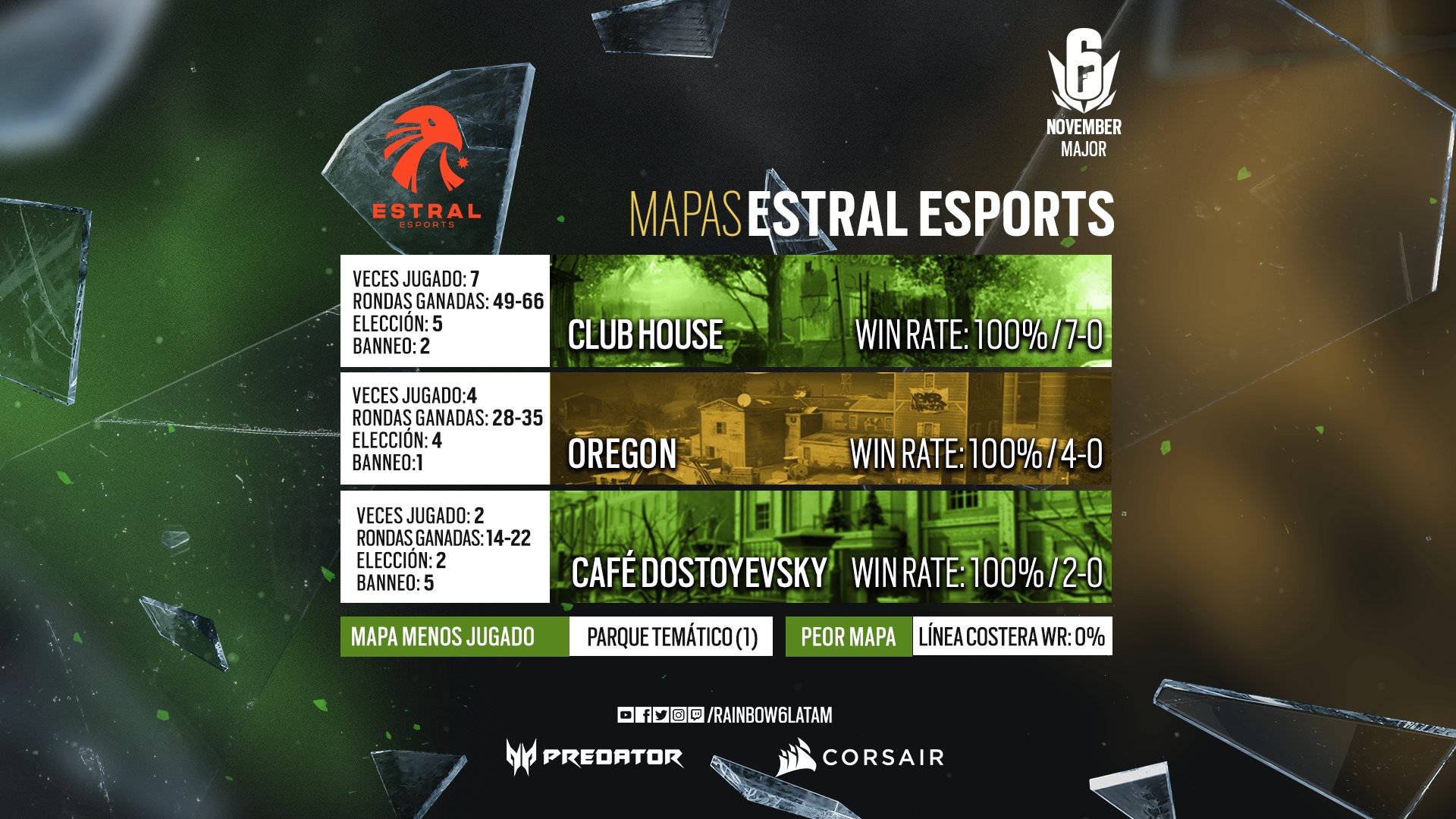 And, just like in August, the Mexican Major would be decided in Consulate. That was the only time that both teams faced each other in that map, and it ended in a 7-1 in favour of Estral. This time things went in the same direction and, despite Timbers scaring their opponents after winning the very first two rounds, a very sloppy Estral won four consecutive rounds followed by three more in defence. Estral's attack on Archives with almost no information due to their poor droning, their successful defence in Garage after a Toski run out from the CEO windows or Fungi's 1v3 clutch at the last round could have changed the match if these ended in very different results.
Nevertheless, these three one sided victories (7-1, 7-1 and 7-2) were enough for Estral to stop an improved Timbers led by Morphed. Now only time -- and the rest of the regions, especially APAC -- will determine if Estral qualifies to the Six Invitational through the Global Standings. In the case that the Mexican side finishes outside the Top 16, they will have to face their Brazilian neighbours at the LATAM Six Invitational qualifiers in order to represent México for the very first time in the international stage. Although that looks like an amazing challenge, both for players and viewers, it would place Estral and any Mexican team in a very tough spot due to ping issues, without mentioning that they would have to face the likes of Black Dragons, INTZ or even MiBR if their 455 SI Points aren't enough. Only time will tell.
To finish this article we spoke with the November Mexican Major MVP, José "Fungi" Vidales. We also talked with Estral's IGL, Oscar "Toski" Sepúlveda, almost one month ago. You can find the interview here.
First of all, congratulations on winning the Mexican Major. Let's go straight to the point… after the team's dominance during the Regular Phase, where you won ten out of twelve matches, did you expect such a close series?
I am going to be honest with you, we expected a game even easier than the previous Mexican Major Grand Final. Our problem was that we were not as ready to counter their tactics as we thought, because we were already focused on how teams from NA and BR play the game. We were already thinking of the Invitational and the qualifiers. We also did not expect two of our players -- Skmzy and Pixi -- to have problems with the game at the Game House, one of the PC's even caught on fire and we had to change it in the middle of the game.
Let's talk about you. You are who does the dirty job, finishing with numbers that usually are behind the rest of the team, a familiar situation to any support out there. However, at the Major, you ended as the best rated player (1.3), you ended with the best KD (+29) and the best SRV (53%). Was this Fungi's best game so far?
Yes, no doubts, at least in the Campeonato Mexicano.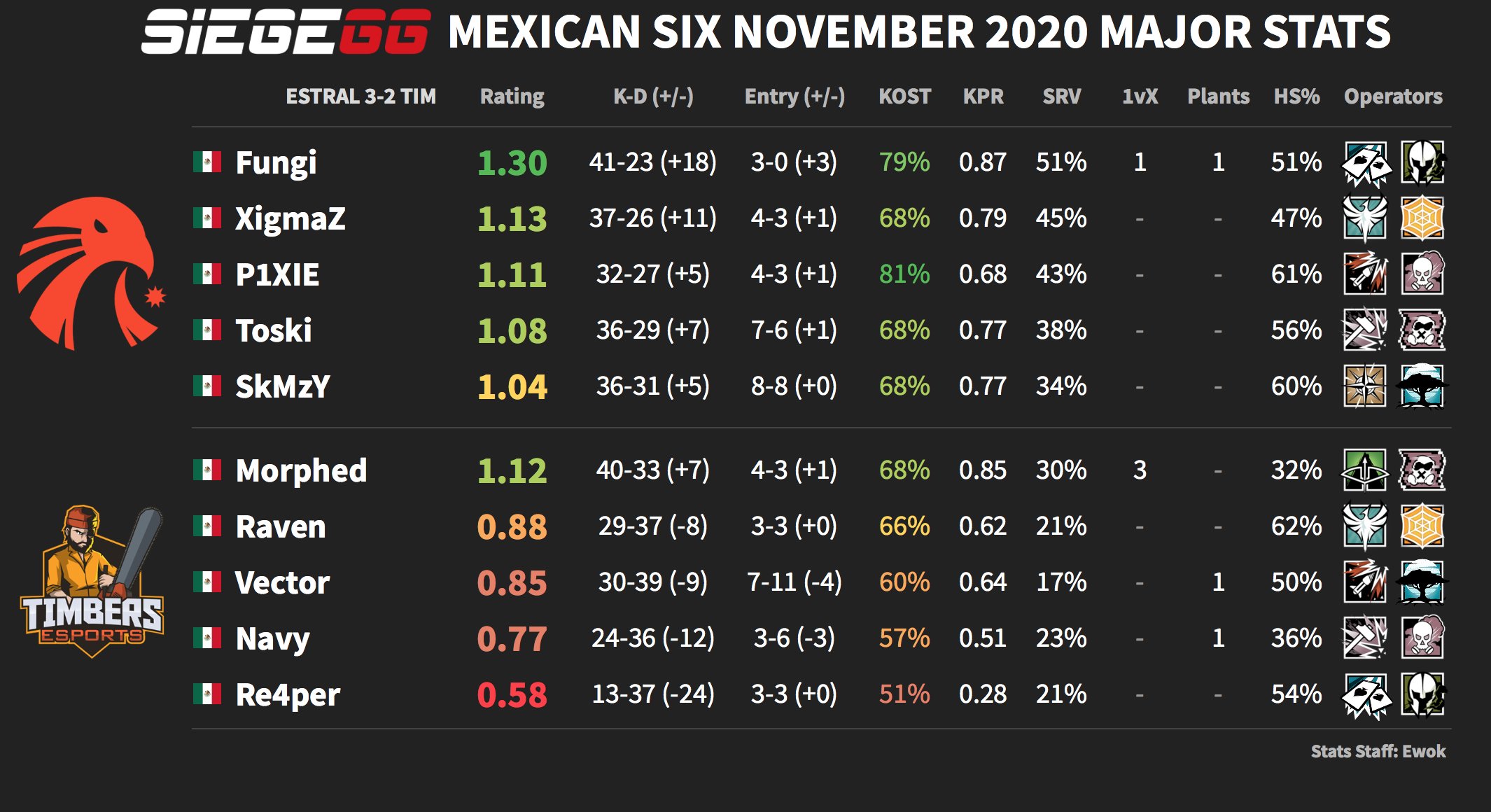 The very last map of the series ended with an amazing play by you with Maestro. It was a 1v3 clutch situation. What's in your mind in that situation, when you are just one round away to win such a big tournament? On what do you focus and how do you cope with that situation?
Well, I usually tell myself that "I will win this because I win these". Not only there but in other multiple clutch situations. You must be sure of yourself, you must think that you will win it no matter what. You merely focus on the information your team is constantly giving you, where did my teammates die, where was the last time they saw the opponents, and then it is up to you as you have to properly use the information. I really wanted to finish the game there.
The team had to win this event in order to keep the hope alive to make it to the next Six Invitational. Despite your win, the situation seems to be a bit difficult. How are you living this in Estral?
The truth is that we are all patiently waiting to see how this ends. We are in a difficult situation, there are lots of teams that can remove us from the Top 16. We still have the LATAM qualifiers, but we obviously would prefer to qualify through the Global Standings.
How are you facing the possible situation to play against Brazilian teams in order to qualify for the big event?
It is like a second chance to make it to the Invitational, and a very realistic one as we must be able to win against those teams in order to give a proper fight to any other international team. We are getting ready to face both situations, but we are focusing more on the LATAM qualifiers because that is what most likely will happen.
Do you want to say something to your fans and the international viewers?
We are glad to have such amazing support behind us. We also love all these positive comments that we constantly see on the internet, we appreciate it. We will try to give our best at the Invitational or at the LATAM qualifiers.