When you think of recent upsets, you might think of Team Secret's current momentum, Cloud9's sudden improvement in Asia after a year and a half without having control of their own sub-region, or Team oNe's unexpected first place during the Brasileirão Stage 1. However, despite these teams surprising their local fans, there's an even more special case in Mexico. We're talking about Estral Esports.
The Aztec side finished at the top of the Stage 1 standings with an impressive record of 6-1-0, as they only lost one map to Pixel Esports (7-5). The team ended with 15 points out of a possible 21. This dominance was also seen at the "mini-major", competition that saw a Bo5 match between Estral and Timbers. The Eagles won the game (3-1) and they showed to everyone that they are the true threat in Mexico. This control of the game can also be seen in the stats, as five out of Estral's six players ended with ratings above 1.1, except Fungi (1.05).
Estral successfully maintained the pace during Stage 2, and actually increased it. After a 2-0 win against Timbers, which was a replay of the "mini-major" final, Estral got their personal revenge against Pixel Esports (2-0) and, a week later, the roster destroyed Chivas as it won both maps by 7-1 margins.
Despite the results being great so far, the real test came this week as Estral faced MeT and Atheris, who were placed in third and second place respectively. Nevertheless, Estral did not have any problems as they won both clashes by 2-0 margins with four amazing performances: MeT was taken down on Oregon (7-2) and on Villa (7-1), which are supposed to be one of Estral's weakest maps, and Atheris lost on Clubhouse (7-1), which is by far Estral's strongest map, and Oregon (7-0).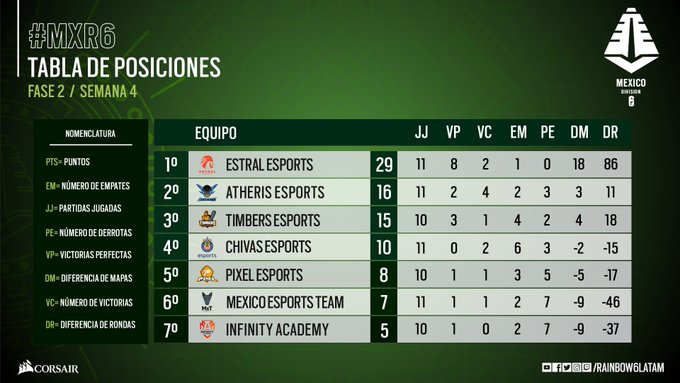 With one week of played left in Mexico, Estral have already secured their place at the regional Major. If they win the event, which is likely to happen, Estral would have a total of 450 SI Points. However, is this number big enough to see them at the 2021 Six Invitational? This would be the first time we get to see a Mexican team performing against international teams. Apart from that, this would also help us to see how good of a team are Estral Esports. In the following lines we will analyse Estral's chances to make it through.
Europe
The situation in Europe is a bit messy. Currently, the points are distributed as it follows:
Team BDS: 625+ SI Points
G2 Esports: 390 SI Points
Virtus.pro: 330 SI Points
Rogue: 275 SI Points
Natus Vincere: 225 SI Points
Team Vitality: 180 SI Points
Tempra Esports: 140 SI Points
Team Empire: 115 SI Points
This is what should happen in order to see Estral in front of these teams. BDS is the only team in the list that has already secured 115 points, which are added to the 510 that they have from Stage 1:
G2 Esports: Ends in ninth or tenth place.
Virtus.pro: Ends in eighth place.
Rogue: The German side will end behind Estral if they don't finish in sixth place, which will only happen if they win the next three games -- very unlikely as they lost their first six.
Natus Vincere: Ends in sixth place or lower. A fifth place would give them 225 points more, tied at 450 points with Estral.
Team Vitality: Will only overtake Estral if they qualify for the European "mini-major".
Tempra Esports: Not finishing at third place or above at the European "mini-major".
Team Empire: Not finishing in the Top 2 at the European "mini-major".
Team Secret and Chaos: Currently with zero SI Points, these teams' only option to end in front of Estral is winning the European "mini-major".
North America
This region is slightly different as none of the American rosters disturbed the top-four, built by DarkZero, TSM, Oxygen Esports, and Spacestation Gaming. Despite the last is the only team of these four that will have to play in the Major's qualifiers, the most recent SI champions are without a doubt the favourites to earn the spot.
Currently, the points are divided as follows:
DarkZero Esports: 785+ SI Points
TSM: 665+ SI Points
Oxygen Esports: 550+ SI Points
Spacestation Gaming: 470+ SI Points
Susquehanna Soniqs: 340+ SI Points
Mirage: 295+ SI Points
Disrupt Gaming: 230+ SI Points
Tempo Storm: 140 SI Points
eUnited: 115+ SI Points
This is what should happen in order to see Estral in front of these teams. It's impossible for the Mexican side to overtake any team from the previously mentioned top-four, however it's in this region where we find some of Estral's immediate rivals.
Susquehanna Soniqs: Should qualify for the regional "mini-major" in order to finish in front of Estral. If they finish as finalists, they would end with the same amount of points. Anything else would put them behind their Mexican opponents.
Mirage: The Canadian team should qualify for the regional "mini-major".
Disrupt Gaming: Should qualify for the regional "mini-major" and end in, at least, third place.
eUnited: Must qualify for the regional "mini-major" and win it.
Brazil
In this region we find the closest league and it's currently very difficult to make a solid prediction. These are the current positions regarding SI Points:
Ninjas in Pyjamas: 785+ SI Points
Team Liquid: 605+ SI Points
Team oNe: 550+ SI Points
FaZe Clan: 390+ SI Points
MiBR: 180+ SI Points
This is what should happen in order to see Estral overtaking their closest Brazilian rivals:
FaZe Clan: The situation for this roster is a critical one. They must end in at least fifth place. However, currently at eighth place with only five points, it seems unlikely, especially as one of their last two games is against Team Liquid.
MiBR: Meanwhile, MiBR will overtake Estral if they qualify for the regional "mini-major", which is likely to happen.
Rest of the teams: Their only option is to win the regional "mini-major", which is very unlikely.
APAC North
The Asian region, which uses a Swiss format, counts with some teams that could create some troubles for Estral. These are the current six teams with SI Points:
Cloud9: 510 SI Points
Giants Gaming: 390 SI Points
Cyclops Athlete Gaming: 225 SI Points
Xavier Esports: 180 SI Points
GUTS Gaming: 140 SI Points
FAV Gaming: 115 SI Points
This is what should happen in order to see Estral overtaking their closest Asian rivals:
Giants Gaming: The team from the Little Red Dot only needs to qualify for their "mini-major", which is very likely to happen.
CAG: The Japanese team needs to play the final. A third place would make them draw with Estral, while a fourth place or less would put them behind the Mexican roster.
Xavier Esports, GUTS Gaming and FAV Gaming: Will only overtake Estral if they end between the best two teams.
Rest of the teams in the region: Can only overtake Estral if they win the next APAC North Major.
APAC South and Oceania
The situation is slightly different in these two regions, as only the champions of both majors earn SI Points. These are the cases of Wildcard Gaming (330 SI Points) and Union Gaming (275). Everything that is not winning would place them behind Estral Esports. Right now, both teams are still in the race to qualify for the "mini-major".
General Analysis
Estral's chances to make it to the Six Invitational aren't ideal, as they rely on other results from different regions. Nevertheless, the Mexican team is lucky to still live with this problem -- an issue that lots of rosters would love to face.
If we have a quick look, we can see Rogue and FaZe Clan as the main targets. In North America we find the Susquehanna Soniqs, as it would be a surprise to see them winning against Spacestation in the closed qualifier. Wildcard Gaming and Union Gaming are two other teams that we must name, as these teams must win their regional Majors in order to end in front of Estral.
Cloud9 and Giants' great strength in their region is also something positive for the Mexican side, as it's unlikely to see other teams ending in front of them at the next APAC North Major. However, it is true that teams such as Cyclops Athlete Gaming or Xavier Esports usually cause some issues to these two sides, although it seems unlikely to see them playing at the Grand Final.
In conclusion, I personally see Estral making it. Despite these being predictions, the Mexican team can qualify with 450 points as these would be enough to overtake a big part of the previously mentioned teams. It's true that there are potential threats, such as MiBR and Team Vitality that could overtake Estral by qualifying for their respective Majors. Nevertheless, having in mind the situation in the rest of the regions, it wouldn't be strange to see the Mexican team making it through. These next ten days will be crucial for the future of this article, one to forget or a possible beginning of the impact of Mexico at the Invitational.
To end the article we spoke with Oscar "Toski" Sepúlveda, Captain and IGL for Estral Esports:
Could you talk about Estral and how it was formed?
I'm Oscar "ToskI" Sepúlveda and I'm the current Captain and IGL for Estral. I created the roster alongside XigmaZ and Pixie. We come from another team, Infinity Esports, which was the main team in the region before all this started. We won everything in Mexico and we played with players like Morphed and Reaper, although obviously we don't work together anymore.

We signed Skmzy and Fungi in their places, as Morphed signed for Timbers and Reaper retired. At the beginning we faced some adaptability issues, as only XigmaZ and Fungi had clear roles -- entry and support respectively -- the rest of the members were constantly changing roles. This is how everything started!
Let's get to the point. Estral's dominance in México is unquestionable. You didn't show mercy during Stage 1 and at the regional Major. Now, at Stage 2, you have won 70 rounds and only lost 19, which is a +51 in ten maps. Do you think the team is ready to face international opposition? How would you compare the R6S played in México with the meta played in other regions?
It's the team's dream to play at international tournaments and achieve positive results, we have Pixie's, Xigmaz and my experience, as we represented Infinity against teams from the Sudamericano. However, our objective is to face the best in Brazil, Europe and even the United States.

Before starting the first split, we had some scrims against United States teams, which were Tier 1/2 rosters and we felt strong as we really experienced some good results, but when we started playing in Mexico we had some sloppy results as it's a way different meta and playstyle. We had to get used to it at the beginning, as there's not that much coordination in Mexico, it's more about winning the gunfights. In order to improve we decided to scrim against teams at Liga B, and that's what helped is to build our own style to counter the Mexican style. I would love to see other Mexico's teams paying attention to the meta playing in other regions, there must be more coordination, the current state in the region must improve. It would be so cool to see teams with other strats and a better adaptability, and not only depend on individual skill.
Estral has one of the largest staff counts. What can you tell us about it?
It really makes the final difference, Blade and Vik's help is something that has helped us a lot. I used to talk with Goku about the team's problems and he gave us his opinion so we could fix them, but sometimes dealing with those issues was difficult with only one coach. Everyone has its own role and thanks to that, we keep improving.
The Campeonato Mexicano has helped the region and improved its skill. However, your superiority can hide this improvement to the eyes of the international fan base. What would you tell our international readers and what do you think the rest of the rosters lack to make things a bit more spicy?
I don't feel like having such a dominant team in the scene can be harmful, there are some good teams but it's always good to have such a strong team, like G2 Esports, or us in México. We need to improve to cause problems to any international team, but it's a thing that we have in mind and we practice to achieve it, that's our goal, to be a team with international level. We don't want to get stuck in Mexico.

I feel like each team has one or two players who could be in Estral, but I feel like there's a lack of skill or game knowledge, I feel like I have some of the best Mexican players without counting Geometrics, and if the rest of the teams don't improve they will get stuck.
One of Mexico's objectives is to cause problems to your neighbours, the Brazilians. What do you think about it?
When Ubisoft told us about how the Mexican tournament would be, that the Mexican champion would travel to Brazil to fight for a place for the next Major, we got really excited and motivated. The Covid issues really ruined it, but we kept playing for a spot at the mini-major. In Estral we feel like we can cause problems to any side, and we can be the pride of our region.
Do you want to say something to your fans or our international readers?
Thanks to the ones that follow us, and to the ones that don't know our name I invite you to watch our matches, I promise you won't regret it! It's a pleasure for us that Ubisoft paid attention to our region, and that they have given us the chance to have our own league. We will fight to become a better region.