Europe's Challenger League season came to an end on Friday with the playoffs kicking off tonight. The top two teams from this tournament will progress to a grand-final taking place at the EU Finals in December followed quickly by a relegation matchup against Rogue. Here's a look at how the league currently stands and a preview of the possible relegation matches coming up next month:
Jump to:
EU Challenger League Playoffs
The qualifiers for this season's Challenger League kicked off all the way back in February with the start of the Spain Nationals season. Since then, the top teams across nine national leagues joined the top two teams from Season 11's Challenger League and the winner of an Open Qualifier to create a 12 team league.
These teams were then split into two groups of six, which have spent the five Fridays since competing in a best-of-one round-robin tournament, with the top four in each group progressing to tonights's playoffs.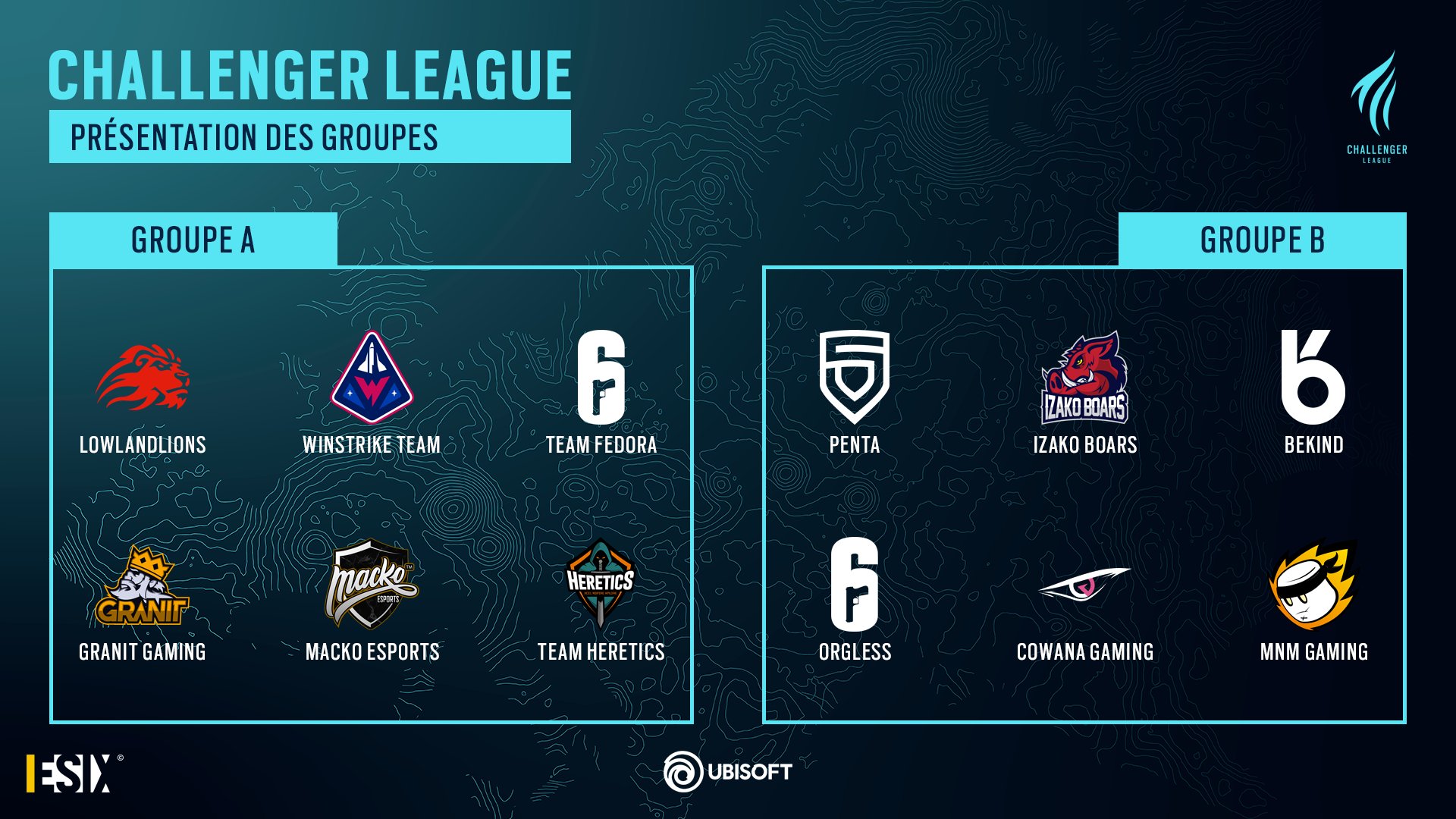 ---
Group A
Group A wa,s without a doubt, the most competitive, with it inviting the ex-CL team of GAMMA (previously known as Trust Gaming, LowLandLions, and Defusekids), and the top applicable teams from the Russian Major League, Spain Nationals, Nordic Championship, PG Italian Nationals, and GSA League.
Play Day 1 showed how tight it would be with all three games going to 12 rounds before a three-way tie for first appeared after playday two. The group deciding game eventually came on playday four between GAMMA and Winstrike in which the Russian representative won 7-4. This somewhat surprise win put WS in a clear lead and made them pretty strong tournament favorites going forward.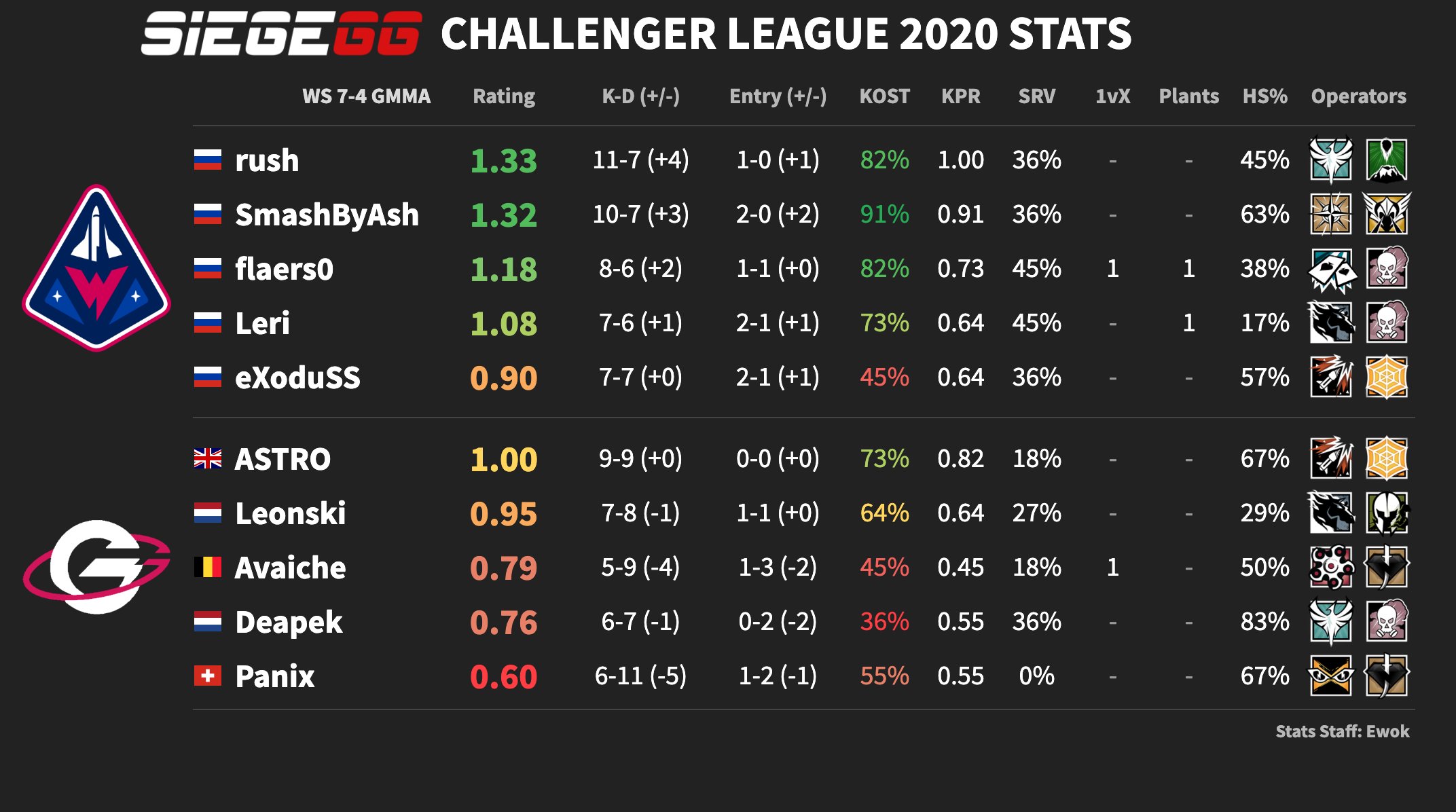 ---
With Winstrike and GAMMA locked in, the final two playoff spots came down between Heretics, MACKO, and ForeignFive which was decided on the final play day. While Heretics did manage to secure a draw against Winstrike, they were still in a somewhat precarious position which was solved the following map, as ForeignFive lost to Granit Gaming, ruling them out of contention and locking both Heretics and MACKO in for the playoffs.
Winstrike Team -- SmashByAsh, Leri, flaers0, eXoduSS, rush and VIKING (coach)
GAMMA GAMING -- Leonski, Avaiche, Deapek, Panix, ASTRO, Sternab (coach) and Phenomene (analyst)
Team Heretics -- Baroz, Sakke, JuK4, Kuriboh, Iluzjonist and Noel (coach)
MACKO Esports -- SirBoss, T3b, Alation, J3n4, Keenan, Px7 (coach) and Volteli (analyst)
Group B
Group B was very different to A, as the top four teams locked in their Playoffs spots by week four while the French and Benelux representatives of BeKind and Black Mamba failed to get a single point other than against each other. Between the top four, it was a pretty close race throughout with a point separating each position with just a single play day to go.
The key games here saw PENTA take down the Polish team of the Izako Boars (now known as Homeless) on Play Day 1 in an impressive 7-2 scoreline, which gave them the lead throughout most of the season up until the final play day. Here, PENTA's draw to Cowana allowed MnM to tie them on points, with MnM taking first place based on round difference, +16 to +13.
MnM Gaming -- Jonka, Nathan, Yuzus, Dats, Fonkers and Sparxo (coach)
PENTA -- ENEMY, RevaN, BlaZ, Kaktus, Alive and BiOs (coach)
Homeless -- Ryba, Royal, Foster, AueR, Mekses and Bugs (coach)
Cowana Gaming -- Anarchic, Grizzly, GorgoNa, Kayak, Sloth, Mrofficer88 (coach) and davil (analyst)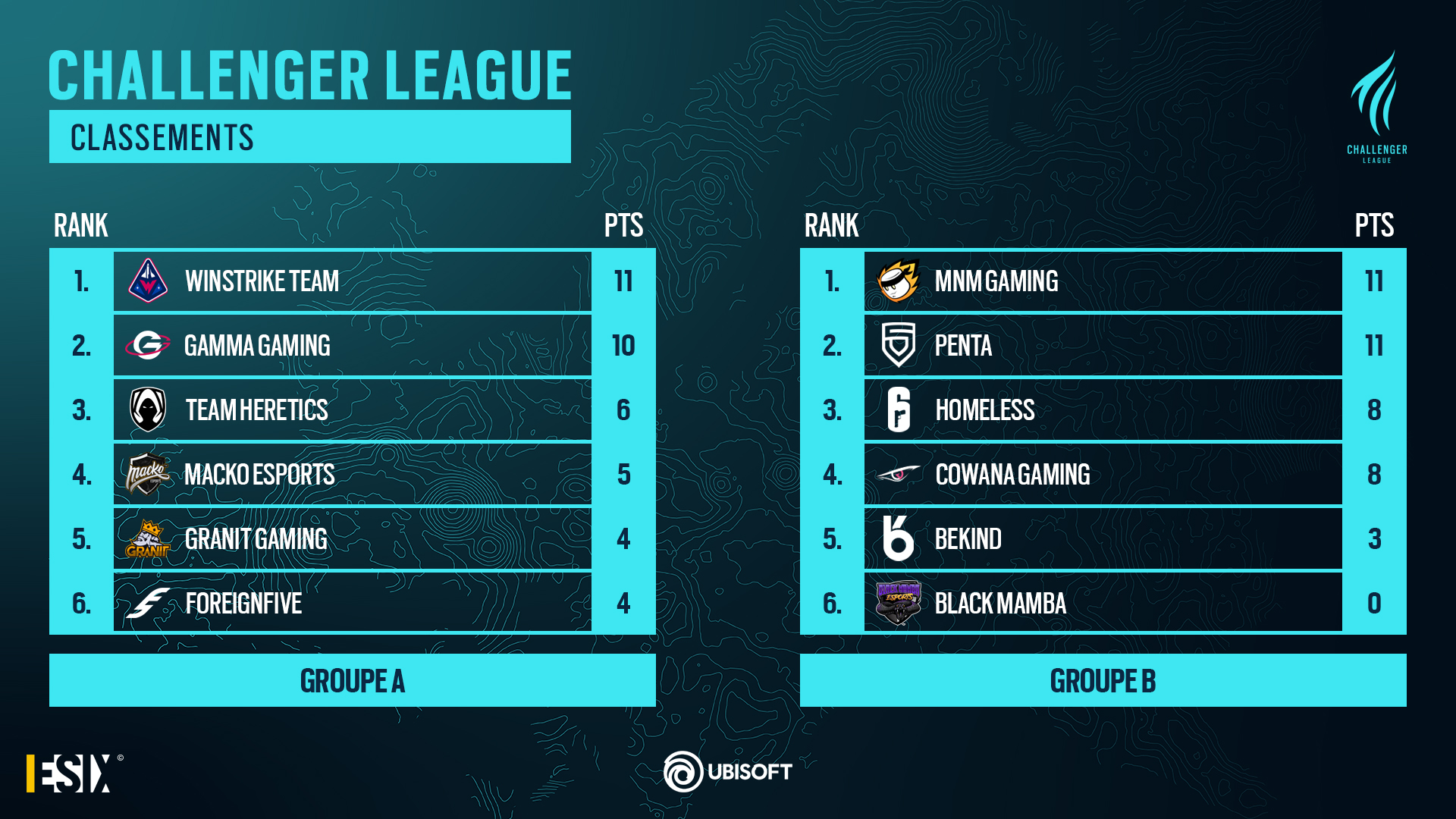 ---
Playoffs
Two quarter-finals will take place tonight, followed by two on Wednesday, before the semi-finals a week after today. Following this, we'll have the top two teams which will progress to the grand-finals at the European Finals in December.
These games will be cast by the usual names on the main rainbow6 channel as we've seen each week for the Challenger League. With two best-of-threes per Monday and Wednesday, this will be a temporary return to the old Pro League format and one of a very small number of BO3 these teams would have played this year.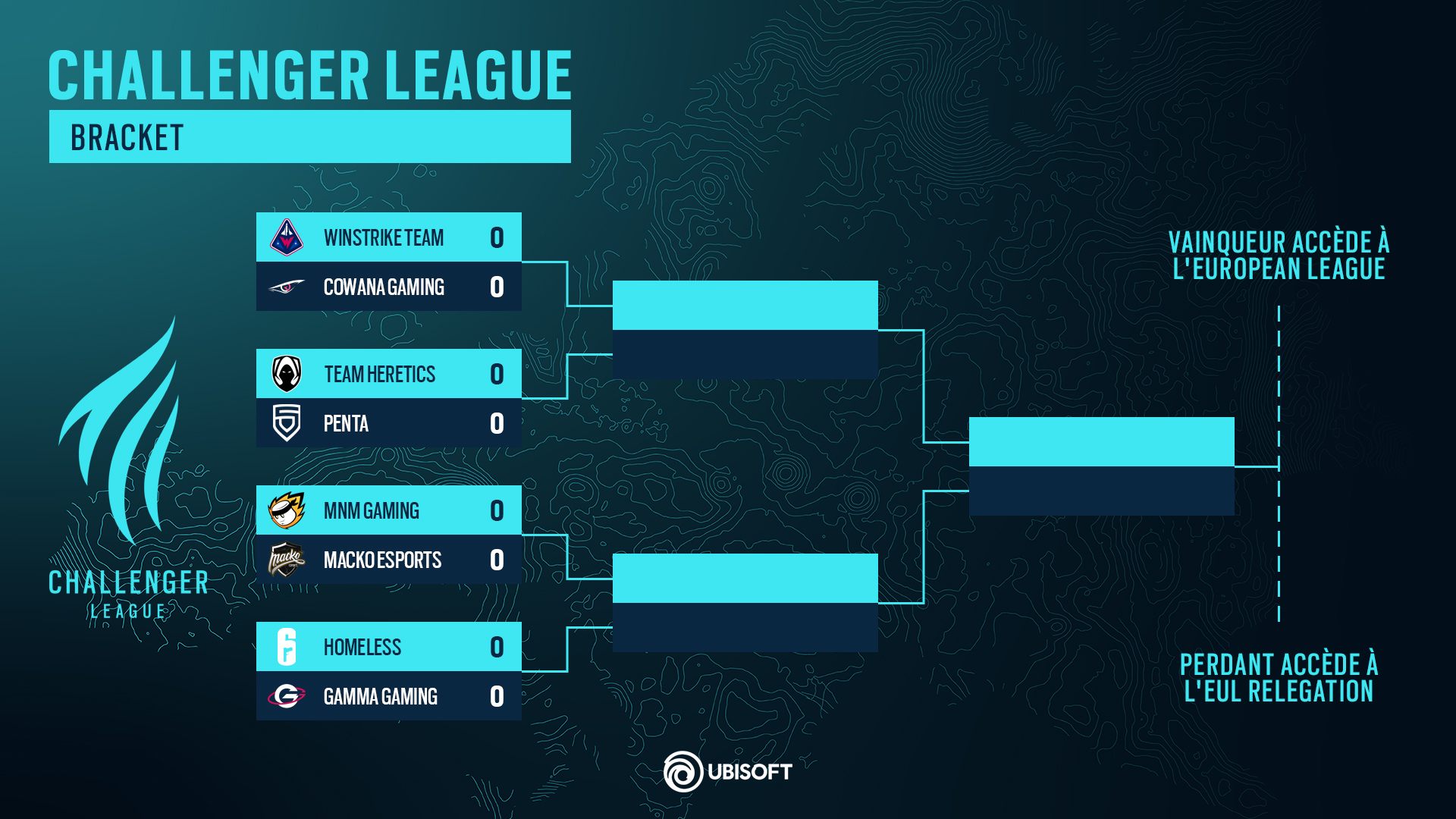 ---
While any of these eight teams have a good shot in winning their quarter-final, the favourites will likely be Winstrike, PENTA, MnM, and GAMMA which would make a rather interesting rematch between MnM and GAMMA after these teams share six players from the following controversy in Season 11:
Relegation Fight
The winner of this Challenger League grand-final will be automatically promoted to the 2021 EU League to replace Chaos Esports Club, while the runner-up will face Rogue for their spot the same weekend. Here's a short roundup of the two teams in question:
Rogue
Previously known as Giants Gaming, LFO, LeStream, and Millenium, this team dates back all the way to Season 4 with the then fully francophone roster qualifying for both the Season 5 and 7 Finals and won the DreamHack Austin Minor. Following this, they picked up the German player of AceeZ and transitioned to English comms with UUNO and korey following behind, making it a European rather than French team by November 2018.
This new team qualified for both the 2019 Six Invitational as well as the Season 9 Finals -- finishing last in both -- before falling in the excruciatingly close Allied Minor grand-final against Team Secret 5-7, 8-7, 7-8. Another two first-round exits at the Season 10 Finals and 2020 Six Invitational cemented their rather unfortunate reputation of being unable to perform when it mattered.
The now German majority team became the European champions for Season 11 after finishing runners-up the two seasons beforehand before retaining the title during stage one and exciting in the first round once again during the August Regional Major. As Stage 2 kicked-off, a three-game ban from AceeZ due to sharing insider information seemingly threw the team right off of their game, leading them to a last-place finish that stage, which meant a ninth-place overall finish.
Chaos Esports Club
Just like Rogue, Chaos can also trace its routes back to Season 4, when the roster then known as Playing Ducks qualified for the Pro League after winning its open qualifier. The team initially saw two Swedish players including Renuilz, two Brits (including meepeY), and the Dane of z1ronic compete, before it became a Swedish majority team in Season 5. After a fourth, fifth, and third-place finish for Seasons 4, 5, and 6, the failure to qualify for the 2018 Six Invitational led to an extremely messy split in the team as the Swedish players joined the Chaos organization and kept the Pro League spot while the Brits (which then included LeonGids who now plays for Rogue) requalified for the Pro League on "i don't know" (later known as Team Secret).
Since joining Chaos the team has finished the Pro League in sixth, sixth, fifth, sixth, and seventh and failed to qualify for a single international event. They were however invited to seven Minors, peaking at fourth place at both the Allied Minor and Valencia 2019 tournaments.
Following this bad run of form, the team removed two of the original members of the lineup in REDGROOVE and Secretly. However, this move didn't really help. Chaos won a total of three games against Vitality, Rogue, and Virtus.pro out of their 18 played, putting them in dead last, meaning after holding on for almost three years they have finally been relegated out of Europe's top flight.
---
Meet the Teams with CaptainFluke
In order to learn more about what to expect from the teams, we spoke to the current EU League, EU Challenger League, and APAC North caster of Em "CaptainFluke" Donaldson:
Firstly, can you introduce yourself?
Hi, I am Fluke, one of the EMEA cast team members and a face and voice that has been on the past three seasons of CL, as well as a handful of the recent National leagues and various other T2, T3 leagues!
---
Which players in EU CL have impressed you the most?
Mekses (from Homeless) had a pretty phenomenal run with Homeless, I believe topping the stat board on every game but ending on a +27, on a team that took a ton of people by surprise. Revan (from PENTA) had a good run too with just one weak game but still found himself in the top 6 out of every player. Also Kayak who joined the Cowana roster not long before the season kicked into gear who added a level of plant, cool and calm support ending on the highest KOST in the league. The Yak is back!
Which two teams do you think will make it to the grand-finals and why?
Tough call. PENTA are fierce right now, I expect them to be one of the two teams. To be honest you get the sense that they can step their game up another level, not to say they've been holding back but there is more there. I guess the expectations are Winstrike, MnM or Cowana. Three strong teams that haven't had as cool a run but pressure is the make or break for these three. My heart says a UK Massive team meets PENTA in the final, but Winstrike are a VERY solid team.
BeKind and Black Mamba both struggled a lot in group b, how well do you think they would have faired against the group a lineup of teams?
They may have fared better but it's always hard to call, and for me it boils down to the length of time these rosters were solid before it kicked into gear. PENTA, MnM and Cowana came in with similar levels to their national league and BeKind were a bit behind but, ForeignFive, Black Mamba, Macko all came in with pretty big pre-season changes. So in those games, Mamba and BeKind would have probably had more chance to teeth their own roster.

Group A performed well towards the top two but, there was a lot less expectation going in, less bold names written already in the top four. Group B with Penta, MnM & Cowana all expected to perform well and be fighting in the final the group started with high pace aggression. The aforementioned teams knew they needed all points possible, and didn't sugarcoat it, which seemed like a quick & rude awakening for BeKind & BM.
How would you judge Rogue's chances in their relegation battle?
You can't underestimate them. We know the skill of this Roster and their phase one cannot be forgotten. I'm not sure what adaptations they are still making to get out of the mental funk they are in but I believe they have good chances in their fight.
---
How would you improve the EU CL tournament for 2021?
I don't know if I'm the person to ask, the players are probably going to give the best insight here. I guess rumblings are around the way T1 teams have an impact in National league, so the first seed pulled from UK but the 5th from France. My impression would potentially be that the more fresh teams, more fresh talent but ALSO you do need that practice against T1 to improve. Yeah, ask the players!
---
Check out the games on the R6Esports Twitch channel with full coverage here at SiegeGG!