Following the announcement of the first official tournament in the MENA sub-region last June, qualifiers ran throughout July before the best-of-one map round-robin tournament kicked off at the end of August. Now, a month and a half later, the top four teams will compete in an online Finals to win the massive prize pool and the first official regional title.
Jump to:
The Teams
And so the following teams will compete in the Finals:
NASR Esports -- Valantino, nexuiz, mL77A, LiQuiD.Steel, EL1TE, and Galileo (coach)
As the lone non-Saudi team in the Finals, NASR initially entered this tournament as the clear favourites after being almost undefeated throughout 2018 and 2019. While they did falter earlier this year, a strong showing during the season puts them as the top-seeded team at the Finals and so in a pretty good position to once again gain the regional title.
Osh-Tekk Warriors -- Zoldyck, oF4LCoN, TMENEXT, hashom, iiMadLegendii, and QuixeLL (coach)
The Osh-Tekk organisation is used to titles as they used to be represented by the current lineup of NASR. Ahead of this season, however, they picked up a fresh roster keeping just the four-time regional champion of Zoldyck. While many were unsure of what to expect from this team going into the tournament, they have certainly proved themselves as they finished as the second-best team just two points behind NASR.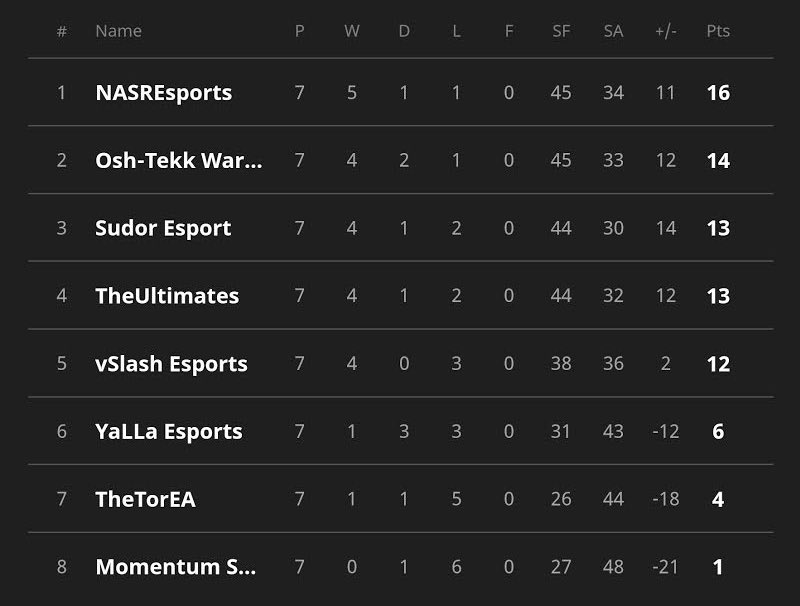 Sudor Esports -- SkyGuardian, Tr1ixd, A_joker_619, Okillz, IFKToRx, and KidRayan
The two times ex-champion of SkyGuardian led this lineup to a fairly successful season as the team finished within touching distance of NASR.
The Ultimates -- Eaglex99, GoldenPickl3, SAxTurki, Y4zan, MS, and LoneSoldier
While the team does include a number of high-profile regional players and has performed well throughout the whole season, Ultimates is best known for the 5-7 defeat to NASR on playday one which garnered them international attention from the likes of Lycan and wrath for the wrong reasons.
While the scoreline is pretty insane, for NASR to need a player to reach a massive +20 kill differential in just a single map to win on the closest of margins shows The Ultimates' ability. They eventually ended joint in points to Sudor with their 5-7 head-to-head scoreline putting Sudor ahead.
The Season So Far
Across the seven play days, there were a number of clear upsets. Firstly Osh-Tekk took down NASR in their lone defeat on playday six 7-4. While this was after NASR had locked in a spot in the finals, this result on Consulate wasn't due to a lack of preparedness from NASR but saw Osh-Tekk get simply outplayed throughout leading to the 7-4 loss:
Just prior to this a week beforehand saw another shock from NASR as they drew to YaLLa, a team which finished down in sixth place. This shows despite leading the regular season and winning a number of prior tournaments, NASR definitely aren't unbeatable and likely will be taken to the edge once again by Osh-Tekk.
Further down the table, just two points separated second to fifth place with Osh-Tekk, Sudor, and Ultimates besting vSlash on the final playday of games. While vSlash won their game against TheTorEA on playday seven, so did Ultimates win against YaLLa and Osh-Tekk beat Sudor with Sudor having guaranteed their spot in the finals the week prior. This game in fact went all the way down to a 7-5 scoreline to Osh-Tekk, an important result as if Osh-Tekk had drawn that game vSlash would have taken their Finals spot on head-to-head results.
This win can largely be attributed to TMeNeXt as he achieved two separate 1v3s in the map; post-plant against SkyGuardian, KidRayan, and Tr1ixd on Sledge and by time while playing Smoke.
Finally of note when looking at the statistics is a standout performance of xF4LCoN who achieved almost double the kill differential of some of the other top performing players while Valantino stands out with a 17-15 opening kill spread meaning he was involved in 32 opening engagements across 79 rounds or around 40% in total.
The Prize, Broadcast, and Prior Victors
The single-elimination finals will kick off with the best-of-three map semi-finals below followed by a third-place playoff and a best-of-five grand-final to crown the victors. As well as the title, the teams will be fighting over the following prize pools:
1st -- $18,000
2nd -- $10,000
3rd -- £5,000
4th -- $3,000
As well as this the four remaining teams each took home $1,250 each to total a $41,000 prize pool.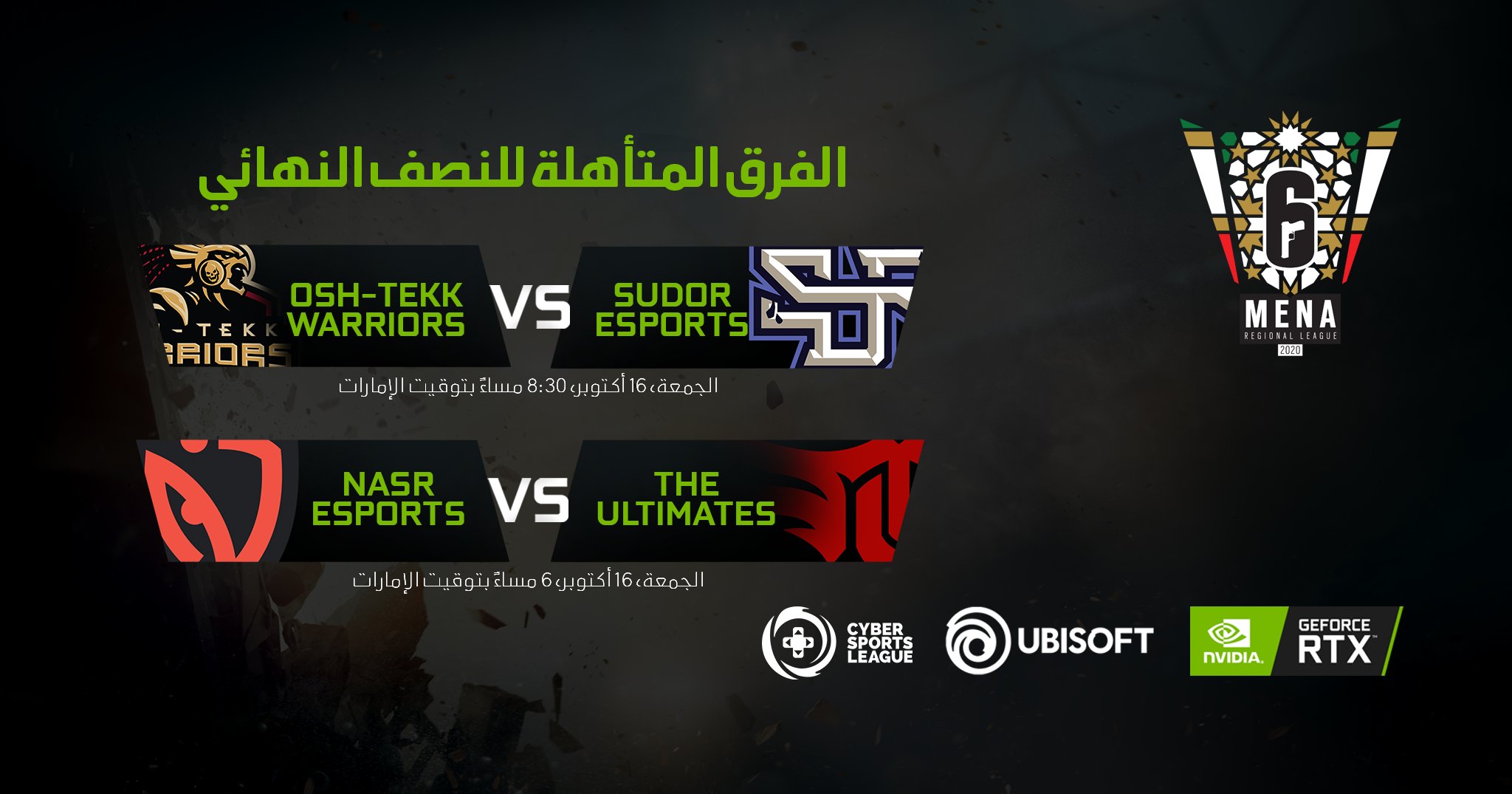 Casting these finals will be the same names we heard during the regular season of Ahmad "Pisty" Al-Maimani and Abdul "Agent47" Rahman on the UbisoftME YouTube channel with no English language coverage likely.
While this is the first official Ubisoft tournament in the region, there has been a number of unofficial ones ran by the community with these being the most of note.
Ramadan Gaming Championship 2020 -- A small $600 tournament ran during the month of Ramadan

Momentum Shifters -- Mu518, VaGnr, iiMadLegendii, hashom and alz3eem-503

Gamers Without Borders 2020 -- A charity tournament offering $500k to the team's charity of choice

The Ultimates -- MS, SAxTurki, GoldenPickl3, LoneSoldier and SkyGuardian

Future Esports Masters -- A $2,600 tournament which partnered with SiegeGG

Osh-Tekk Warriors -- SexyDvL, LiQuiD.Steel, Zoldyck, mL77A, TMeNeXt and Eaglex99

Challenge Arena -- A $4k community tournament

Osh-Tekk Warriors -- SexyDvL, LiQuiD.Steel, Zoldyck, mL77A, TMeNeXt and Eaglex99

Cyber Sports League Community Cup 2019 -- An Online league offering $8k in prize money

Osh-Tekk Warriors -- SexyDvL, LiQuiD.Steel, Zoldyck, mL77A, TMeNeXt and Eaglex99

GeForce Tournament Middle East 2018 -- The first LAN in the region taking place in Jeddah

Osh-Tekk Warriors -- xF4LCoN, SkyGuardian, KidRayan, SKoRSA and Zoldyck
Highlighted are the players competing in these finals as they all aim to be the first MENA Regional champions.
---
Catch full coverage of the Finals this weekend here at SiegeGG!