While the dates of most of the stage two tournaments have yet to be revealed and most national tournaments are still on their post-Six Major break, here's a look at all the tournaments that were played last week as three new teams qualified for the Challenger League and the R6 world took notice of a new sub-region of Siege.
Jump to:
UK & Ireland Nationals Finals
After two months of games, the top four teams during the UKIN season of Cowona, MnM Gaming, Demise and Natus Vincere competed in an online Finals for the £6,000 ($8,000) prizepool and a spot in the upcoming 2020 Faceit Challenger League season.
The double-elimination bracket saw Cowona -- who were undefeated during the regular season -- lose their opening game against the European League team of Natus Vincere causing many to deride the professional team's involvement in the Challenger League qualifier. Shortly after this, MnM Gaming -- which includes the core of the CR4ZY roster which played in last season's Challenger League -- defeated Na'Vi to set Cowona up with yet another meeting with Na'Vi in the losers bracket which once again saw the professional team take the matchup in a 2-0 scoreline. This result guaranteed MnM their Challenger League spot and set up a Na'Vi vs MnM Gaming rematch in the grand final:
Above: A tweet from the Manager of MnM Gaming. Quadzy is the only non ex-MnM player in the grand-final
Both of these teams had new or substitute players with MnM picking up yuzus to replace Na'Vi bound Blurr while Na'Vi, as well as picking up Blurr, also had the Dutch player of Quadzy substituting in for the league. Despite this, the best-of-five tournament was fairly close throughout with MnM's initial map advantage due to their earlier victory being negated pretty quickly by a 7-4 win by Na'Vi on Coastline thanks to a 13-6 kill-death spread from the team's longest remaining continuous player of Saves.
The following map of Oregon almost caused an upset as, after going up on defence 5-1, MnM's offensive half started to slip away from them with the team finally locking in the map just before overtime on a 7-5 scoreline due to double kills from both Fonkers and dats as they pushed the kids dorms objective with 10 seconds remaining.
Clubhouse was next -- a map which MnM beat Na'Vi 8-7 on the day prior -- which ended in a shocking 7-1 scoreline to Na'Vi which neither team seemed to have expected. Doki on Twitter explained the change in performance as follows:
And so we went onto map five of Villa with MnM starting on defence. After a rough start, MnM managed to finish the first half with a standard 4-2 scoreline before switching to the attack and sweeping the rest of the game. After an initial win on the Aviator site, Na'Vi then lost two Statuary defences before returning to the Aviator/Games Room and losing this also as dats went for the plant in a 5v5 situation and all four site players died trying to deny it.
This result means the MnM roster retains their British national title from their time on the CR4ZY organisation while the MnM organisation wins their second national title following the now-Na'Vi's win under the banner in March 2019. With MnM beating the Na'Vi roster four maps to two in total, this team now enters the upcoming Challenger League season as one of the likely favourites to make the 2021 European League season.
With this result the current European Challenger League 2020 team lineup can be seen below:
PENTA -- Third place last Challenger League season

LowLandLions -- Fourth place last Challenger League season

Winstrike Team -- Russian Major League qualifier

Sector One -- Benelux League qualifier

MACKO Esports (ex-Samsung Morning Stars) -- PG Nationals qualifier

Team Heretics -- Spain Nationals qualifier

BeKind -- 6 French League qualifier

DIVIZON -- GSA League qualifier

MnM Gaming -- UKIN League qualifier
Nordic Championship Qualifier - to be determined on September 6th

Polish Masters Qualifier - to be determined on September 6th

Open Qualifier - likely to run from September 12th

With this tournament now complete, coming up will be the UKIN Second Division which unveiled its qualification system yesterday ahead of its kick-off on November fifth. The winners of a number of tier three tournaments -- the NSE and The NUEL University tournaments, the epic.LAN event and the BELONG Arena tournaments -- will fill up four spots to be joined by four open qualifier teams and the two relegated teams from the just-completed main league. The Esports Marketing Manager at Ubisoft UK had this comment to say about the new format:
We are really looking forward to the new program kicking off and giving aspiring professional esports teams a chance to qualifying for the UK Ireland Nationals. I wish all the teams good luck!
MENA Regional League - Week 1 Kicks Off
The Middle East and North African Regional League -- the first officially supported tournament in the sub-region -- kicked off last week with a massive $41k in prizes on offer. You can read more about the teams, format, schedule and thoughts from the casters here in our preview article.
The first of the eight best-of-one games which took place kicked off with vSlash facing Osh-Tekk on Club House. Here a triple kill by xF4LCoN on round one gave Osh-Tekk an initial lead which they added to two rounds later thanks to a 1v1 victory by MadLegend on time. Despite these two rounds, vSlash managed to take the lead in the first half with a post-plant 1v1 win by B1RD on Smoke over Zoldyck on Maverick. On their own defences Osh-Tekk came right back into it winning three of the next four rounds -- with their one loss being a flawless defeat -- to even the scoreline 5-5. Finally, vSlash ended the map following a 1v2 by Sabra and a triple kill by B1RD to gain the first victory of the season: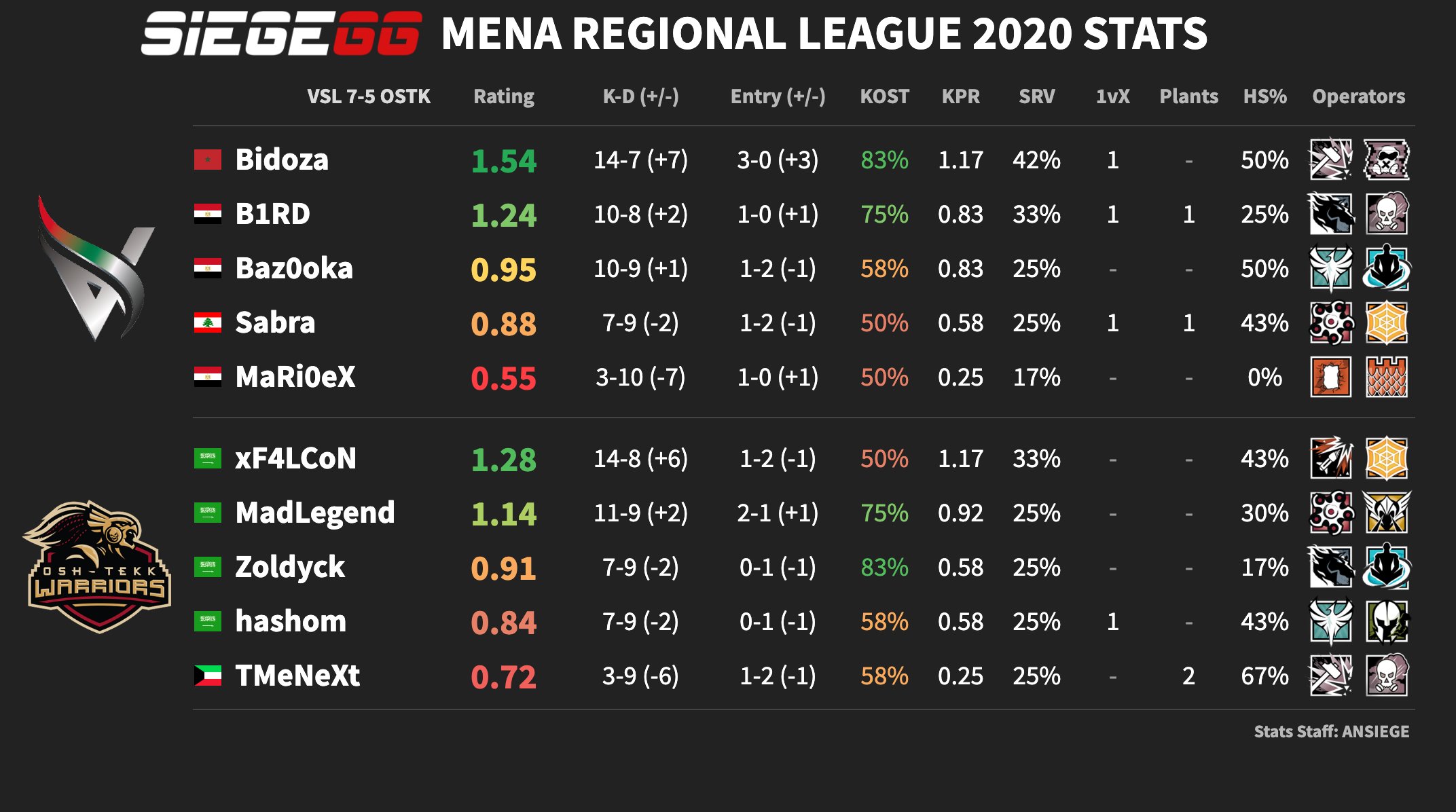 Next, two of the underdogs faced off with the Iraqi lineup of YaLLa Esports taking down the Kuwaitian team of TheTorEA, 7-4 thanks in part to the YaLLa player of R4iD3N's 17 kills to just eight deaths. Straight after this Sudor Esports -- which includes the two time regional champion of SkyGuardian -- whooped the up-and-coming team of Momentum Shifters in a huge 7-1 scoreline which included an amazing performance by A_joker_619: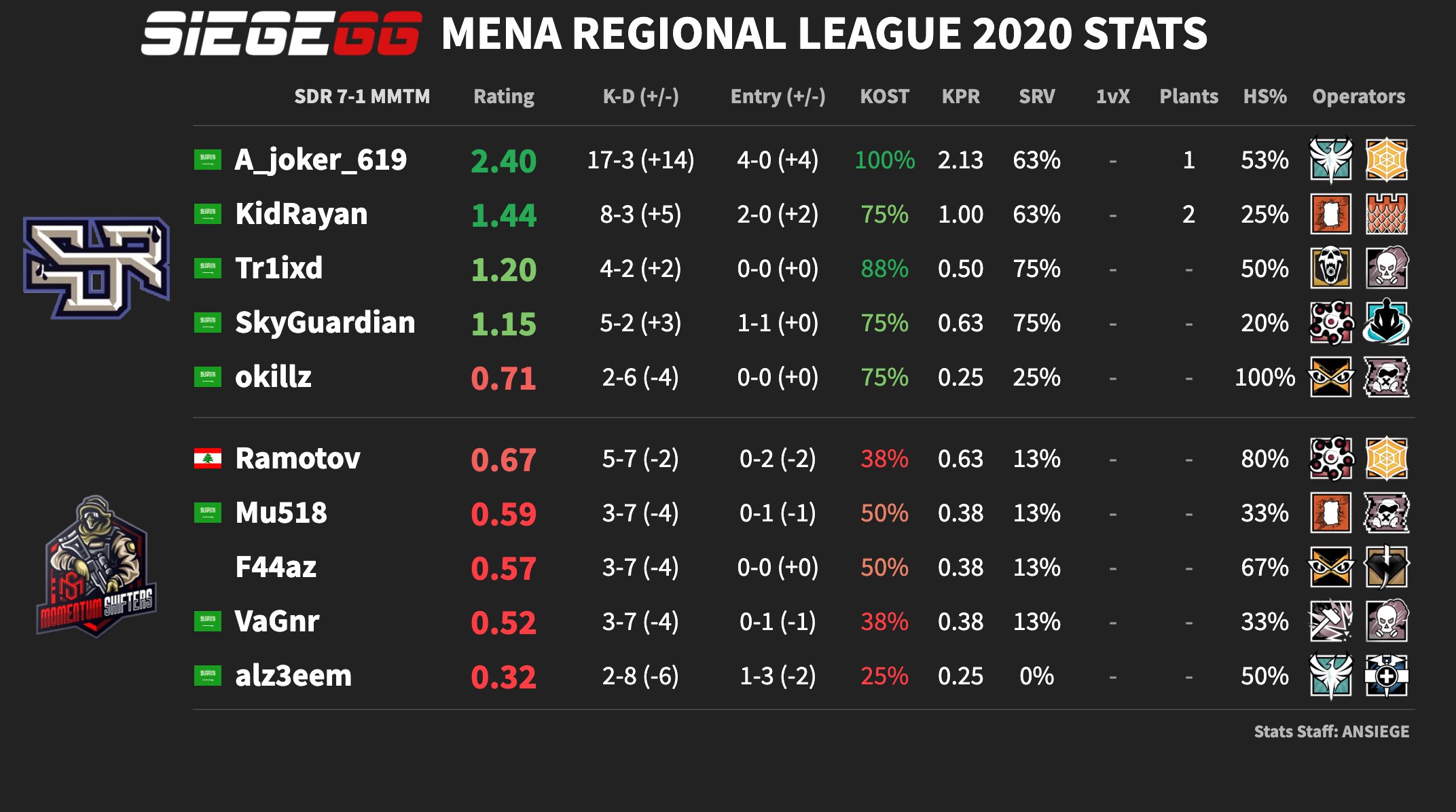 Playday one was then finished off with a game between NASR and The Ultimates, once again on Oregon. This was completely Valantino's game with him performing the best single map performance in competitive R6 on record as remarked upon by many people internationally including Lycan, Jesse Chick and wrath. In total across the 12 rounds he secured four double kills, two triple kills, one quadruple kill and an ace on the final round to lock in the victory. Every single round he got at least one kill while four out of seven of his deaths came by the hand of Eaglex99.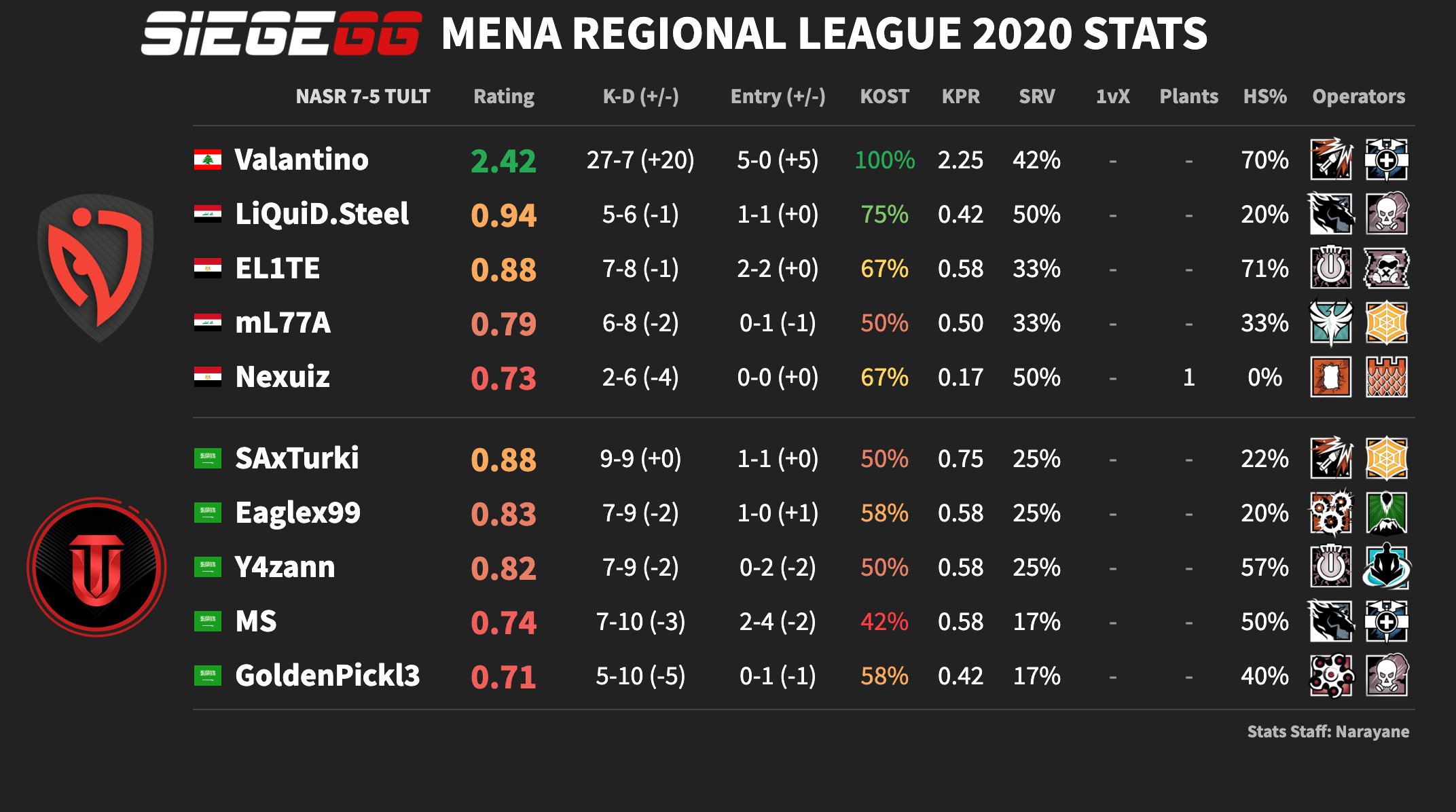 Playday two the following day then saw four of these teams that had somewhat impressed in these games above start figuring out a pecking order with The Ultimates -- who narrowly lost 5-7 to NASR above -- beating their challenger 7-1 and Osh-Tek -- who also lost 5-7 to vSlash -- beating YaLLa 7-2.
The remaining two games were both fairly close starting with vSlash vs Momentum Shifters. Here was effectively a battle between Ramotov for MS and B1RD for vSlash with both teams ending the map with kills in the double digits. After an initial MS round, an attempted 1v4 attempt was cut down right at the end by Ramotov to kick off three wins in a row for vSlash before the half was brought back to a 3-3 scoreline. As the sides switched vSlash took the lead once again before they narrowly managed to avert another tied half as MaRi0eX won a 1v1 over Ramotov on round 12 to give vSlash a 7-5 victory.
Finally, we saw another close game between NASR and Sudor. Here, while Valantino cooled down, he was still his team's top fragger while Sudor's A_joker_619 ended as the worst rated player in the map. Round one showed itself to be an action-packed one with Valantino's triple kill being outdone by SkyGuardian's quadruple kill to take the round in a 1v2 situation. After losing this 1vX, LiQuiD.Steel got his revenge as a 1v1 by him gave his team of NASR the lead before they ended the half up 4-2. This lead ended up holding with them trading rounds back and forth to a 7-5 scoreline to NASR despite 16 kills from SkyGuardian.
With the first of four play weeks played, NASR and vSlash look to be the main competitors as they currently sit unbeaten after playing some of the league's top teams. These two teams are set to meet in the opening game next playday on September 11th which will likely be a match to watch. As well as this, as seen above there have been notable players seen in almost every team who are able to almost single-handedly turn the tide of a map which shows there are some huge talents in the scene.
Elsewhere in R6 - SEA Operation Leagues & Benelux Bi-Weekly August Finals
Last weekend saw the kick-off of the Operation League Taiwan Season 3 tournament which, along with the currently ongoing Operation League Thailand and the upcoming Operation League MY/SG/PH/ID tournament, all see the victors compete in the SEA Nationals Playoffs for a chance to play in the APAC North relegation games.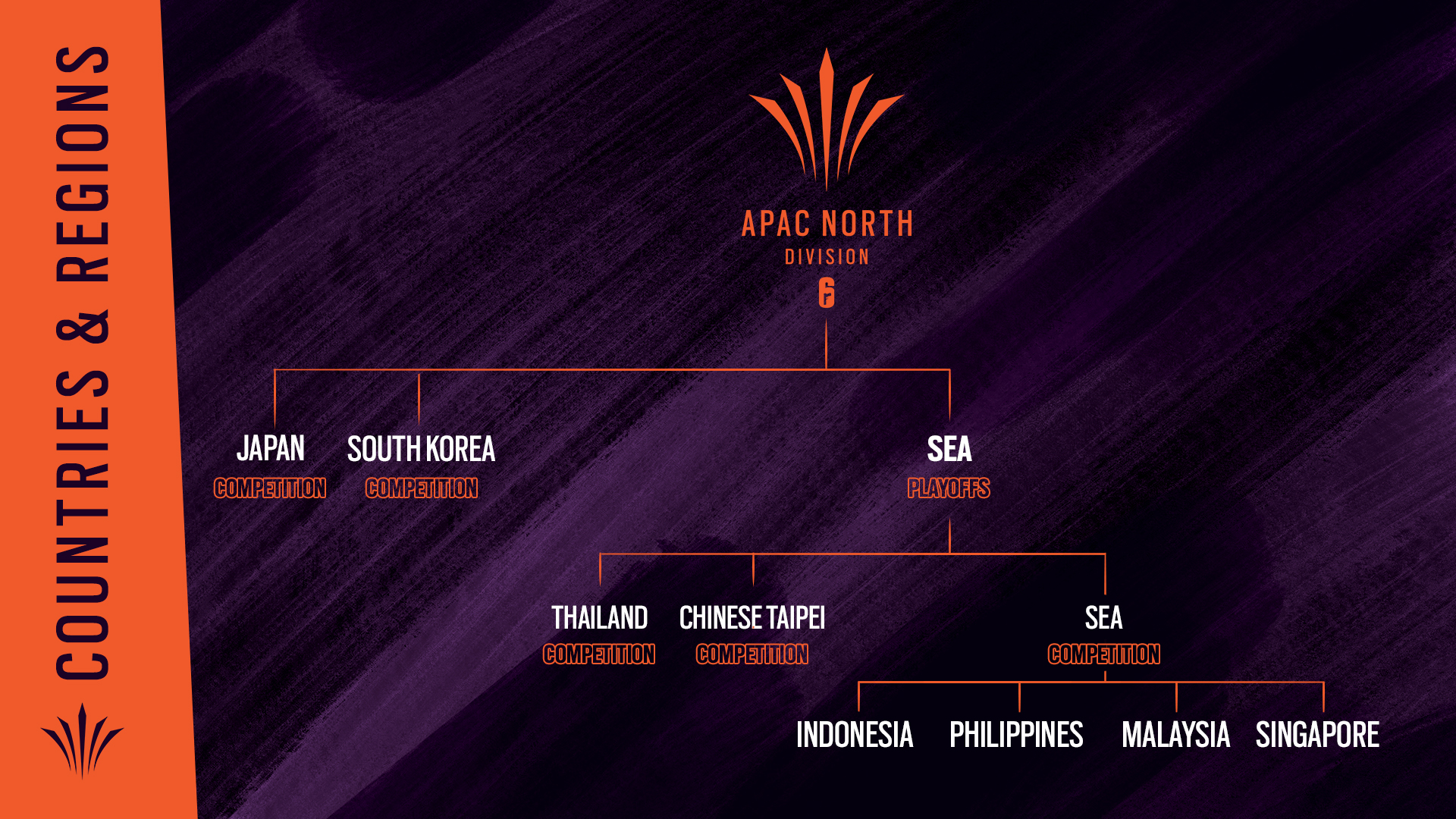 Included in the Taiwan tournament is the current APAC North team of Electrify who were the only team to win their two opening games (losing just four rounds in the process) positioning them in a great place going forward. Just below them are Team Unknown and Velocity9 with a win and a draw each who will be hoping to hold their position and qualify for the SEA Playoffs.
The Thailand nationals meanwhile are already three weeks through and see the APAC North teams of QConfirm and Xavier Esports in first and third place respectively with Excelsior Onyx sitting in second, however, Onyx has yet to play any of the top teams so far. Also of note is Daivo Esport who are the only team to have beaten an APAC North team so far, however, sit down in ninth place as this was their only victory.
Finally, this week saw the Benelux Bi-Weekly August Finals as the newly qualified Challenger League team of Sector One took the sub-regional tournament to add to their July title. With Sector One dropping their team captain of WishMaster from the team two weeks ago, this is an excellent chance for them to practice in a live environment without him before the Challenger League kicks off. The grand-final itself surprised many with the Dutch roster of 4 Elements taking map one and with just the 17 kills to nine deaths from Duco on map three stopping it from going to overtime.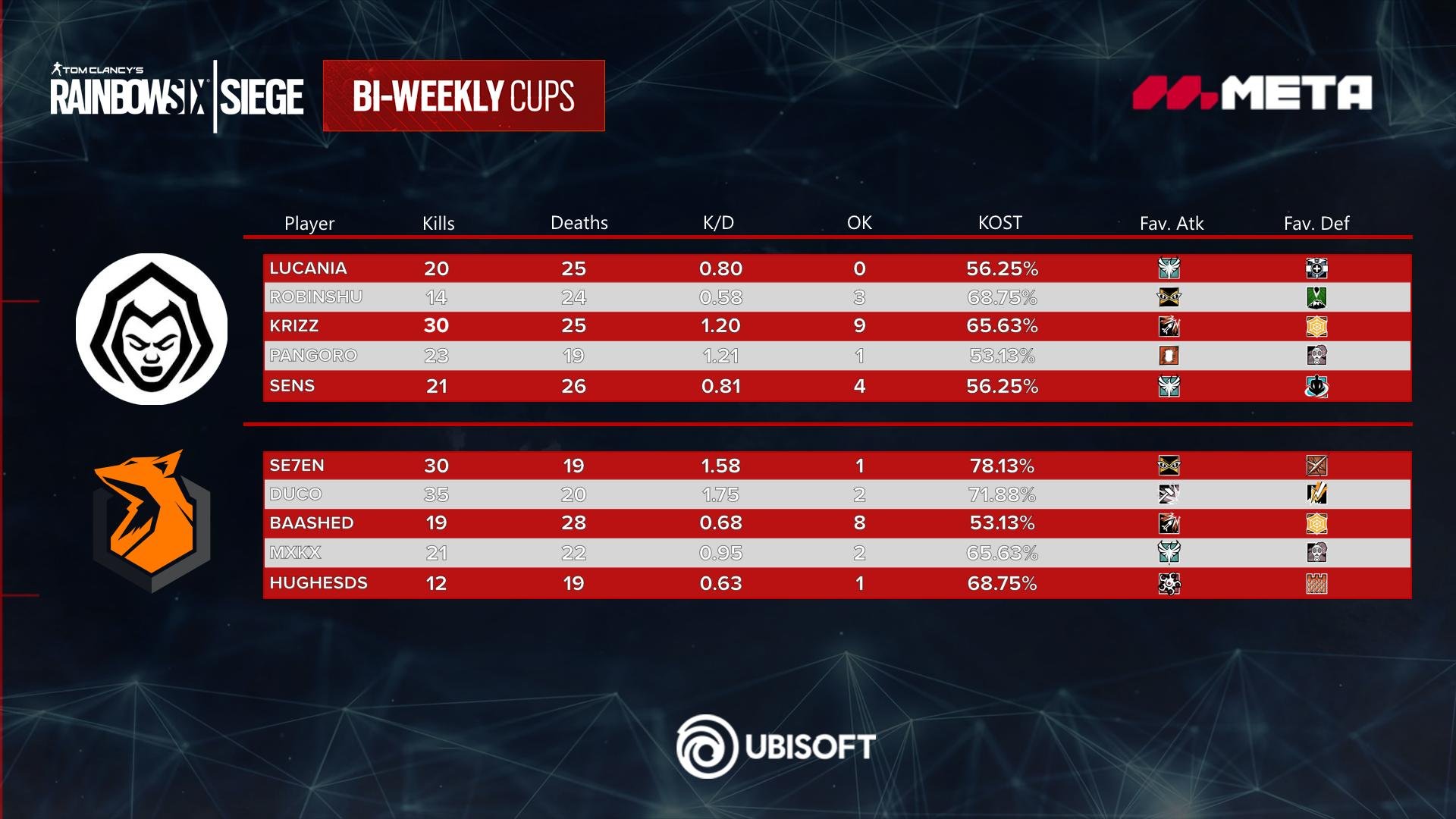 Must Watch Games of the Next Week
While many ongoing leagues aren't on over the next week, we will see three Online Finals as two more Challenger League teams are decided:
The Circuito Feminino 2020 Stage 3 Upper Bracket Finals on Saturday at 2:00CET
The Polish Masters Finals on Saturday and Sunday at 13:00CET
Nora-Rengo J vs Team Northeption in the Japan Nationals 2020 Grand-Final on Sunday at 8:30CET
The Nordic Championship Finals on Sunday starting at ~14:00CET
Xavier Esports vs Excelsior Onyx in the Operation League Thailand Nationals on Sunday at 14:00CET
---
Be sure to keep an eye out here at SiegeGG for further updates on each of these tournaments!