Eight teams will kick off their campaign to become the regions first official MENA champions tonight as they fight to reach the online Finals on October 16th.
Jump to:
Teams
Four Saudi Arabian, two Iraqi, one Egyptian and one Kuwaiti majority team made it through the 100 team open qualifiers to compete in the very first officially Ubisoft-supported tournament in the region, with sponsorship from NVIDIA and Ubisoft Middle East's branch. Cyber Sports League is in charge of the tournament organization, while production is done by The Esports & Gaming Agency - Middle East.
Sudor Esports -- SkyGuardian, Tr1ixd, A_joker_619, Okillz, IFKToRx and KidRayan

The Ultimates -- Eaglex99, GoldenPickl3, SAxTurki, Y4zan and LoneSoldier

Momentum Shifters -- VaGnr, AsTRoN4uT, alz3eem-503, F44az and Mu518

Osh-Tekk Warriors -- Zoldyck, oF4LCoN, TMENEXT, hashom, iiMadLegendii and QuixeLL (coach)

YaLLa Esports -- ElConTeH, Pasha, R4iD3N, Srsly and F7z

NASR Esports -- Valantino, nexuiz, Sexydvl, mL77A, LiQuiD.Steel and EL1TE

vSlash Esports --Mariox, Baz0oka, Bidoza, Sabra, BiRD and xSn3aky (coach)

TheTorEA -- BogLFa, Neekool, Mshklny, Mantcal and bxe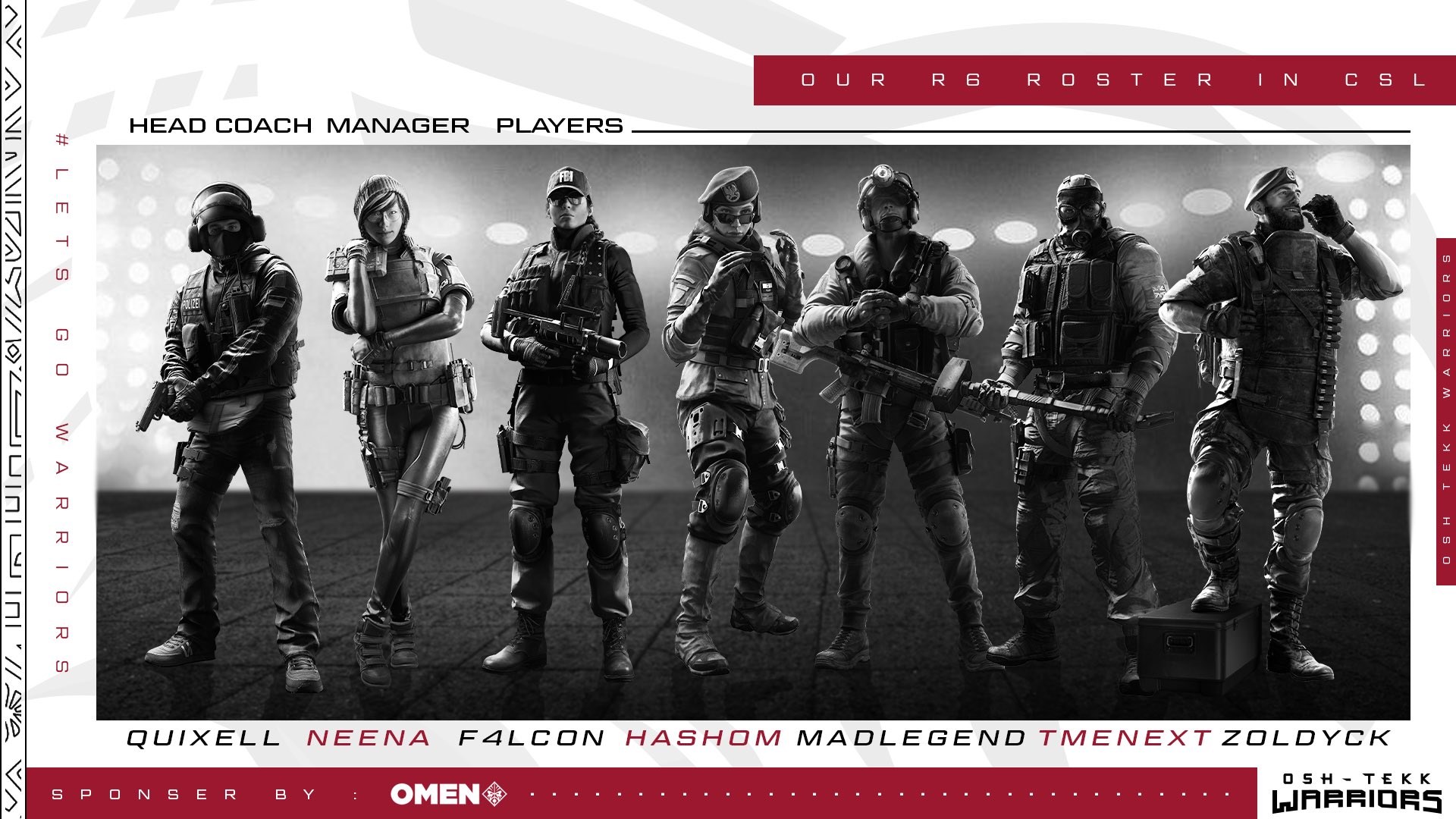 Out of these teams, the most notable is the ex-Osh Tekk lineup which dominated the region throughout 2018 and 2019 with their main Iraqi-majority organization now under the NASR Esport banner. This year, however, two new teams have finally taken them down in the Saudi Arabian teams of Momentum Shifters and The Ultimates with the Osh Tekk organization now fielding a new Saudi lineup as well. Below are some of the prior tournaments that were run in the region along with the players who took the titles:
Ramadan Gaming Championship 2020 -- A small $600 tournament ran during the month of Ramadan

Momentum Shifters -- Mu518, VaGnr, iiMadLegendii, hashom and alz3eem-503

Gamers Without Borders 2020 -- A charity tournament offering $500k to the team's charity of choice

The Ultimates -- MS, SAxTurki, GoldenPickl3, LoneSoldier and SkyGuardian

Future Esports Masters -- A $2,600 tournament which partnered with SiegeGG

Osh-Tekk Warriors -- SexyDvL, LiQuiD.Steel, Zoldyck, mL77A, TMeNeXt and Eaglex99

Challenge Arena -- A $4k community tournament

Osh-Tekk Warriors -- SexyDvL, LiQuiD.Steel, Zoldyck, mL77A, TMeNeXt and Eaglex99

Cyber Sports League Community Cup 2019 -- An Online league offering $8k in prize money

Osh-Tekk Warriors -- SexyDvL, LiQuiD.Steel, Zoldyck, mL77A, TMeNeXt and Eaglex99

GeForce Tournament Middle East 2018 -- The first LAN in the region taking place in Jeddah

Osh-Tekk Warriors -- xF4LCoN, SkyGuardian, KidRayan, SKoRSA and Zoldyck
Concerning the individual players, Zoldyck remains the lone four-time champion across these tournaments as he won them all on the Osh-Tekk lineup which he remains on still. Below him are five three-time champions -- his ex-teammates on Osh-Tekk -- now playing across the teams of NASR, Osh-Tekk and Ultimates and finally there's a lone two-time champion of SkyGuardian now playing on Sudor.
This all means there is likely a fairly open field to kick off the season with at least half the teams sitting with ex-regional championship winners.
Format & Schedule
100 teams were initially split into eight groups for the open qualifiers, with the lineups above each winning their own group to make it into the season. From here, the teams will play in a best-of-one map single round-robin tournament with playdays every other Friday and Saturday starting tonight and ending at the beginning of October. Finally, the top four teams from this season will play in a best-of-three single-elimination Finals on October 16th to find the regional champions.
In total the teams will be playing for prize pool of $41k split as follows:
1st -- $18,000
2nd -- $10,000
3rd -- $5,000
4th -- $3,000
5-8th -- $1,250
While the games won't be cast in English, they will be cast by the two Arabic-language casters of Ahmad "Pisty" Al-Maimani and Abdul "Agent47" Rahman on the UbisoftME YouTube channel.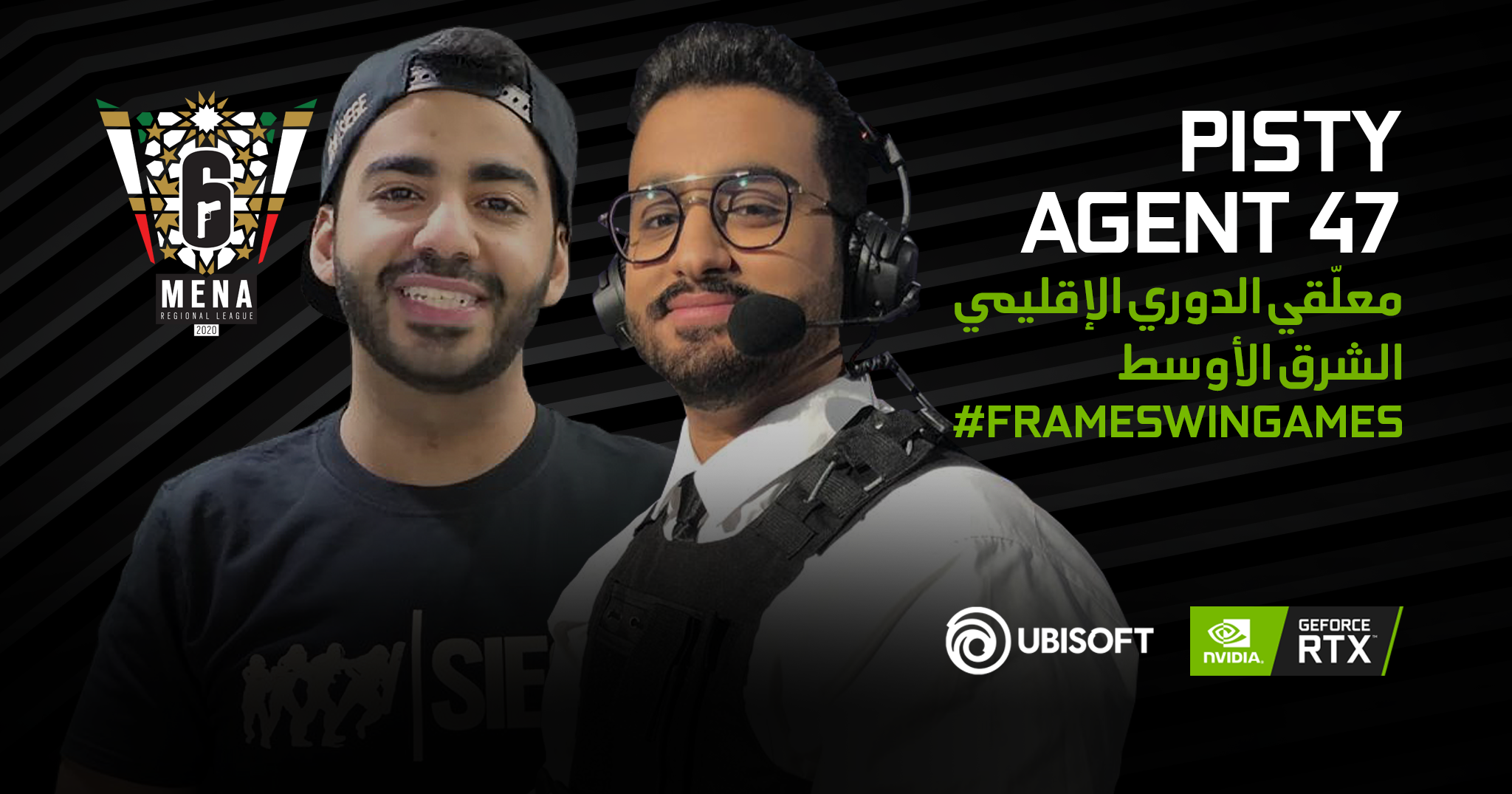 ---
Pisty and Agent47 on the Action
We spoke to the two casters, Pisty and Agent47, about the region's growth and to see which teams are the ones to watch:
Firstly, can you introduce yourself to the readers?
Pisty: I'm Ahmed Al Maimani, better known in the Region as Pisty, I'm a YouTuber and Twitch Partner with huge passion for R6S and its Community in the Region, and have been casting most of the official tournaments in Arabic since its Esports scene started in the MENA region.
Agent47: I'm Abdulrahman also know as "Agent47" esport caster/ host
I started playing R6S back in 2016. My favorite operators are Thatcher/ Thermite and Vigil/Kaid.
Which teams do you think are the ones to watch this season?
Pisty: Honestly, all of them. The teams that made it to the league are the teams that we're used to seeing compete for the title. There isn't going to be a single match that you can predict the outcome of, especially with the format of the league where we're going to see all teams go head to head tobteyand get the most points.
Agent47: To be honest you don't want to miss any match in the season. All 8 teams are playing great and I know they didn't show their best strategies yet.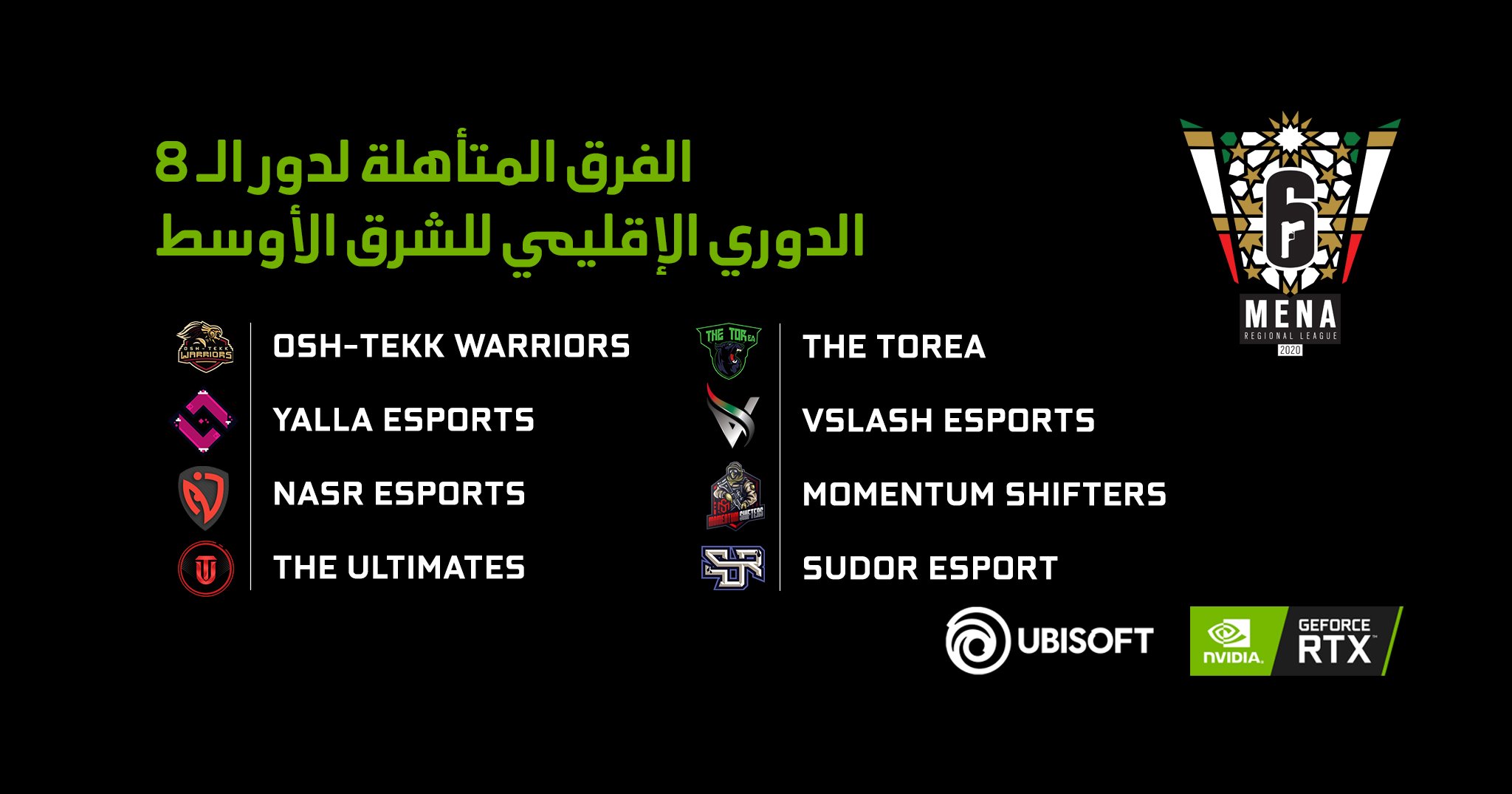 How would you compare the MENA teams against EU teams?
Pisty: I've always said that each region is different in how they play the game. SA is different from NA, and different from EU, etc. And MENA teams are no exception and have a lot to bring to the table. The esports scene my region has grown rapidly in the past three years with more players starting their career with heavy focus on becoming the best.
Agent47: They are getting close to EU teams and the league gives a great environment for them to improve.
How has the MENA region grown over the last few years and what do you think the future of the region holds?
Pisty: A lot of companies and government entities have been investing in Esports teams and athletes in the past three years, as I've mentioned before, which helps provide a healthy environment. I would say that the last missing piece for the scene in MENA is more global participations in all possible games. There are already a few players from different games such as FIFA and Tekken that are known for being the best world wide. All the other players need is a chance to prove themselves in global events, to show the world that they mean business.
Agent47: MEAN teams and players have incredible potential. I think what they need is competition and in the most recent year the community started growing bigger and we began seeing multiple new teams with the extraordinary players.
Elsewhere in Africa
As well as the MENA Region, the introduction of South African servers last year has led to a number of sub-Saharan African tournaments also taking place with teams primarily from South Africa taking on challengers from all around the continent. This includes majority-teams from Zambia, Kenya, Nigeria, Ethiopia, Ghana, and Angola. Most notable is the South African team of AtkArena which sits recently undefeated after winning the MSI Siege Brawl Cup in July.
Most recently, the new servers had led to official Faceit 10mans tournaments kicking off just last month with a number of console tournaments currently ongoing. Together with the further support by Ubisoft in the MENA Region and the introduction of ZA servers, the African scene is getting closer to following South Asia to be introduced into the Major Circuit sometime in the future.
---
Keep an eye out on this tournament as it progresses through the next month here at SiegeGG.