The ₩30,000,000 (US$25,000) Korean national tournament got underway about a month ago, featuring three APAC North teams in attendance and other teams not to be scoffed at either. Despite past struggles with making the numbers for the Pro League, the Korean domestic scene has been going along strongly.
The new Korean Open series of nationals is the latest in a line of a few prior successful tournaments, so here's a rundown of the games from the final week of play in the playoffs that saw a Korean champion crowned.
Map Scores: 7-4 (Oregon), 7-2 (Clubhouse), Not Played (Coastline)
The first semi-final of the weekend featured the two APAC North sides of Cloud9 and SCARZ, both having had diametrically opposite Stage 1 campaigns. The former had finished second, before going on to stun Giants Gaming in the Six August Major 2020, while the latter had finished dead last with a mere two wins.
The game kicked off on Cloud9's map pick of Oregon, with SCARZ drawing first blood on defense. Despite Cloud9 then wresting the lead at 2-1, SCARZ managed to keep things competitive to make it 3-3 at the half. However, attack proved to be a tough nut to crack, with Cloud9 only dropping the ninth round to close out the half 4-1 and the map 7-4.
Over on Clubhouse, SCARZ had an even tougher time. While it suprisingly won the first round and had a 2-1 lead on attack, it was entirely a Cloud9 show from then on. Round after round went to the APAC North champions, with SCARZ hardly able to put up a fight, and Cloud9 moved onto the grand final with a 7-2 win.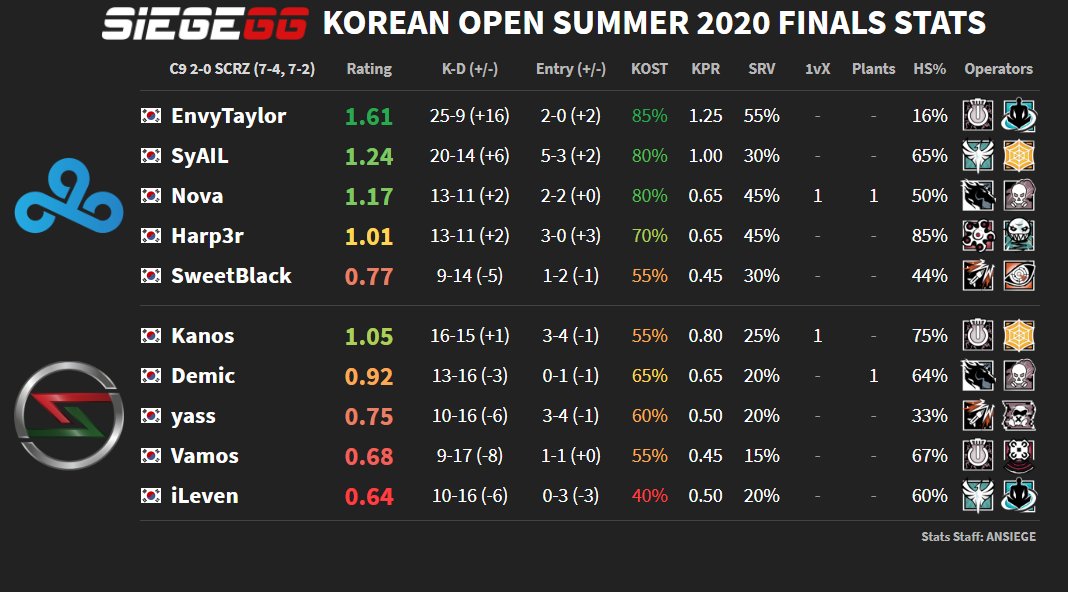 Map Scores: 8-7 (Kafe), 7-2 (Coastline), Not Played (Oregon)
Up next, the third APAC North side of Talon Esports took on the exciting GC Busan Spear roster, largely tipped to make it to the top-flight next season. While Talon had been ninth in Stage 1, Spear had the wealth of experience afforded by ex-C9 players h3dy and CATSang, as well as TRIPPY's former Pro League players JaekDow and Templat.
The first map of Kafe, picked by Spear, was nothing short of a bloodbath. Across the eventual 15 rounds played, only four would go to the attackers, with Spear in fact securing two of those in Rounds 1 and 5. Down 2-4 at the half, Spear would then start a comeback train going, racing to match point at 6-4. However, Talon would find its attacking bite, finally able to take two rounds and forced overtime. It was all the defenders' show, however, as Spear got the preferred side to start off and then managed to hold onto a nervy post-plant 1v2 retake in the final round.
Perhaps deflated, Talon would lose the plot on Coastline, with the Spear players driving themselves through the feeble defense from their opponents. Aside from a third-round victory for Talon on its second attempt at defending Hookah and Billiards, every first-half round went to Spear. Down 1-5 now, Talon could only secure the eighth round on attack, and slid out of the playoffs.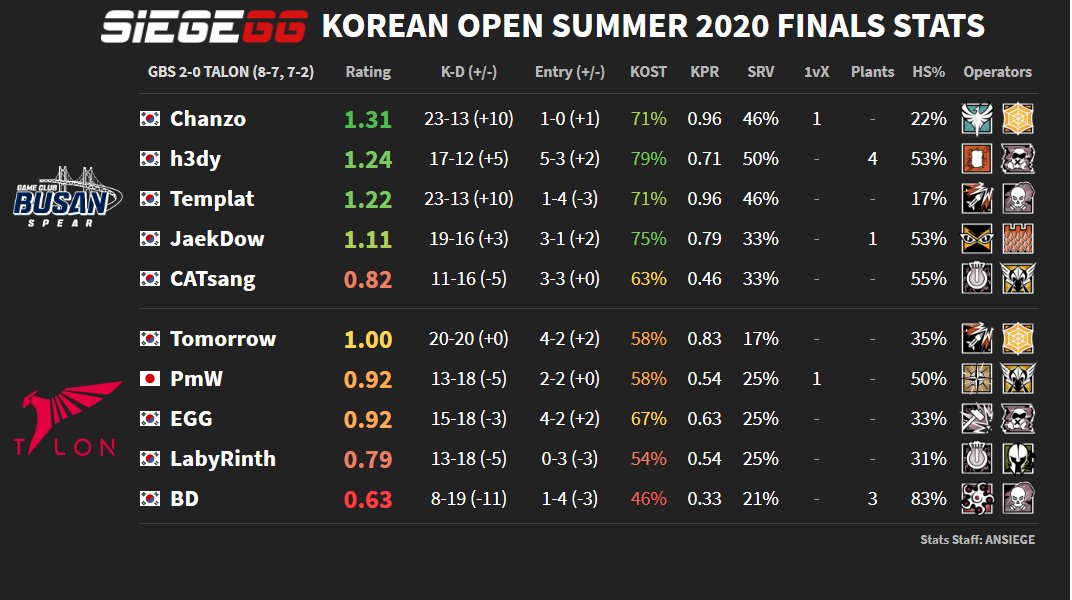 Map Scores: 7-1 (Theme Park), 7-5 (Oregon), 8-6 (Kafe), Not Played (Consulate), Not Played (Coastline)
The grand final saw Cloud9 take on the only team that had taken a map off it in the regular season -- GC Busan Spear. Previously the 2-1 series had gone in favour of the APAC North champions, but each map played had been a dominant victory for either side; 7-2 and 7-3 for Cloud9 on Kafe and Oregon, respectively, and 7-3 for Spear on Clubhouse.
Having learnt its lesson, though, Cloud9 wasted no time in getting Clubhouse banned, but Spear decided to chance things and ban Villa once more. The newly appearing Theme Park, picked by Spear, was devastatingly poor as the more experienced C9 shattered the Spear attack round after round. After an initial 1-1 scoreline that teased a perhaps close game, six rounds in a row meant the map was over at 7-1.
Oregon, previously a 7-3, was a closer game this time around -- but closer than it should have been. Starting off on defence, Spear was rapidly leading 3-0 and then 5-1 at the half, but it seemed that neither team could attack well. Once again, Cloud9 took six rounds in a row to complete a flawless defensive half, relying on the singular attack won to take the map win.
Certainly disappointed at the inability to close things out, Spear headed to Kafe in a do-or-die and things did not start well. Cloud9 proved too good on defense, securing a 4-0 lead, though Spear managed somewhat of a halftime rescue after winning two attacking rounds. Over on defense, though, Spear started its comeback. After a shaky eighth round that made things 5-3 in Cloud9's favour, the new challengers were on match point in a 6-5 reversal. However, Cloud9 showed just why it had won the APAC North mini-major, forcing overtime and then taking both rounds to take the map 8-6 and the series 3-0.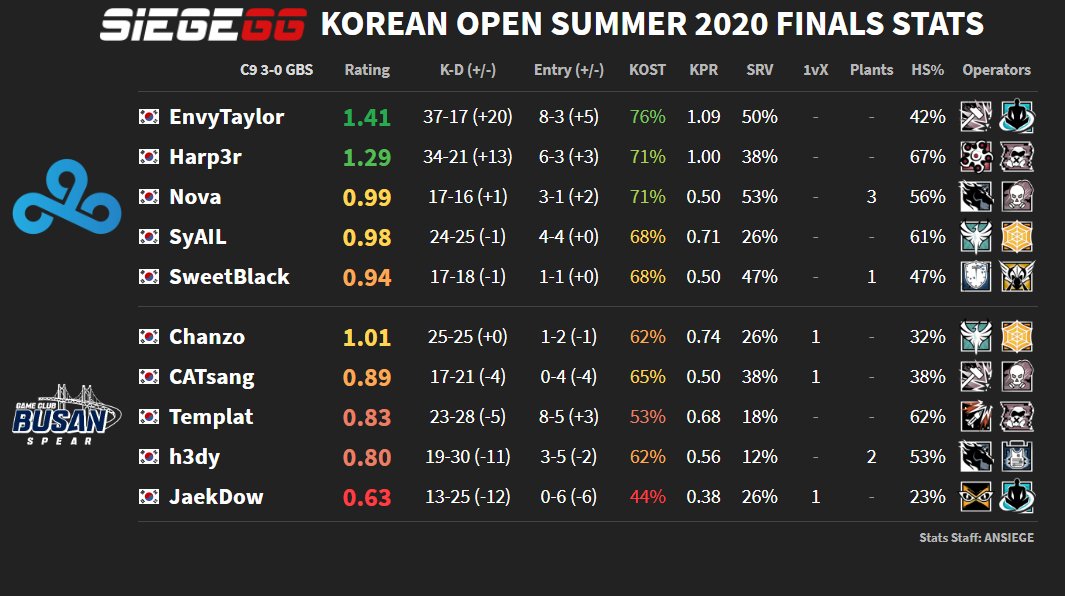 Prize Money and Relegation Points
The results thus mean that Cloud9 has secured the biggest share of the prize purse, with GC Busan Spear, Talon Esports and SCARZ, and the remaining four teams following as per the split below:
1st -- ₩10,000,000 (US$8,400)
2nd -- ₩6,000,000 (US$5,000)
3rd-4th -- ₩3,000,000 (US$2,500)
5th-8th -- ₩2,000,000 (US$1,700)
In addition, teams have earned points towards crowning a Korean Open 2020 champion as follows:
| | | |
| --- | --- | --- |
| Position | Korean Open 2020 - Summer | Korean Open 2020 - Autumn |
| 1st | 70 | 90 |
| 2nd | 50 | 70 |
| 3rd-4th | 40 | 60 |
These points will also double into deciding the top non-APAC North team that will play in the relegation matchup against the lowest ranked Korean team(s) at the end of the APAC North Division 2020 Season, with GC Busan Spear having the greatest amount in that aspect at 50.
The rather confusing relegation format involves the following scenarios:
No Korean teams in the bottom four of the APAC North Division -- the top non-APAC North team in the Korean Open automatically qualifies.
One Korean team in the bottom four -- this APAC North team plays a relegation match against the top non-APAC North team for promotion.
Two Korean teams in the bottom four -- those two play the top non-APAC North team in a three-way playoff for two promotion spots.
All three teams in the bottom four -- those three play the top non-APAC North team in a four-way playoff for two promotion spots.
This can be summed up as such: the worse the Korean teams do in APAC North, the more teams the challengers need to face to in the relegations to make it into the top-flight in December.
Prior National Events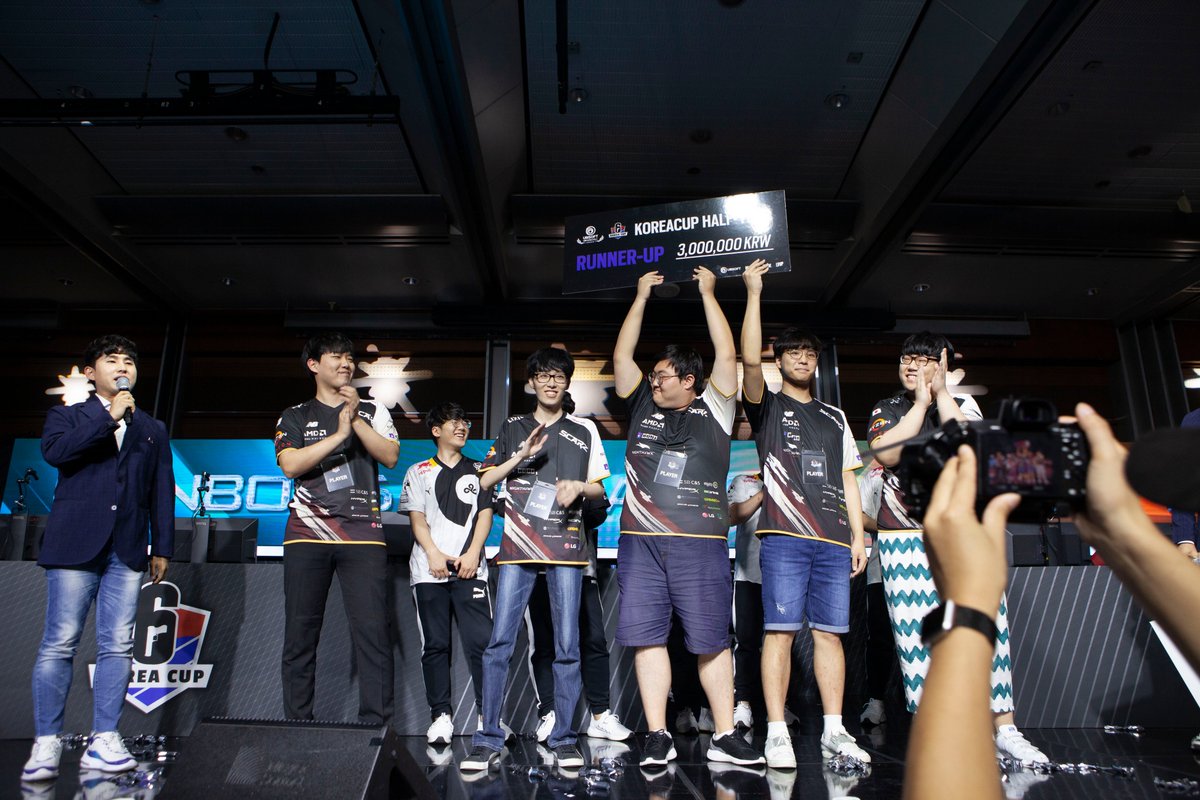 Previously, the Korean sub-region has seen a fair few big-money national tournaments take place, as it had the best supported national scene in the world.
The old format saw weekly open cups take place (effectively Go4s), in which your positioning earned you points. The top four teams by Weekly Points that month were then invited to the Monthly Finals worth around $5,000, as well as earned Monthly Points. These Monthly Points earned them places into the Quarterly and Half-Year Finals (worth $10,000 to $20,000), with their positioning in these leading to the yearly finals worth a massive $40,000.
This format has been in place since the beginning of 2018, with almost every single tournament being won by the Cloud9 lineup, including the 2019 and 2020 titles.
Now, however, as the national leagues are being integrated into the wider APAC North format, the Korean Nationals are also changing to a simpler, more streamlined format, hence the single open qualifier for each of three National events in the 2020 Korean national calendar -- namely, the Summer, Autumn, and Winter Korean Open championships.
---
Keep an eye out here on SiegeGG for further updates from the upcoming Korean Open 2020 Fall tournament as the games take a short break, watch out for an upcoming league infographic, and be sure to follow us on Twitter for instant updates.